Charter Boat: All Aboard M.F.V. fulmar II
Boat and Skipper Details
Licensed For:
up to 12 passengers
Code Of Practice:
60 miles
Hours:
4hr / 5hr / 8hr / 10hr / 12hr Trips
Type of Fishing:
Deep sea, reef, rock, bottom, and drift fishing, summer Tope, Conger, Huss, Pollock, Winter Cod, Whiting Etc.
Tackle Available:
Yes - Contact Skipper
Bait Available:
Yes - Contact Skipper
Boat Specification:
New for 2013 A 38ft Purpose built fast Pro Charter fishing Vessel with toilet cooking, hot drinks Etc
Facilities:
Large fishing area and cabin fish finders chart plotters Coded for 60 Miles and all safety equipment
Additional Description:
Free hot drinks all day, Tuition given to customers where required,Rods and bait available on request, Any fish kept will be prepared at sea ready for the table, no messy draining boards or moaning partners! Just take your fish,eat and enjoy. All help and a good laugh all day.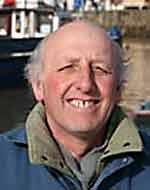 About the Skipper:
Steve Pilbrow ( Owner/Skipper ) has over 30 years of Charter Fishing experience. I have recently launched my new 38 ft Pro Charter Vessel to replace the old boat now launched and running trips
Sunday
Monday
Tuesday
Wednesday
Thursday
Friday
Saturday

Color for Fully Booked

Fully Booked

Color for Partially Booked

Partially Booked

Color for Available

Available

Color for Not Available

Not Available

Color for Unspecified

Unspecified

N.B. Not all Skippers keep this dairy up-to-date. Always check with skippers before making any plans.

Sat 1st Sep
Sun 2nd Sep
Mon 3rd Sep
Tue 4th Sep
Wed 5th Sep
Thu 6th Sep
Fri 7th Sep
Sat 8th Sep
Sun 9th Sep
Mon 10th Sep
Tue 11th Sep
Wed 12th Sep
Thu 13th Sep
Fri 14th Sep
Sat 15th Sep
Sun 16th Sep
Mon 17th Sep
Tue 18th Sep
Wed 19th Sep
Thu 20th Sep
Fri 21st Sep
Sat 22nd Sep
Sun 23rd Sep
Mon 24th Sep
Tue 25th Sep
Wed 26th Sep
Thu 27th Sep
Fri 28th Sep
Sat 29th Sep
Sun 30th Sep
Reviews
Summary:





Alison Wilson (27/07/2017)

Great fun and particularly excellent for my teenage son, so many fish

Alison Wilson (27/07/2017)

Great fun and particularly excellent for my teenage son

Martin Busst (22/08/2013)

Fantastic half day trip with Steve, top bloke.....the best skipper I've been with, great bloke, funny and knows his stuff, new boat is great...old one was ok as well..would recommend the boat to anyone around the Minehead region who wants a great trip.
Latest Catches 4 photos uploaded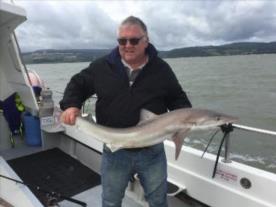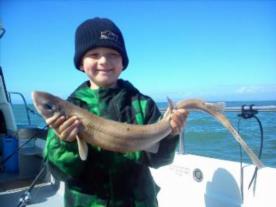 Latest Fishing Reports
10/2016

Fishing Report by Steve Pilbrow

Oct 2016 by Steve Pilbrow

Up to now 2016 has been a very fruitful year with a great assortment of mixed fishing lots of good quality Rays Smoothounds Bullhuss Congers Tope Bass and plenty of smaller fish. It's November soon and we are now beginning to see the seasonal Whiting and Cod so all things look set for a great winter ahead. We still have a few cod trip booking dates available so why not give me a call Regards Steve