Charter Boat: Bad Boyz IV
Boat and Skipper Details
Licensed For:
up to 10 passengers
Code Of Practice:
60 MILES
Hours:
2hr / 3hr / 4hr / 5hr / 6hr / 8hr / 10hr / 11hr / 12hr / 24hr / Multiple Days Trips
Type of Fishing:
Offshore Wrecking, Bank, Reefs, Smooth-hounds, Isle Of Man, Ireland, Winter Mersey COD 2017
Tackle Available:
Yes - Contact Skipper
Bait Available:
Yes - Contact Skipper
Boat Specification:
Bad Boyz IV is a state of the art 11mtr Swift Catamaran, she is powered by twin Yamaha units going a top speed of 35knts.
Facilities:
Breakfast is Sausage butties made fresh whilst you fish and lunch is Chilli, There is a deck level toilet, Microwave, Water Boiler, Griddle, Rig and Weight selection..
Additional Description:
With being situated on the west coast of Anglesey, North Wales we are ideally located some of the best fishing north Wales has to offer with Caernarfon bay and Saint Georges channel only a short distance away but we also can have some great sport closer to home.

Fishing venues .....

Caernarfon Bay - With a vast amount of sand banks and reefs Caernarfon bay is a great all round days fishing with a large amount of Skate and Tope on the banks along with good a sport of Bream and Pollack on the reefs.

Wrecking - Saint Georges channel was once the main shipping area for the western isle thus providing a huge amount of ship wrecks to fish, 15-25 miles on a general day and 25-40 miles on the Longer trips and deaper waters.
A summer run of Cod can show some good catches of fish between 3-15lbs and Pollack through most month's to similar sizes, you will get the odd ling thrown in for that persevering angler.

Holyhead Bay - A good fishing venue for the casual anglers and bad weather days, a great amount of species can be boated throughout the day during anchor or drifting. A great Smooth-Hound season running on from mid may providing some of the largest hounds in Wales and regular 20lb+ fish not being to shy.
Drifting yields some fantastic shallow water sport for Wrasse and Pollack.

Liverpool -

Winter Cod fishing, From mid-October through to late February we will be relocating to Liverpool Marina to run uptiding/down tiding trips on the famous River Mersey.
Every winter the Mersey has a fantastic run of Cod, Skate, Large whiting and Dabs, The Cod very in size averaging 2-5lb with plenty heading into the double figure mark.


Main species we fish for are

.Pollack
.Coalfish
.Cod
.Tope
.Bream
.Conger
.Skate
.Smooth-hound
.Spurdog
.Wrasse

An average year sees around 45-50 species coming to the net including many mini species on light tackle if the wind is too bad to venture off.

During the day the kettle is on as much as possible and of course like most skippers you may need to give me a little hint at times if the fishing is keeping me busy, fresh sausage sandwiches are made whilst you fish and a lunch normally being a pan of Chilli.

There are plenty of quality Ugly Stick rods and Okuma lever drag reels landed with 30lb braid available to use free of charge, Tackle is available to buy on board at cheaper rates than the tackle shops.
Bait can be arranged to be either picked up or ready and waiting for you to arrive at the boat.

Free parking is located along side the local sailing club being only a short walk from the marina where the boat is waiting, NO LADDERS NO STEPS

LIKE US ON FACEBOOK TO RECEIVE UP TO DATE CATCH PHOTOS/REPORTS/SPACES

https://m.facebook.com/BadBoyzCharters

Or visit our website @

www. angleseycharters.co.uk

All-in trips available on request ( bait, tackle, rods supplied)

If you wish to hire the boat for Diving, Filming, Survey or Sightseeing please feel free to give me a call and I am sure we could be of service to you.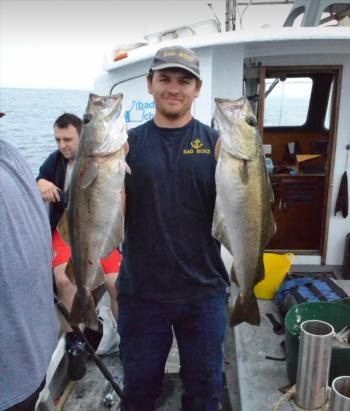 About the Skipper:
Aaron- Was the youngest skipper in the UK but do not be put off by this as he has a reputation that speaks for itself he has fished for the Welsh National Boat Squad and is on Trearddur Bay Lifeboat crew which gives him a vast knowlodge of the local area.

This Charter has been listed as Suitable for Diving Trips. Contact the Skipper for full details.
This Charter has been listed as Wheelchair Accessible. Contact the Skipper for full details.
Sunday
Monday
Tuesday
Wednesday
Thursday
Friday
Saturday

Color for Fully Booked

Fully Booked

Color for Partially Booked

Partially Booked

Color for Available

Available

Color for Not Available

Not Available

Color for Unspecified

Unspecified

N.B. Not all Skippers keep this dairy up-to-date. Always check with skippers before making any plans. Last calendar update: 08-Sep-2018

Sat 1st Sep
Sun 2nd Sep
Mon 3rd Sep
Tue 4th Sep
Wed 5th Sep
Thu 6th Sep
Fri 7th Sep
Sat 8th Sep
Sun 9th Sep
Mon 10th Sep
Tue 11th Sep
Wed 12th Sep
Thu 13th Sep
Fri 14th Sep
Sat 15th Sep
Sun 16th Sep
Mon 17th Sep
Tue 18th Sep
Wed 19th Sep
Thu 20th Sep
Fri 21st Sep
Sat 22nd Sep
Sun 23rd Sep
Mon 24th Sep

Bass fishing 7 spaces

Tue 25th Sep
Wed 26th Sep
Thu 27th Sep
Fri 28th Sep
Sat 29th Sep
Sun 30th Sep
Reviews
Summary:





Andrew Jones (15/06/2018)

Had a fantastic day 6 Tope off the boat the biggest been 62lbs catching fish all day long Aaron is a tremendous skipper and catered for all our needs as the 9 off us were total novices he provided rods hooked nearly every fish and sorted out our tangles in no time at all Can't wait for 13th August our next trip thanks Aaron for an unforgettable day. Andy. Stoke on trent

William Holland (01/07/2018)

I put an outstanding review on the Cbuk system about this boat and the Skipper over a year ago. Sadly due to a major operation I have not been able to get back on board until yesterday.
A review in my opinion is a marker on the quality of experience and satisfaction a customer receives when he or she purchases something either an item or a service. When go back after a year like I have and find things have even got better than last time then this is a real quality standard marker to shout about. It says a lot about the skipper himself and his willingness and drive to constantly improve on the service he offers and the quality of craft you access to go fishing. Thank you very much Aaron and Bad Boyz IV for a truly memorable day see you again in 3 weeks .Will Holland St. Helens , Merseyside.

Lee Power (21/04/2018)

Absolutely great day, can't praise Aaron highly enough. already looking at booking our next day.

James Elliott (21/04/2018)

Brilliant day on Saturday, caught over 110 fish and the skipper Aaron looked after us extremely well and made the day one to remember! We will be back soon, many thanks! James.

peter weston (28/10/2017)

amazing day hosted by one of the hardest working chap,he never stopped for 10 hours solid ,answered all questions ,entertained,and fed us with fine food ,my party of nine would not hesitate booking bad boyz and aaron again ,quality .
Latest Catches 623 photos uploaded
Latest Fishing Reports
09/2018

Fishing Report by Aaron Smith

Sep 2018 by Aaron Smith

Absolutely no words can describe how I am feeling right now!

Today we boated a fantastic Porbeagle just shy of the 100lb mark, an outstanding battle taking 2hrs 20 minutes on 20lb class Pollack set up, the first to be safely landed and released on a charter boat from Anglesey

A huge achievement for the lads on-board to whom I can only thank for making this happen

Shark on!!!!!!!

www.angleseycharterfishing.co.uk
07966061598

07/2018

Fishing Report by Aaron Smith

Jul 2018 by Aaron Smith

Nice veriaty of fish today, ran out to the wrecks this morning, albeit challenging conditions with 18knts of northerly wind but the lads persevered and boated Pollack to 13lb 2oz.

Short anchor session closer to home in the afternoon, Spurdogs once again were hectic!
Few lads stuck at it with feather, boating plenty of good sized Grey Gurnards and Mackerel.

Good session in challenging conditions

06/2018

Fishing Report by Aaron Smith

Jun 2018 by Aaron Smith

Update - June

This past week we have turned our attention to many of the offshore wrecks of the Irish sea, some days covering 80-100miles in search of the good eating, hard fighting Pollack.

Some wrecks we have found plenty of fish, some wrecks Far fewer fish making the days patchy, hectic hours here and there.

Average stamp of fish has been 4-7lb with the 8lb-12lb fish making an appearance most days.

June and July is mostly booked up now, we have limited availability for August and September, also 2019 dairy is open and filling fast!

Don't forget to get your Winter Mersey Cod dates sorted asap

Let's hope the summer continues to bring settled weather

05/2018

Fishing Report by Aaron Smith

May 2018 by Aaron Smith

Late start to miss the weather really did pay off, Good numbers of Spurdogs and Huss to 16lb in holyheads Deeps.

We also boated Pollack, Dogs, Coalies, Ling, Codling, Whiting and Wrasse.

Fish on

05/2018

Fishing Report by Aaron Smith

May 2018 by Aaron Smith

Great day afloat with Declan and the misfits!

Started early doors out in Holyhead Deeps with a good number of large Spurdogs, Huss, Tope and the first Smooth-hound of the year.

Once the tide turned we headed inshore to drift a veriaty of reefs for some dinner!
Baited rigs and small feathers accounted for 200+ Pollack 1-3lb, few dozen Wrasse, Coalies and Codling.

The lads are heading home with a good tub of Pollack Fillets

Bring on tomorrow