Charter Boat: Bang Tidy
Boat and Skipper Details
Licensed For:
up to 3 passengers
Code Of Practice:
Cat 5 + 6
Hours:
1hr / 2hr / 3hr / 4hr / 6hr / 8hr / 10hr / 12hr / Multiple Days Trips
Type of Fishing:
The first Pro guided Lure & SWFF specialist in Pembrokeshire, sponsored by Dave Barham Fishing & Anglers Corner (Milford Haven) using single point lures & light lure set ups. Boat sessions available all daylight hours, guided shore fishing available including after dark Bass fishing.
Tackle Available:
Yes - Contact Skipper
Bait Available:
Yes - Contact Skipper
Boat Specification:
Karnic Bluewater 2105, (2005). 140 HP engine.
Facilities:
Bimini T top (some rain protection), seats, walk around deck 360' fishing available. Fish Finder linked via wifi to tablet forward (or your mobile) in real time.
Additional Description:
Awesome Fishing has been based from Dale since 2013, and offers you the opportunity of accessing some of the most inaccessible fishing areas around the west Pembrokeshire coastline,
and mainly the outer limits of the usually sheltered Milford Haven waterway. Whether your a serious / seasoned lure / SWFF angler or wanting to have a go, there will be a trip option for you.

I specialise in light line, lure fishing both cast and vertical, for a range of summer species using generally light lure set ups and single point lures. You could be casting a top water lure over shallows for Bass or equally bumping weighted Sandeel type soft plastics over inshore reefs for Pollock, Codling and Wrasse... we keep it light so you can feel the fight.... standard lure kit being 20-40g rods, 20lb braid and small fixed spool reels...
Whether your a species hunter or a specimen hunter, we have a trip option to suit you.

The boat - Bang Tidy is a fast open sports vessel (see pics in gallery) and is MCA coded for 3 anglers, running a whisper quiet Suzuki DF140 engine (new in 2017), plus Raymarine & Hummingbird electronics.
With 360' of walk around angling potential, It can access areas other vessels cant in depths ranging from 6 to 65 feet; so you can cast a lure or fly in to areas of the coastline where other larger and often noisier vessels simply will not go to. For the less experienced, slow pitch jigging using heavier lure rods with heavier plastic & metal lures fished vertically on the drift often produce Codling up to 5Lbs, Coley and Wrasse.
Only one thing to do really - come and find out for yourself!

Vessel featured in Sea Angler twice, BFM in 2014, and recently on Shimano's You Tube Channel with Dave Lewis in August 2017.
Awesome Fishing is exclusively sponsored by Dave Barham Fishing using the new DB3 & 4 Lure rods - the only vessel in Wales to be a DBF sponsored boat
aswell as local tackle shop Anglers Corner, Milford haven.

Any angler welcome to bring / use their own kit. We suggest 8-9 ft Lure rods, 20-40g is ideal, plus lighter 7-35g rods for the species hunters.
Any personal items brought aboard are at the owners own risk.

If boat fishing isn't for you I also offer guided shore fishing, using lures or SWFF techniques for Bass, Pollack, Wrasse, Grey Mullet (aka UK Bonefish), either at dawn or dusk, and after dark lure sessions.

To see what others before you think of what we do - please see our trip advisor page or search: Awesome Fishing Dale. Recently awarded a Trip Advisor Certificate of Excellence 2018.
Thttps://www.tripadvisor.co.uk/Attraction_Review-g2085455-d5237858-Reviews-Awesome_Fishing-Dale_Pembrokeshire_Wales.html

LURES: Individual angler / per person rates are available on 4-6 hr boat sessions, (see website for last minute deal rates)
as a general guide:
4 Hours 1 angler £125, or £75pp
6 Hours 1 Angler £145 or £95pp
Shore sessions: see website (www.fish4bass.tel)

CHARTER RATES FOR 8-12 HRS
8 HRS CHARTER £300
10 HRS CHARTER £350
12 HRS CHARTER £400

8-12 hr sessions can have a split session option (if available)

PLEASE NOTE: VESSEL IS CODED FOR 3 / THREE ANGLERS / PASSENGERS. SPLIT TRIP OPTIONS ARE AVAILABLE,

MULTI DAY SESSIONS TO INCLUDE SHORE / BOAT, LURE / SWFF SESSIONS AVAILABLE WITH / WITHOUT LOCAL ACCOMMODATION ARE AVAILABLE.

OTHER FISHING TRIPS:

SHARK FISHING, (ON ANOTHER VESSEL)
CHARTER RATE £650 ALL DAY (4-6 PEOPLE)
INDIVIDUAL RATE £150PP SHARING WITH OTHERS
INCLUDES CHUM AND RODS
BAIT BY ARRANGEMENT OR ANGLERS SUPPLY THIS
GET IN TOUCH IF INTERESTED: 07428 162600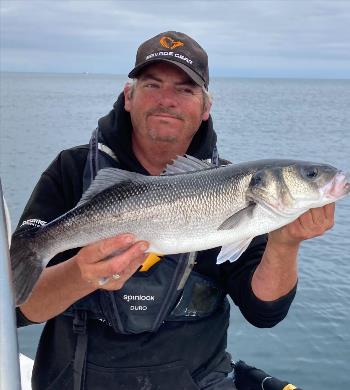 About the Skipper:
I been fishing all my life, starting on rivers and lakes as a boy, crabbing from rocks i caught my first Bass on a lump of bacon aged 6 years old....that was it....

I have over 30 years fishing experience fishing all over Pembrokeshire from shore or boat, salt and fresh water. as well as the kayak.

I'm a BASS Member, RYA Member, Dale YC Member, lead organiser for The Pembrokeshire Lure Festival, and a lure fishing junkie....I am currently exclusively sponsored by Ben Willis @ Predilures.

I love being out on the water and as long as the costs are covered I am open to sensible suggestions in relation to any trip option - so what you waiting for?

11
Sunday
Monday
Tuesday
Wednesday
Thursday
Friday
Saturday

Color for Fully Booked

Fully Booked

Color for Partially Booked

Partially Booked (Individual Spaces)

Color for Available

Available (Whole Boat)

Color for Not Available

Not Available

Color for Unspecified

Unspecified

N.B. Not all Skippers keep this dairy up-to-date. Always check with skippers before making any plans. Last calendar update: 19-Jun-2019

Wed 1st May More...
Thu 2nd May More... novice short trips
fully booked
Fri 3rd May More... ALL TRIPS AVAILABLE
LURES & NOVICE SESSIONS
PRICES: www.fish4bass.tel
07428 162600
Sat 4th May More...
Sun 5th May More... ALL TRIPS AVAILABLE
LURES & NOVICE SESSIONS
PRICES: www.fish4bass.tel
07428 162600
Mon 6th May More... ALL TRIPS AVAILABLE
LURES & NOVICE SESSIONS
PRICES: www.fish4bass.tel
07428 162600
Tue 7th May More... ALL TRIPS AVAILABLE
lure or novice sessions
Prices online: www.fish4bass.tel
07428 162600
Wed 8th May More... ALL TRIPS AVAILABLE
lure or novice sessions
Prices online: www.fish4bass.tel
07428 162600
Thu 9th May More... ALL TRIPS AVAILABLE
lure or novice sessions
Prices online: www.fish4bass.tel
07428 162600
Fri 10th May More... MORNING ONLY AVAILABLE
0600 - 1400 ANY TRIP OPTIONS
07428 162600
Sat 11th May More... LATE AFTERNOON - DUSK AVAILABLE
1700 - 2100 (FLOOD TIDE)
Prices online: www.fish4bass.tel
07428 162600
Sun 12th May More... ALL TRIPS AVAILABLE
lure or novice sessions
Prices online: www.fish4bass.tel
07428 162600
Mon 13th May More... ALL TRIPS AVAILABLE
lure or novice sessions
Prices online: www.fish4bass.tel
07428 162600
Tue 14th May More... ALL TRIPS AVAILABLE
lure or novice sessions
Prices online: www.fish4bass.tel
07428 162600
Wed 15th May More...

LURE BASS

Thu 16th May More... NOVICE SHORT TRIPS
BASS LURE TUITION
Fri 17th May More... ALL TRIPS AVAILABLE
lure or novice sessions
Prices online: www.fish4bass.tel
07428 162600
Sat 18th May More...

OUT ON THE BASS...

Sun 19th May More... ALL TRIPS AVAILABLE
lure or novice sessions
Prices online: www.fish4bass.tel
07428 162600
Mon 20th May More... ALL TRIPS AVAILABLE
lure or novice sessions
Prices online: www.fish4bass.tel
07428 162600
Tue 21st May More... ALL TRIPS AVAILABLE
lure or novice sessions
Prices online: www.fish4bass.tel
07428 162600
Wed 22nd May More...

lure bass

Thu 23rd May More... ALL TRIPS AVAILABLE
lure or novice sessions
Prices online: www.fish4bass.tel
07428 162600
Fri 24th May More... ALL TRIPS AVAILABLE
lure or novice sessions
Prices online: www.fish4bass.tel
07428 162600
Sat 25th May More... ALL TRIPS AVAILABLE
lure or novice sessions
Prices online: www.fish4bass.tel
07428 162600
Sun 26th May More... ALL TRIPS AVAILABLE
lure or novice sessions
Prices online: www.fish4bass.tel
07428 162600
Mon 27th May More... AFTERNOON ONLY
lure or novice sessions
Prices online: www.fish4bass.tel
07428 162600
Tue 28th May More... LURE / NOVICE SESSIONS AVAILABLE
AVAILABLE 1430 - 1930
07428 162600
Wed 29th May More... ALL TRIPS AVAILABLE
LURE OR NOVICE SESSIONS
prices: www.fish4bass.tel
07428 162600
Thu 30th May More... ALL TRIPS AVAILABLE
LURE OR NOVICE SESSIONS
prices: www.fish4bass.tel
07428 162600
Fri 31st May More... ALL TRIPS AVAILABLE
LURE OR NOVICE SESSIONS
prices: www.fish4bass.tel
07428 162600
Upcoming Individual Spaces on Bang Tidy
| | | | | | |
| --- | --- | --- | --- | --- | --- |
| Thu 18/07/2019 | | | | 0500 - 0900 DAWN Bass sessions available PRICING: www.fish4bass.tel 07428 162600 | View details |
| Sun 04/08/2019 | | | | LURE, SALT FLY, NOVICE AFTERNOON / EVE ONLY CALL FOR OPTIONS PRICING: www.fish4bass.tel 07428 162600 | View details |
| Mon 05/08/2019 | | | | MORNING SESSION FULLY BOOKED AFTERNOON LURE SESSIONS OPTIONS 1500 -1900 or 1500 - 2100 PRICING: www.fish4bass.tel 07428 162600 | View details |
| Wed 07/08/2019 | | | | LURE, SALT FLY, NOVICE AFTERNOON - EVE ONLY FROM 1400 - DUSK PRICING: www.fish4bass.tel 07428 162600 | View details |
View more availability on the Full Calendar
Reviews
Summary:





Keith Jennings (18/05/2017)

Fantastic day with Jimmy bass and pollock caught You must try this if you call yourself a bass fisherman
Bait & Tackle
Anglers Corner

Milford Haven, Pembrokeshire, South West Wales, Wales

County Sports

Haverfordwest, Pembrokeshire, South West Wales, Wales
Latest Catches 80 photos uploaded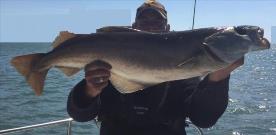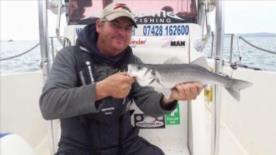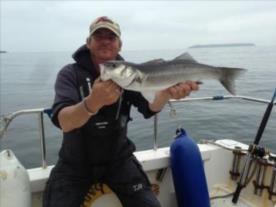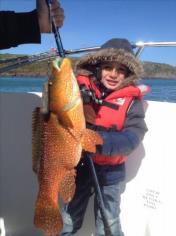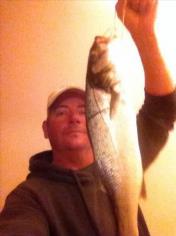 Latest Fishing Reports and News