Charter Boat: Blue Fin
Boat and Skipper Details
Licensed For:
up to 10 passengers
Code Of Practice:
Cat 3, 20 miles
Hours:
8hr / Multiple Days Trips
Type of Fishing:
8 hour SKATE FISHING trips. Also GENERAL FISHING in Loch Etive.
Tackle Available:
Yes - Contact Skipper
Bait Available:
Yes - Contact Skipper
Boat Specification:
Mitchell 31 with 212hp. Electronics include 4 GPS, 3 plotters, 2 echo sounders, radar, 2 vhf radio's, navtex, ais
Facilities:
Heated cabin, toilet, free hot drinks on day trips.
Additional Description:
NOW TAKING BOOKINGS FOR 2020

WHOLE BOAT CHARTER ONLY. YOU CHARTER THE WHOLE BOAT FOR YOUR GROUP.
A PRIVATE CHARTER AT A REASONABLE PRICE.

MAX 4 RODS FOR SKATE FISHING. 6 RODS FOR GENERAL FISHING.
.................................................................................................................................................................................................
SKATE CAN BE FISHED ON ANY TIDES WEATHER PERMITTING BUT NEAP TIDES ARE BEST.

CHECK OUT THE DETAILED CALENDAR FOR NEAP TIDES.
----------------------------------------------------------------------------------------------------------------------------------------------

We are located 2.5 miles north of Oban at Dunstaffnage Marina PA37 1PX on the A85 close to the skate marks that make the area known as "The Skate Capital of Europe".

No effort is spared in trying to ensure your success on the day and we have quality 50 lb IFGA class stand up tackle available for your use inclusive in the charter price. We also carry good quality butt pads and harnesses.
You can of course use your own tackle if you wish.
Bait is supplied so you don't waste time catching it, but can go straight to the marks and start fishing.

Equipped with a transom door and platform Blue Fin is ideally suited for landing large fish and your skate when boated will be measured, weighed, photographed and released as we operate a strict catch and release policy.

You will find free car parking at the marina and also restaurant / bar and accommodation facilities at the Wide Mouthed Frog located at the marina.

Our prices are competitive. Full details on our website, use link at top of page.


About the Skipper:
Well qualified skipper with over forty years of inshore sea going experience with the last twenty three spent in charter work. Qualified Yacht Master Offshore and Grade 2 Boat Master and ex RNLI volunteer Coxswain.
This Charter has been listed as Suitable for Diving Trips. Contact the Skipper for full details.
Sunday
Monday
Tuesday
Wednesday
Thursday
Friday
Saturday

Color for Fully Booked

Fully Booked

Color for Partially Booked

Partially Booked (Individual Spaces)

Color for Available

Available (Whole Boat)

Color for Not Available

Not Available

Color for Unspecified

Unspecified

N.B. Not all Skippers keep this dairy up-to-date. Always check with skippers before making any plans. Last calendar update: 11-May-2019

Wed 1st May More...

Neap Tide

Thu 2nd May More...
Fri 3rd May More...
Sat 4th May More...
Sun 5th May More...
Mon 6th May More...
Tue 7th May More...
Wed 8th May More...
Thu 9th May More...
Fri 10th May More...

Neap Tide

Sat 11th May More...

Neap Tide

Sun 12th May More...

Neap Tide

Mon 13th May More...

Neap Tide

Tue 14th May More...

Neap Tide

Wed 15th May More...
Thu 16th May More...
Fri 17th May More...
Sat 18th May More...
Sun 19th May More...
Mon 20th May More...
Tue 21st May More...
Wed 22nd May More...
Thu 23rd May More...

Neap tide

Fri 24th May More...

Neap tide

Sat 25th May More...

Neap tide

Sun 26th May More...

Neap tide

Mon 27th May More...

Neap tide

Tue 28th May More...

Neap tide

Wed 29th May More...

Neap tide

Thu 30th May More...

Neap tide

Fri 31st May More...
Upcoming Individual Spaces on Blue Fin
Sorry, there are currently no Individual Spaces at present.
Reviews
Summary:





ian robson (12/04/2018)

Both roger and the boat are first rate.The supplied tackle was first class quality and nothing broke with me putting all of my 15 stone weight trying to raise a 200 skate.Two of us caught 9 skate in 2 days with the biggest going over 200 and over 1000 lb of fish in total, safely caught and released.simply magical fishing,i highly recommend this boat and skipper.go try it !!

Grant Thorne (15/07/2017)

Fantastic experience skate fishing with Roger on the Blue Fin. It was a wet and windy day but Roger was calm and reassuring so everyone was at ease. Two people caught their personal bests with female skate at 196lbs and 199lbs. The weather might have put some people off but some have certainly caught the bug and will be out with Roger again, thanks for a great experience.

Skippers Reponse: Thank you Grant. Always good to know I am getting it right.

zygmunt szwajkowski z70t (18/04/2017)

Brilliant 3 day fishing for skate With Rogers help and advice we caught 17 skate best was 199lbs one of our party of 3 was 80 years old and with Rogers help he got a fish of 168lbs the regular cups of good tea were also appreciated would recommend Blue Fin charters to any one for a fantastic opportunity to catch fabulous skate.

Skippers Reponse: Cheers Ziggy. Great fishing and see you again next year !

Michael Hommering (22/05/2014)

22nd of May! Started our fishing trip on the Blue Fin with Roger the skipper. The morning started a bit windy. So Roger looked for the best place to anker the boat. On our second place, with less wind we caught a spurdog shark. Nice and beautiful shark! On the third and last place It happend! The reel went off and took us by suprice. After a thirty min struggle he was on the boat. A male skate of 116 lb. 5lb to less for the first place. We 4 Dutchies would like to thank you Roger, we had a great day! 10 ponts from us!

Skippers Reponse: Thank you Michael for your review. It 's good to get customer feedback. You are welcome anytime.

Michael Hommering (22/05/2014)

Great day!
Latest Catches 76 photos uploaded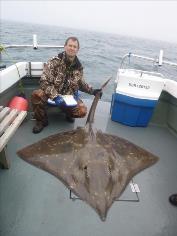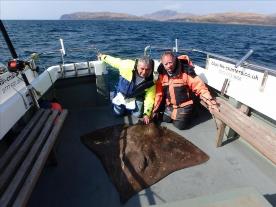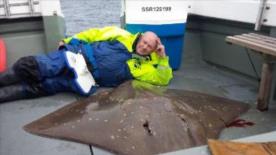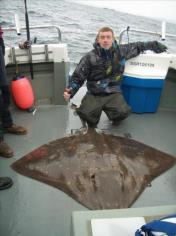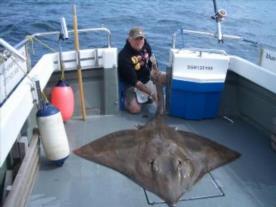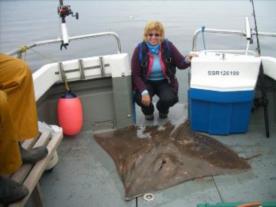 Eva
188 lb Common Skate
10-Jun-2016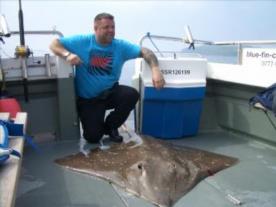 Latest Fishing Reports and News
19/04/2017

Fishing Report by zygmunt szwajkowski z70t

19 Apr 2017 by zygmunt szwajkowski z70t

Fished with Roger Eaton on Blue Fin this year as I enjoyed the experience so much last year , 3 people fished this year including Ken who is 80 years old with Rogers help and assistance he managed a 168lbs skate we had a total of 17 skate best 199lbs over a 3 day period for a total weight of 1971lbs Thank you Roger for a brilliant experience and would recommend Blue Fin charter to anyone who loves fishing.

02/03/2017

Fishing Report by Roger Eaton

2 Mar 2017 by Roger Eaton

A new season ahead.

The boat is coming on with most of the winter refit completed. Lots of work has been done but I won't bore you with that here and will instead talk about fishing as I am looking forward to the start of a new season.
Last year the fishing proved to be a very good with some of the best skate fishing so far. Several fish topped the magic 200lb mark with plenty in the high hundreds. I will admit though that there were a few days when the fish were not interested but that's fishing for you!
The general fishing in Loch Etive also had its moments with some very good days, even had a tadpole fish! It was a first for this boat but I expect we will see another at some point.

For 2017 I have treated the boat to a complete new set of rods and reels. The old 6/0 114H Penn reels have done their time and have been replaced with modern 2 speed reels. Also the Penn Ally rods that were showing signs of wear have been upgraded. The general fishing gear has also been upgraded with new tackle, so we will be starting the season with all new Penn tackle. All this is with grateful thanks to Pure Fishing UK Ltd.

The bookings are starting to roll in, with more so far than this time last year, so perhaps a good idea to make your booking now rather than risk disappointment later on.

With the hope of a good weather ahead I'll sign off for now and wish you all good fishing for 2017.


Tight lines to all.


15/05/2016

Fishing Report by Roger Eaton

15 May 2016 by Roger Eaton

That's us well into a new season now and there's been the usual mixed weather, but on the whole the fishing has been showing a lot of promise for the season ahead. The skate have been there in good numbers on the marks and the cold spring up till now should help to hold the skate in the deep water for a good while yet. Even the general fishing in Loch Etive has been reasonable considering it's still quit early on. A days fishing currently producing around six species.

This year see's us with a new toy on the boat in the shape of a state of the art echo sounder. This new unit is capable of down imaging, side scan sonar and taditional sounder with CHIRP. I'm still getting the hang of this new peice of kit as there are so many different modes of operation, but all in all it seems to gives a very clear picture of what's happening below the boat. Will it help us catch more fish ? I'll make no promises about that ! We will wait and see, time will tell.

I would also like to say a big thank you to all customers who have been out with us in the past and also those who have booked but are still yet to come out on Blue Fin. Judging by the feedback I get I must be doing something right !

Tight lines to all.

09/05/2015

Fishing Report by Roger Eaton

9 May 2015 by Roger Eaton

Blue Fin Charters took part in the SFSA West of Scotland Open on Saturday 9th May.
The boats departed from Oban and made for a deep bank in the Firth of Lorn. After a slow start fish started to be boated with a total of five species landed on Blue Fin. All fish caught were released and Billy Murry who was aboard Blue Fin won the competition with 176 points. Blue Fin also turned out to be top boat for the day with a total of 93 fish boated by the six anglers on board.

09/04/2015

Fishing Report by Roger Eaton

9 Apr 2015 by Roger Eaton

We were delighted to have Dave Lewis the well known sea angling writer aboard with us last Thursday 09/04/15. He and his friend Terry Thomas spent the day with us fishing for common skate with the top fish weighing in at an impressive 202lbs. Full details of this great days fishing along with awesome photo's will be appearing in the June issue of SEA ANGLER magazine.