Charter Boat: Blueye 2
Boat and Skipper Details
Licensed For:
up to 12 passengers
Hours:
5hr / 10hr / 12hr / Multiple Days Trips
Type of Fishing:
Wrecking, Offshore Wrecking Hard Ground, Downtideing (winter months)
Tackle Available:
Yes - Contact Skipper
Boat Specification:
Interceptor 33
Facilities:
toilet, cooking facilities
Additional Description:
Interceptor 33, fitted with bow thrusters for maximum time on the wreck and ground.
Heated wheelhouse for them winter days.
Refitted 2014 with the latest electronics New CAT engine.
Cooker, microwave, kettle, fresh water on tap.
Fish hold with fresh circulating sea water.
Deck-wash. 2016 new gutting filiting station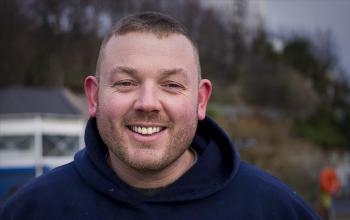 About the Skipper:
2013 heaviest catches 2014 heaviest catch 2015 heaviest catch
Cod 27lb. Cod 24.2lb Cod 20lbs
Ling 26lb. Ling 26.2lb Ling 17.2lbs
Colin Graham was introduced to angling at the age of 4 by his father. Come to the age of 17 and the sale of the family boat Colin bought his first charter boat Magnet 2, fishing wrecks and reefs over the weeken with the locals.

Diving was Colin's next thing to put his hand to. Every evening he would dive wrecks and ground so he had the understanding what was beneath. Fishing was his passion a dream to let others share his experience of finding those big fish and landing them !!,

Reading all the books on wrecks, deep sea diver logs and trolling through the web different notes wrecks and ground. The knowledge on where to go times of year tides and weather conditions seen Colin produce good catches time and time again.

Colin Needed faster boat so he saved and bought an offshore 105 and fished the deeper wrecks,pushing further north and south on the grounds and wrecks, again he come up trumps with the fishing. He then went commercial, now proud owner, trawler Blueye .D. named after his father. New 2015 New commercial Trawler Blueye has went into commission, Colin fleet turned into great business owning three commercial boats.

With great Demand the New Charter Boat was ordered to Colin's Specification!! He knew all what was needed to fulfil a charter boat anglers dream. Blueye2 was commissioned 2014 followed by Blueye stern trawler 2015. No matter what time of year, wind and tide all his knowledge goes into finding the fish............. Colin is one of the best known skippers on the North East Coast.
This Charter has been listed as Suitable for Diving Trips. Contact the Skipper for full details.
Sunday
Monday
Tuesday
Wednesday
Thursday
Friday
Saturday

Color for Fully Booked

Fully Booked

Color for Partially Booked

Partially Booked (Individual Spaces)

Color for Available

Available (Whole Boat)

Color for Not Available

Not Available

Color for Unspecified

Unspecified

N.B. Not all Skippers keep this dairy up-to-date. Always check with skippers before making any plans. Last calendar update: 20-Jun-2019

Sat 1st Jun More...

Wreck and ground fishing

Sun 2nd Jun More...

Wreck and ground fishing

Mon 3rd Jun More...
Tue 4th Jun More...

Evening river trip for sight seeing

Wed 5th Jun More...
Thu 6th Jun More...

Evening fishing trip 5-9pm

Fri 7th Jun More...

Evening trip 5-9pm

Sat 8th Jun More... Wreck and ground fishing 7am-4pm

(Evening trip 5-9pm, £25pp 10 spots available)
Sun 9th Jun More...

Wrecking 7am-4pm

Mon 10th Jun More...
Tue 11th Jun More...

Evening trip 5-9pm

Wed 12th Jun More...

Evening trip 5-9pm

Thu 13th Jun More...

Evening trip 5-9pm

Fri 14th Jun More...

Fuul day wrecking 1pm-9pm

Sat 15th Jun More...

Wrecking 7am-4pm

Sun 16th Jun More...

Wrecking 7am-4pm

Mon 17th Jun More...
Tue 18th Jun More...
Wed 19th Jun More...
Thu 20th Jun More...
Fri 21st Jun More...

Wreck and ground fishing, 7am-4pm

Sat 22nd Jun More...

Wreck and ground fishing 7am-4pm

Sun 23rd Jun More...

Wreck fishing

Mon 24th Jun More...
Tue 25th Jun More...
Wed 26th Jun More...
Thu 27th Jun More...
Fri 28th Jun More...
Sat 29th Jun More...

Wreck and ground fishing 7am-4pm

Sun 30th Jun More...

Wreck and ground fishing 7am-4pm
Upcoming Individual Spaces on Blueye 2
Reviews
Summary:





Paul Nicholson (10/09/2016)

A crew from North East Maritime Trust on historic purse netter worked alongside Colin and his crew on Blueye on September 10. This was in the making of a scene of The Last Kingdom for Carnival Films. At all times Colin followed the instructions of the director without drama or fuss whilst running in close formation with us, a short distance outside the Tyne breakwaters. Impressive manoeuvering and nothing too much trouble. Thank you Colin.

Skippers Reponse: Hi Paul thanks for the opportunity was great day manny thanks

Robert Ferguson (24/07/2016)

First time out on the Blueye 2, was a good mix of experienced and novive anglers, plenty of fish to be had by all fishing the wrecks with only losing one trace! Good boat and an experienced skipper, will be going back and would recommend to anyone! Cheers

Skippers Reponse: Cheers bud three at time the way to do lol cheers

Colin De Block (17/07/2016)

excellent day out with a great bunch of lads, first time for me at this type of fishing with plenty of help from skipper Colin and the rest of the lads cuaght plenty of fish including makeral , pollack and ling would highly recommend

Skippers Reponse: Cheers Colin see you again bud

Danny Logan (09/07/2016)

Awesome trip out great bunch and a good day. Was on the fish straight away first drop but then again I was using the correct gear to fish unlike one lad who was using small weights and not wrecking properly like but other then that I couldn't recommended Colin as a skipper and the blue eye2 highly enough

Skippers Reponse: Tite lines Danny see you next trip

Bob Bob (09/07/2016)

Well was absolutely shite 4 howers fishn me line was only in the water 30mins more like a boat trip than a fishing trip this guy reely needs a fish finder and stay in one plase for more than literally 5mins wouldnt rekomend this boat if u want to fish good for site seeing tho

Skippers Reponse: Fishing with six oz Waights not experienced angler some of lads did try coach the youngster. Rest lads enjoyed the trip no worries
Latest Catches 44 photos uploaded
Unknown
11 lb 8 oz Ling (Common)
9-Jun-2019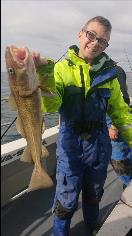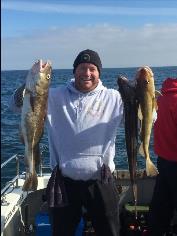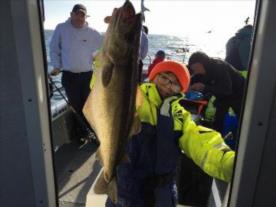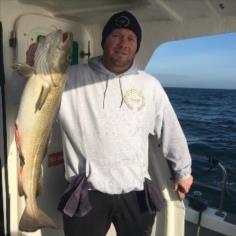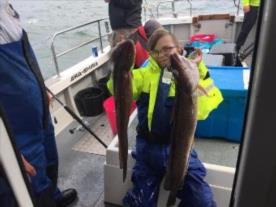 Latest Fishing Reports and News
15/06/2019

Fishing Report by Colin Graham

15 Jun 2019 by Colin Graham

Weekend report:-

Set off Saturday morning wondering north or south to head due to the seas and rain we've had through the week, a flip of the coin decided south it was, we picked up a few fish early on then an un-forecast wind from the s.e came away making fishing even harder than it already was, we had no more than 20 fish for the day to maybe 6lb, Saturday evening was a pick away trip, dozens of 6" coalies and a few cod, the weather was fantastic kinda making up for the lack of fish!!! (in a way haha)

We set off Sunday morning with a plan to fish the local wrecks and a southerly wind coupled with the tide put a dampener on that one so we headed inshore for a bit shelter which we got working our way along the coast only managing a few cod for the efforts then the wind dropped and wreck time it was come noon. Just aswell we did as we ended the day for 30+ fish with ling to around 12lb and cod to around 7lb and a dozen or so macky, the hard work and moving around payed off in the end.

Get your places booked up peeps on 07572381784 as spots are going fast and it's first come first served, thanks to all those who fish with us as it can't be done without you's!! Tight lines folk

09/06/2019

Fishing Report by Colin Graham

9 Jun 2019 by Colin Graham

Considering yesterday's weather and all the fresh water coming off the land today's trip was better than i expected. Finished the day with around 20-25 fish, biggest ling around 11-12lb, cod to around 4lb and also found a few mackerel which are still shy.

06/06/2019

Fishing Report by Colin Graham

6 Jun 2019 by Colin Graham

Great night on board the Famous Blueye 2 - full house keen anglers and 3-4 hour window find some cod - ling - macky we steamed south to one my littel marks 4.5 mile north Hartlypool it was Handel down we were on a mission- macky on the drop - cod up to 7lbs few ling fair few went back supprised being in deeper water - 25 plus keepers - great banter enjoyed by all even the tip jar revived good donation

01/06/2019

Fishing Report by Colin Graham

1 Jun 2019 by Colin Graham

Good day on the fish today, 6 anglers bringing more 70 fish over the rails between 3 & 6lb, amongst the catch were cod, ling, pollack, wrasse, coalfish and mackerel. Some really good angling to be had these past 2 weeks.
Also Colin Graham on the hubberston (large vessel blueye fleet) fishing the offshore wrecks landed around 50 between 5 & 7lb, all in all a great day for the blueye skipper's!

28/05/2019

Fishing Report by Colin Graham

28 May 2019 by Colin Graham

Cracking night last night on the catch........... Full boat, great stamp of cod to 7lb, ling to 6lb and we also found the first of the elusive macky for the Tyne boats!! We have space all weekend with 8 available spots on Saturday 1st June @£45pp rod/reel hire, bait and tackle available at extra on request!!

The full boat is available on Sunday for individual places @£45pp or if there's a group who fancy the boat to themselves with more space to fish then call us on 07572381784 and no doubt we'll sort a price out to suit you's!!

We will also be running more evening trips from Monday 3rd June (5-9pm) as the macky are here and sport will be great, get it while you can as the boat will be filling fast!! Group bookings are also available for these shorter trips which are great for all!! ⚓⚓⚓