Charter Boat: Celtic Spirit
Boat and Skipper Details
Licensed For:
up to 12 passengers
Hours:
2hr / 4hr / 5hr / 6hr / 8hr / 10hr Trips
Type of Fishing:
Tope, Black Bream and general ground fishing
Tackle Available:
Yes - Contact Skipper
Boat Specification:
evolution 38
Facilities:
On board toilet
Additional Description:
Celtic Spirit is a Evolution 38 Charter Angling boat. The boat is licensed for twelve persons. Hire equipment is available on request, and all parties are catered for.
This Charter has been listed as Wheelchair Accessible. Contact the Skipper for full details.
Sunday
Monday
Tuesday
Wednesday
Thursday
Friday
Saturday

Color for Fully Booked

Fully Booked

Color for Partially Booked

Partially Booked

Color for Available

Available

Color for Not Available

Not Available

Color for Unspecified

Unspecified

N.B. Not all Skippers keep this dairy up-to-date. Always check with skippers before making any plans. Last calendar update: 11-May-2015

Sat 1st Sep
Sun 2nd Sep
Mon 3rd Sep
Tue 4th Sep
Wed 5th Sep
Thu 6th Sep
Fri 7th Sep
Sat 8th Sep
Sun 9th Sep
Mon 10th Sep
Tue 11th Sep
Wed 12th Sep
Thu 13th Sep
Fri 14th Sep
Sat 15th Sep
Sun 16th Sep
Mon 17th Sep
Tue 18th Sep
Wed 19th Sep
Thu 20th Sep
Fri 21st Sep
Sat 22nd Sep
Sun 23rd Sep
Mon 24th Sep
Tue 25th Sep
Wed 26th Sep
Thu 27th Sep
Fri 28th Sep
Sat 29th Sep
Sun 30th Sep
Reviews
Summary:





Reviews Unaccepted: 1
vimal stanley (20/07/2014)

Was out on Saturday 19th with Sean for wrecking. As many had come from far and wide, a closer to port bream and tope trip was organised. Despite Sean's best efforts the Bream were difficult to locate with not many being caught despit a variety of baits being tried. The afternoon half of the day overwhelmed all the anglers on the boat, with many a tope . Sean helped me break my reluctance to attempt Tope fishing, with one almost taking my rod with it. Now that I am hooked can't wait for the next Tope trip. Each of us anglers had atleast 4 with some boating 6 or more, not to mention the few near misses due to snapped lines. Thank you Sean for the fantastic 2 days.

vimal stanley (19/06/2014)

Trip was planned last year, in 2013. All anglers were eager and so was Sean. 6 am start to reach the wrecks on time. The sea was calm with no wind - perfect for a day of wrecking. Once at the wrecks it was constant work for all the anglers. As usual some of the veterans were pulling in more than the beginners. Nevertheless all anglers on the boat were kept busy. Plenty of pollock, cod ,pouting, some coal fish and few wrasse had on the wrecks. Can't wait for the next trip Sean.

john tucker (30/11/2012)

7.00 a.m. start, 0 degrees, seas calm, sky clear. We gave it a go just for the craic. 5 hours of bliss, with light tackle, four species and bacon butties. First time I've fished in winter and I loved it. Thanks Sean, good stuff.

Jeffrey Thomas (07/09/2012)

An excellent day wrecking yesterday. I was very glad that the inshore forecast was totally inaccurate. It was flat calm and perfect condirions. Lots of fish - ling, pollack, cod, wrasse, pouting, bream, whting, conger, bull hus, dogfish and of course mackerel. Hard work for the skipper, but a super day for us.

Jeffrey Thomas (07/09/2012)

An excellent day wrecking yesterday. I was very glad that the inshore forecast was totally inaccurate. It was flat calm and perfect condirions.
Latest Catches 5 photos uploaded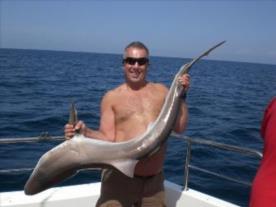 Unknown
2 lb Black Sea Bream
7-Jul-2013
chris
9 lb 8 oz Bull Huss
7-Jul-2013
Latest Fishing Reports
14/06/2014

Fishing Report by Sean Roche

14 Jun 2014 by Sean Roche

Tope and bream showing well, mackerel slow to show but hopefully on their way| weather settled down so fingers crossed

13/07/2013

Fishing Report by Sean Roche

13 Jul 2013 by Sean Roche

Excellent tope and bream fishing at the moment. Had the Talbot sea angling club on Saturday and they boated 23 tope and a good catch of bream and other species. Fishing is very productive at the moment with catches of 12 plus tope daily.