Charter Boat: Channel Warrior
Availability Calendar
5 Reviews

Boat and Skipper Details
Licensed For:
up to 12 passengers
Code Of Practice:
60 Miles
Hours:
1hr / 3hr / 4hr / 6hr / 8hr / 10hr / 11hr / 12hr / Multiple Days Trips
Type of Fishing:
wrecks, reefs and banks. Drift fishing and anchoring depending on tides, wind or sea conditions
Tackle Available:
Yes - Contact Skipper
Bait Available:
Yes - Contact Skipper
Boat Specification:
Offshore 105 with all up-dated HD plotters, sounder/fish finder and radar. Safety equipment above and beyond licence requirments
Facilities:
micro wave oven tea & coffee or cup-pa soup, biscuits and home made cake
Additional Description:
Channel warrior is a full time angling boat owned and skippered by myself and operates right through the year. She has been taking anglers safely to sea for the last 20 years, and for many more years to come. She has a new cat. 430 hp engine and cruises at 12 to 14 knots. Because this is my main source of income you can be sure I will give you the best day possible so that you the angler will want to come back time after time, my living depends on it.
In Lyme Bay there are hundreds of reefs,rough grounds and wrecks and some of the reefs are now no go areas for trawlers and these areas have now started to fish very well indeed. Lyme bay will fish any state of the tide with the exception of the biggest of springs and the the smallest of neaps which can prove challenging but not imposable. Starting in 2014 I will be giving a £40 gift voucher from a well known tackle supplier for the best fish, at the end of every month, or a free trip the winner chooses which.
PRICE GUIDE FOR 2014
1 hour mackerel fishing £10 (any age)
3 to 4 hour trips. Ideal for the novice, to provide an in-site into boat fishing, enabling you to decide whether it is for you or not. The price includes rod, tackle and bait with all the help and encouragement you need (seasoned anglers also welcomed on this one) £25 per person
INSHORE up to 8 nm from the harbour (these now are based on 8-12 hour trips)
Individuals £45 per person whole boat charter £380
OFFSHORE up to 15 nm from the harbour
Individuals £45 whole boat charter £400
DEEP WATER WRECKS AND BANKS up to 20 nm from the harbour
Individuals £55 Whole boat £490
6 HOUR TRIP up to 6 nm from the harbour
Individuals £35 Whole boat £300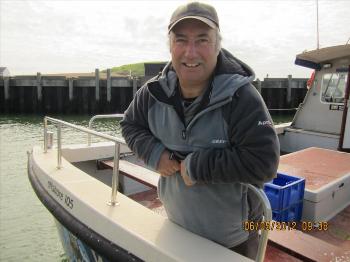 Sunday
Monday
Tuesday
Wednesday
Thursday
Friday
Saturday

Color for Fully Booked

Fully Booked

Color for Partially Booked

Partially Booked

Color for Available

Available

Color for Not Available

Not Available

Color for Unspecified

Unspecified

N.B. Not all Skippers keep this dairy up-to-date. Always check with skippers before making any plans. Last calendar update: 14-Mar-2018

Thu 1st Mar
Fri 2nd Mar
Sat 3rd Mar
Sun 4th Mar
Mon 5th Mar
Tue 6th Mar
Wed 7th Mar
Thu 8th Mar
Fri 9th Mar
Sat 10th Mar
Sun 11th Mar
Mon 12th Mar
Tue 13th Mar
Wed 14th Mar
Thu 15th Mar
Fri 16th Mar
Sat 17th Mar
Sun 18th Mar
Mon 19th Mar
Tue 20th Mar
Wed 21st Mar
Thu 22nd Mar
Fri 23rd Mar
Sat 24th Mar
Sun 25th Mar
Mon 26th Mar
Tue 27th Mar
Wed 28th Mar
Thu 29th Mar
Fri 30th Mar
Sat 31st Mar
Reviews
Summary:





john dean (11/08/2015)

Thank you Steve for a most enjoyable trip. After a slow start the fishing came alive and along with the great banter from the boys, excellent coffee and cake and of course great fishing it was a most enjoyable day.

Skippers Reponse: Thanks John glad you enjoyed your day, hope to see you again on channel warrior.

Ben Burke (23/06/2015)

Thanks again to Steve for a fantastic day on Channel Warrior.I was slightly concerned after a slow start but all changed after a few drifts, Cod in abundance .Cracking day. Ps you need a bigger cool box.

Skippers Reponse: Thanks Ben I will be ordering 2 new cool box's

Ben Burke (09/06/2015)

Fantastic day plaice fishing, biggest 4.5 pound.Thanks Steve

Skippers Reponse: Thanks Ben you're review is appreciated, glad you enjoyed your day.

Tony Raddon (06/10/2013)

Fantastic days fishing with Steve. 8 of us on board and plenty of room as the Channel Warrior is a big boat. Hugely helpful to all on board and never stops trying to put you on the fish. Regardless of your level of abilty I would definitely recommend Steve and the Channel Warrior

Skippers Reponse: Thank you Tony for taking the time to post an encouraging review. Look forward to having you all aboard again in the future

John Fowle (03/03/2012)

I been fishing aboard the channel warrior during the summer autumn winter and spring, I can say with all honesty I have enjoyed every trip, I have been very ill during this time with heart problems. But it's no problem for Steve or Alan, and feel in safe hands when aboard. They are more than willing to help with my tackle to the boat and afterwards always willing to help me back to my car. Steve will always try to find the best spots to fish from and if they are not fishing as well as expected, the boss soon up anchor and moves to a new spot. Early on this year fishing was bad, mainly because of the very late spring, but once the spring bloom was clear it was back to the fishing we are use to. But I do enjoy the winter fishing most as Steve always is able to find great action channel whiting fishing, it's rare trip when you don't catch 30/40 prime whiting in one session. You get very good value for money and well worth a trip. There's never a problem taking all the fish you catch. If you have a really good trip you will fill your freezer with good eating fish that will last a few weeks or you can give them to your family and friends.

Skippers Reponse: Thanks John for taking the time to write a review, its always a pleasure to have you aboard, lets hope the weather is kind to us this coming winter. See you next week, tight lines mate
Latest Catches 551 photos uploaded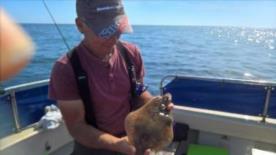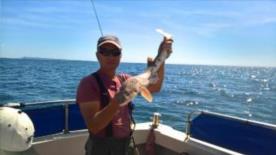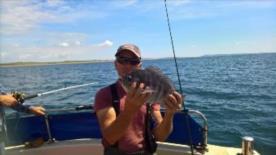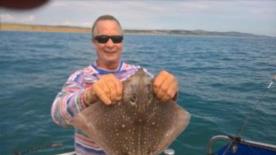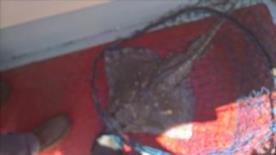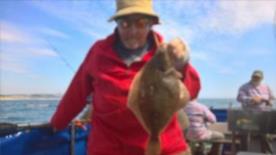 Latest Fishing Reports
26/07/2017

Fishing Report by Stephen Wake

26 Jul 2017 by Stephen Wake

There are some nice rays showing up on the inshore marks now also a steady flo of plaice. All we need now is the weather to settle down so that we can get out there after them

16/07/2017

Fishing Report by Stephen Wake

16 Jul 2017 by Stephen Wake

A steady flow of good size black bream are now coming aboard, this should get better now over the next couple of months. Mackerel are still a bit hit and miss, one day good next day can't find enough for bait and exactly the same thing with the plaice.
Todays adventure started off very slow but after midday the wind dropped and the sea flattened out a bit and the bites came on good and strong.
Tight lines to all Steve


09/07/2017

Fishing Report by Stephen Wake

9 Jul 2017 by Stephen Wake

Not only is there some big old congers on the wrecks and lots of them. There is also some good smooth hound and tope fishing along with a variety of rays .

05/07/2017

Fishing Report by Stephen Wake

5 Jul 2017 by Stephen Wake

We have been getting a lot of good conger fishing on the wrecks lately 40-50 off just one wreck up to 60lb. All conger caught are released. On the small tides when other fish play hard to get, the conger gives a good days sport . If you fancy having a bash at them , give me a call.
Tight lines Steve

18/06/2017

Fishing Report by neil hopkins

18 Jun 2017 by neil hopkins

Great day out with the boys,fishing and hospitality great as usual,conger to 60lb and plenty of them,cheers Steve/Alan great day had by all.look forward to the next trip...good to see you so busy on deck.cheers.weston boys.