Charter Boat: Chinook 3
Licensed For:
up to 10 passengers
Code Of Practice:
cat 2 60 miles
Type of Fishing:
General uptiding/boatcasting
Tackle Available:
Yes - Contact Skipper
Bait Available:
Yes - Contact Skipper
Boat Specification:
Twin engined Bullet 38
Facilities:
18 knot cruise. Island wheelhouse, crew cab, on deck toilet, purpose built charter vessel.
Additional Description:
Fast twin engined Bullet 38. 20 knot cruise with 660 hp, crew cab, on deck toilet, tons of deck space, fantastic purpose built angling boat fishing sheltered Thames Estuary and sandbanks for cod,skate,bass,tope,smoothounds etc all year round. Extensive electronics.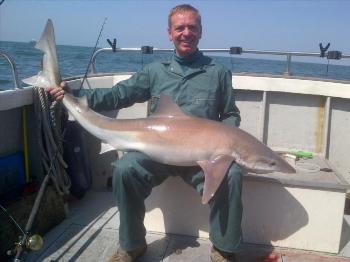 About the Skipper:
32 years professional charter skipper, one of the most experienced and friendly skippers on the east coast.
Check out From The Waters Edge TV with the latest big smoothound action.
www.anglingdirect.co.uk on their blog.
http://www.youtube.com/user/FromTheWatersEdgeTV
Latest Fishing Reports
17/09/2017

Fishing Report by Phil White on Chinook 3

(Bradwell Marina, Essex)

17 Sep 2017 by Phil White

The weather has been very unsettled over the last few weeks but it is finally settling down and this has allowed us to get offshore for the Bass.

We have had some cracking fish with the best at over 8lb, these fish are shoaling up on the offshore banks before moving south for the winter, now is the best time of the year for us to target them before they go, best baits are worm and squid.

There are good numbers of thornbacks showing in all areas offshore and a few starting to show inshore now as well, these fish are a good size although thinner because they have spawned, best baits are squid and fish.

The whiting are showing up in all areas although inshore is best, especially along the shoreline off of Walton and Clacton, best baits are squid, lug and mackerel.

Most of the smoothounds have moved off although there are plenty of smaller ones further offshore, the bigger ones have gone quite early this season with the drop in sea temperature, however this might be a good sign for the cod.

Talking of which, hopes are high that we might see some cod this winter, certainly there are some on the south coast already and sea temperatures are down on this time last year so keep everything crossed and keep checking social media for the latest reports.

Picture caption reads: Some cracking Bass caught this week on the Chinook 3 skippered by Phil White.


15/08/2017

Fishing Report by Phil White on Chinook 3

(Bradwell Marina, Essex)

15 Aug 2017 by Phil White

The last fortnight has seen some unsettled weather but the fishing has been excellent.

There are a lot more Smoothounds around and plenty of them are over 10lb, sport has been hectic at times with multiple hook ups and screaming reels !!. These fish are the move all the time while feeding and when hooked they charge off like a train, great fun.

There have been some nice Bass around, more than last year with quite a few doubles reported and plenty returned alive, most days we are seeing at least one good Bass and some days 3 or 4, most fall for a squid bait but a fresh or frozen mackerel chunk works well.

Talking of mackerel, we have had a lot at times with anglers getting full strings every drop but as always with mackerel fishing you can go to the same spot next day and nothing, they have moved again but great fun while it lasts.

There are a lot more Thornbacks moving back in to all areas offshore, these summer fish are really pulling in the clear water and are much more fun than when caught in coloured water, sometimes it is a job to tell them from other fish if the tide is not running.

There have been a few more Stingrays caught this year than in recent years, possibly because of less commercial activity, most are caught on ragworm, mackerel or squid.

Prospects are excellent, September is our best month for Bass fishing when we can actually target them more effectively as they shoal up before leaving us for the year, the hounds will stay around until well into October and there will be good numbers of thornbacks.

06/07/2017

Fishing Report by Phil White on Chinook 3

(Bradwell Marina, Essex)

6 Jul 2017 by Phil White

The last few days have been calm and sunny and this has allowed the charter boats to get offshore and enjoy some cracking sport.

There has been a big influx of mackerel to all offshore areas; these super little fish are providing some great sport over the slack water when we would otherwise be waiting for the tide to turn.

There are a lot more smoothounds showing up, a lot of these fish are 7-8lb with a few better ones in certain areas, best baits are hermit and peeler but ragworm works well.

There have been some lovely bass caught this week with the best reported at 14lb, this fish was returned alive. We had fish up to 9lb on the Chinook with most boats seeing bass on a daily basis, best baits are squid for the bigger fish and worm baits for the smaller fish inshore.

The thornbacks are still in good numbers offshore with some big fish still around. We had our biggest thornie on Wednesday at 13lb; it was a big fish and would have been 16lb plus in the spring before it had spawned.

Inshore is quieter now that the thornbacks have moved offshore, there are still a few around in some areas. There are plenty of school bass in the Estuaries if you can get out of the weed which seems bad this year inshore.

Prospects are excellent, there is a lot of bait fish in the water and this will bring more fish into the Estuary.





04/06/2017

Fishing Report by Phil White on Chinook 3

(Bradwell Marina, Essex)

4 Jun 2017 by Phil White

The last fortnight has seen a steady influx of summer fish whilst the thornbacks have just started to move offshore.



Offshore

There are more hounds starting to show with some cracking fish amongst them. Best of the fish on Friday was a beauty of 15lb caught on our boat by Paul Beach, there were several other fish around 10lb or so and we also lost a couple of good fish.

All these fish were caught on hermit crab, all released unharmed.



There are more bass showing in all areas with reports of fish up to 10lb, these fish will take most baits including squid, mackerel, crab and worm, there have been reports of shoaling fish which will take feathers jigged up and down when the water is clear.



There are plenty of thornbacks in all areas, these fish will start to move further offshore in the next few weeks.



There are a few small tope showing and hopefully when the mackerel turn up there will be some bigger ones as well.



Inshore



There are still stacks of thornbacks showing although there are signs they are starting to move offshore from some areas.



The piers are fishing well on the bigger tides for thornbacks, bass, dabs, whiting and odd sole with the top half of the tide always best.



There have been some big stingrays caught off the beaches with the best reported at around 47lb, these hard fighting rays like ragworm baits but will take squid and mackerel.



The Estuaries are fishing well for school bass although the weed is starting to be an issue, best off drifting for them with worm baits, there are still a few thornbacks and dabs coming out.



Prospects are excellent with more bigger hounds showing and there will soon be tope and mackerel as well.






24/04/2017

Fishing Report by Phil White on Chinook 3

(Bradwell Marina, Essex)

24 Apr 2017 by Phil White

Here come the summer fish !

The weather has been lovely over the last fortnight and this has allowed the charter boats to get out regularly where we have enjoyed some excellent sport on the thornbacks.

Inshore

The fishing inshore has been superb with big numbers of thornbacks showing, best reported at around 16 lb, these bigger female rays are full of eggs and should be returned alive to protect stocks. There are also lots of the smaller male thornbacks around and numbers seem to be increasing every year. Best baits are herring, mackerel, squid and any other fish baits available. Don't forget to use a big strong hook and strong trace of at least 40 lb breaking strain.

There are a few bass starting to show with quite a few caught over this weekend, best reported at around 8 lb, again best baits are the same as for the thornbacks but the bass also love crab and worm baits.

There are a few small smoothounds starting to show, these early male fish will take squid baits but their favourite is hermit and peeler crab, the bigger female hounds will start to show around mid May.

There are a few dogfish and good whiting still around although the whiting will soon move off.

There have been some big stingrays caught from the beach marks, these hard fighting rays should be handled with care, their stinger under the tail can be deadly, best baits are ragworm, squid and crab, these fish taste horrible and should be returned alive.

Offshore

The offshore marks have been producing good numbers of thornbacks and dogfish, however as the water starts to warm there are increasing numbers of small smoothies and bass showing, all these species can be caught on squid baits this time of year but when the bigger smoothies turn up they will prefer crab baits.

There have been some cracking spurdogs showing with reports of fish up to 20 lb, these hard fighting mini sharks tend to stay well offshore outside of the sandbanks but can be caught in big numbers if found, best baits are squid and mackerel, tackle needs to be strong as if you are tope fishing, watch out for the spikes behind their fins.


Prospects are excellent, it's that time of year when you never know what you might catch, very exciting.


View All Fishing Reports
Edit this boat listing
Availability
SEPTEMBER - 2017

| Su | Mo | Tu | We | Th | Fr | Sa |
| --- | --- | --- | --- | --- | --- | --- |
| 27 | 28 | 29 | 30 | 31 | 1 | 2 |
| 3 | 4 | 5 | 6 | 7 | 8 | 9 |
| 10 | 11 | 12 | 13 | 14 | 15 | 16 |
| 17 | 18 | 19 | 20 | 21 | 22 | 23 |
| 24 | 25 | 26 | 27 | 28 | 29 | 30 |
Color for Fully Booked

Fully Booked

Color for Partially Booked

Partially Booked

Color for Available

Available

Color for Not Available

Not Available

Color for Unspecified

Unspecified
N.B. Not all Skippers keep this diary up-to-date. Always check with skippers before making any plans. Last calendar update: 21-May-2013
Reviews
Summary:





Peter Van Dyck (10/05/2017)

What a fantastic day we've had. Good catches of over 60 skate and a few doggies and whiting . I've been looking for a good skipper for some time. On the recommendation of a friend we booked. Certainly coming again. Phil provided tuition when needed and more tea than I've ever been offered on a boat trip before.

Jason Bagge (26/02/2017)

Phil looked after us all very well. He is well set up, with good quality fishing equipment, and the boat has lots of rod holders on the gunnels. On top of that, he knew where the fish were. In the first half hour, we landed 3 rays. Although the conditions were tough, with a strong south westerly, we got through the day with a total 17 fish landed (mostly rays), keeping a couple for the pot. Thank you so much.

Barry Newman (18/02/2017)

At last with a spell of settled weather we managed to get offshore and yet again Phil put us on the fish with a good number of thornbacks comming to the boat,another good days fishing I will be going again ina few weeks by whic time the rays should really have their heads down and feeding

Barry Newman (26/07/2016)

Thanks to Phil for managing to fit a trip in for us at very short notice it was as usual a great day out with one of the best skippers around and plenty of hard fighting hounds to keep us all occupied

James Clark (24/04/2016)

Had a day out today on the Chinook 3 with my son. First time on this boat after booking at short notice when i couldn't get out on the normal charter that we use. It turned out to be a very good decision and i would highly recomend this boat. We got off nice and early to make best use of the tide and were on our first mark within the hour. Skipper Phil had the kettle on already and we had squid and herring provided. That was the start of one of the best days skate fishing that we have had, we stopped counting after 20 skate and the normal dogfish on top of that.Phil when not making regular cups of tea was with us on deck, unhooking fish and giving good advice, he worked hard, clearly wanting us to have a good day, and we did, Can't say much more than that, great modern, fast boat with an excellent skipper,will definitely be booking again.
View All Reviews
Add A Review