Charter Boat: Chinook 3
Boat and Skipper Details
Licensed For:
up to 10 passengers
Code Of Practice:
cat 2 60 miles
Type of Fishing:
General uptiding/boatcasting
Tackle Available:
Yes - Contact Skipper
Bait Available:
Yes - Contact Skipper
Boat Specification:
Twin engined Bullet 38
Facilities:
18 knot cruise. Island wheelhouse, crew cab, on deck toilet, purpose built charter vessel.
Additional Description:
Fast twin engined Bullet 38. 20 knot cruise with 660 hp, crew cab, on deck toilet, tons of deck space, fantastic purpose built angling boat fishing sheltered Thames Estuary and sandbanks for cod,skate,bass,tope,smoothounds etc all year round. Extensive electronics.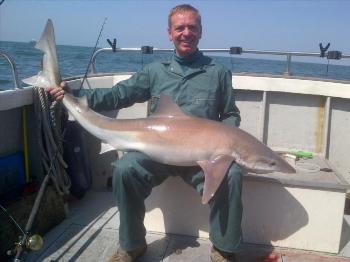 About the Skipper:
32 years professional charter skipper, one of the most experienced and friendly skippers on the east coast.
Check out From The Waters Edge TV with the latest big smoothound action.
www.anglingdirect.co.uk on their blog.
http://www.youtube.com/user/FromTheWatersEdgeTV
Upcoming Individual Spaces on Chinook 3
Sorry, there are currently no Individual Spaces at present.
Reviews
Summary:





Peter Van Dyck (10/05/2017)

What a fantastic day we've had. Good catches of over 60 skate and a few doggies and whiting . I've been looking for a good skipper for some time. On the recommendation of a friend we booked. Certainly coming again. Phil provided tuition when needed and more tea than I've ever been offered on a boat trip before.

Jason Bagge (26/02/2017)

Phil looked after us all very well. He is well set up, with good quality fishing equipment, and the boat has lots of rod holders on the gunnels. On top of that, he knew where the fish were. In the first half hour, we landed 3 rays. Although the conditions were tough, with a strong south westerly, we got through the day with a total 17 fish landed (mostly rays), keeping a couple for the pot. Thank you so much.

Barry Newman (18/02/2017)

At last with a spell of settled weather we managed to get offshore and yet again Phil put us on the fish with a good number of thornbacks comming to the boat,another good days fishing I will be going again ina few weeks by whic time the rays should really have their heads down and feeding

Barry Newman (26/07/2016)

Thanks to Phil for managing to fit a trip in for us at very short notice it was as usual a great day out with one of the best skippers around and plenty of hard fighting hounds to keep us all occupied

James Clark (24/04/2016)

Had a day out today on the Chinook 3 with my son. First time on this boat after booking at short notice when i couldn't get out on the normal charter that we use. It turned out to be a very good decision and i would highly recomend this boat. We got off nice and early to make best use of the tide and were on our first mark within the hour. Skipper Phil had the kettle on already and we had squid and herring provided. That was the start of one of the best days skate fishing that we have had, we stopped counting after 20 skate and the normal dogfish on top of that.Phil when not making regular cups of tea was with us on deck, unhooking fish and giving good advice, he worked hard, clearly wanting us to have a good day, and we did, Can't say much more than that, great modern, fast boat with an excellent skipper,will definitely be booking again.
Latest Catches 54 photos uploaded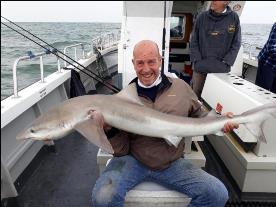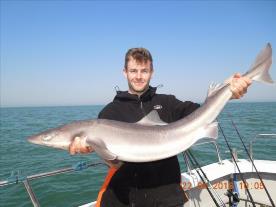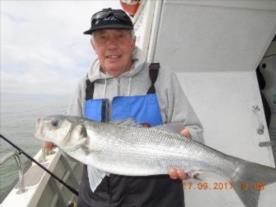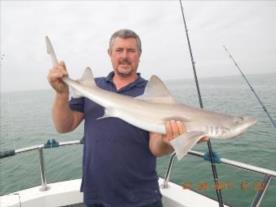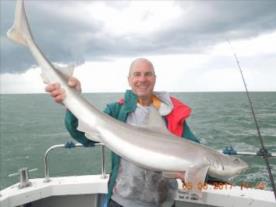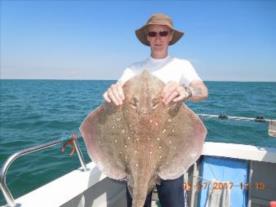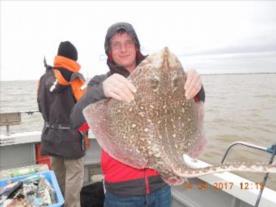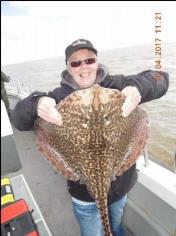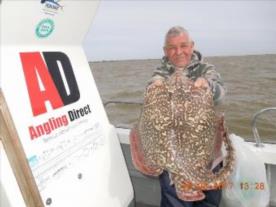 Unknown
16 lb Thornback Ray
18-Mar-2017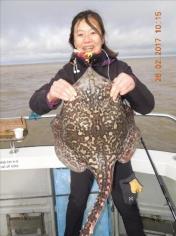 Latest Fishing Reports and News
12/06/2018

Fishing Report by Phil White

12 Jun 2018 by Phil White

We have not had a good run of Tope in the Estuary for a long time so it was a lovely surprise this week to see some cracking fish turning up.
The biggest reported was a 57 lb fish on Derek Mole's boat Eastern Promise on Saturday followed by a 51lb and another 4 over 40lb.
There are plenty of fish between 30 and 50lb and a good run of 10 to 20lb fish as well, both male and female. Best baits are fresh mackerel but the frozen baits are starting to work as more Tope turn up and get competitive.
Because of the chances of hooking one of these big fish have increased significantly anglers should now rig up as if they are targeting them if they are using fish baits.
Re-spool your reels with good quality 25-30lb line with a shock leader, traces should be wire or heavy 150-200lb mono, 8/0 hooks and 210 gram gripper leads.
You will also need a big T bar or long nosed pliers, if you want to weigh them use a big sling and do not weigh them from the tail but support the whole body.
Finally the most important point. keep away from the mouth, hold the fish under the pecs or by the dorsal if you are feeling strong. if you get a bite from one of these fish you will be taking a ride in a helicopter for lots of stitches !!!.
There are a lot more Smooth hounds showing up especially inshore where we have seen several fish up to 16lb. These fish have been taking squid baits whilst roker fishing but anglers targeting them with hermit crab have had better results.
There are more Bass now with the biggest we have seen at a cracking 11lb from an inshore mark last week on squid.
There are still plenty of Thornbacks inshore although by the time of my next report they will probably have moved offshore.
There are a few mackerel but they are well scattered, hopefully by next week's neap tides there will be more.
Prospects are excellent, if the Tope hang around the Estuary for the summer it could be our best season for quite some time.
Tight lines.
 

21/01/2018

Fishing Report by Phil White

21 Jan 2018 by Phil White

We have had every kind of weather you can imagine over this last fortnight and lost a lot of trips. However we have managed to get the last two weekends in and i'm pleased to report that there are some cod here.

There has been a definite increase in numbers and size of cod this week with all the boats reporting a few more fish this weekend with  quite a few between 2-3lb. There are a few more sprats in the water now but this is actually helping to bring the cod in providing we don't get a glut of them. We did miss some good bites and dropped a couple of fish as well. When the bites are shy you need to cut the squid down and use elastic cotton and keep the bait up the hook with nothing hanging off. 

There are some cracking whiting to be caught with several fish over the 1lb mark on Sunday, generally though there are a lot less whiting and this is also giving the cod a chance to get to the baits.

There are a few nice Thornbacks showing, some of them are getting on for double figures, these female fish have eggs and should be returned alive.

The Estuaries and shore marks are always hard in the new year but with less whiting now there could be a chance of a cod from the piers and it won't be long before more Thornbacks show up. 

Prospects as always depend on lots of factors this time of year but signs are encouraging and things can change overnight so don't give up, the winter fishing changes every year and none of us know what might turn up,  keep trying. 

06/01/2018

Fishing Report by Phil White

6 Jan 2018 by Phil White

Happy new year to everyone. Well we have had some really horrible weather over the holiday period but it is nice to get back into a routine of sorts.

We have not managed to get out for a fortnight so it was a relief to finally get a trip in this Saturday. Well the good news is that there are still some codling around although there are not many, we managed five on Saturday up to 2lb with all the other boats reporting a few.

What was encouraging was a return of some nice big female Thornbacks which we have not seen inshore since the spring, these females have eggs in and should be returned to the sea but it does mean there are more decent fish to catch along with the chance of a cod. All the other boats also reported several nice Thornbacks.

There are plenty of nice whiting still around in all areas although they do leave the Estuaries over the new year, the piers and shore marks will still produce right through the Winter.

There are some lovely dabs in the Estuaries with several fish reported at over 30cm, these tasty little flatties are easily caught using paternoster rigs fished up and down rather than casting, small baits of worm, squid or herring work well.

Prospects as always in the winter depend on lots of factors, water temperature, abundance of Herring or Sprat and numbers of Cod but there are some nice fish to be caught and the past few Januaries have been quite good fishing so don't give up on it, have a day out and enjoy it.

17/10/2017

Fishing Report by Phil White

17 Oct 2017 by Phil White

The weather over the last fortnight has been quite lovely with some warm days and sunny skies. This has allowed our anglers to get out and enjoy some excellent sport with a variety of species.

Offshore

The Bass fishing has been superb with some cracking fish showing, we have had quite a few fish around
6-7lb and a lot around 3-4 lb, these fish are further off on the banks and will move off soon.

There are plenty of Thornbacks around with some really lovely fish up to 10lb reported, these fish will stay around for most of the winter depending on water temperature and food.

There are lots of Whiting showing up in all areas, some of these fish are a decent size, best baits are fish and lug.

Inshore

There are lots more Thornbacks showing in most areas and these are very welcome with the absence of cod at the moment, best baits are squid and herring.

The whiting are pushing into all the Estuaries in good numbers and this is good news when the weather does not allow us to get further out. The dabs are starting to feed on the small tides.

The piers and shore marks are producing Whiting, Thornbacks and Dabs with the odd codling, best tides are springs mid flood to mid ebb.

Prospects are excellent but this depends on weather the cod show up, there are reports of a few more than last winter so fingers crossed.



17/09/2017

Fishing Report by Phil White

17 Sep 2017 by Phil White

The weather has been very unsettled over the last few weeks but it is finally settling down and this has allowed us to get offshore for the Bass.

We have had some cracking fish with the best at over 8lb, these fish are shoaling up on the offshore banks before moving south for the winter, now is the best time of the year for us to target them before they go, best baits are worm and squid.

There are good numbers of thornbacks showing in all areas offshore and a few starting to show inshore now as well, these fish are a good size although thinner because they have spawned, best baits are squid and fish.

The whiting are showing up in all areas although inshore is best, especially along the shoreline off of Walton and Clacton, best baits are squid, lug and mackerel.

Most of the smoothounds have moved off although there are plenty of smaller ones further offshore, the bigger ones have gone quite early this season with the drop in sea temperature, however this might be a good sign for the cod.

Talking of which, hopes are high that we might see some cod this winter, certainly there are some on the south coast already and sea temperatures are down on this time last year so keep everything crossed and keep checking social media for the latest reports.

Picture caption reads: Some cracking Bass caught this week on the Chinook 3 skippered by Phil White.