Charter Boat: Cleveland Princess
Availability Calendar
60 Reviews

Reviews Unaccepted: 3
Boat and Skipper Details
Licensed For:
up to 6 passengers
Code Of Practice:
20mile,cat 4.
Type of Fishing:
bottom/wreck drifting, anchored bottom bait fishing on banks/contours.
Tackle Available:
Yes - Contact Skipper
Bait Available:
Yes - Contact Skipper
Boat Specification:
lochin 33 purpose built angling/pilotage vessel
Facilities:
large saloon area/clean toilet facilities
Additional Description:
Cleveland Princess is a first class purpose built 10mt Lochin sea angling boat catering for the serious angler and novices alike we only take 6 anglers so you can have plenty of room, together with expert tuition if needed, we supply fresh squid bait in the price,lug and rag can be purchased from our selfs at the going rate,tea and coffee are supplied at no extra cost,hot pies, pasties,and bacon rolls are supplied on request,we will shoot a small long line with a hundred hooks for that added excitement to your days fishing price on request,the boat is moored in the yatch club beside the south pier you can park in this area free or you can park on the pay/display on marine parade next to the moorings,we also run a boat competion through out the year for heaviest Cod/Skate/Bass with a £2 entry per trip your chance of winning a £100 and a free trip out at your leasure to be taken in the same year as the catch for each specimen caught for full details email or call above numbers.
About the Skipper:
Brian and Paul are farther and son team and are both RYA Yatch Master/Coastal Skippers,we have fished this coastal area from Sizewell in the south to Hopton in the north for the last 40 years working out of Southwold and Lowestoft we are both anglers with a lot of experiance to pass on to your selfs to give you the best out of your day with us,if you require any other information please dont hesitate to phone,tight lines.
This Charter has been listed as Suitable for Diving Trips. Contact the Skipper for full details.
Upcoming Individual Spaces on Cleveland Princess
Reviews
Summary:





Reviews Unaccepted: 3
David Burden (25/10/2018)

Had a awesome days fishing with Brian Poppy on the Cleveland Princess. It was enjoyed by all can not wait to book another. Many thanks David

Skippers Reponse: Thanks for that David it was nice to see all you guys catch so many plus you all had a go at getting the herring out of the net lets hope we can find a few Cod next trip.

Chris Delf (18/12/2016)

Awsome day out with cleveland princess,landing my new p.b cod of 17lb,a great boat and great skipper,so many thanks brian! will definately be going again!

Skippers Reponse: Thanks for that Chris i didnt think it would be long before the better fish would be showing

Anthony Seymour (31/05/2016)

Another great day out on the Princess for my Birthday. I had some cancellations so I took my young kids. On the negative side, Brian's Balloon sculptures and magic show is utterly rubbish! On the plus side he's a great skipper who puts you on the fish!

Skippers Reponse: Cheers for that Antony i will have brush up on that side of the job,will keep you posted with the weekend results,BP.

Tim/Tanya Von Seld (01/08/2015)

Another brilliant day fishing. Caught my first cod and first ray. Looking forward to going out again. Brian was a top bloke, as usual. Tim & Tanya

Skippers Reponse: You are a great couple its great to have you on the boat,

Anthony Seymour (01/08/2015)

Big tides. Big baits. Big Rooker! See you in a couple of weeks. Thanks for a great day out.

Skippers Reponse: A cracking day Antony
Latest Catches 35 photos uploaded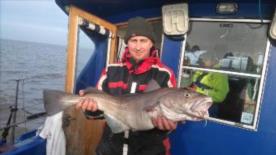 Chris
17 lb Cod
18-Dec-2016
Martin
15 lb 8 oz Blonde Ray
3-May-2016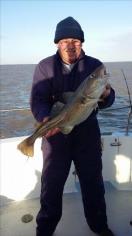 Chris
1 lb Turbot
3-Jul-2015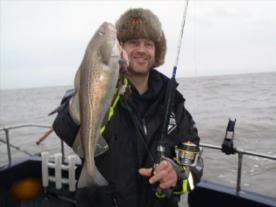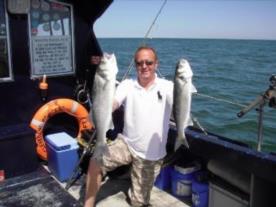 Latest Fishing Reports
14/01/2019

Fishing Report by brian poppy

14 Jan 2019 by brian poppy

With the lack of Cod in our area we are concetrating on Dabs and Whiting there seem to be an abundence of these fish this year,some of the Dabs that weve had are a good size and the area that has prodused the most is off Pontins and Red House plus we had one nice plaice last Saturday i am sure there are more of these orange spottys about,with the onset of spring i am sure we will be having a run of Cod around March with the Rooker and Hounds following with the big female Bass soon after so until then,BP.

05/01/2019

Fishing Report by brian poppy

5 Jan 2019 by brian poppy

With the lack of Cod in our area we have been targeting Dabs and some lovely big fish have been showing,these fish are now getting fat and ready to spawn so it wont be long before they run out into deeper water so have a go at them know,the party on Saturday5th had 40 plus,Brian.

12/2018

Fishing Report by brian poppy

Dec 2018 by brian poppy

4 spaces left on tomorrows trip Thursday 27th.

12/2018

Fishing Report by brian poppy

Dec 2018 by brian poppy

4 spaces left on tomorrows trip Thursday 27th.

16/11/2018

Fishing Report by brian poppy

16 Nov 2018 by brian poppy

I took the party north off Corton on Friday 16th for a spot of Whiting fishing plenty of good sized fish coming aboard with the best today 38cm,i shot two Herring nets on slack water for some fresh fresh bait and it did not disapoint after 10 minutes in the water and another hour to clean the fish out of the nets we had over 100lb plenty of fish for all plus a few for the Gannet,weve got a few dates dates available call for details,BP.