Charter Boat: Discovery
Boat and Skipper Details
Licensed For:
up to 12 passengers
Code Of Practice:
COP 60 miles CAT 2 (12 + 3 crew) with full time fully licenced and insured skippers
Hours:
4hr / 9hr / 10hr / 11hr / 12hr / Multiple Days Trips
Type of Fishing:
Wreck Fishing, Bass Fishing, Reef Fishing, Conger Fishing, Bottom Fishing, Tope Fishing, Cod Fishing, Winter Cod Fishing
Tackle Available:
Yes - Contact Skipper
Boat Specification:
Fast Purpose Built 10 mtr Blyth Catamaran with 16ft beam giving a VAST amount of deck space and Shelter from the elements, theres no need to get cold and wet aboard Discovery. IF YOU LOOK AT OUR VIDEOS AT THE TOP OF THE PAGE YOU WILL SEE THE AMOUNT OF SPACE AND FACILITIES THAT WE OFFER, LOOK AT VIDEO 5 FOR MORE INFO. .
Facilities:
Unlimited Tea and Coffee, On Deck Toilet, Seating for 12.,
Additional Description:
The boat is fitted with the latest electronics There is an on deck toilet compartment with electric flush. There is seating located undercover or on a purpose built bench.

CCTV CAMERAS NOW FITTED INSIDE AND OUT...

DISCOVERY IS A MODERN PURPOSE BUILT CHARTER BOAT, HIGH SIDES THAT GIVE YOU SHELTER FROM THE WEATHER. WE CAN TRAVEL TO MARKS FAST GIVING MORE FISHING TIME, THERES NO NEED TO WASTE HALF OF THE DAY TRAVELLING TO AND FROM MARKS SEE VIDEO 11 AT TOP OF PAGE THIS IS DISCOVERY TRAVELLING WITH 14 PEOPLE ON . NOW FITTED WITH STATE OF THE ART COMMERCIAL ELECTRONICS TO GET YOU ON THE FISH.

FULLY CODED AND INSURED CHARTERBOAT WITH LICENSED SKIPPERS.

PLEASE NOTE THE PRICE WE QUOTE IS THE PRICE YOU PAY RODS,REELS AND TACKLE INCLUDED IN THE PRICE. FREE DRINKS AND FOOD.
WE DONT CHARGE FOR RIGS TACKLE OR LEADS.

WE ARE NOW TAKING BOOKINGS FOR 2017 SUMMER TRIPS AND ALREADY STARTED TAKING BOOKINGS FOR THE WINTER OF 2017 TO 2018 COD TRIPS IN THE RIVER AND THE OFFSHORE TRIPS FROM APRIL

,WE HAVE NOW GOT 2017 TIDE TABLES SO BOOK EARLY TO AVOID DISAPPOINTMENT


Now fitted with AIS and OLEX 3D seabed bottom mapping.

CHECK OUT THE NEW WEBSITE AT WWW.DISCOVERYCHARTERS.CO.UK

WE ARE NOW FULLY SPONSORED BY DAIWA. WITH TOP QUALITY RODS AND REELS FOR USE FREE OF CHARGE!

WE OPERATE FROM LIVERPOOL MARINA 52 WEEKS OF THE YEAR AND ARE A LOCAL BOAT TO LIVERPOOL!!

SEE OUR NEW WEBSITE FOR INDIVIDUAL TRIPS VIA LINK AT THE TOP OF PAGE

REMEMBER WE CAN ONLY FISH TIDES BELOW 28.5 FT IN THE MERSEY DUE TO THE STRONG TIDES ALTHOUGH BIGGER CAN BE FISHED IF YOU REQUEST A PARTICULAR DATE.

OR BOOK TO FISH SOME OF THE MANY WRECKS THAT LITTER LIVERPOOL BAY, MAYBE FOR THE MORE ADVENTUROUS OF US, WHY NOT TRY FISHING THE OFFSHORE WRECKS 40+MILES OUT

WE NOW ALSO TAKE INDIVIDUAL BOOKINGS FOR SMALL GROUP/1 OR 2 PEOPLE WHO WANT TO JOIN ANOTHER GROUP

PLEASE NOTE: DOGFISH AND MACKEREL ARE NOT INCLUDED IN OUR FISH COUNTS!!! CALL FOR MORE INFO

SEE OUR NEW PICTURE GALLERY ON OUR WEBSITE... WWW.DISCOVERYCHARTERS.CO.UK

WE ARE NOW TAKING BOOKINGS FOR WINTER 2016/2017.

CONTACT US TO SEE WHATS AVAILABLE.
TRAVEL TIMES TO DISCOVERYS BERTH
RUNCORN 20MINS
MANCHESTER 45MINS
ST HELENS 40MINS
MIDLANDS 1.5 HRS
WARRINGTON 30MINS
WIGAN 40MINS
CHESTER 35MINS
COVENTRY 2HRS
DERBY 1HR 45 MINS
WIRRAL 10MINS THESE ARE APPROX TIMES FOR MORE INFO PLEASE RING WE CAN CATER FOR 4 BOATS IF NEEDED HAVE A TOUR OF THE BOAT WATCH VIDEO 5 AT TOP OF THE PAGE OR SEE THE BOAT IN ACTION AND WATCH VIDEO 12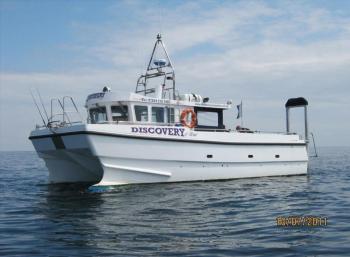 About the Skipper:
RYA COMMERCIALY ENDORSED YACHT MASTER with over 40 years boating experience.And a former member of Wirral small boat angling club. Gary has fished Liverpool Bay and The River Mersey for over 30yrs and is very knowledgeable of the Mersey and surrounding areas, knowing what areas to fish and when to fish them. Gary has also been fishing the wrecks of St Georges Channel since the 1980`s.

BSAC Advanced Diver with 25yrs Diving experience around the North Wales Coast and Liverpool Bay and Caernarfon Bay with over 3000+ Dives

Skippers qualifications are as follows:
RYA ADVANCED POWERBOAT, RYA ADVANCED COMMERCIAL ENDORSEMENT, RYA SEA SURVIVAL, RYA FIRST AID, RYA DSC/VHF RADIO, RYA YACHTMASTER OFFSHORE THEORY, RYA YACHTMASTER OFFSHORE PRACTICAL WITH COMMERCIAL ENDORSESMENT.
PADI FIRST RESPONDER (DEFIB), BSAC BOAT HANDLER COURSE.
BSAC ADVANCED DIVER WITH 3000+ DIVES ON MANY OF THE WRECKS AROUND THE COAST
This Charter has been listed as Suitable for Diving Trips. Contact the Skipper for full details.
This Charter has been listed as Wheelchair Accessible. Contact the Skipper for full details.
Sunday
Monday
Tuesday
Wednesday
Thursday
Friday
Saturday

Color for Fully Booked

Fully Booked

Color for Partially Booked

Partially Booked (Individual Spaces)

Color for Available

Available (Whole Boat)

Color for Not Available

Not Available

Color for Unspecified

Unspecified

N.B. Not all Skippers keep this dairy up-to-date. Always check with skippers before making any plans. Last calendar update: 23-Nov-2018

Fri 1st Feb More...
Sat 2nd Feb More...
Sun 3rd Feb More...
Mon 4th Feb More...
Tue 5th Feb More...
Wed 6th Feb More...
Thu 7th Feb More...
Fri 8th Feb More...
Sat 9th Feb More...
Sun 10th Feb More...
Mon 11th Feb More...
Tue 12th Feb More...
Wed 13th Feb More...
Thu 14th Feb More...
Fri 15th Feb More...
Sat 16th Feb More...
Sun 17th Feb More...
Mon 18th Feb More...
Tue 19th Feb More...
Wed 20th Feb More...
Thu 21st Feb More...
Fri 22nd Feb More...
Sat 23rd Feb More...
Sun 24th Feb More...
Mon 25th Feb More...
Tue 26th Feb More...
Wed 27th Feb More...
Thu 28th Feb More...
Upcoming Individual Spaces on Discovery
Sorry, there are currently no Individual Spaces at present.
Reviews
Summary:





glenn marler (03/02/2019)

Great boat/Great tackle but most of all great captain .On boarding he delivered a very good safety brief which has sadly been lacking from a lot of boats we have been on.During the trip he kept us all feed and watered with plenty of tea ,coffee and sausage butties. He also gave away a new Rod for the most fish caught on the day. Great day out will be booking again soon thanks from us all

Skippers Reponse: Thanks Glen it was a pleasure having you all on board
See you soon Gary

ronald foster (02/01/2019)

Great day out with gary and ian thornback rays up to 10lb 14oz lots of whiteing cod up to 3lb
All ready booked for feb

Skippers Reponse: Thanks Ron glad you enjoyed it
Gary

simon sweeney (07/06/2018)

brilliant day all around gary gives execelent advice 15 diffrent species of fish caught on the day

Skippers Reponse: Thanks Simon hope to see you again Gary

David Coppin (07/04/2018)

Great day out thanks for the Kenzaki rod a prize on boat lots of fish & 11lb 6oz thornback to top it off be seeing u again soon

Skippers Reponse: Cheers Dave see you soon

ronald foster (18/07/2017)

Went out tope fishing has always great day managed to catch (55lb) tope thanks to the help of gary and ian cannot wait for next trip
Latest Catches 737 photos uploaded
Latest Fishing Reports
12/2018

Fishing Report by Gary Flint

Dec 2018 by Gary Flint

2018
We would like to wish all of our friends and customers a very happy New Year. 2018 started well for us catching a 16lbs 2 oz Cod in the Mersey in March we had some good days on the wrecks which produced Cod and pollack to 9lbs we switched our style of fishing to species hunts which 1 day produced 21 species.and put a Daiwa Kensaki rod up as a prize for the most species
We then started on the Tope we had some fantastic days with up to 24 fish on the boat with the smallest being 28lbs up to 55lbs although some guys lost bigger fish.
See are pics o n catch photo's not bad hey up to 21 species in a day Tope up to 55lbs Cod up to 16lbs 2oz on a boat that's in liverpool 52 weeks of the year. Happy New year Tight lines Gary and the Team

12/2018

Fishing Report by Gary Flint

Dec 2018 by Gary Flint

Discovery so far this winter
The Winter Fishing started in October the Mersey was full of Thornback Rays we had plenty of double figure Thornback Rays
Then the Whiting arrived on Mass which was a blessing at first but as the cod came in the whiting destroyed good baits we still had some great days between 25 and 30 cod being are best day we had to wait until November for Notingham Specimen fishing club to come out with us to get our first double figure Cod with Andy lempick landing a 10lbs12oz Cod. We managed a 6lbs plus Cod the following day and then we had a Daiwa day where we take some Daiwa tackle dealers out usually with a bit of a pool Nick Daiwas Rep took this with a5lbs plus Cod .fishing has had a bit of a lull this week with the huge amount of freshwater deposited into the river but we still had 15 cod yesterday dates available for Jan 2019 3,4,14,17,18th full boat 27th of Jan Sunday full boat
Gary ,Lynne and the team would like to wish you all a Merry Christmas and a happy New year Tight lines


11/2018

Fishing Report by Gary Flint

Nov 2018 by Gary Flint

Saturday 1stof December is available 7 spaces left

11/2018

Fishing Report by Gary Flint

Nov 2018 by Gary Flint

DISCOVERY HAS

07/04/2018

Fishing Report by David Coppin

7 Apr 2018 by David Coppin

THanks for great day out Sat 7th April also thanks for the prize Kenzaki rod over 400 fish caught topped of with 11lb 6oz Thornback be seeing you again soon