Charter Boat: Duke IV
Licensed For:
up to 10 passengers
Hours:
4hr / 6hr / 8hr / Multiple Days Trips
Type of Fishing:
Deep sea fishing for Bass, Cod, Smoothound, Tope, Skate
Tackle Available:
Yes - Contact Skipper
Bait Available:
Yes - Contact Skipper
Boat Specification:
35' Procharter 105. 300hp Turbo charged Perkins Sabre diesel motor. Top spec Navigation & Fishfinding equipment fitted. Built for fishing with safety & comfort in mind!!
Facilities:
Top quality Rods & tackle. Free Tea & Cofee. Toilet facilities. Large comfortable cabin to keep you & your kit dry!
Additional Description:
Come enjoy a days fishing aboard Duke IV. A fast modern Charterboat!
Easy access & Parking close by!
Fishing: English Channel, Southern North Sea & Thames Estuary!
Deep sea fishing with hours to suit you!
Individuals & groups catered for!
Duke IV is popular with: Seasoned anglers, novices and families, with patient tuition always available!
Corporate days fully catered for!
Visit our website www.fishingramsgate.com Search Facebook @fishingramsgate1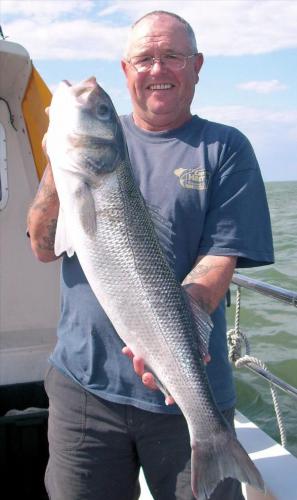 About the Skipper:
Bob is a dedicated lifetime fisherman. He will work hard to find the fish and can offer you advice with rigs & techniques & supply top quality rods & tackle & bait to ensure you get the best out of your day aboard Duke IV!
Latest Fishing Reports
01/11/2017

Fishing Report by Bob Marshall on Duke IV

(Ramsgate, Kent)

1 Nov 2017 by Bob Marshall

Summer has hung on for as long as possible with the water temperature staying high we have been catching Bass, Mackerel and Scad on feathers and lugworm right up to November. With the wind picking up colouring the water we will be catching more Whiting and hopefully a few Cod. Skate fishing has been patchy with good numbers one day then struggle to find some the next. With a few large Cod being caught in the nets they are around so well worth fishing for with the chance of a large Bass or Skate along with good size Whiting. Plenty of weekdays and some weekend dates available on Duke lV. Flynn showed us how to catch Skate with the beauty pictured that he released.

25/08/2017

Fishing Report by Bob Marshall on Duke IV

(Ramsgate, Kent)

25 Aug 2017 by Bob Marshall

Great fishing off Ramsgate for now with plenty of quality Smoothounds, Bass and Skate. The Mackerel have become a bit hit or miss with dirty water making life difficult. The Hounds have been mostly coming to live prawn which we are able to source here at Ramsgate. Whiting are starting to show now letting us know that winter is just around the corner, still hoping that a few Cod will show this year with October being the month when things happen. This is the time of year the large Bass can be expected although the 6lbers we have been catching make a fine meal. Still spaces available for whole boat or individual booking aboard Duke IV so give me a call and let's go fishing.

27/07/2017

Fishing Report by Bob Marshall on Duke IV

(Ramsgate, Kent)

27 Jul 2017 by Bob Marshall

Started the day with live Shrimp bait that we are able to get catching 4 Smoothounds to 7lbs. As the bite slowed we moved to the edge of the bank drifting with the tide for mackerel, although slow due to the misty water we caught about 20 along with couple of Bass.
With enough for bait we moved to the other side of the bank and fished for Skate landing 5 to 7lb and Terry caught a good Bass on mackerel chunk. A good day fishing catching the species we were after at each spot.We will put you on the fish, you can then catch em. Pic shows group shot with some of today's catch.

07/07/2017

Fishing Report by Bob Marshall on Duke IV

(Ramsgate, Kent)

7 Jul 2017 by Bob Marshall

Summer has arrived and with it plenty of Mackerel to lures, Skate and Hounds to baits. The water has warmed so much that the doggies are feeling uncomfortable and have been replaced with varying sizes of Mackerel and Bass. Herring remains the most reliable bait with lugworm coming in second, Alan has been out with his push net and we have had live prawns some days always a favourite bait for the Smoothounds. Still some weekend and week days available on Duke lV so call me up and let's go fishing..

10/06/2017

Fishing Report by Bob Marshall on Duke IV

(Ramsgate, Kent)

10 Jun 2017 by Bob Marshall

As the water warms and clears the fishing has been reliable with plenty of Skate with good shoals of Bass when the water drops clear. Also the Smoothound fishing has been good with plenty one day and none the next. Herring remains the best bait with lugworm catching all species. Mackerel have started showing to feathers although again can't be relied upon for bait. Fergus enjoyed showing all how to catch fish including the Hound pictured that took a liking to a herring chunk. Plenty of space available on Duke lV weekdays and still spaces available for individuals on 24thJune.
View All Fishing Reports