Charter Boat: Duke IV
Boat and Skipper Details
Licensed For:
up to 10 passengers
Hours:
4hr / 6hr / 8hr / Multiple Days Trips
Type of Fishing:
Deep sea fishing for Bass, Cod, Smoothound, Tope, Skate
Tackle Available:
Yes - Contact Skipper
Bait Available:
Yes - Contact Skipper
Boat Specification:
35' Procharter 105. 300hp Turbo charged Perkins Sabre diesel motor. Top spec Navigation & Fishfinding equipment fitted. Built for fishing with safety & comfort in mind!!
Facilities:
Top quality Rods & tackle. Free Tea & Cofee. Toilet facilities. Large comfortable cabin to keep you & your kit dry!
Additional Description:
Come enjoy a days fishing aboard Duke IV. A fast modern Charterboat!
Easy access & Parking close by!
Fishing: English Channel, Southern North Sea & Thames Estuary!
Deep sea fishing with hours to suit you!
Individuals & groups catered for!
Duke IV is popular with: Seasoned anglers, novices and families, with patient tuition always available!
Corporate days fully catered for!
Visit our website www.fishingramsgate.com Search Facebook @fishingramsgate1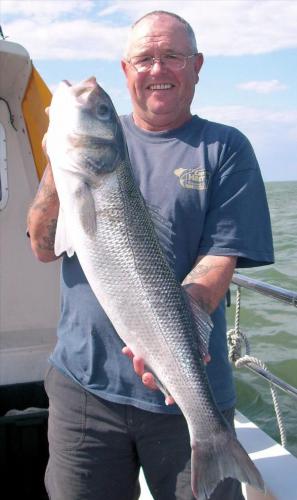 About the Skipper:
Bob is a dedicated lifetime fisherman. He will work hard to find the fish and can offer you advice with rigs & techniques & supply top quality rods & tackle & bait to ensure you get the best out of your day aboard Duke IV!
Reviews
Summary:





Reviews Unaccepted: 3
Scott Honeywell (08/10/2017)

Another great trip, took my son (7) on his first sea fishing trip, as usual Bob was brilliant and really helpful. On top of that everyone had some good catches.

Skippers Reponse: Thanks Scott, always good seeing youngsters catch.

Marc Jennings (28/06/2014)

Another fantastic day out with Bob and the Duke lv. Out to the Varne, stopping off on the way to catch some sand eels. once out on the wrecks, our group of 6 landed a couple of lovely Bass and a load of the biggest mackerel ever seen. great day out with Bob who worked his little socks off to get us on the fish. great boat and great skipper

Keith Taylor (12/06/2014)

Thanks Bob for a great day out live baiting for bass, expert knowledge for a first class skipper caught us plenty of fish. We will be seeing you soon.

Marc Jennings (06/07/2013)

Great day out with Bob, boat stable and fast, got our party of 10 to the wrecks which Bob knows in no time. Bob is a great Skipper who doesnt stop working to get you on the fish. he offers advice and encouragement and is pretty handy with a kettle too! all round great day with a fantastic Skipper on board a great boat. booking again!

Kevin Byrne (18/04/2013)

Great day out with great skipper. Had a ton of cod. All club members caught. Get on this boat ASAP. Before the crowds start turning up.
Latest Catches 342 photos uploaded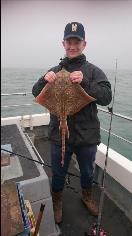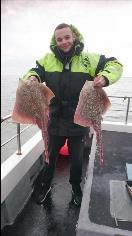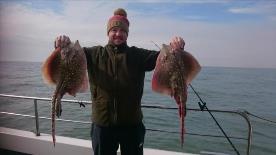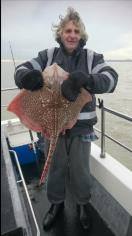 Morris
3 lb Smooth-hound (Common)
28-Oct-2017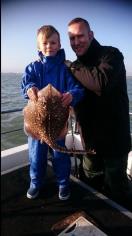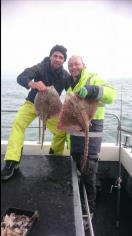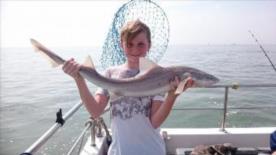 Jason son
9 lb 8 oz Starry Smooth-hound
28-Aug-2017
Latest Fishing Reports
05/04/2018

Fishing Report by Bob Marshall

5 Apr 2018 by Bob Marshall

After a chilly breezy start the weather has improved to an almost balmy summer day and the fish are feeding well today with 5 Smoothounds to 8lb Skate and Doggies making up the numbers. Plenty of dates with some special offers available. So come along and make the most of spring.
Pic shows Paul with the best Hound of the day that he sportingly released.

24/03/2018

Fishing Report by Bob Marshall

24 Mar 2018 by Bob Marshall

As the weather slowly warms up the fish are arriving, all be it reluctantly. We headed north today beginning the day on the edge of a channel hoping for a Cod, March and April were the best months for spring Codling. We gave it an hour catching a few Whiting and a Skate. We then moved out to the banks and had a super day on the Skate landing another 17 fish to 10lb, many of which were released. Jake and Darren enjoyed the day vowing to return in May. Plenty of dates available to join us whether an individual or group wanting to book the boat. Ring me on 07715050851 to book your place.

03/02/2018

Fishing Report by Bob Marshall

3 Feb 2018 by Bob Marshall

As the days are getting longer, spring is coming bringing plenty of fish our way or so we hope. Skate fishing is improving with some good fish showing and we are looking for Spurdog that run through the channel early spring. So far this winter the Cod have been thin on the ground but we are still hoping, should l say praying for some sort of a spring Codling run as we used to get not many years ago. Still plenty of dates available including weekends available so give me a call and come along fishing.

26/11/2017

Fishing Report by Bob Marshall

26 Nov 2017 by Bob Marshall

A good run of Skate have arrived keeping the rods busy along with shed loads of Whiting some of which are very good size for eating. Also some jumbo Pouting amongst them. The water has now got the chocolate brown colour that screams Cod, although they are thin on the moment as we head towards Xmas the chances of catching one looks good. Spaces available for groups or next individuals day 9th December. Pic shows some of yesterday's Skate to 10lb.

01/11/2017

Fishing Report by Bob Marshall

1 Nov 2017 by Bob Marshall

Summer has hung on for as long as possible with the water temperature staying high we have been catching Bass, Mackerel and Scad on feathers and lugworm right up to November. With the wind picking up colouring the water we will be catching more Whiting and hopefully a few Cod. Skate fishing has been patchy with good numbers one day then struggle to find some the next. With a few large Cod being caught in the nets they are around so well worth fishing for with the chance of a large Bass or Skate along with good size Whiting. Plenty of weekdays and some weekend dates available on Duke lV. Flynn showed us how to catch Skate with the beauty pictured that he released.