Charter Boat: Duke IV
Licensed For:
up to 10 passengers
Hours:
4hr / 6hr / 8hr / Multiple Days Trips
Type of Fishing:
Wreck, Ground, Drift, Bass, Cod, Smoothound, Tope, Skate
Tackle Available:
Yes - Contact Skipper
Bait Available:
Yes - Contact Skipper
Boat Specification:
35' Procharter 105. 300hp Turbo charged Perkins Sabre diesel motor
Facilities:
Top quality Rods & tackle. Free Tea & Cofee. Toilet facilities. Large comfortable cabin to keep you & your kit dry.
Additional Description:
Duke IV is a Fast, Modern Charterboat. Built for angling with Safety, Speed & Comfort in mind!
Fitted with latest Raymarine, Navigation & Fishfinding equipment.
Fishing: English Channel, Southern North Sea & Thames Estuary.
Offshore, Wreck, Drift & Ground fishing trips. With hours to suit !
Every Thursday for individuals and small groups.
Duke IV is popular with: Seasoned anglers, novices and families, with patient tuition always available!
Corporate days fully catered for!
Visit our website www.fishingramsgate.com for: Latest Special Offers. Fishing reports & up to date Gallery!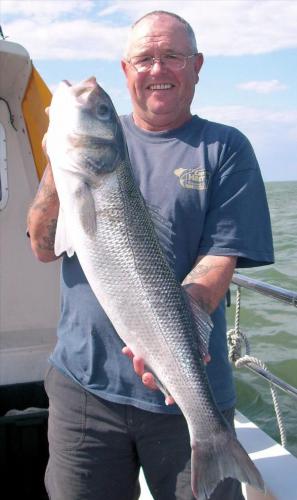 About the Skipper:
Bob is a dedicated lifetime fisherman. He will work hard to find the fish and can offer you advice with rigs & techniques to ensure you get the best out of your day aboard Duke IV!
Latest Fishing Reports
17/05/2013

Fishing Report by Bob Marshall on Duke IV

(Ramsgate, Kent)

17 May 2013 by Bob Marshall

Superb Skate fishing off Ramsgate at the moment!
If you have never caught a Skate or want some great light line sport, now is the time to come down here. Heindrics Belgium fichting team are enjoying great sport aboard Duke IV for the week with Skate to l3 lb 8oz along with lots of Skate, Smoothounds, Spurdog, Tope & Dabs etc.
Still good Cod & Pollack to be had from the wrecks when the weather allows us to get there.
Inshore Bass fishing remains patchy, maybe the cold weather holding them back but we look set for a few months of good fishing ahead. Still some weekend and plenty of weekday slots available so if its your first time or your experienced give me a call and come fishing aboard Duke IV for the best service around.
Pic shows Belgium fichting team with some of todays Skate.


07/05/2013

Fishing Report by Bob Marshall on Duke IV

(Ramsgate, Kent)

7 May 2013 by Bob Marshall

At last the water is slowly warming enough for the crabs to peel and the summer species are starting to show, with good numbers of Skate on the banks and the first Smoothounds being landed.
We made another visit to the wrecks with Andys crew from Kent who saw plenty of quality Cod being landed on the old favourites jellies and shads. No Pollack on this trip though, perhaps another species under pressure from commercial overfishing.
A stop on the banks on the way home saw a reasonable catch of Mackerel to feathers and hokkies, again these fish are not in the numbers we used to catch nor are they as large, hopefully the shoals will build with the jumbo Mackerel being the most superb eating fish around.
The Bass are keeping a low profile so far but they should arrive anytime now with plenty of sandeels on the banks, the crabs peeling and the last of the Whiting still here, there's a feast of food waiting for them. Still some weekend dates available to book Duke IV so give me a call and come along for a great fishing experience.
Pic shows Andys crew with some of tuesdays Cod catch.
Tight lines Bob


04/2013

Fishing Report by Bob Marshall on Duke IV

(Ramsgate, Kent)

Apr 2013 by Bob Marshall

At last Duke IV has been able to get offshore to the wrecks off Ramsgate and the chaps from Daggers deep sea anglers caught plenty of Cod on jellies, shads and all sorts of rubber lures. Micky had the best of the day a shade under 11lb, not bad for so early in the season. Just one Pollack today for Kev who also landed his PB Cod and a nice Plaice when we stopped to drift lug over a bank on the way home.
Plenty of Skate inshore along with Smoothounds and the first Bass so its all happening out from Ramsgate. Baitwise still herring around so they will remain a good bait for Skate while soft or peeler crab is the top bait for Hounds, Bass will be chasing sandeels making hokkies a good choice while the lugworm still a good bait for the Bass. Still dates available for booking Duke IV. Whether its inshore or offshore you will always get a great days fishing aboard Duke IV. Check out www.fishingramsgate.com for latest fishing reports, individuals dates and best deals around. Tight lines, Bob

18/04/2013

Fishing Report by Kevin Byrne on Duke IV

(Ramsgate, Kent)

18 Apr 2013 by Kevin Byrne

Great day with Bob by experienced club fisherman. Ton of cod all went home very happy. Get on this boat ASAP before the hoards turn up. Best kept secret on south east coast.

21/04/2013

Fishing Report by Bob Marshall on Duke IV

(Ramsgate, Kent)

21 Apr 2013 by Bob Marshall

At last Duke IV has been able to get offshore to the wrecks off Ramsgate today and the chaps from Daggers deep sea anglers caught plenty of Cod on jellies, shads and all sorts of rubber lures. Micky had the best of the day a shade under 11lb, not bad for so early in the season. Just one Pollack today for Kev who also landed his PB Cod and a nice Plaice when we stopped to drift lug over a bank on the way home.
Plenty of Skate inshore along with Smoothounds and the first Bass so its all happening out from Ramsgate. Still dates available for booking Duke IV. Whether its inshore or offshore you will always get a great days fishing aboard Duke IV. Check out www.fishingramsgate.com for latest fishing reports, individuals dates and best deals around. Tight lines, Bob
View All Fishing Reports