Charter Boat: Eastern Promise 2
Availability Calendar
11 Reviews

Boat and Skipper Details
Licensed For:
up to 8 passengers
Code Of Practice:
COP 2 - 60 Miles
Type of Fishing:
Uptide fishing for skate bass cod tope
Tackle Available:
Yes - Contact Skipper
Bait Available:
Yes - Contact Skipper
Boat Specification:
new 10m swiftcat with 500hp
Facilities:
on deck toilet,tea and coffee
Additional Description:
Please phone for bookings

Upcoming Individual Spaces on Eastern Promise 2
Sorry, there are currently no Individual Spaces at present.
Reviews
Summary:





Robert Squirrell (01/04/2014)

Space on Sat 5th April, upon This well skippered boat.

Robert Squirrell (21/04/2013)

Red Letter Day. See Report. And Pictures to follow. Wow!

Robert Squirrell (06/01/2013)

New Boat. Very Nice.

Robert Squirrell (27/05/2012)

Off Out Tomorrow, so hope wind eases. And Mr Bass is Hungry, as we have some luvly peeler to temp a Big one. Will Report once back. Looking forward to seeing the always cheerful Derek, and one of those super cuppa teas :)

Robert Squirrell (26/05/2012)

Off Out Tomorrow, so hope wind eases. And Mr Bass is Hungry, as we have some luvly peeler to temp a Big one. Will Report once back. Looking forward to seeing the always cheerful Derek, and one of those super cuppa teas :)
Latest Catches 88 photos uploaded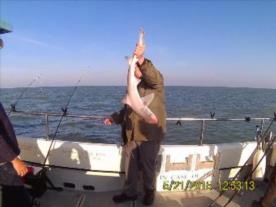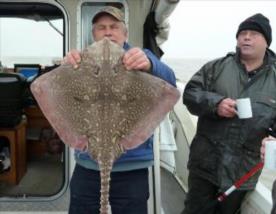 SKIPPER
12 lb 9 oz Thornback Ray
5-Feb-2017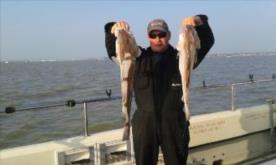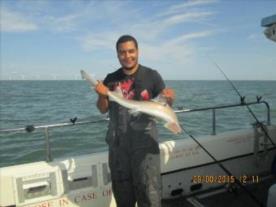 roger berry
4 lb 5 oz Smooth-hound (Common)
29-Aug-2015
roger berry
4 lb 6 oz Smooth-hound (Common)
29-Aug-2015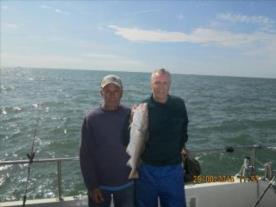 RON
10 lb 7 oz Cod
5-Apr-2015
Latest Fishing Reports and News
24/09/2017

Fishing Report by Robert Squirrell

24 Sep 2017 by Robert Squirrell

Sunday 24th September, and we headed out.. and out .. and out. Anyway it was worth it, as first mark saw us catching Smoothhound, few doggies and odd skate for luck, then a move not too far and we found the Bass! Not huge ones, but 15 Caught between 5 of us. Great days fishing. Great Skipper.

05/04/2015

Fishing Report by G Derham

5 Apr 2015 by G Derham

Fourth time lucky!!! Having had the last 3 trips cancelled due to gales.This time we had a forecast of variable 3, When we arrived at West Mersea the water was flat calm and our hopes were high as Derek had said that the cod were still about so after our usual brew and a bacon sarnie in the car park we boarded Eastern Promise just before 07.30 and within a few minutes we were cruising at over 20 knots. Eastern Promise is possibly the fastest angling charter boat in the uk with a top speed of over 40 knots due to the hysucat foils under the boat I have been on this boat at 33 knots and that is shifting for a big boat, anyway back to the fishing. It wasn't long before we arrived at the mark but then Derek started going round and round and up and down looking for something, he found it whatever it was and dropped the anchor then we dropped our Baits. Derek came out of the wheelhouse and asked who wants a cuppa well you know the answer to that one, before he made the tea I had the first fish a cod of about 4.5 pounds so I've got the pound coins to come. That fish was followed by several others around the boat I had 4 cod over 4 pounds in the first half hour. The fish just kept coming and coming there was more cod of 5lb+ several Big Roker good sized Whiting and a couple of dogs (I know but it does mean summer is on its way). So I've got the pound now were fishing for the fiver lots more cod came the average weight was over 3.5lb. Then Ron hooked into a Cod of 10lb 7oz a cracking fish, this fish was the biggest of the day and won the fivers. The day ended up with 6 good sized roker kept (females & small males returned) Whiting,Dogs, and 77 Cod 77 x 3.5 equals 269.5 lbs. I don't always agree with reporting big catches as I know the Foreign trawlers read these pages. I have kept quiet about other Fantastic days we have had on this boat for that reason, so it's about time I made another report. Thanks Derek for a cracking day, weather permitting we well be back next month and the one after that and after that and so on.
Go on book this boat you won't be dissapointed

21/06/2013

Fishing Report by G Derham

21 Jun 2013 by G Derham

It started as just another days fishing. Met office forecast was not brilliant but ok, we said good morning to Derek at about 07.00 and soon after we were heading out, just jogging along on tick over and were soon about 15 miles off, the wind turbines came and went and after about 45 minutes we dropped anchor. First fish was soon caught by the Master Thatcher James, a doggie so he gets a pound coin from each angler. A steady flow of fish followed Roker, Smoothounds and of course Doggies everybody was very happy and pulling each other's leg, like you do. I asked Derek if there were any Mackerel about he said no (he tells you straight) so I put feathers on another rod and played about until I got bored no Mackerel here . But what's this it's a cup of that lovely tea coming out of the wheelhouse, fish are still coming everyone still laughing , leg's are getting longer after about 3 hours (still catching fish) Derek said do you fancy a move as they are catching more fish closer in we said ok if you like, so the anchor came up and off we set, and we were off like a Scrambled Tornado Jet down the runway, we took our hats off so not to lose them, Then I thought he's going the wrong way we were heading further out and out we went (this has to be paid for fuel and time you see but he knows we don't mind) I didn't ask as I knew he had something up his sleeve and not just his arm, after about another 7 or 8 miles the rev's started to drop and we started going round and round in circles, I looked at the sounder and said to Derek is that a shoal of Mackerel he said no more like Whitebait, the anchor was dropped and the baits went over the side more Smoothounds, doggies more tea everybody happy. This is getting good plenty of fish a few hours went by then another very short move and all hell broke out We hit Bass returned about 20 and kept 35. (The Bass were spitting out Whitebait.) What a Fantastic day we also took Mackerel home. Where we, I know as Derek showed me on the plotter but it's not for me to say as other skippers will read this so if you want to know more you will have to book the boat. THANK YOU VERY VERY MUCH DEREK See you in July.
Ps. Mark got the Fivers for the biggest fish a Roker.


21/04/2013

Fishing Report by neon ling

21 Apr 2013 by neon ling

Well another brilliant trip out with Derek.6 of us Rob Alan Mark Dan Brian and myself we started off by the wind farm gave it an hour up to nearly high tide never had a bite between us so we pulled the hook and blasted off down to a spot about 8miles off Felixtowe anchored up in about 80 foot and as the tide started to ebb we started to catch some clonking cod ended up with 24 cod between 6 and 12 and half pound I think we had 6or7 doubles only 2 roker 1 dog and 3whiting PBs for Brian 10lb 8oz Rob 11lb 2 oz Mark 9lb Alan 9lb 8oz and myself 12 lb 8oz have to feel sorry for poor old Dan he tried everything but blanked . But with Derek's new boat I'm sure it won't be long before he puts us on some more good fish great day thanks Derek

06/01/2013

Fishing Report by Robert Squirrell

6 Jan 2013 by Robert Squirrell

Went out Sunday 6th Jan 2012. And was very foggy. It was first trip aboard the new Boat (See Video), and must say we were not disappointed. Usual 7am Start,and it was cold. Headed out and hit first spot. Where it was slow to start. In fact I had not had a fish by 11.00am. But Others had a few. Then a Move saw us find the fish. And we finished up with betweek 35 and 40 Cod from 3lb to 6lb, at least 15 Skate. Some good size Whiting and a scattering of Doggies. Couple of keeper skate,but rest went back, and we even were putting back the Cod. New Boat is Quick, so less time getting out which means more time fishing. And what a great time it was. Cheers Derek.