Charter Boat: Evelyn Jane II
Boat and Skipper Details
Licensed For:
up to 12 passengers
Code Of Practice:
20 Mile
Hours:
4hr / 8hr / 10hr / 12hr Trips
Type of Fishing:
Wreck and offshore reef fishing. 7 days a week.
Tackle Available:
Yes - Contact Skipper
Bait Available:
Yes - Contact Skipper
Boat Specification:
Offshore 105 400 hp. Length 10.5m . Wide beam 3.5 m. Purpose built charter boat.
Facilities:
Hot drinks , coffee / tea / chocolate . Mini oven for warming pies .
Additional Description:
Evelyn Jane II is back! Under new ownership of Andy, following the retirement of Paul.
NOW TAKING BOOKINGS FOR SUMMER 2018.
TEA TIME TRIP BOOKINGS NOW BEING TAKEN.

Evelyn Jane II is an Offshore 105 purpose built charter boat powered by a 400 hp Iveco turbo diesel engine, , cruising at 15 knots. Licensed and insured for COP 20 miles. Licensed for parties of up to 12 anglers. Tackle for sale on boat. Rod and reel hire available, please request when booking.

Fully equipped with all safety essentials, life rafts, DCS radios ,radar, AIS etc. over and above MCA requirements. Kitted out with all the electronic equipment to find the fishing marks. Large stable deck with plenty of space for anglers.

Hot drinks available tea/coffee/chocolate
Mini oven for warming pies .
USB plug for charging phones.
10/12 hr wreck and reef fishing.
Evening/teatime sessions available in summer. Ideal for new/younger anglers. Tea time sessions now running.

Boat is moored on floating pontoon with 24 hour accessibility to sea for early and late fishing trips.
FREE PARKING at the dock with local tackle shop nearby.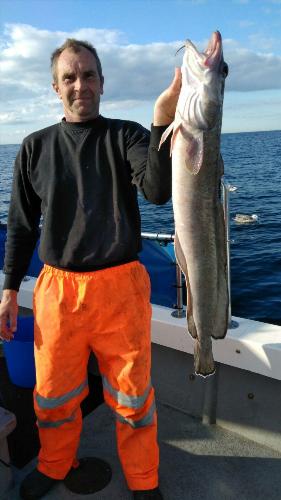 About the Skipper:
I have been a boat owner for 16 years. I am a very keen and experienced fisherman and skipper. I will always try my best to find the fish.
Look forward to meeting you, tight lines!
Andy
Sunday
Monday
Tuesday
Wednesday
Thursday
Friday
Saturday

Color for Fully Booked

Fully Booked

Color for Partially Booked

Partially Booked

Color for Available

Available

Color for Not Available

Not Available

Color for Unspecified

Unspecified

N.B. Not all Skippers keep this dairy up-to-date. Always check with skippers before making any plans. Last calendar update: 05-Sep-2018

Sat 1st Sep
Sun 2nd Sep
Mon 3rd Sep
Tue 4th Sep
Wed 5th Sep Full day spaces available 7am to5pm
Tea trip 2 spaces available. 5.30pm to 9.30
Thu 6th Sep
Fri 7th Sep
Sat 8th Sep
Sun 9th Sep
Mon 10th Sep
Tue 11th Sep
Wed 12th Sep
Thu 13th Sep
Fri 14th Sep
Sat 15th Sep
Sun 16th Sep

3 Spaces for full day 7am to 5 pm.

Mon 17th Sep
Tue 18th Sep
Wed 19th Sep
Thu 20th Sep
Fri 21st Sep
Sat 22nd Sep
Sun 23rd Sep
Mon 24th Sep
Tue 25th Sep
Wed 26th Sep
Thu 27th Sep
Fri 28th Sep
Sat 29th Sep

2 Spaces for full day 7am to 5 pm.

Sun 30th Sep
Reviews
Summary:





mark roberts (21/07/2018)

thanks for a really good day out andy !

Stephen Bishop (27/08/2017)

Fantastic Fishing trips iv'e had with skipper Andrew on Evelyn Jane II,
Andy will find the fish as he has done when Iv'e been aboard. Very friendly skipper and awsome fast boat.
Will Definetly be booking again ...5 Stars !!!
Catch Stats
CBUK Catch Log: 1 Species has been caught onboard Evelyn Jane II, including: Cod
Latest Catches 2 photos uploaded