Jun 2015 by Aaron Smith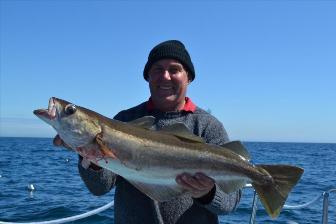 2015's First Wrecking Trip

With a nice high pressure rolling in and a free day with relatively small ish tides a last minute individuals day was booked to finally open up our 2015 wrecking account, 4 lads took the bait all being new regular anglers aboard Bad Boyz for 2015.

The weather gods were kind and forecasting 4-8mph Northerly winds which didn't really show up so a flat calm sea throughout the day was to be had!

First wreck around 25 miles SW of Holyhead didn't produce any fish just a few missed takes, tension was growing as the jokes passed and the quietness came, after 45 minutes and many different drifts on and around the Wreck a move was in order, 20 minutes later 5 miles further out we arrived at the second wreck of the day an old 3 tunnel steamer from the late 1800's. First drift and fish on was called, we fished the wreck from an 1 1/2 before through to slack water as it produced a steady steam of Pollack to 7lb, plenty of Pouts to 2 1/2lb and the one cod of 4lb once to tide started to increase wreck 3 of the day was plumbed into the plotter and a course set.
40 minutes 10 miles further once again brought us to one the the biggest wrecks in our book set in 110mtr of water and showing marks on the sounder!!
Within the next couple of hours we had a good stamp of larger Pollack to the boat averaging 6 - 12lb including a couple of PB's to Simon and Matthew.

The day was called and a course set for Holyhead and Bad Boyz put upto 16knts for the 2-1/2hr steam back to port, few photo's taken and 69fish tallied up which between mainly 4 anglers fishing including to first time wreckers was a very good day.

Best fish - Pollack 12lb 3oz to Mr Colin Poutin

Best lure - Savage gear sandeel slug

Selection of pictures taken by myself and forum reporter Matthew.