15 May 2010 by Aaron Smith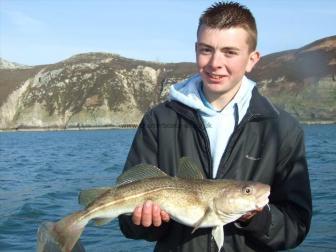 Just a quick one to let everyone know how the fishing is doing, had a trip yesterday for Rays and general fishing, Stoped on a few reefs for the first hour or so with a fair few Pollack and Colies coming to the boat 2-3 at a time nothing of much size between 1-3 lb with the odd one 4-5lb with the mackeral no where to be seen, With a breakfast of sausage, egg and onion butties on the go we headed for the banks to try our luck for a few skate but once anchored it was a matter of seconds till the first Doggy!!!! was on the boat, with a ridiculous amount of them around and a few Dabs and a 10lb Huss thrown in, the Rays were just not getting a chance so we decided to head back to the reefs for the last 3 hours, We tried a few reefs to the south but with only a couple of small fish coming up, so we made a decision to head to South Stack with Pollack to be the target fish, Once we arrived the fish were coming to the boat thick and fast from Pollack, Colies, Codling, Wrasse and the odd Mackeral with the last drist producing a nice Cod of around the 6lb mark.

Fishing update Plenty of Pollack, Coalies, Codling, Wrasse and a few Mackeral on the reefs. Anchor is producing Dogies, Huss, Whiting, Dabs, Plaice, Codling, Rays and the odd Tope with the smoothounds arrving anyday now and a report from the local tackle shop telling us that a few are coming in off the shore.