Charter Boat: Flamer IV
Licensed For:
up to 10 passengers
Code Of Practice:
Cat 2 - 60 Miles
Hours:
5hr / 6hr / 8hr / 9hr / 10hr / Multiple Days Trips
Type of Fishing:
Reef - Bank - Wreck - Species (comps/hunts) - Flatties - Rays - Conger - Tope - Bream - Competitions - etc
Boat Specification:
39ft Procharter P4 - Purpose built angling boat - Powered by an Iveco 450hp engine
Facilities:
Hot Drinks are available and on the menu are usually lemon tea,oxo,lucky dip soup,tea and coffee. BONUS - Mrs Penny will quite often bake a cake for you eat on board Flamer IV
Additional Description:
FULL TIME SKIPPER - FULL TIME ANGLING BOAT
All Year Round Angling - Reef/Bank/Wreck/Flatty,Competitions,Specialized Trips,Angling Breaks,West Country Trips,Specialised Flatty trips for Turbot,Brill and Plaice.Come and fish the Famous SHAMBLES BANK which is less than 8 miles from Weymouth for Turbot and Brill.
NEW FOR 2016
Go to my web site www.flamer4fishing.co.uk and click on the icon that says Get the App which is Optimised for IOS and Android devices.
Search for Spaces and Boat Charter on Flamer IV directly from your Mobile Phone or Ipad Tablet.
LOTS OF DATES/TRIPS FOR INDIVIDUALS on WEEKENDS and MIDWEEK.
NOTE: - If you would like to be put on my e mailing list so you get regular news about individual places that are/become available,then just let me have your e mail address.
WHOLE BOAT CHARTER IS OF COURSE AVAILABLE AS WELL.
Anglers Must have their own tackle.
SAFETY NOTICE: In the interests of Safety alcahol and the like and recreational drugs NOT Permited on Flamer IV.
BAIT - If you are getting your Rag Worm in Weymouth DON'T FORGET TO ORDER IT.
*** DON'T MISS OUT - BOOK YOUR PLACE/S/TRIPS NOW ***
Flamer IV is a Sakuma/RedGill Sponsored Boat.
Regularly over 50 plus different species caught each year.
Flamer record is 61 different species in 2007.
Angling breaks out of Weymouth for 2/3/4/5 days or more.
A Trip with a Difference - why not try my 4 or 5 day West Country Trips in May,June,
Flamer IV Pick Up Point -
Our pick up point is the Westwey Road Pontoons (Post Code for your Sat Nav – DT4 8SU)
Please Note, You will not have to climb down any ladders or clamber over another boat to gain access to Flamer IV, If you temporarily park your car, access from the road is down a gently sloping ramp, at the bottom of the ramp there is a trolley that you can use to transport your tackle from your car to the boat.
Toilets – there are two toilets just inside the gate if you need one.
Parking
For your information there is Free parking in the streets behind and near the Asda supermarket and in the street behind the retirement flats building.

Bed and Breakfast tel numbers - The Marden Guest House - 01305 772173,The Monarch - 01305 772594
The Boaters 01305 789777, B + B - 01305 761190, Harbour House - 01305 787721,
Seaspray Guest House 01305 786943,The Bunk House - 01305 577228,The Sailors Return 01305 773377,The Fleetway Guest House - 01305 783223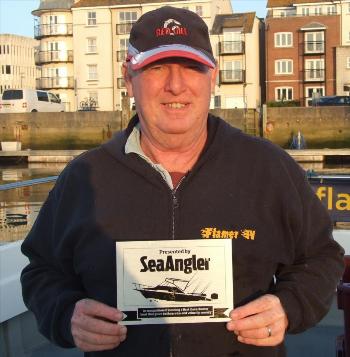 About the Skipper:
I am your friendly skipper and look forward to seeing you on the New Flamer IV.
Book your place/trip NOW - Don't let me say "You Should Have Been Here Yesterday".
My pleasure is to see you all enjoy yourselves and catch fish aboard Flamer IV."Tomorrows fish are there to be caught".
FLAMER IV trip Gift Vouchers are available for that present for a birthday or christmas present and can be done for what ever value you want.
INFORMATION - for all types of information on tackle,Terms and Conditions etc can be viewed at my New Web Site www.flamer4fishing.co.uk
CONTACT THE SKIPPER email: colinpennyfu2@gmail.com
YOUR FISH - Catch a good fish and I will take your picture and send it to you,just give me your e - mail address, ALL PART OF THE SERVICE.

Angling Trust Wessex Region Boat Championships 2013 Top Skipper.
www.charterboats-uk.co.uk Charter Boat of the Year 2010.
Top Skipper Competition Winner - Sea Angler Magazine - Jan/Feb 2009.
Army Championships Top Boat 2006 and 2007.
N.F.S.A Wessex Champion of Champions Top Boat 2007.
Sea Angling News Charter Boat of the Year 2003.
YYS International Boat Challange Top Boat 2002 and Runner Up in 2005.
Sea Angler Magazine Skipper of the Month May 2001.
Improve your Sea Fishing Magazine VIP Skipper Award 1998.
Latest Fishing Reports
27/06/2016

Fishing Report by Colin Penny on Flamer IV

(Weymouth, Dorset)

27 Jun 2016 by Colin Penny

Annual Flatty Competition - The Really Wrecked Club and the Crown Happy Hookers Club competed against one another with each flatty caught being measured to get a total length to decide a winner. The Result was Crown Happy Hookers 180.5 inches , Really Wrecked Club 86 inches. Best Turbot 8Ib 8oz was caught by Adam Frost and Best Brill 5Ib was caught by Kim Mace. The Top angler was Simon of the Crown Happy Hookers. Pictured is Adam Frost with his 8Ib 8oz Turbot..

Book Your Place/s/Trips Now.
For dates and places available and lots of information look at my web site: www.flamer4fishing.co.uk
NOTE: LOOK - *** NOW TAKING BOOKINGS FOR 2017 *** I have put up an Itinerary of trips for 2017 on all my web sites, take a LOOK, the itinerary is not set in stone so I may be able to change it to suit your needs subject to the tides.

27/06/2016

Fishing Report by Colin Penny on Flamer IV

(Weymouth, Dorset)

27 Jun 2016 by Colin Penny

Annual Flatty Competition - The Really Wrecked Club and the Crown Happy Hookers Club competed against one another with each flatty caught being measured to get a total length to decide a winner. The Result was Crown Happy Hookers 180.5 inches , Really Wrecked Club 86 inches. Best Turbot 8Ib 8oz was caught by Adam Frost and Best Brill 5Ib was caught by Kim Mace. The Top angler was Simon of the Crown Happy Hookers. Pictured is Kim Mace with his 5Ib Brill.

Book Your Place/s/Trips Now.
For dates and places available and lots of information look at my web site: www.flamer4fishing.co.uk
NOTE: LOOK - *** NOW TAKING BOOKINGS FOR 2017 *** I have put up an Itinerary of trips for 2017 on all my web sites, take a LOOK, the itinerary is not set in stone so I may be able to change it to suit your needs subject to the tides.

25/06/2016

Fishing Report by Colin Penny on Flamer IV

(Weymouth, Dorset)

25 Jun 2016 by Colin Penny

Glenn Frost from Coventry landed an 18Ib 4oz Starry Smooth Hound and equaled the Flamer IV record caught by David Palmer in 2014. Glenn was using 20Ib class tackle and the bait was squid presented on a pennel rig of Skuma Manta hooks.The Smooth Hound was returned alive.
Book Your Place/s/Trips Now.
For dates and places available and lots of information look at my web site: www.flamer4fishing.co.uk
NOTE: LOOK - *** NOW TAKING BOOKINGS FOR 2017 *** I have put up an Itinerary of trips for 2017 on all my web sites, take a LOOK, the itinerary is not set in stone so I may be able to change it to suit your needs subject to the tides.

25/06/2016

Fishing Report by Colin Penny on Flamer IV

(Weymouth, Dorset)

25 Jun 2016 by Colin Penny

Luie Riva caught a hat trick of Rays by pulling up three Undulate Rays in three consecutive drops. The Rays weighed 11Ib 10oz, 10Ib 8oz, 9Ib 10oz. Luie was using 20Ib class tackle and a pennel rig of Sakuma Manta hooks baited with squid. All the rays were returned alive. Luie is pictured with the 11Ib 10oz Ray.

Book Your Place/s/Trips Now.
For dates and places available and lots of information look at my web site: www.flamer4fishing.co.uk

NOTE: LOOK - *** NOW TAKING BOOKINGS FOR 2017 *** I have put up an Itinerary of trips for 2017 on all my web sites, take a LOOK, the itinerary is not set in stone so I may be able to change it to suit your needs subject to the tides.



21/06/2016

Fishing Report by Colin Penny on Flamer IV

(Weymouth, Dorset)

21 Jun 2016 by Colin Penny

A recent Wrecking Trip produced some good Pollack fishing along with some Cod. Richard Phillips is pictured with a 12Ib 1oz Pollack he caught on a flying collar rig and a Pink Red Gill Lure.

The Next Wrecking Trips with places available in June and July - June 26th, 30th, July 2nd, 17th, 23rd, 24th.
*** DON'T MISS OUT ***
*** I AM NOW TAKING BOOKINGS FOR 2017 ***
View All Fishing Reports
Edit this boat listing
Availability
JULY - 2016

| Su | Mo | Tu | We | Th | Fr | Sa |
| --- | --- | --- | --- | --- | --- | --- |
| 26 | 27 | 28 | 29 | 30 | 1 | 2 |
| 3 | 4 | 5 | 6 | 7 | 8 | 9 |
| 10 | 11 | 12 | 13 | 14 | 15 | 16 |
| 17 | 18 | 19 | 20 | 21 | 22 | 23 |
| 24 | 25 | 26 | 27 | 28 | 29 | 30 |
| 31 | 1 | 2 | 3 | 4 | 5 | 6 |
Color for Fully Booked

Fully Booked

Color for Partially Booked

Partially Booked

Color for Available

Available

Color for Not Available

Not Available

Color for Unspecified

Unspecified
N.B. Not all Skippers keep this diary up-to-date. Always check with skippers before making any plans. Last calendar update: 30-Jun-2016
Reviews
Summary:





Reviews Unaccepted: 3
Trevor Pegg (06/06/2016)

Our usual 5day angling break which we have done with Colin for some time now. For those that are able, this is a trip to be recommended. It offers the opportunity to fish for a number of different species and, if the weather turns ,the flexibility for last minute changes if necessary. We were lucky and able to stick with the plan. As ever, Colin never stopped working to put us on fish. The real advatage of these trips is the 5minute walk to the hotel rather than the long trek home. The social side is exellent and we all know how much Colin likes his chinese meals. A great week with a really great skippert

Skippers Reponse: Thanks Trevor, I am looking forward to seeing you all next year for your annual 5 day Angling Break on Flamer IV

Trevor Pegg (06/06/2016)

and we all know how much Colin likes his chinese meals!!. A great week with a really great skipper.

Skippers Reponse: Thaks Trevor, I hope to C U soon.

Anthony Bevan (06/06/2016)

An excellent Charter Boat that is well run and with a great Skipper. A excellent day out with a great group of helpful fishermen aboard and plenty of hot drinks and cake being served. Plenty of fish caught and returned, we will be returning again. Tony & Mike Bevan.

Skippers Reponse: Thanks Tony, I look forward to seeing you on Flamer IV again soon.

Dave Gibson (19/05/2016)

Excellent day out with Colin on Flamer IV, in fact is was the same trip the Graham Broach had his 15lb 13oz Trurbot. I managed several turbot and a couple of Brill all of which were released except one, A Turbot of 13lbs 4 ozs which came home with me for the table. Always great fun on the Flamer IV with Colin, loads of leg pulling with laughter. Colin serves up Tea, Coffee, Soup and Oxo regularly during the day and often has a slice of cake for his anglers as a special treat. Lokking forward to my next day out with Colin Penny on the Flamer IV.

Skippers Reponse: Thanks Dave I look forward to seeing you on Flamer IV soon with some special cake for you!

Graham Broach (19/05/2016)

As a turbot and brill 'virgin', I wanted to catch one of each & did - 15lb 13oz & 3lb 5oz! Great skipper!

Skippers Reponse: You did well Graham and you were a pleasure to have on Flamer IV C U soon
View All Reviews
Add A Review