Charter Boat: Force 10
Boat and Skipper Details
Licensed For:
up to 11 passengers
Code Of Practice:
Cat 2, 60 Miles
Hours:
2hr / 4hr / 8hr / 9hr / 10hr / 12hr Trips
Type of Fishing:
Shark - Reef And Wreck Fishing
Tackle Available:
Yes - Contact Skipper
Boat Specification:
Offshore 105
Facilities:
Flushing Toilet, tea and coffee, all bait and tackle provided.
Additional Description:
Purpose built charter boat. 20 ft of deck space for your comfort. Daewoo 300 hp engine. Top spec navigation and safety equipment. Boat is licensed for 11 anglers but for your comfort we say max of 8 reef fishing and only 5 Shark fishing.
Skipper is a fully paid up member of S.A.C.G.B.
About the Skipper:
Pete Davis has been a charter skipper and commercial fisherman out of the port of Looe for over 25 years. During that time he has built up a fantastic reputation, especially in the field of Shark Fishing. Currently 6 British Light Line records are held from catches on board Pete's boats.
If you would like advice or maybe have caught shark on normal gear and want a challenge please give me a ring !!
Pete has huge drive, passion and commitment for all types of fishing, and is more than happy to pass on his vast wealth of knowledge and experience, and advice to any anglers that may want it. Pete is also a keen angler himself, and therefore has huge understanding of what anglers want!

Pete has seen Sport Fishing change dramtically over the years, with there now being a strong emphasis on conservation. All Sharks caught on board the boat are now measured, tagged and released as part of a larger conservation programme, and although anglers are welcome to take their catches of reef fish home for their own consumption, anglers are asked to bear in mind conservation of fish stocks, when deciding what fish to take, and what fish to return to the water, where possible.

Find us on facebook: www.facebook.com/Force-Ten-Sport-Fishing-1131626046895900/?fref=ts
Force Ten Sport Fishing
Sunday
Monday
Tuesday
Wednesday
Thursday
Friday
Saturday

Color for Fully Booked

Fully Booked

Color for Partially Booked

Partially Booked

Color for Available

Available

Color for Not Available

Not Available

Color for Unspecified

Unspecified

N.B. Not all Skippers keep this dairy up-to-date. Always check with skippers before making any plans.

Sun 1st Apr
Mon 2nd Apr
Tue 3rd Apr
Wed 4th Apr
Thu 5th Apr
Fri 6th Apr
Sat 7th Apr
Sun 8th Apr
Mon 9th Apr
Tue 10th Apr
Wed 11th Apr
Thu 12th Apr
Fri 13th Apr
Sat 14th Apr
Sun 15th Apr
Mon 16th Apr
Tue 17th Apr
Wed 18th Apr
Thu 19th Apr
Fri 20th Apr
Sat 21st Apr
Sun 22nd Apr
Mon 23rd Apr
Tue 24th Apr
Wed 25th Apr
Thu 26th Apr
Fri 27th Apr
Sat 28th Apr
Sun 29th Apr
Mon 30th Apr
Reviews
Summary:





Reviews Unaccepted: 3
Pat Judson (07/08/2017)

Yet another awesome days sharking with Peter of Force Ten, this time taking 9 Blues of varying sizes between 30-80 pounds with a friend .Peters skill at handling the sharks as they came aboard is always a rare thing to watch, he makes unhooking even the largest look a simple act, yet all the while so close to those white teeth with the milky film closing on the sharks eye as it favours its chances.This has to go down as the best days fishing that I have ever had, so thanks again Peter and see you next year for another awesome days experience.

Skippers Reponse: Thanks for that Pat, always good to have you aboard. So pleased Neptune smiled on us again and sent some fish for you to enjoy. See you next year.

Stuart Allen (28/05/2017)

An all round excellent skipper with lots of fish and different species being caught. Pete all of us can say thank for agreat day.

Skippers Reponse: Thanks Stuart, a pleasure to meet and fish with the 3 of you , hope to see you soon. Pete

Pat Judson (04/07/2015)

A great days fishing for Blues with Peter again, is knowledge putting us on the sharks, a bit of a choppy start but smoothed out to take a strong dubby trail well out to the horizon, bringing first Blue at 45 pounds in around 12.20, a 10 minute fight and boated, then a short wait of half an hour before the second one hit us, with great deep dives and runs before 3 times to the boat and around before being flying gaffed and boated to a weight of 100 ounds and a length of 88 inches, which qualified me for SAGB membership after a few years waiting! As always Peter showed his skills at hook removal on a lively mean tempered shark, before returning to the water no worse for its experience. I am very grateful Peter, be back for another session next year;) Tight lines, Pat. :)

Skippers Reponse: Thanks Pat and the chaps from the Midlands - that wasn't a flying gaff Pat it was a Lasso-latest shark friendly kit

John Doswell (02/05/2014)

Hi all just had a great days fishing on Force ten out looe Cornwall skipper Pete Davis, you find will it hard to get a better sipper on the South coast. Peter has over twenty years experience from commercial fish to sport fishing, he is friendly and only to happy to help doesn't matter if you are a complete novice or an old sea dog. We all went home with a full mixed bag of fish and we cant wait until the next time thanks Pete for a great day.

Skippers Reponse: Thanks for comments John, great to have you and the lads from Tavi aboard. See u soon !
Latest Catches 22 photos uploaded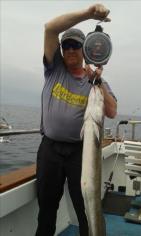 Mike
16 lb Ling (Common)
11-Jun-2016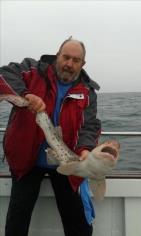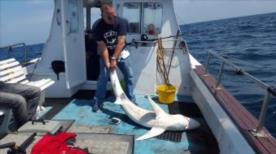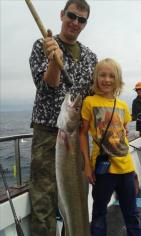 Josh
14 lb Ling (Common)
20-Jun-2015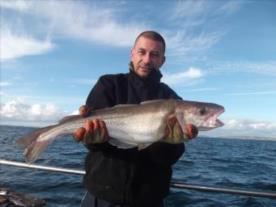 Unknown
4 lb 12 oz Whiting
Oct-2012
Latest Fishing Reports
08/03/2017

Fishing Report by Peter Davis

8 Mar 2017 by Peter Davis

Hi all, just a quick report to say sorry for the lack of reports !!!! The winter has been quiet, we did get out after the Porbeagles on 1st of December after reports from the commercial hand liners that they were getting them on the hand line gear but to no avail with us. Steve Dawe did have several really good whiting even then but have not been out since. The time has come to sort out the boat (painting, repairs and renewals) for the coming season (which is very heavily booked) but if you need to book let me know as I already have 1 or 2 cancellations. The highlight of last season was the brilliance of it all !! nearly 500 sharks from Force Ten topped off by this beauty of a blue , caught by Guy Radford and measured 117" X 39" and 94" fork measurement. est at 180 + lb. In addition to this we saw lots of Bluefin Tuna and a couple were caught by the Looe Shark Boats so with all this we are looking forward to this season with baited breath !!. will keep you all better informed this year . Tight Lines, Pete

12/06/2016

Fishing Report by Peter Davis

12 Jun 2016 by Peter Davis

Well the season is well and truly underway !! Still not a lot of bait fish but Whiting, Pollack, Ling and Conger all feeding.
I begin the Shark Fishing this Friday although there has been some success - Dave - Mystique has had a couple of Blue Sharks so we know they are here, just got to get out and catch some !!
I have uploaded some pictures of a few of the fish we have had on recent trips and one of my old mate Pete Rout with a Bull Huss he had with us last Sept.
Look out for some Sharky Pictures very soon "hopefully"



30/03/2016

Fishing Report by Peter Davis

30 Mar 2016 by Peter Davis

Hi all, here we are then - new year / new season !! We did our first trips last week Wed and Fri, Weather fine enough but water temp down at 7 degrees !! Fishing slow with very few Pollack but a little run of ling, biggest to Brian Copeland @ just under 20lb plus all the normal Pouts, Cuckoo's and poor cod. There was a little show of Mackerel which is promising. This winter Force Ten has been down the boatyard for a refit and is now looking good with a new transom door to let us get the monsters aboard a lot easier and the return to the sea easier still. Looking forward to seeing all my regulars and hopefully a few new faces. That's it for now but will keep you informed as the fishing picks up and the temp rises. Tight Lines, Pete

28/09/2015

Fishing Report by Peter Davis

28 Sep 2015 by Peter Davis

Hi all, well what a season !! Wed this week marks the end of a fantastic sharking season with the boats from Looe having had almost 800 fish between them and August and Sept for the boats that do a lot of sharking have seen amazing numbers being boated. Dave Keen is down with us at the moment and although in for bad weather today (Mon) and rest of week not looking good, had a great weekend catching 10 on Sat and 8 Sunday the highlight being a very good 100lb er on 16lb line in poor weather did a great job and fought the fish for an hour before we lasso'd her. I was bottom fishing for a few days last week and had a monkfish (anglerfish) which we had for tea the next evening, some nice Ling and lots of Congers so fishing is good at mo. The new shark season starts on Thurs (October 1st) so There will be competition to get the first of new season !!
The Shark Angling Club of GB is going from strength to strength at present with lots of new members from lots of different ports and developments which members will find out about in next newsletter. Well here's hoping the sharks keep coming for a good while yet and will try and give you all a final report for the year next month, all for now, tight lines and keep those hooks sharp !! Pete

08/08/2015

Fishing Report by Peter Davis

8 Aug 2015 by Peter Davis

Hi all, here we are well into August now the glory of the victory in the shark festival just a glowing memory !!
The sharking is on the whole very good with Steve Chivers had 3 days of the boat to himself and managed 16 sharks up to an est. 70lb which doesn't sound much until you realize they all came on 12lb test tackle !
My mate John Doswell brought 1 of his crews down the other week and his brother in law Roger qualified for the SACGB with a
very nice 110lb male Blue shark. Dave Bond on Mystique had a good male shark this week at 96"x 32" est 125lb
and said it put up a great scrap ! The weather in July has not been kind and have cancelled a lot of days .
The Reef fishing (not that I have done that much) has been Good with the boats still catching Cod ,Pollack, and some Cracking Ling. Lets hope we can have a spell of settled weather now and I can report some record breaking catches ! That's it for now, will keep you informed. Tight Lines, Pete