Charter Boat: Gemini II
Boat and Skipper Details
Licensed For:
up to 10 passengers
Code Of Practice:
Cat 2 COP, 60 mile
Hours:
8hr / 9hr / Multiple Days Trips
Type of Fishing:
Ground, banks and wreck fishing
Tackle Available:
Yes - Contact Skipper
Bait Available:
Yes - Contact Skipper
Boat Specification:
11m Blyth Catamaran, twin engines 24 knots, approx 5m wide deck with seating, with full electronics and full safety equipment.
Facilities:
Large open deck space, seating on deck, plus additional under cover seating, separate toilet compartment (please don't be sick in the toilet/cubicle, if you feel rough, throw up over the side of the boat), hot drinks, grill/oven/microwave for hot food (food not provided though!) fridge. Fully insured and equipped with all safety equipment, lifejackets, liferaft to comply with MCA Cat 2 Code of Practice.
Additional Description:
Boat is £500 per day, based on 10 anglers, so works out at £50pp. Maximum on board is 10. Bait can be arranged at additional cost, but let us know when you book.

Boat also available for dive operations, both commercial and pleasure.

Departure time for angling trip is approx. 7.30am, return approx. 4-5pm. Departure for longer/shorter trips by arrangement and the weather.

***Please remember to bring cool boxes with ice packs and/or ice and/or buckets with lids to keep your fish fresh if the forecast is for high temps .

Individual anglers welcome, ring for available dates and to be added to our individual's list, and keep an eye on our "Last Minute Bookings". We will also call you when we have available trips coming up.

Trips of less than 8 hours can be arranged - handy if you have people who aren't 100% sure about being on the sea, but would like to have a go.

Find us on facebook : Gemini Fishing Dover

However, if you just want to come out and get drunk, don't call us. Spirits are not allowed - or muddy boots!
About the Skipper:
Dene is a keen angler and has many years experience as a charter skipper fishing the Channel as well as the Thames Estuary and beyond.

Skipper is a happy skipper and loves nothing more than joining in with the angling and the banter and his aim is to have fish on the boat!


This Charter has been listed as Suitable for Diving Trips. Contact the Skipper for full details.
This Charter has been listed as Wheelchair Accessible. Contact the Skipper for full details.
Upcoming Individual Spaces on Gemini II
Reviews
Summary:





Jaaon Parrott (16/11/2018)

Had a brilliant day today on gemeni 2 no cod but we found plenty of skate smoothound whitings mackerel Gurnard and even catching herrings on the slack water Dean worked very hard on deck today and found the fish very comftorble boat and will be rebooking. I also own lady ann of ramsgate and made such a good change to be looked after.

Skippers Reponse: Glad to hear you enjoyed your day. Let us know when you fancy another day out on our Gem.

Andrew Stearn (31/05/2018)

Really good Boat and a Brilliant Skipper, helpful , friendly a pleasure to spend a day with. Will definitely use again!

Skippers Reponse: Cheers for your comments. Any chance of making us 20 of those booms (and buy them off you!)? We can collect from you if they are ready before your trip next Thursday.

david millers (21/04/2017)

Another great day with dean the skipper he certainly knows where the fish are..had some lovely plaice and turbot and a good gurnard amongst others. dean is allways willing to help you which is great.. makes a lovely cuppa but no bickies !!

Skippers Reponse: Glad you enjoyed the day, you should have asked for bickies I have a supply!!! Jan always keeps the biscuit tin topped up.


Kris Hatton (13/11/2016)

Dene is the nicest bloke and skipper I've meet his boat is clean and tip top he rang me day before to say not a lot is coming up but I still went (fishing is fishing) had loads off doggies no cod a good day and a honest bloke .Kris

Skippers Reponse: Thanks Kris, very true - fishing is fishing, but I will always let parties know in advance when it is slow. Look forward to seeing you again. Hopefully the winds this week will stir it up a bit.


christopher peter lynch (25/10/2016)

first time out with dene. top skipper, who done every thing to catch. we had a great day fishing. made everyone so relaxed. we caught cod pollock dogies gunard mackeral whiteing and even a squid. thank you dene for a great day and will see you soon. p.s. look after my lucky rod. dublin peter.

Skippers Reponse: Thanks Peter, by the way the rod's wrapped in cotton wool for next time.
Latest Catches 29 photos uploaded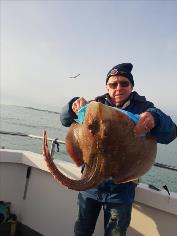 Simon
18 lb Thornback Ray
4-Dec-2018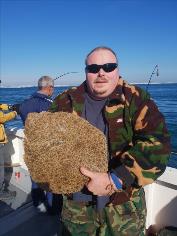 Russ
5 lb Brill
28-Aug-2018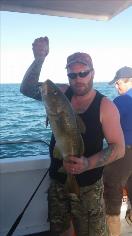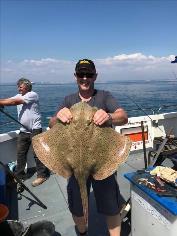 Latest Fishing Reports
20/02/2018

Fishing Report by Dene Richards

20 Feb 2018 by Dene Richards

Hopefully some good fishing will start in March. It has been a lousy winter cod-wise!

16/08/2017

Fishing Report by Dene Richards

16 Aug 2017 by Dene Richards

First trip out on Gemini II from Queenborough, Isle of Sheppey produced a decent 9lb Bass, for one of our regular "ex-Dover" parties. A few smaller bass, plus smoothhounds, dabs, whiting and some mackerel.

03/06/2016

Fishing Report by Michael Nicholas

3 Jun 2016 by Michael Nicholas

Went out with Dean again today, the 3rd June 2016. Very overcast and a bit choppy and not looking too promising. As usual Dean pulled it out of the bag and managed to get us on the fish, moving marks 7 or 8 times to search them out. We had turbot, bass, whiting, Pollock, pouting, plaice, dab, gurnard, mackerel, dogfish and a bunch of Sandeels. We even had a visit from UK Border force to make sure we weren't trying to better the country illegally. Nothing is too much trouble for this skipper, his boat is immaculate and he keeps the tea and coffee coming all day. Highly recommended

01/05/2016

Fishing Report by kevin cory

1 May 2016 by kevin cory

had a great day out with dene . as always. this guys a diamond always there ready to help out.
had a good catch of just under 90 plaice between the crew ... few small codling turbot.few makerel. but early days... thxs dene enjoyed my day ...