Charter Boat: Girl Gray
Boat and Skipper Details
Licensed For:
up to 12 passengers
Code Of Practice:
60 miles
Hours:
2hr / 4hr / 5hr / 6hr / 7hr / 8hr / 9hr / 10hr / 11hr / 12hr / 24hr / Multiple Days Trips
Type of Fishing:
offshore /inshore wrecks. winter cod river mersey,we are now going out to the liverpool bay area rods and end gear in with price
Tackle Available:
Yes - Contact Skipper
Bait Available:
Yes - Contact Skipper
Boat Specification:
aquastar 43 pro fisherman twin 275hp cat diesels,radar colour sounder semi walk round wheelhouse,we can fish 12 with ease due to the large deck size of this boat. of this
Facilities:
heated and seated fishermans rear cabin on deck eletric flush w/c.
Additional Description:
Girl Gray is a purpose built charter/dive boat with work boat endorsment. An aquastar 43 with rear heated cabin so you can get out of the weather or just relax and take time out, we cruise at 15-17 knots.
Tea/coffee is available all day throughout the trip and hot food will be served too.
Children are welcome aboard.
We use penn power sticks/ ugly sticks rods,akios 757/abu 7000 reels.
Please can all fishermen/women bring warm, suitable clothing while on the aft deck of the boat.
BOOKINGS NOW BEING TAKEN FOR OFFSHORE WRECKING FISHING.
FROM FEB 2019 WE WILL OFFER DISCOUNTS FOR MIDWEEK TRIPS.
PRICES £225.00.FOR WHOLE BOAT MID WEEK
Full boat (up to 12 anglers, between 9-12 hour trip)
Individual prices from £35
Bait - unwashed Falkland Island squid, black lug fresh or frozen, peeler crab (can be supplied).Though we cod season we can also do some evenings 4 hour over the top trips please call for more info 2018/19 river cod trips booki g available.
Use of rods, reels and end tackle at no extra cost.come and enjoy a full days fishing the crac great onboard you'll see.



About the Skipper:
40 years boating from Liverpool Yachtmaster Offshore STCW


compliant commercial coxwain for the liverpool pilot boat service. endorsements. BSAC dive leader, oxygen administration, we carry medical oxygen for divers etc.
Please feel free to call me if you wish to take a look before you book a trip (kettle's always on).
Safety is paramount on board Girl Gray a full safety briefing will be given before we sail

We will do our utmost to make your day,special and one you will enjoy,thanks ste.
PLEASE CAN YOU CALL ME 3 DAYS BEFORE YOUR TRIP. THANKS.
This Charter has been listed as Wheelchair Accessible. Contact the Skipper for full details.
Upcoming Individual Spaces on Girl Gray
Sorry, there are currently no Individual Spaces at present.
Reviews
Summary:





John Todd (08/07/2018)

We had our annual trip out with Steve and GirlGray. Weather and fishing was awesome. Great communication from start to finish from the enquiry to delivery. Thanks again for a brilliant day. John

Skippers Reponse: thanks jon hope to see you soon .

Stewart Devey (07/07/2018)

An excellent day had by all. Everyone had loads of different fish. Dog fish, mackerel, thornback Ray upto 13lbs and a bullhuss about 13 lbs and many more.
Ste and Paul were very helpful and a pleasure to be with.
Best trip yet.
Will book again.
Cheers Stew

Skippers Reponse: hello lads thanks very much .great bunch of lds

Andrew Brady (14/01/2018)

A really great day out for a family group with a mix of life long fishermen and novice beginners. Steve and Chris were very knowledgeable of the river and the species we would be targeting(Whiting and Dab). They both took great care of us all and had plenty of patients especially for the 2 youngsters on board. Everybody in our group caught fish and enjoyed the day. We will definitely go out again in the summer.

Skippers Reponse: Hello andy it was a pleasure having your gang onboard thanks see you soon ste .

John Todd (27/08/2017)

Another great day onboard Girl Gray. Steve has an appetite for a successful trip and once again he didn't disappoint. Everyone had a great day and full of compliments. Will be back for winter fishing pal see you soon.

Skippers Reponse: Hi jon thanks mate alwaysl a great when your on board


John Todd (08/07/2017)

Another cracking day on board Girl Gray. Steve as usual was fantastic and helped by Lee who also couldn't do enough to help you. Loads of species caught and also got my first Thornback for 30 years which was enough to win our in house comp for biggest fish. Once again thank you for the day and will see you soon. John

Skippers Reponse: Thanks a great time had by all good bunch of lads thanks pal
Latest Catches 24 photos uploaded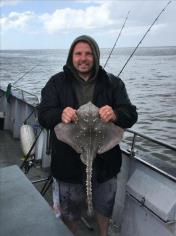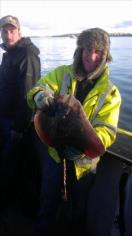 mitch
5 lb Thornback Ray
21-Apr-2013
Latest Fishing Reports
29/12/2016

Fishing Report by John Quirk

29 Dec 2016 by John Quirk

Ste Dalton and Girl Gray played a blinder on the 29th Dec-16. My step son and his dad aced this Monster which maybe the biggest cod of 2016 for the Mersey, this river is really getting better and better. It was 18lb 3oz and around 1m long.
The weather was great the bait (provided by Ste was top drawer) and the craic was only topped by the cod-beast.
Highly recommend a trip with Ste on the Girl Gray, we will be out again soon. Tight lines guys.

15/10/2016

Fishing Report by ste dalton

15 Oct 2016 by ste dalton

Hello girlgray fished the river mersey on a 4 hour trip some more rays, came aboard, whitting and doggies bait used fresh black lug, squid and mackerel, thanks ste dalton.

30/05/2016

Fishing Report by ste dalton

30 May 2016 by ste dalton

Hi all girlgrays target fish today was smoothies, we started, off by the burbo,wind farm, total of 50 came out with doggies dabs,and one small pub tope the smoothies came out on crab but also rag squid too.to finish the day we fished the deep hole in the rock plenty of whiting,and fatties came in also one nice bass on King rag worm. Thanks ste.

13/05/2016

Fishing Report by ste dalton

13 May 2016 by ste dalton

Hello all girlgray steamed, to the rough grounds off the north hoyle wind farm. A good mixed bag of fish ( bull huss, codling,whiting and one lobster came aboard.we finished the day off in the deep hole in the rock channel.where smoothies came out on fresh crab long the with doggies,small rays, pup tope on squid plaice and dabs on black lug.we cater for types of anglers no matter what your needs maybe we do our upmost to make your day a memorable one.

07/02/2015

Fishing Report by ste dalton

7 Feb 2015 by ste dalton

Girlgray fished 3 hours over the top of tide,had 24 cod biggest being just under 5 lb,main bait lug squid. Happy fishing ste .