Charter Boat: Great Escape
Licensed For:
up to 12 passengers
Code Of Practice:
60 Miles
Hours:
8hr / 9hr / 10hr / 11hr / 12hr / Multiple Days Trips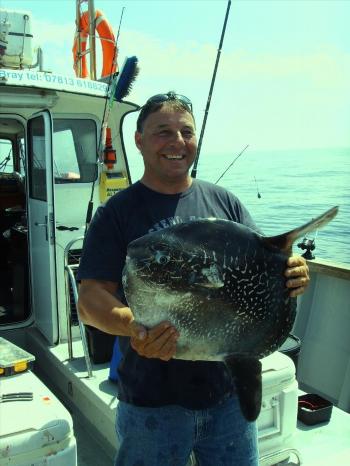 Type of Fishing:
Wreck - Reef - Ground - Anchor or Drift.
Tackle Available:
Yes - Contact Skipper
Bait Available:
Yes - Contact Skipper
Boat Specification:
43' Aquastar
Facilities:
Wheelhouse seats 10 with inside toilet and heating. Full transmit and recieve AIS. Hot Drinks available.
Additional Description:
"FULL TIME PROFESSIONAL SKIPPER"
The Great Escape has complete MCA & RYA 60 mile coding. With high specification including transmit & recieve AIS.
Specialising in Offshore wreck fishing and species targeting. All other types of trips and fishing ,also arranges. Individuals and groups catered for. Full facilities on board with seating In heated wheelhouse with hot drinks available. All equipment hire available (if required) and assistance for beginners/newcomers. FREE PARKING.....

skipper been fishing for well over 40 years and still does call or contact me on 07813 618829 and/or via the web site www.cbfishing.co.uk

Free parking in Brighton Marina Adjacent to MacDonald's. Tackle shop also on West Quay

You can now pay for your fishing trip online, using Paypal.
No need for a Paypal account, just use your credit/debit card - or use Paypal if you have it.
This is a payment facility and NOT a booking facility.
Please do not continue unless you have already confirmed a place or a booking with the Great Escape, either by phone or email.
This Charter has been listed as Wheelchair Accessible. Contact the Skipper for full details.
Latest Fishing Reports
11/2013

Fishing Report by Chris Bray on Great Escape

(Brighton, East Sussex)

Nov 2013 by Chris Bray

Hi All

Well the wind has beaten us all lately but we were still catching Turbot, Brill, Blonde Rays and Cod, until mid October. I have opened next years diary and the uptake has been excellent, if your considering any trips next year please take a look at the schedule and/or call me.
All the best Chris.

29/06/2013

Fishing Report by Chris Bray on Great Escape

(Brighton, East Sussex)

29 Jun 2013 by Chris Bray

Hi all

Still nice pollack about and cod staring to show after a slow start to the season. Hopefully the weather will be kind to us and we can get out to them.

04/01/2013

Fishing Report by Chris Bray on Great Escape

(Brighton, East Sussex)

4 Jan 2013 by Chris Bray

Had some nice cod over december on the ground. but now were're off over the horizon to find the fighting pollack for the next few months get on the phone and come along

cheers Chris

10/2012

Fishing Report by Chris Bray on Great Escape

(Brighton, East Sussex)

Oct 2012 by Chris Bray

Hi All

Well the wind and weather. Hasn't been good for us all again this year, however when we are getting out some nice cod are showing on certain marks. Inshore cod fishing into December. The 2013 diary is up and running with earlier year off shore pollocking in January to get into them before the spawning session which seems to be getting earlier each year. All types of days to suit give me a call.............

04/2012

Fishing Report by Chris Bray on Great Escape

(Brighton, East Sussex)

Apr 2012 by Chris Bray

Pollack now mostly spent and starting to feed again some cod showing and large amounts of plaice showing on certain marks
View All Fishing Reports
Edit this boat listing
Last Minute
Availability
DECEMBER - 2013

| Su | Mo | Tu | We | Th | Fr | Sa |
| --- | --- | --- | --- | --- | --- | --- |
| 1 | 2 | 3 | 4 | 5 | 6 | 7 |
| 8 | 9 | 10 | 11 | 12 | 13 | 14 |
| 15 | 16 | 17 | 18 | 19 | 20 | 21 |
| 22 | 23 | 24 | 25 | 26 | 27 | 28 |
| 29 | 30 | 31 | 1 | 2 | 3 | 4 |
Color for Fully Booked

Fully Booked

Color for Partially Booked

Partially Booked

Color for Available

Available

Color for Not Available

Not Available

Color for Unspecified

Unspecified
N.B. Not all Skippers keep this diary up-to-date. Always check with skippers before making any plans.
Reviews
Summary:





Reviews Unaccepted: 1
Keith Taylor (04/09/2013)

A day to remember, two personal bests for me! Thanks Chris for such a great days fishing, it's always a pleasure to see the skipper as excited as we were about catching fish, with his expert advice and knollage of wrecks and fishing grounds off the Brighton makes for a great day out. Lookin forward to the next trip already!!!

Kadir Balim (13/06/2012)

Outstanding,biggest fish of my life.Thanks to greate escape skipper Chris advice.

barry watts (27/07/2011)

i decided to take my 10 year old son conger fishing, so booked with criss on great escape, luckily flat calm and warm,we ancored a wreck more than an hour out from brighton marina, after a shot time criss the skipper was not happy and upped ancore and moved further out ,with criss's help and advice my son hooked in to something big, sometime later it appeared behind the boat, a 60lb conger,and a very happy young boy,a few pictures and released unharmed, great day out .thanks bw

rod paterson (26/07/2011)

I've tried the rest and now only go with the best. I have never had a skipper work so hard to ensure his customers have the best day possible. Today he did not stop providing good practical advice and if it got confusing he just shows you and takes you through things step by step. He even filleted the cod and pollock for us. Can't wait untill the next trip.

Nick Stocking (26/07/2011)

Yet another smashing day on the Great Escape all down to a smashing skipper. I have been fishing with Chris now for well over 8 years and every time we go out we have a diffrent adventure. today was no diffrent. Cod to the size of 19 pounds which was small compared to last trip, conger, Gurnard and plenty of the BBQ faviotes "Mackerel". Chris is always there to help out the people who need that little extra care. Its not very often that we have a blank day as Chris always tries very hard to find those fish. Already booked our next trip for this year and looking for another Great day!
View All Reviews
Add A Review