Charter Boat: Great White
Availability Calendar
6 Reviews

Reviews Unaccepted: 3
Boat and Skipper Details
Licensed For:
up to 12 passengers
Hours:
8hr / 9hr / Multiple Days Trips
Type of Fishing:
bass cod rays, wrecking,channel island trips
Tackle Available:
Yes - Contact Skipper
Bait Available:
Yes - Contact Skipper
Boat Specification:
11m southboats catamaran twin 420hp cruises at 20knots book from £250
Facilities:
on deck toilet hot kettle lcd television inside seating for ten
Additional Description:
Evening trips £300 including rods and bait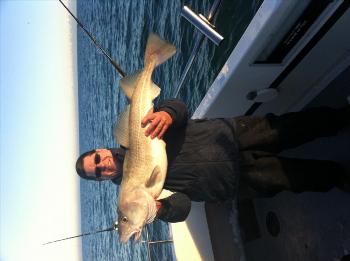 About the Skipper:
son of a full time fisherman ex trawler. fished these waters over30 years from my own boats.decided to make my love of fishing my living. my south boat is the second catamaran that i have fitted out my self and is built for the comfort of the fisherman not just the skipper no sitting out on deck getting wet to and from the fishing marks
This Charter has been listed as Wheelchair Accessible. Contact the Skipper for full details.
Sunday
Monday
Tuesday
Wednesday
Thursday
Friday
Saturday

Color for Fully Booked

Fully Booked

Color for Partially Booked

Partially Booked

Color for Available

Available

Color for Not Available

Not Available

Color for Unspecified

Unspecified

N.B. Not all Skippers keep this dairy up-to-date. Always check with skippers before making any plans. Last calendar update: 09-May-2018

Sun 1st Jul
Mon 2nd Jul
Tue 3rd Jul
Wed 4th Jul
Thu 5th Jul
Fri 6th Jul
Sat 7th Jul
Sun 8th Jul
Mon 9th Jul
Tue 10th Jul
Wed 11th Jul
Thu 12th Jul
Fri 13th Jul
Sat 14th Jul
Sun 15th Jul
Mon 16th Jul
Tue 17th Jul
Wed 18th Jul
Thu 19th Jul
Fri 20th Jul
Sat 21st Jul
Sun 22nd Jul
Mon 23rd Jul
Tue 24th Jul
Wed 25th Jul
Thu 26th Jul
Fri 27th Jul
Sat 28th Jul
Sun 29th Jul
Mon 30th Jul
Tue 31st Jul
Reviews
Summary:





Reviews Unaccepted: 3
Robert Plaga (09/03/2014)

From start to finish it was an excellent day!

andy stevens (07/12/2013)

great day out with Sean we had plenty of fish. i had a PB turbot of 15lbs, cheers Sean

Skippers Reponse: Thanks Andy the pleasure was all mine

Rob Field (09/03/2013)

Crikey what a day! Sean you weaved your magic yet again, going the extra distance that alot of skippers wouldnt paid of with a fantastic stamp of quality Pollock. Amazing day..thanks again.

lee rands (13/05/2012)

great day and hectic sport fishing for hounds and tope sean is a great guy with skipper and maybe a little tired after us running him ragged with the net with two or three fish on the surface at once ! will be booking again very soon .

Skippers Reponse: Thanks for that lee yes certainly was a red letter day but u lot and with the peelers are banned ,, lol not really u always welcome

Dave Pearcy (11/03/2012)

Great day aboard Great White. Steamed well over the horizon to find the pollack. Sean also provided the summer like conditions.
Latest Catches 91 photos uploaded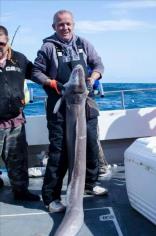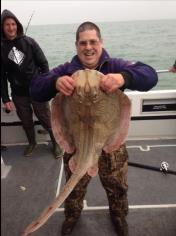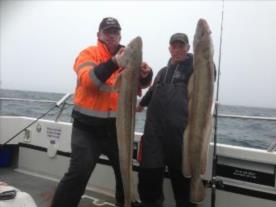 Unknown
22 lb Ling (Common)
30-Jun-2013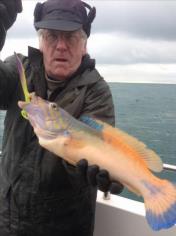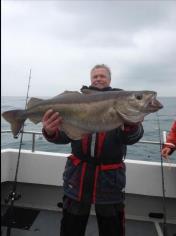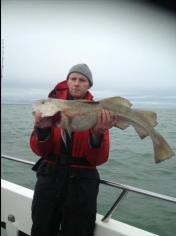 Latest Fishing Reports
09/02/2013

Fishing Report by sean heath

9 Feb 2013 by sean heath

Managed to get out onto the Mid Channel Wrecks on Saturday 9th Feb. We were rewarded with a new Boat Record Pollock of 23lb 2oz for Max Everett, Max's fish was one of many Doubles taken on the Day. Rhubarb and Custard Eels seemed to be working well. Stan Raine took a potential Brittish Record Cuckoo Wrasse estimated at around 2lb 8oz - 2lb 12oz+ we'll never know, but we know where it lives !!

11/2012

Fishing Report by sean heath

Nov 2012 by sean heath

Cod starting to show with fish into low Doubles, more and smaller fish available around the Kelp beds. Cuttle & Squid doing well with Lugworm cocktails producing Codling and Whiting. Rays and Bass on the right Tide / Weather combinations. Cod fishing picking up with each day, expecting to see good numbers by end of the month on usual marks. Book early as places are going quickly for weekend slots into the winter. Call for Sean for Details.

01/04/2012

Fishing Report by sean heath

1 Apr 2012 by sean heath

This weekend has seen the return of smoothounds in numbers mainly small males we also caught a 31lb tope, the first of the bream have been caught off selsey looks like another early start for the year

02/03/2012

Fishing Report by sean heath

2 Mar 2012 by sean heath

friday 2 march was a speceial day great bunch of lads and the fishing was amazing we caught 20 blonde rays upto 27lbs all doubles and three spurdogs 14,16,17.5 a few dogs and whiting they came off an offshore sandbank south of the iow

12/02/2012

Fishing Report by Chris Mitchell

12 Feb 2012 by Chris Mitchell

Sean stepped into the breach after the skipper of the boat we were originally booked to go on switched us at short notice! Something I didn't find out about until the evening before when I rang for the final go/no go! Despite the late forced change of plans we had a good day on the distant wrecks with a few quality pollack.