Charter Boat: High Flyer
Licensed For:
up to 10 passengers
Code Of Practice:
60 miles COP 2
Type of Fishing:
Wrecking,uptiding,winter cod,Tope and bass,summer mackerel, night fishing.
Tackle Available:
Yes - Contact Skipper
Bait Available:
Yes - Contact Skipper
Boat Specification:
Offshore 105 ,fast fishing,400hp turbo Iveco, seating for all,
Facilities:
On board Toilet ,Tea, Coffee, Soups,,Bring the bacon i will cook it!
Additional Description:
Cater for beginners ,full instruction given. On Board toilet. Bait ,tea ,coffee, all included , we use latest ABU and PENN tackle ,please bring what you like though.. Please note if you wish to use worms all day please bring your own due to their expense. Keep what you catch within size limits or release. Open deck for uptiding. Plenty of free parking offroad.We also do NIGHT TIME trips and HERRING trips using nets please ask for details .Also tope and bass specialist trips on the distant banks in the summer. You can also add your email to our database for specials to get info before main website. GIFT VOUCHERS available please email, can be used up any time of year great birthday and xmas gifts. Normal trips costs £45 for the day, bait included also tea ,coffee etc. We ask £20 deposit on Paypal and rest on the day.
* Note for 2014* With regret we are going to ask £5 for rod,reel,tackle hire for the day per rod if you use our tackle as we spend a fortune on replacement as we use Abu and Penn latest gear, does not affect the trip price when you bring your own tackle. IMPORTANT. on booking the whole boat, we are coded for 10 places which has to be covered, it means what it says not expecting to pay for 6 places when your mates let YOU down.Organisers of trips please be aware best to collect all funds before sail date to protect the others in case of let downs, responsibility is the group who have booked not the skippers.

WE HAVE NOW PRINTED A COLOUR BROCHURE IF YOU WISH TO RECIEVE A FREE COPY PLEASE EMAIL OR TEXT YOUR ADDRESS AND WE WILL POST ONE OUT TO YOU.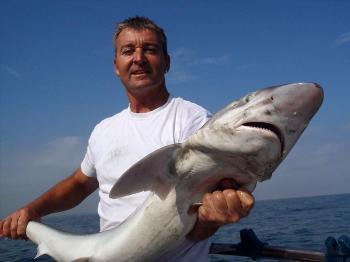 About the Skipper:
Commercial fisherman potting and netting ,keen rod angler, favourite is wrecking,,BSAC diver north sea, got lovely missus cause she said so! Under the thumb like most fellas!
This Charter has been listed as Suitable for Diving Trips. Contact the Skipper for full details.
Latest Fishing Reports
27/02/2017

Fishing Report by jon old on High Flyer

(Great Yarmouth, Norfolk)

27 Feb 2017 by jon old

Bringing us up to date been hard work over the previous weeks having to contend with all the bad weather, storm Doris etc every time offshore planned to try for spurdogs the weather turns! Inside we have been plagued with whiting of all sizes good job really as the cod just havent turned up this year for us only the odd fish here and there, Remains to be seen in the coming weeks whether we will get a spring codling run all we can do is keep going and keep trying. I would like to say to all the anglers who keep coming not only supporting the High Flyer, every other charter vessel out there as we know its hard up and down the country at the moment ,we do appreciate it. Someones got to be first to catch them why not you? Looking ahead if we can get out offshore, wont be this mid week on the forcast possibly this weekend we have got 7 places this sat 4th March due to cancellation if anyone interested please get in touch. Until then leave it with you roll on the summer i say! Cheers Jon (High Flyer)

29/01/2017

Fishing Report by jon old on High Flyer

(Great Yarmouth, Norfolk)

29 Jan 2017 by jon old

Well nearly end of Jan 2017, this month has been to say the least extremely hard cod wise. I hate to think of my carbon footprint if i was that way inclined as the miles i have done when weather has allowed is astronomical. No matter where i have been i can honestly say we have caught whiting of all sizes you just cant shake them. I havent bothered taking any more pictures of them how many strings do you want to see on the website! So looking forward its been reasonably cold last couple weeks fingers crossed we ought to see something soon or at least a spring codling run , if not were back to waiting for the return of the spotty dogs accompanied by the skate round about March when weather breaks then were away again. So would just like to mention big thanks to everyone who still supports us even though the fishing has been tough here all down the east coast its very much appreciated hopefully change is in the air. Anyone interested in a midweek trip Feb 6th onwards let me know got few ideas if weather allows as tides will be right nice and slack will be doing bit of distance. Until then tight lines people ,
Cheers Jon (High Flyer)

01/01/2017

Fishing Report by jon old on High Flyer

(Great Yarmouth, Norfolk)

1 Jan 2017 by jon old

Well its a Happy New Year to everyone 2017 were all hoping to get our christmas presents wet, soon as were allowed permission to go fishing and the inlaws have gone home and the hangover and full belly feeling dissapears. The cod on the east coast here has been poor so far were all blaming the mild weather also the millions of whiting attacking the baits anywhere you put your line down at times very testing. Few odd skate still appearing plus odd spotty dog and flatties making up the sport. Weather depending plans are to hopefully arrange few spurdog trips soon can be hit or miss hard fish to target but will have a go as keep being asked. Its always this time of year the smartest among us book the weaker tides for wrecking or start of the tope trips for the heavy females so do get in and give it some thought to save disapointment tide timetables available everywhere now. We have new set of tackle this year for High Flyer with rods and reels to try, also looking at more night trips in next few months as got a feeling these cod are moving in over the ground at night so get your name down with me by text or email will look at suitable tides and give options. Still leaving about 6pm home by midnight so you can go to work next day same prices £45 per person using own tackle add £5 using ours to cover losses /replacement etc. as always we supply different baits we do supply lug but as always bring a handfull for your own personal use if you wish to use big baits. So lots of plans this year let me know if you have any ideas too looking forward to being of service, big thanks to everyone who has supported me through good and bad fishing, also the time taken to put reviews up its very much appreciated leaving you with a few tope we caught as it seems to be the most popular fish to catch until then happy new year to you all,

Jon ( High Flyer)

19/11/2016

Fishing Report by jon old on High Flyer

(Great Yarmouth, Norfolk)

19 Nov 2016 by jon old

Todays trip first for two weekends due to the bad weather we been having typical for our busiest period! Headed down with the other boats down to the Roads due to south west wind for a bit of shelter as wind against tide to start catching start of the flood . Straight away into whiting as i predicted of all sizes , only different species today was a large pouting sort you get round the summer wrecks and a plump dab both returned. Rest of the day was whiting few nice keepers among them but no cod for anyone today and none for any of the other vessels from speaking to various skippers but one good thing water is turning colder for our cod as no skate or doggies so good sign. Big thanks to Daron who owns Walnut Tree Pub in Deeping St James who organised the trip everyone pictured here , was a brilliant day weather wise , fishing was busy with the constant whiting and of course pub banter. Many thanks guys looking forward to our next one appreciate you making the journey. All the best . Jon (High Flyer)

30/10/2016

Fishing Report by jon old on High Flyer

(Great Yarmouth, Norfolk)

30 Oct 2016 by jon old

This report covers Sunday 30th October 2016 , on big tides flat calm sunny weather unbelievable for this time of year was fishing in a T shirt all day. water temp at 11 degrees according to sounder . Well we had a very busy day basically fish kind of non stop no matter where we went as tried out on the 3 miler, the mud bank, rocks and lastly right inshore all plagued with whiting of all sizes. Few flatties and spotty dogs mixed in but no skate or codling for us still need some cold weather to start in my belief for the codling to show properly hopefully not too long now. Big thanks to all the lads few pics here of the keepers, appreciate the lads from Boston driving over bit of a distance much appreciated to Maurice for organising. Locals Arek and Matt and the two Andys good to see you all especially the first timers on High Flyer and regular Dave Jones was a busy day great weather pleasure to be out. Dont forget to think about winter bookings not long now till xmas weekend places going fast website up to date daily. Until then tight lines everyone.
Cheers Jon (High Flyer)
View All Fishing Reports
Edit this boat listing
Availability
FEBRUARY - 2017

| Su | Mo | Tu | We | Th | Fr | Sa |
| --- | --- | --- | --- | --- | --- | --- |
| 29 | 30 | 31 | 1 | 2 | 3 | 4 |
| 5 | 6 | 7 | 8 | 9 | 10 | 11 |
| 12 | 13 | 14 | 15 | 16 | 17 | 18 |
| 19 | 20 | 21 | 22 | 23 | 24 | 25 |
| 26 | 27 | 28 | 1 | 2 | 3 | 4 |
Color for Fully Booked

Fully Booked

Color for Partially Booked

Partially Booked

Color for Available

Available

Color for Not Available

Not Available

Color for Unspecified

Unspecified
N.B. Not all Skippers keep this diary up-to-date. Always check with skippers before making any plans. Last calendar update: 27-Feb-2017
Reviews
Summary:





barry dewing (26/02/2017)

big thanks jon paul done a good job for us .as the fishing is bad a the min .we made a fun day and stuck a 5er in the pot each and had a mach and little carmen won on a whiteing all in all paul done well macking tea soup and moveing us about to find them cod well done to all for trying any way please keep trying

Skippers Reponse: Thanks barry was testing weekend with the wind and weed all we could rustle up was whiting and few flatties again hoping for this spring codling run to start! Keep Praying. ! Cheers mate.

Danny Dobson (18/12/2016)

Another great day out with the skipper Jon as always plenty of fish to keep us all busy, if the fish are there Jon will find them would highly recommend a trip out clean boat plenty of space, quality fishing rods and reels plenty of tackle and bait, nice coffee plenty of chocolate bars and a good bit of banter cheers for another great day Jon and look forward to the next one bring on the cod deffinetly 5 stars all the way cheers bud Danny.

Skippers Reponse: Much appreciated danny must remember to give u that fiver for glowing report! Always a pleasure mate was good day looking forward to 2017. Cheers mate

Paul Layton (06/12/2016)

Great Day on the Flyer as always. huge numbers of whiting caught but the cod remain elusive despite trying a number of marks. Great banter with Jon and the rest on board, lots of tea and soup. looking forward to the next trip.

Skippers Reponse: Was a good day banter wise Paul few newbies onboard ! Loads of fish just the wrong sort! Roll on the cod cant be long now. Cheers Paul

Lee Weston (28/11/2016)

My first trip out on High Flyer and a bitter East wind did not boad well for a good days fishing. I had joined a group of guys and was made very welcome. The boat is sturdy, spacious and dry even with a fairish swell on the beam when motoring,she is well equipped with most up to date tackle, with helpful and non patronising advice from skipper Jon, as to the best rigs to use, making this in my opinion an ideal experience for any first time boat anglers (remember, you don't have to get a party up to give it a try ! ). Jon tried a couple of marks ,plenty of Whitting, but alas no Cod, someone has got to be the first to get into the fish when they come, just wasn't our day. We were given the opportunity to carry on fishing beyond our eight hours and had we found fish we would have been seeing the sunrise, there's no clock watching on this boat ! I would like to finish by thanking Jon for his hospitality, copeus cups of tea, soup and generous cocolate box. Already planning my next trip out on High Flyer! Lee Weston

Skippers Reponse: Much appreciated Lee, bit of a swelly first time unfortunately least the whiting kept us busy. Looking forward to being of service saving you a cod!! Cheers Jon (High Flyer)

barry dewing (27/11/2016)

nice to get out jon and have good laugh with all and well done for showing us a lovely days fishing shame cod a little thin at the min but think u will c moor when white thin out a bit mate any way thanks very much a cracking day

Skippers Reponse: Yes fish all day barry just the wrong ones! Cod wont b long i hope whiting proving a pain at the mo!
View All Reviews
Add A Review