Charter Boat: High Flyer
Licensed For:
up to 10 passengers
Code Of Practice:
60 miles COP 2
Type of Fishing:
Wrecking,uptiding,winter cod,Tope and bass,summer mackerel, night fishing.
Tackle Available:
Yes - Contact Skipper
Bait Available:
Yes - Contact Skipper
Boat Specification:
Offshore 105 ,fast fishing,400hp turbo Iveco, seating for all,
Facilities:
On board Toilet ,Tea, Coffee, Soups,,Bring the bacon i will cook it!
Additional Description:
Cater for beginners ,full instruction given. On Board toilet. Bait ,tea ,coffee, all included , we use latest ABU and PENN tackle ,please bring what you like though.. Please note if you wish to use worms all day please bring your own due to their expense. Keep what you catch within size limits or release. Open deck for uptiding. Plenty of free parking offroad.We also do NIGHT TIME trips and HERRING trips using nets please ask for details .Also tope and bass specialist trips on the distant banks in the summer. You can also add your email to our database for specials to get info before main website. GIFT VOUCHERS available please email, can be used up any time of year great birthday and xmas gifts. Normal trips costs £45 for the day, bait included also tea ,coffee etc. We ask £20 deposit on Paypal and rest on the day.
* Note for 2014* With regret we are going to ask £5 for rod,reel,tackle hire for the day per rod if you use our tackle as we spend a fortune on replacement as we use Abu and Penn latest gear, does not affect the trip price when you bring your own tackle. IMPORTANT. on booking the whole boat, we are coded for 10 places which has to be covered, it means what it says not expecting to pay for 6 places when your mates let YOU down.Organisers of trips please be aware best to collect all funds before sail date to protect the others in case of let downs, responsibility is the group who have booked not the skippers.

WE HAVE NOW PRINTED A COLOUR BROCHURE IF YOU WISH TO RECIEVE A FREE COPY PLEASE EMAIL OR TEXT YOUR ADDRESS AND WE WILL POST ONE OUT TO YOU.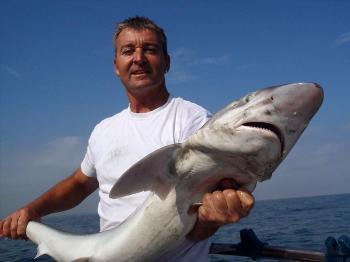 About the Skipper:
Commercial fisherman potting and netting ,keen rod angler, favourite is wrecking,,BSAC diver north sea, got lovely missus cause she said so! Under the thumb like most fellas!
Winner of Sea Anglers Top Skipper Awards 2017 .
Member of Angling Trust
Member of Federation Of Sea Anglers
Member of Professional Boating association. (PBA)
This Charter has been listed as Suitable for Diving Trips. Contact the Skipper for full details.
Latest Fishing Reports
02/07/2017

Fishing Report by jon old on High Flyer

(Great Yarmouth, Norfolk)

2 Jul 2017 by jon old

Now into July when anglers may keep one bass per day 42cm in length, has caused few problems over past months but we dont make the laws as skippers we just have to enforce them unpaid for the task i might add! We have kept away from our bass grounds to avoid these situations having lost saturday 1st july to the weather decided to try on the banks for bass. Paid off with Dave Jones pictured here with a cracking 9 pounder fish was returned unharmed, great to see conservation Dave top marks mate. was a personal best for Dave who also caught few weeks ago our biggest smoothound to date of 15lb another PB for him. Day wasnt fantastic but managed smoothounds and still pesky whiting about was bit limited due to the lumpy conditions but was a good day enjoyed it. Big thanks to everyone hoping to see few more crackers soon time will tell.
Tight lines everyone.
Jon (High Flyer)

17/06/2017

Fishing Report by jon old on High Flyer

(Great Yarmouth, Norfolk)

17 Jun 2017 by jon old

Bringing us up to date weekend of 17th /18th June 2017 spent the calm weather and sunny conditions offshore a bit, plenty of joey mackerel and sandeels couple gurnards on the feathers nice to see. Everyone enjoys feathering even me! Usual weavers a pain nice to have a scorpion fish onboard dont often see them nowdays. i lost first tope just ripped bait of the hook, second tope came in at 41lb best of the day. Next tope was 35lb then finished with a 28lb nice bit of action. Hero of the day was Stephen Clark pictured here well done Mr sore arms and to me for pulling the buggers aboard not getting bitten this time! Ended up the day inshore where everyone caught smoothies and doggies to finish day off. Was a cracking day weatherwise few sunburnt customers but smiley faces. Great day lads thanks to all of you.
If you fancy a specialist tope session get your name down with me will look at right tides dates and options and go from there until then tight lines people.
Jon (High Flyer)

04/06/2017

Fishing Report by jon old on High Flyer

(Great Yarmouth, Norfolk)

4 Jun 2017 by jon old

Bringing us up to date fishing has vastly improved the skate seem to be about not in great numbers but enough. Well done to all my anglers for returning them think weve kept 2 in total also the smoothounds. Picture today is Dave Jones with our boat record smoothound of 15lb well deserved as Dave is one of our most regular anglers who has supported the High Flyer through all seasons it couldnt have gone to a more deserving person. Well done mate. No mackerel yet on the feathers or tope still bit early but we will keep after them concentrating on the smoothounds crab being most effective bait at the moment. Spotty diogs a pain at the moment still catching some large whiting inshore another pain but adds to the sport. As we head into mid to late June will be out on the banks then ready for few bass July 1st when we will start fishing for them. Night trips will be organised soon bit blowy this coming week will keep eye on weather for that. Dates filling up at weekends so get in for summer trips now or they will be gone midweek generally ok. So roll on warmer weather clearer water polish those pirks wont be long. Until then tight lines everyone. Jon (High Flyer)

18/05/2017

Fishing Report by Jim Taylor on High Flyer

(Great Yarmouth, Norfolk)

18 May 2017 by Jim Taylor

18th May 2017
Had a great days fishing the weather couldn`t have been better for the North sea , Jon the skipper is a great host with plenty of sound advice and practical help for us novices , nothing was too much trouble and he`s very easy going , also providing a never ending flow of tea/coffee , snacks and some ropey jokes I would definitely be using this charter boat again and would recommend it for both novices and the more experienced sea anglers .
Regards Jim Taylor
P S The skate I caught tasted great

18/05/2017

Fishing Report by jon old on High Flyer

(Great Yarmouth, Norfolk)

18 May 2017 by jon old

Today was great weather for once nice weak tides took advantage and headed out with DXB water Company and lads from Brentwood Essex, our first mark was already fished by commercial liner so had to move but managed few nice smoothounds with the pesky spotty dogs as usual. Still cant shake the whiting but all adds to the sport. At slack we moved out onto the 4 mile mark plenty of small smoothounds and doggies again ended up with a number of skate best pictured here with Howard todays winner just under 13.5lb nice fish. Looking like the better size smoothies are making a show now peeler crab if you can get it proving best bait. Will be doing few more evening trips soon so lookout for them if your interested. Big thanks to Derek for todays trip much appreciated looking forward to our next jolly next month always a pleasure to see you guys.
Cheers Jon (High Flyer)
View All Fishing Reports
Edit this boat listing
Last Minute
Availability
JULY - 2017

| Su | Mo | Tu | We | Th | Fr | Sa |
| --- | --- | --- | --- | --- | --- | --- |
| 25 | 26 | 27 | 28 | 29 | 30 | 1 |
| 2 | 3 | 4 | 5 | 6 | 7 | 8 |
| 9 | 10 | 11 | 12 | 13 | 14 | 15 |
| 16 | 17 | 18 | 19 | 20 | 21 | 22 |
| 23 | 24 | 25 | 26 | 27 | 28 | 29 |
| 30 | 31 | 1 | 2 | 3 | 4 | 5 |
Color for Fully Booked

Fully Booked

Color for Partially Booked

Partially Booked

Color for Available

Available

Color for Not Available

Not Available

Color for Unspecified

Unspecified
N.B. Not all Skippers keep this diary up-to-date. Always check with skippers before making any plans. Last calendar update: 21-Jul-2017
Reviews
Summary:





Paul Layton (09/07/2017)

Great day on the high flyer, Chris took care of us in Jons absence. Weather got a bit lumpy but we all caught fish. Lots of nice smoothies. Can't wait for the next trip

Skippers Reponse: Thanks Paul heard it got bit lumpy typical sunday weather and calm all week! Cheers mate look forward to next one. Jon (High Flyer)

david jones (02/07/2017)

Another great day with Jon plenty of Smoothoud PB Bass for me of 9lb always lots of tea and coffee lumpy sea but always fish .Top notch skipper would recommend to all .

Skippers Reponse: Thanks Dave nice to get a personal best . Good start to the bass season top marks for returning the fish nice to see conservation. Well done mate.
Jon

Stephen Clark (17/06/2017)

Another great day's fishing with Jon, good when a plan comes together, tide right, weather right and caught plenty of mackerel for bait, then onto bigger stuff; three large tope. Thanks again.

Skippers Reponse: Good day all round i thought Stephen topped up the tan as well. Cracking tope well done mate. Cheers Jon

Carl Pankhurst (04/06/2017)

Me and Ed had another excellent day on the High Flyer, the banter flowing as much as the tea and biscuits, I started off a little slow then catching good sized Smooth Hounds, Dogs as well as good sized Whiting, Ed however only catching small whiting, I and the rest of the lads found this very amusing (sorry Ed but size does matter). If anyone is looking for a great day out fishing then the High Flyer is the boat to be on.

Skippers Reponse: Thanks Carl appreciate you guys driving that distance, nice to see boat record smoothound that day shame it didnt bite on Eds line!!! Look forward to next one mate. Cheers Jon (High Flyer)

david jones (04/06/2017)

Had a really good day smoothoud to 15lb.Bass of 3 1/2 lb(returned) spotty dogs and usual whiting over 1lb lots of tea and choccy biscuits back again in 2weeks for more of the same.

Skippers Reponse: Congratulations Dave on catching boat record smoothound of 15lb returned for another day nice to see conservation minded anglers. Top marks mate . Jon (High Flyer)
View All Reviews
Add A Review