Charter Boat: Incentive
Boat and Skipper Details
Licensed For:
up to 10 passengers
Code Of Practice:
20 miles from any safe haven
Hours:
2hr / 5hr / 8hr / 10hr / 12hr / Multiple Days Trips
Type of Fishing:
****INDIVIDUAL WEEKEND AND SMALL GROUP TRIPS**** I have set aside some weekend 8 hour trips to allow the smaller groups and individual anglers to get out on a weekend. Call for these dates. if they don't suit i shall try and get you sorted on the next suitable date. All other trips weekend or weekday are first come first served. General bottom fishing. Tope . Species hunts. (Smoothhound may-august) peeler crab is a must for bait for the smooth hound fishing. Wrecking optional on 10 and 12 hour trips when the weather forecast is favourable.
Tackle Available:
Yes - Contact Skipper
Bait Available:
Yes - Contact Skipper
Boat Specification:
The 'INCENTIVE' is a 35 foot offshore 105 with plenty of space for 10 anglers. With a bench on the back and raised area on deck to sit on so you dont have to stand up all day.
Facilities:
Plenty of tea and coffee on the go. Sausage butties. electric inverter for phone chargers,laptops,tv etc if needed. Toilet.
Additional Description:
SPECIAL 2 HOUR FAMILY FISHING TRIPS. £135 ALL INCLUSIVE OF TACKLE AND BAIT. Maximum 10 people.
facebook.com/incentivefishing

We cater for boat charters ( a group of up to 10 who want the boat to themselves) or for individuals. Feel free to ring for any information.

Whether you are a complete novice or a seasoned pro we will do our best to put you on the fish and ensure you have a great day.

Species caught include-dabs,dogfish,whiting,codling,mackerel,black bream,bull huss,rays,tope,gurnard,pollock,conger,plaice,ling,smooth hound,herring

Feel free to email me for any information, however please ring if it is a last minute booking or place you are inquiring about. As i don't get to check my emails everyday.

Fishing all winter. Special winter rates monday-friday in December,January and February. Contact for details.


facebook.com/incentivefishing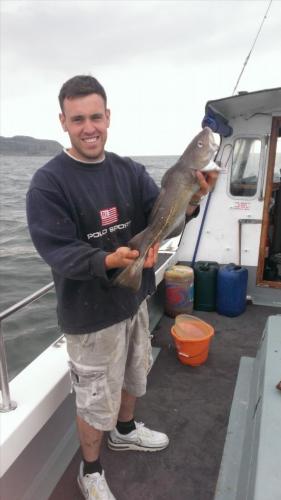 About the Skipper:

Jack is now the skipper of the incentive. He started off with me as a crew lad at a very young age, keeping the boat clean, helping the anglers out on deck and most importantly keeping the kettle on the go! He is now a qualified skipper and still as keen to help out the anglers as ever.
Sunday
Monday
Tuesday
Wednesday
Thursday
Friday
Saturday

Color for Fully Booked

Fully Booked

Color for Partially Booked

Partially Booked (Individual Spaces)

Color for Available

Available (Whole Boat)

Color for Not Available

Not Available

Color for Unspecified

Unspecified

N.B. Not all Skippers keep this dairy up-to-date. Always check with skippers before making any plans. Last calendar update: 07-Feb-2019

Fri 1st Feb More...
Sat 2nd Feb More...
Sun 3rd Feb More...
Mon 4th Feb More...
Tue 5th Feb More...
Wed 6th Feb More...
Thu 7th Feb More...
Fri 8th Feb More...
Sat 9th Feb More...
Sun 10th Feb More...
Mon 11th Feb More...
Tue 12th Feb More...
Wed 13th Feb More...
Thu 14th Feb More...
Fri 15th Feb More...
Sat 16th Feb More...
Sun 17th Feb More...
Mon 18th Feb More...
Tue 19th Feb More...
Wed 20th Feb More...
Thu 21st Feb More...
Fri 22nd Feb More...
Sat 23rd Feb More...
Sun 24th Feb More...
Mon 25th Feb More...
Tue 26th Feb More...
Wed 27th Feb More...
Thu 28th Feb More...
Upcoming Individual Spaces on Incentive
Reviews
Summary:





Nick McGrane (30/05/2018)

Had a great days fishing with my son yesterday. This was our second trip on Incentive, Jack is a great skipper and kept us moving throughout the trip to find the fish. He really looked after us, giving us advice, untangling knots, providing the tea and coffee and a decent sausage sandwich. Even a bit of rain couldn't dampen it. All good fun and my son caught the biggest fish on the day 13lb Bull Huss - might not be the biggest fish ever caught but it definitely put a smile on his face. We will be back.

Joshua Ellis (31/10/2017)

After unforeseen circumstances our original charter out of Liverpool was cancelled. So rang jack up on the off chance to see if a he had any spaces! To my surprise he did and we headed to the boat around 9am having picked up bait from the table shop handily located a short. Walk from the charter pick up point. Jack had us moving all day to keep us on fish, even though we were limited to inshore fishing due to the stronger than forecast winds we all caught fish and had a great day afloat! Species caught included mackerel, whiting, dabs, pouting, dog fish and huss. All in all a great day and great skipper will deffinately regiment and will be booking again for summer next year! Thanks again, Josh

Dion Williams (19/06/2017)

Absoloutely brilliant, amazing day out , massive sunburn, fishing was slow to start but skipper went truly above and beyond and made sure we caught fish, brilliant skipper, very knowledgeable and always happy to help, cant wait to book again, thanks.

jacek basak (29/05/2017)

great load, jack is a great captain, caught mackerel,Pollock,codling

Dave hallett (25/10/2016)

Another excellent trip,with 4 of us on board,Me Neil Alec and Mike.fish caught Lots of good size Whiting Mackerel Huss Thornbacks Gurnard Dabs and Codling..Alec's Thornie was guestimated at around 10lbs .Jack kept us on the fish all day ,good craic and loads of brews. Jack really knows his stuff and always on hand to help out.In the words of Arnie , " I'll be back "

Skippers Reponse: Many thanks Dave, see you soon.
Latest Catches 158 photos uploaded
Unknown
4 lb 4 oz Bull Huss
Apr-2018
Latest Fishing Reports
08/2018

Fishing Report by Jack Thomas

Aug 2018 by Jack Thomas

Not posted in a while. As like with all skippers with this weather we've been busy getting out. Fishing is changing trip to trip, and that's IN A DAY, not a 'you should of been here yesterday' story. One trip good fishing, the afternoon a little quiet. Or vice versa. But we try out best as always.
This last few days has seen plenty of mackerel which is good as they were late to show. Alot of which a good size.
Around 20+ species landed over the last few weeks. Which adds to the variety.
A few individual spaces left this month so give me a call if you want to get out.
07515870026

06/2018

Fishing Report by Jack Thomas

Jun 2018 by Jack Thomas

Plenty of whiting, dabs, codling, dogs, huss up to 15lb. Some nice gurnards showing. Mackerel are very hit and miss at the moment. Once this algi clears it should be back to normal. A John dory was landed today . A bit of a rare catch for these parts but we do get the odd ones.
Pictured is a tub gurnard.

05/2018

Fishing Report by Jack Thomas

May 2018 by Jack Thomas

First day that we have hit a meaningful amount of mackerel this season. With the lads getting plenty for bait, enough for home then leaving a shoal to move on to other fishing. A sign that they're here for the summer now?
Abit of moving around but in the end quite the huss fest with 6 to the boat at any one point, keeping me busy with the net.
Good fishing found close Inshore maximising fishing time.
Spaces available on 5 hour trips this week. 07515870026. Facebook- incentive sea fishing trips.

05/2018

Fishing Report by Jack Thomas

May 2018 by Jack Thomas

Huss, whiting, dabs, codling, herring, pouts, dogs, coalies and Pollack landed today. Inshore wrecks threw up plenty of Pollack to 6lb keeping all the lads in fillets for a while.
Spaces available through the week. Get in touch for info. Facebook-Incentive sea fishing trips. 07515870026.

05/2018

Fishing Report by Jack Thomas

May 2018 by Jack Thomas

Stacks of whiting inshore of varying size along with huss, dabs, dogs and Pollack and coalies right close in.
Mackerel are around in the odd shoals a little further off mixed with herring.
A few congers showing off the wrecks which make for a good scrap.
Spaces all week. Get in touch for any info. 07515870026. Facebook- incentive sea fishing trips.