Charter Boat: Jensen & Suveran
Skipper:
Anthony & Simon Parry
1 Reviews

Boat and Skipper Details
Licensed For:
up to 10 passengers
Code Of Practice:
Cat 2 - 60 Miles
Hours:
5hr / 7hr / 8hr / 9hr / 10hr / 12hr Trips
Type of Fishing:
Wreck - Smooth Hound - Tope - Bass - General - also Winter Fishing On River Mersey - CLICK ON OUR WEBSITE ABOVE FOR FUL LIST OF AVAILABILITY
Tackle Available:
Yes - Contact Skipper
Bait Available:
Yes - Contact Skipper
Boat Specification:
Cygnus Cyfish 33 . cummins 6cta 450 bhp . cruise 16 knots
Facilities:
Toilet, Tea/Coffee & Hot Snacks Supplied Free
Additional Description:
*************************************************************************
We operate from RHYL from February untill mid October and from LIVERPOOL from mid October untill the end of January ( visit our other page on this site N.West England .. Liverpool .. to see what fishing we can offer you in the winter ) both Rhyl and Liverpool are pontoon berths for easy access and just a short walk from free parking. For further information on availability, prices, types of fishing and latest catch photos visit our website by clicking on the link above
We are also on facebook under Jensen Sea Angling
And twitter @fishjensen
*************************************************************************
Fancy winning one of these?
http://m.youtube.com/watch?v=F1h-6FW3UE4
Courtesy of ourselves and James Robins of Shakespeare Tackle.
We have 12 ugly stick gx2 to give away. That's one per month.
All you have to do is catch what we deem to be fish of the month on-board either Jensen or Suveran.
Reviews
Summary:





Bruce Walton (22/04/2018)

Fishing trip out of Rhyl
Sunday 22 April 2018 went out with anglers from Sefton Sea Angling Club.
We sailed out of Rhyl on the Suveran at 0530hrs. Early start but it was worth it, we arrived on time and the trip was well organised. Tony Parry opened his very well stocked tackle shop at 0530hrs to supply bait worms & squid and we were off quickly to the fishing grounds where Simon our skipper put us directly on a shoal of herring and whiting where everyone was able to get a bucket of bait.
We then moved to a wreck site where we fished and everyone was catching a variety of fish namely Pouting, whiting, dogfish and Bulhuss.
Simon appeared early morning with some hot pasties tea and coffee and by magic they disappeared.
When the fishing slowed down we moved again to another wreck but on our arrival, we found that the wreck was being dived on. We anchored off the wreck and waited for the divers to clear but the fishing was so good we stay for the rest of our time catching. Whiting, Pouting, Dabs when the tide changed and dogfish all day long, I caught a 5lb Bulhuss and others were landed. Thorn back rays 3+ (good size) were the prize fish of the day.
I would just like to reiterate that the lads from the Sefton Sea Angling club made me most welcome and the skipper of Suveran Simon tried his best to keep us on the fish. I certainly caught 20 plus fish of various kind. I was not alone as most on the boat caught double figures of the varieties previously mentioned.
I would certainly like to thank the lads from Sefton sea angling club for their company they all made me most welcome. The Skipper of the Suveran for his knowledge of the fishing grounds and his hospitality onboard the pasties and refreshments were just the job.
http://www.fish-jensen.co.uk/
'Tight lines' to the Lads heading to Plymouth from Sefton Sea Angling Club.
Bruce

Skippers Reponse: Cheers Bruce, it's early in the year with a lot of fish being late to arrive due to the recent cold spell, the two wrecks you fished are in very shallow water and produce some good conger and bream through out the summer, glad you enjoyed your day, hopefully the fishing will improve over the next few weeks with more summer species arriving, hope to see you again soon.. cheers
Latest Catches 62 photos uploaded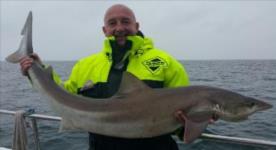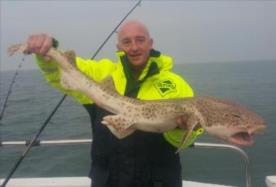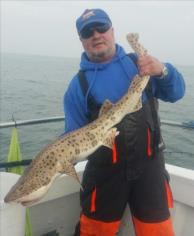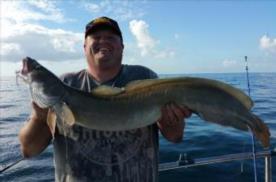 Colin
10 lb 2 oz Ling (Common)
8-Oct-2015
Mike
8 lb 12 oz Cod
8-Oct-2015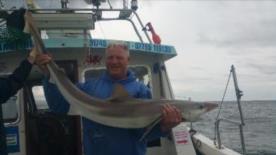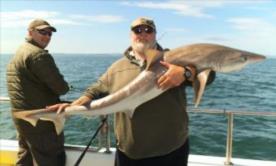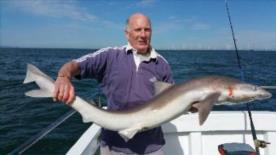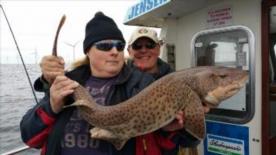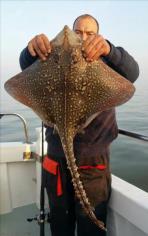 Latest Fishing Reports
10/07/2015

Fishing Report by Nigel Conlon

10 Jul 2015 by Nigel Conlon

We had a great days fishing on Tony Parry's boat Jensen off Rhyl on Friday 10th July.
Blessed with good weather, good company we set sail with skipper Phil.
Fishing the wind farm area we picked up a few mackerel, dabs, whiting, scad , gurnards, huss, and dogs.
I was lucky enough to catch a couple of 50lbs plus Tope best weighed and photo'd @ 52lbs, the other was too big to lift in after breaking the net on her. Bait was whole mackerel, I also nearly landed a bull seal which Skip refused to tail for me...don't know why!
As the day went on we all caught loads and the Huss got bigger with several into double figures, along with Pollock, poor cod, ray and pout caught off a small wreck... These kept us all busy over slack water then a move inshore and a couple of smoothy's starry and plain were landed along with more Huss, dogs and dabs.
At about a mile off we had some of he biggest dogfish I have seen, one was weighed at 4lbs 12oz caught by Paul Allen of tom pot blenny fame.
In all thanks to Phil our skipper on the day, he was a great barista..serving amazing coffee, providing pasties and good advise, a competent and professional skip he also put his life at risk twice to land my Tope by tailing.
Really looking forward to getting out again on Tony's boats off Rhyl, must take a bigger net next time!.
Nigel Conlon.