Charter Boat: Just Mary
Boat and Skipper Details
Licensed For:
up to 12 passengers
Code Of Practice:
60 Mile / Cat. 2. COP
Hours:
4hr / 5hr / 6hr / 7hr / 8hr / 9hr / 10hr / 11hr / 12hr Trips
Type of Fishing:
Summer Species or Winter Species according to Seasons.
Tackle Available:
Yes - Contact Skipper
Bait Available:
Yes - Contact Skipper
Boat Specification:
Huge 35 foot Berry Boat - Traditionally Built For Angling Charters. Licensed for 12 passengers plus 2 crew.MCA Coded Cat. 2 for 60 miles Offshore. Also Workboat MCA Coded to carry One Metric Tonne (1000 kg) of Deck Cargo. Skipper is Enhanced CRB Approved for Youth work and undertakes several Local Youth Club Trips.
Facilities:
Deck entry level toilet, bench seating, safety rails, deck wash, hire tackle and bait available. Singles/Individuals or Discounts for Whole Boat Charters.
Additional Description:
To celebrate this our Sixth year with 'Just Mary' and my FULL TIME return to Angling Charters here aboard our huge Ron Berry built 35 foot 'Just Mary', owned and operated by Onamission Charters from Poole in Dorset, we are offering for this SUMMER an EXCLUSIVE booking incentive..........NO FISH - NO FEE...........WE NEVER BLANK.....we are so confident that we make this offer to everyone who comes with us this coming Summer. We will show you and teach you Just (Mary) how to catch fish with free tuition and good quality bait with Skipper's own rigs and bait presentation. In operation for over thirty years since being built in 1983 'Just Mary' is the ideal solid platform from which to start or further your experiences as an Angler. Novice, Junior, Inexperienced or Experienced, old or young, we are confident that you will end your day with more knowledge than when you began. Put simply if we fail to do our job and you fail to catch a fish then.....NO FISH - NO FEE.....that's our promise to you ! What have you got to lose ? We offer the best prices to Anglers or Beginners alike, tackle and bait is supplied along with free tuition if needed.....Book soon to avoid disappointment.....Singles/Individuals or Whole Boat Charter Groups.....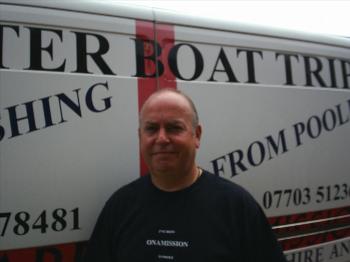 About the Skipper:
Malcolm Collins, Your Skipper, was born in Bournemouth but grew up fishing from beach and boat in the local waters of Hampshire and Dorset. As a member of the Armfield and Ringwood Sea Angling Club in the 1970's he was Junior Champion and still has the award of a plaque, with a hand carved wooden Plaice, presented by John Hardiman. Malcolm also witnessed the 1970's UK Record Bottlenosed Ray of over 70lb that Reg Bulpitt caught off the Isle of Wight. A lifelong commitment followed and fishing from the shore or from his own private small boats the foundations of a future career were forged. In 2001 Malcolm began his lifelong ambition with the purchase of 'Mary Anne', a Ron Berry built 30ft Angling Boat, which he moved from Weymouth to Poole. This was followed several years later by the original 'True Blue' (owned by Steve Porter). 'True Blue' had won Steve the 2001 Sea Angling News Award of Dorset Charter Boat of the Year. In 2004 with support from his Anglers and readers of that publication Malcolm won that same award. The original Suffolk 33 'True Blue' is now renamed 'San Gina II' and operated by their good friend Tom Greasty from Swanage. 'Onamission' followed on from there having been purchased in 2006 as 'Tango Bravo' again from Steve Porter and with Malcolm returning the name of 'True Blue', as a friendly gesture, to Steve Porter to be put on his new Southcat. As the Skipper of 'Mary Anne', 'True Blue' and 'Onamission' many Anglers fishing aboard those boats entered and won awards under the Shimano sponsored SeaAngler Magazine 'Mission Accomplished' Award scheme for Specimen fish. In 2010 Malcolm took a break from Chartering but not before being presented with the August 2009 SeaAngler Magazine Award of UK Top Skipper. In the years between then and now Malcolm has begun another Company and also undertaken further Maritime Courses which mean that in addition to his Angling Charter Boat Skippers Licence he also holds an Unrestricted 60 mile+ Commercial Skippers Licence to operate Commercial Fishing Boats up to 16.5 metres. Only now returning in 2013 to Angling Charters as the new Skipper of 'Just Mary' formerly owned by his friend Mike Taylor who has retired early from Chartering due to a serious motorbike accident.
Upcoming Individual Spaces on Just Mary
Sorry, there are currently no Individual Spaces at present.
Reviews
Summary:





Gary Cumner-Price (27/08/2017)

Thanks for yet another great day bobbing about with a bend in my rod! Great boat, Great company and a skipper in the know with lots of tips and hands on help when required, (ignore it at your peril).He produced the goods yet again with some more fantastic Plaice for the table, and a whole heap of other fish, That's 4 years + now and I've still never blanked on Just Mary, can't wait for my next trip it's more exciting than Christmas, Thanks once again Malcolm for a great and excellent value day out.

Dave Gubb (11/09/2016)

A great day out with Malc on Just Mary. OK so she's not the fastest boat but she's still a fantastic charter boat and Malc certainly knows his stuff. Everyone caught fish and we had some quality as well topped off by a lovely tope that got everyone excited, especially the guys new to fishing. I caught a pb bull huss to add to my own enjoyment of a good days fishing. Malcolm offers a good value days fishing and always does his best to find the target fish. I thoroughly recommend him for all levels of experience and it's refreshing to find a skipper so passionate about what he does.

Nick Setchell (14/08/2016)

A cracking days fishing with Malcolm providing expert tuition and extremely patient help for all. With his wealth of knowledge he put os on the fish and we caught an array from undulate ray, tope, smoothound and bream to mackerel. Everyone thoroughly enjoyed the day and we will be back! Thanks Malcolm.

Skippers Reponse: Thanks Nick, a long way to drive for a day trip (West Mids to Poole) but glad that your group enjoyed their day off the Jurassic Coast, see you in September, thanks, Malc.

Lynda Hughes (15/08/2014)

Forget Me Not Centre joined Malcolm on Just Mary with 5 people living with dementia to fish for the day. Malcolm supported everyone to quite have the best time possible.. everyone caught fish, which was amazing and thrilling! I was worried that some might not be able to manage but everyone was able to get the hang of it.. mobility, physical disability and cognitive / memory difficulties were not a proble, everything had an easy solution with the righ attitude. A truly wondeful day that will never be forgotten. Thanks so much. Lynda

Skippers Reponse: Thank you Lynda, hope to see you all again next year onboard 'Just Mary' from Poole, all the best, regards, Malcolm.

Mark Mac Neaney (18/07/2014)

Keen angler Mark Mac Neaney and manager of Whitbourne House Dementia home in Swindon teamed up with Malcolm Collins skipper and owner of Just Mary out of Poole who provided 3 trips for people with dementia and one trip for persons with learning difficulties trips took place end of July and 3 Fridays in August 2014 - 6 different species were landed on these trips . Mark from Whitbourne House ,Linda from the Forget me Not Centre,Gloria from the Ridings day Centre and Ben from OK4U wish to take this opportunity to thank Malcolm Collins for making these trips so enjoyable and for helping in raising dementia awareness and making activities more accessible to people with dementia and learning difficulties Malcolm you should be very proud . A skipper in a million

Skippers Reponse: Thanks Mark, looking forward to seeing you all again, all the best, Malc.
Latest Catches 256 photos uploaded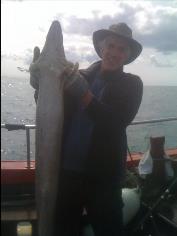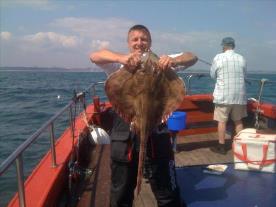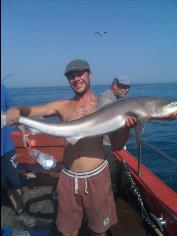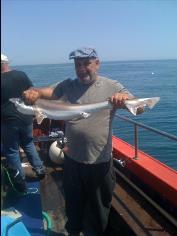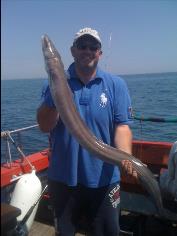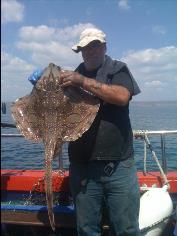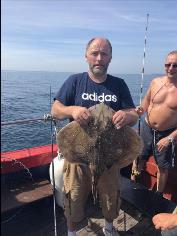 Latest Fishing Reports
16/08/2018

Fishing Report by Malcolm Collins

16 Aug 2018 by Malcolm Collins

Hi All,

have arrived back in the UK after visiting my family that live abroad to find that the weather has changed very much since I left ! However we will not let this deter us from finding more good fish for our Anglers. August is a good month to begin Inshore fishing on the Spring Tides 'along the front' drifting for Plaice, Gurnard, Bream, etc and Offshore on the Neaps for Tope, Rays and Congers.....weather permitting obviously. So we will get going again and get out there amongst the fish.....thanks, Malc.

09/07/2018

Fishing Report by Malcolm Collins

9 Jul 2018 by Malcolm Collins

Hi All, with the lovely calm and hot conditions continuing we are able to push offshore on the Neap tides and yesterday afternoon found us three miles South of the Jurassic Coast on the 32's. After Mackerel in the morning and a few Rays in close we pushed South for the afternoon. Using fresh mackerel and other frozen baits we landed Undulate Ray, Congers and Tope for a mixed group of 'own gear' and 'hire rod' Anglers. An enjoyable day in good company and in glorious weather with flat calm seas only interrupted by the Gin Palaces that seem to want to get as close to us as they can without paying whilst wasting enormous amounts of fuel ! Long may the weather continue.....and the fishing.....ta Malc

25/06/2018

Fishing Report by Malcolm Collins

25 Jun 2018 by Malcolm Collins

Morning All,
we are still catching a wide variety of species locally with the Black Bream still prominent on the local reefs and more species now appearing consistently. The weather has turned for the better and the Customers are enjoying warm sunny and calm conditions afloat. The Sea is gin clear at present and we are fishing a few deeper marks for that reason. Anglers can expect Bream, Rays, Tope and increasing Mackerel catches soon. So get your bookings in now for when the Football World Cup ends and we can all get out afloat and enjoy the weather, ta Malc.

11/06/2018

Fishing Report by Malcolm Collins

11 Jun 2018 by Malcolm Collins

Hi All,

after weeks of unseasonal Easterly winds, in which we have still managed to land good numbers of fish locally, everything is set to change later this week. By the weekend we should be back to the usual prevailing wind which, for us, is South Westerly and blowing up the English Channel. So we will begin to fish various different local marks after the 'Thursday Blow' and hope to provide more variety of species for your enjoyment. Looking ahead to July, we will start our Plaice trips and after the success of the 'Skippers Traces' last year then we look forward to another good season on the 'Spots'. Look forward to seeing you all soon, ta Malc.

04/06/2018

Fishing Report by Malcolm Collins

4 Jun 2018 by Malcolm Collins

Hi All, after an extensive six week 'out of the water' refit 'Just Mary' is back in Poole and back on the fish ! A good weekend spent targeting the local Black Bream marks produced good numbers of these migratory fish which apparently were late arriving this year in our waters. So get onboard as soon as you can with only limited opportunity available this month of June, thanks, Malc. Ps. For a more extensive report and pics see our Facebook page of 'Onamission Charters'.