Charter Boat: Kelsey Leigh
Boat and Skipper Details
Licensed For:
up to 10 passengers
Code Of Practice:
2o mile
Hours:
2hr / 3hr / 4hr / 5hr / 6hr / 7hr / 8hr / 9hr / 10hr / 11hr / 12hr / Multiple Days Trips
Type of Fishing:
Off shore wreck - reef fishing inshore wrecks roughground and uptiding down atiding in winter and also sea burials
Tackle Available:
Yes - Contact Skipper
Bait Available:
Yes - Contact Skipper
Boat Specification:
Pro charter p3 36 feet fast fishing boat
Facilities:
Toilet and oven gas hob kettle on board
Additional Description:
The Kelsey Leigh is a Pro charter 36 foot with a meruiser 4.2 L 320 hp cruises 18 knots top speed over 30 knots witch gives it the fastest boat out of the Tyne and plenty space in the wheel house to keep u out of the rain I also pick up from mill dam south sheilds to save lads coming through the tunnel availability for fishing clubs also individuals also do rod reel hire and tackle bait if needed we also fish all year round. on the ground from November to April till the wrecks start to produce fish in the winter free broth and tiger bread to warm u up call lee thanks 07974252450 please note as well if full boat is booked and few people don't turn up you still have to pay full price thanks lee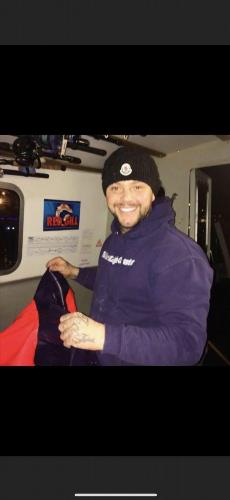 About the Skipper:
I have been running my charter boat for 4 years now and the Kelsey Leigh is a up and coming Boat out of the Tyne I have a lot of experience on all the wrecks and rough ground no matter what I will always try my best to put you on the fish and normally 99 percent I do
This Charter has been listed as Suitable for Diving Trips. Contact the Skipper for full details.
Upcoming Individual Spaces on Kelsey Leigh
Sorry, there are currently no Individual Spaces at present.
Reviews
Summary:





Reviews Unaccepted: 4
Mick Smith (23/12/2018)

Been on most boats now and Lee's is by far the best, fastest boat around, Lee let's you in his cabin which can comfortably fit a full party of people in, when the weathers not so good or for travelling.He has stoves to cook from and makes the best broth i've ever tasted.Lee always puts you on the fish, if anyone is looking for a boat to try out, try this one, you won't be disappointed .

Skippers Reponse: Cheers pal I try my best always

Matt Gilbert (17/11/2018)

First time out on the Kelsey Leigh and a fantastic day out. Brilliant and very helpful skipper who has a great sense of humour. Lee really knows his stuff, a very knowledgeable guy. Great atmosphere on board. which adds to the fishing experience. The boat is lovely and ideally kitted out for fishing. An eight hour trip was excellent value for money with no time wastined getting to marks very quickly to maximise fishing time. Highly recommended and I'll certainly be going out on the Kelsey Leigh again. Thanks for a cracking day out

Skippers Reponse: Your welcome any time m8 just gis a bell

Mick Smith (14/04/2018)

Another day out with Lee, good signs for the weeks ahead with plenty Codling caught, Lee works non stop to try and make the day as enjoyable as possible.If not making hot drinks and food, he's filleting fish for you and joining in with everyone onboard having a good laugh.Top skipper!

Skippers Reponse: Cheers m8

Trevor Samson (29/12/2017)

I've been out on the Kelsey Leigh a fair few times now, and I can honestly say Lee is one of the friendliest and most hardworking skippers around.
He'll always go the extra mile (quite literally) to put you on the fish and is very skilled at putting you right on the wreck and no drift is wasted. He also knows the local wrecks very well and has a good idea as to what kind of fish we can expect to find and where they will appear on the wreck, in fact his favourite saying is "There's fish all over the bottom!". I've never seen a skipper so excited when his punters get into the fish!
I can honestly say I've never had a bad trip on the Kelsey Leigh. Highly recommended!


Skippers Reponse: Thanks Treva means a lot

John bAYLISS (19/07/2017)

Been out a few times with Lee. always a good laugh and he dont mind using fuel jumping from wreck to wreck. Roll on 2018 summer wrecking cant wait.

Skippers Reponse: Sound John m8 look farward having u onboard again
Latest Catches 61 photos uploaded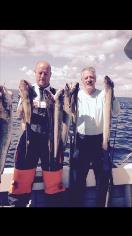 Jimmy
8 lb Ling (Common)
Jan-2017