Charter Boat: Kelsey Leigh
Boat and Skipper Details
Licensed For:
up to 10 passengers
Code Of Practice:
60 mile cop
Hours:
4hr / 5hr / 6hr / 7hr / 8hr / 9hr / 10hr / 11hr / 12hr / Multiple Days Trips
Type of Fishing:
Off shore wreck - reef fishing inshore wrecks roughground and uptiding down atiding in winter and also sea burials
Tackle Available:
Yes - Contact Skipper
Bait Available:
Yes - Contact Skipper
Boat Specification:
Pro charter p3 36 feet fast fishing boat
Facilities:
Toilet and oven gas hob kettle on board
Additional Description:
Pro charter 36 foot with a meruiser 4.2 L 320 hp cruises 18 knots top speed over 30 knots I also pick up from mill dam on south sheilds to save lads coming through the tunnel availability for fishing clubs also individuals also do rod reel hire so all you have to do is turn up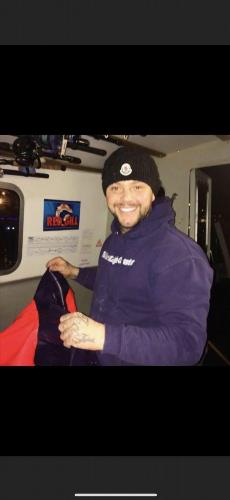 About the Skipper:
I have been running my charter boat for 2 years now and the Kelsey Leigh is a up and coming Boat out of the Tyne I have a lot of experience on all the wreckes and rough ground no matter what I will always try my best to put you on the fish
This Charter has been listed as Suitable for Diving Trips. Contact the Skipper for full details.
Sunday
Monday
Tuesday
Wednesday
Thursday
Friday
Saturday

Color for Fully Booked

Fully Booked

Color for Partially Booked

Partially Booked

Color for Available

Available

Color for Not Available

Not Available

Color for Unspecified

Unspecified

N.B. Not all Skippers keep this dairy up-to-date. Always check with skippers before making any plans. Last calendar update: 16-Jan-2018

Sun 1st Apr
Mon 2nd Apr
Tue 3rd Apr
Wed 4th Apr
Thu 5th Apr
Fri 6th Apr
Sat 7th Apr
Sun 8th Apr
Mon 9th Apr
Tue 10th Apr
Wed 11th Apr
Thu 12th Apr
Fri 13th Apr
Sat 14th Apr
Sun 15th Apr
Mon 16th Apr
Tue 17th Apr
Wed 18th Apr
Thu 19th Apr
Fri 20th Apr
Sat 21st Apr
Sun 22nd Apr
Mon 23rd Apr
Tue 24th Apr
Wed 25th Apr
Thu 26th Apr
Fri 27th Apr
Sat 28th Apr
Sun 29th Apr
Mon 30th Apr
Reviews
Summary:





Reviews Unaccepted: 1
Mick Smith (14/04/2018)

Another day out with Lee, good signs for the weeks ahead with plenty Codling caught, Lee works non stop to try and make the day as enjoyable as possible.If not making hot drinks and food, he's filleting fish for you and joining in with everyone onboard having a good laugh.Top skipper!

Skippers Reponse: Cheers m8

Trevor Samson (29/12/2017)

I've been out on the Kelsey Leigh a fair few times now, and I can honestly say Lee is one of the friendliest and most hardworking skippers around.
He'll always go the extra mile (quite literally) to put you on the fish and is very skilled at putting you right on the wreck and no drift is wasted. He also knows the local wrecks very well and has a good idea as to what kind of fish we can expect to find and where they will appear on the wreck, in fact his favourite saying is "There's fish all over the bottom!". I've never seen a skipper so excited when his punters get into the fish!
I can honestly say I've never had a bad trip on the Kelsey Leigh. Highly recommended!


Skippers Reponse: Thanks Treva means a lot

John bAYLISS (19/07/2017)

Been out a few times with Lee. always a good laugh and he dont mind using fuel jumping from wreck to wreck. Roll on 2018 summer wrecking cant wait.

Skippers Reponse: Sound John m8 look farward having u onboard again

Mick Mcgonigal (03/02/2018)

I have now had a few trips out with lee. Nice clean fast boat and gets you on the fish. I was a boat owner for years and worked on charter boats from the tyne. can guarantee lee knows his stuff. Cant wait for the season to start for the big uns!!! Highly recomended

Skippers Reponse: Cheers Mick m8 roll on the season

Tony Evans (21/02/2018)

It's a "good fun" charter boat and there's always good banter among the lads. The boat is very seaworthy and stable with good safety features and amenities. The Kelsey Leigh is the latest addition to the small fleet of Charter Boats operating from the Tyne so there'll be plenty of availability for the coming season.


Skippers Reponse: Thanks Tony m8
Latest Catches 59 photos uploaded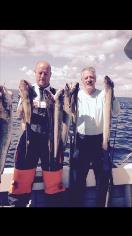 Jimmy
8 lb Ling (Common)
Jan-2017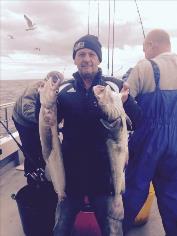 Latest Fishing Reports
14/04/2018

Fishing Report by Lee Brown

14 Apr 2018 by Lee Brown

5 anglers the day Kelsey Leigh Royel quays over 3o cod keeps round 4 lb

22/03/2018

Fishing Report by Lee Brown

22 Mar 2018 by Lee Brown

Slow day 17 fish 6 keepers biggest 3lb and a lobsters

11/03/2018

Fishing Report by Lee Brown

11 Mar 2018 by Lee Brown

8 anglers few cod taking hard time at this time of year 10 keepers nothing big but fun season nerly here

09/03/2018

Fishing Report by Lee Brown

9 Mar 2018 by Lee Brown

Nothing big but good fun 3 anglers taking over 20 cod round 3 to 2 and a half lb 15 keepers

02/2018

Fishing Report by Bill Forrest

Feb 2018 by Bill Forrest

Has a great day with Lee the skipper of the Kelsey Leigh. He tries hard to ensure his clients are on the fish from the word go.
He is one of the most enthusiastic skippers I have met, and he passes that on the his clients .His personality is what makes the days trip very enjoyable, I would recommend a day out on the Kelsey Leigh to anyone want to try Sea Fishing he will cater for beginners to experienced anglers.