Charter Boat: Kittiwake 111
Licensed For:
up to 8 passengers
Code Of Practice:
60 miles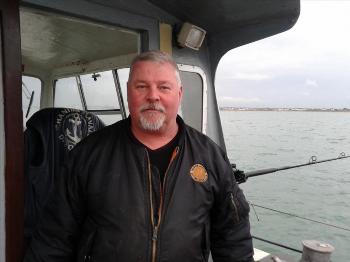 Tackle Available:
Yes - Contact Skipper
Latest Fishing Reports
26/08/2016

Fishing Report by Steve Eastman on Kittiwake 111

(Gosport, Hampshire)

26 Aug 2016 by Steve Eastman

What a great days fishing with excellent weather.We had plenty of Mackerel on the way out to use for bait.

For most of the lads it was their first boat trip . At anchor they boated a total of 15 Rays the largest weighing in at 16lbs.

On the way back drifting for Mackerel , one of the lads caught a rare Red Band weighing approximately 10oz.
I have never come across this species before during my 32 years of chartering.
Is this due to climate change as apparently coddling have been caught on our shores ????

All fish were returned.

22/11/2015

Fishing Report by Steve Eastman on Kittiwake 111

(Gosport, Hampshire)

22 Nov 2015 by Steve Eastman

First trip out for a while this month due to the winds but a lot calmer at sea today.
Dockyard angling club done it again with a nice turbot caught by Mark Restell weighing in at 11lbs.
We also had catches of 3 cod and 6 conger eels plus whiting ,dog, pout, smoothounds and rays.
A good days fishing and all went home happy.

22/11/2014

Fishing Report by Steve Eastman on Kittiwake 111

(Gosport, Hampshire)

22 Nov 2014 by Steve Eastman

Saturday 22nd November was a perfect winters day with blue sky and light winds.
We found the fish, with Tim Burrels catching a bass of a life time weighing in at 15lb 8oz.
Don had a 24lb blonde ray and 2 cod of around 10lb each. Also we had conger eels . dog fish , pout and whiting.
Jim boated his first bass.
A good day had by all.

16/11/2014

Fishing Report by Steve Eastman on Kittiwake 111

(Gosport, Hampshire)

16 Nov 2014 by Steve Eastman

On Sunday 16th it was raining with light south easterly winds.
We made our decision to venture into the Solent as there had been reports of cod being caught by a local angling club.
This paid off for the Portsmouth Dockyard angling club as they boated a total of 24 cod, including in excess of 150 channel whiting .
It rained and the wind blew but nothing stopped the constant flow of fish.
The biggest cod was caught by their youngest member Alex, well done !!



11/2014

Fishing Report by Steve Eastman on Kittiwake 111

(Gosport, Hampshire)

Nov 2014 by Steve Eastman

November so far has given us some nice cod with the biggest topping the scales at 22lbs, caught by Tim Burrell of Warsash.
I have never seen so many conger eels inshore, we have had them up to 60lbs.
We have also had many rays and channel whiting.
Winter has now arrived with strong winds and rain, hopefully the jet stream will move soon and we can continue with our winter fishing.
View All Fishing Reports
Edit this boat listing
Last Minute
Availability
SEPTEMBER - 2017

| Su | Mo | Tu | We | Th | Fr | Sa |
| --- | --- | --- | --- | --- | --- | --- |
| 27 | 28 | 29 | 30 | 31 | 1 | 2 |
| 3 | 4 | 5 | 6 | 7 | 8 | 9 |
| 10 | 11 | 12 | 13 | 14 | 15 | 16 |
| 17 | 18 | 19 | 20 | 21 | 22 | 23 |
| 24 | 25 | 26 | 27 | 28 | 29 | 30 |
Color for Fully Booked

Fully Booked

Color for Partially Booked

Partially Booked

Color for Available

Available

Color for Not Available

Not Available

Color for Unspecified

Unspecified
N.B. Not all Skippers keep this diary up-to-date. Always check with skippers before making any plans. Last calendar update: 21-Jun-2017
Reviews
Summary:





tim burrell (10/07/2015)

1st decent weather for a while & managed to getout to the wrecks. great company of lads aboard, fantastic weather, & a major bonus wiyh loads fo fish caught. Cod to 17.5lbs & pollack to 14lbs. great say out!!!

tim burrell (22/11/2014)

For the 1st time in 40+ years of sea fishing, I managed to land a double figure bass. Fish of a lifetime weighing in at 15lb 8oz WOW!! All credit to Steve how had the boat anchored in just the right place

Graham Wallis (26/05/2012)

What a day!!! 26th May 2012 will go down in Canvey Island Sea Angling Club history. Initially we didn't think we were going as the wind was around 5 to 6 but the skipper said it was coming down, so off we went. Well, as soon as we anchored the smooth-hound started. And it didn't stop all day. Between us we caught over 100 hounds and 5 off them were 20lb+, the best being 24lb. Everyone on board beat their own PB. The skipper and mate were run off their feet all day. This was a club competition so everything was weighed and recorded. The final tally was over 1200lb of fish. The winners weight on the day was 260lb closely followed by second place who caught 258lb. Amazing! Thanks go to the skipper whose knowledge put us on the fish. And best of all, every fish that was caught was returned to fight another day. Brilliant. Great boat, great skipper, great mate, loads of tea. What more could you want.

Skippers Reponse: Thanks Graham glad you all enjoyed the day , Gary and I did aswell.

jon burrell (25/10/2010)

What can i say...... 5 COD ! My P.B. of 22lbs, great banter,exellent skipper,sea state was very slight to flat. WHAT A BIRTHDAY TO REMEMBER. THANKS TIMMO and SKIPPER STEVE.

tim burrell (25/10/2010)

treated my brother to a trip on board Kittiwake111 for his birthday, Steve the skipper put the two of us on board immediately into fish. Pesky dogs & pout first drop! As tide eased we hit the COD, in all 5 caught with his personel best of 22lbs. Others were 19, 14, 10 & 8lb. Also caught whiting [4 keepers] A fantastic day out fishing with superb conditions, oceans of tea. & hot food. Cannot rate Steve highly enough. A truly memorable day.
View All Reviews
Add A Review