Charter Boat: Lady Gwen II
Boat and Skipper Details
Licensed For:
up to 10 passengers
Code Of Practice:
20 miles
Hours:
8hr / 10hr / 12hr Trips
Tackle Available:
Yes - Contact Skipper
Bait Available:
Yes - Contact Skipper
Boat Specification:
Lochin 33 - 10m GRP Lochin with a Perkins M265Ti engine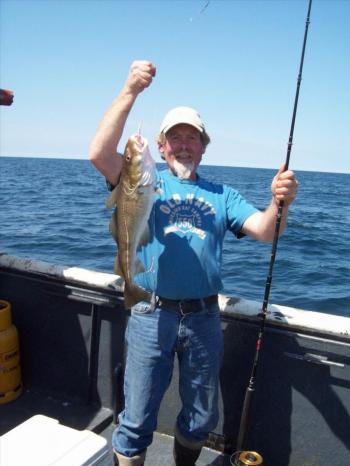 About the Skipper:
Séan Maguire your skipper is a local man born and reared in west Clare on the Loop Head Peninsula. Séan started Sea Angling in 1999 after many years commercial fishing. He commercially fished from Kilkee and Kilbaha so the coastline and fishing spots on the Loop Head Peninsula are well known to him. He worked from Kilrush Creek Marina and Carrigaholt also for a time so has a very good knowledge of Sea Angling in the Shannon Estuary as well as the Atlantic Ocean. He amassed a lot of knowledge on fishing marks, fish behaviour and movement, tides, and weather to give you the best possible and most enjoyable day's fishing. Séan has all the relevant licences for Sea Angling, safety, and the carriage of passengers.

You can call Séan anytime and he will be glad to chat with you to plan your day or week's fishing on the Lady Gwen II
Sunday
Monday
Tuesday
Wednesday
Thursday
Friday
Saturday

Color for Fully Booked

Fully Booked

Color for Partially Booked

Partially Booked

Color for Available

Available

Color for Not Available

Not Available

Color for Unspecified

Unspecified

N.B. Not all Skippers keep this dairy up-to-date. Always check with skippers before making any plans.

Sat 1st Sep
Sun 2nd Sep
Mon 3rd Sep
Tue 4th Sep
Wed 5th Sep
Thu 6th Sep
Fri 7th Sep
Sat 8th Sep
Sun 9th Sep
Mon 10th Sep
Tue 11th Sep
Wed 12th Sep
Thu 13th Sep
Fri 14th Sep
Sat 15th Sep
Sun 16th Sep
Mon 17th Sep
Tue 18th Sep
Wed 19th Sep
Thu 20th Sep
Fri 21st Sep
Sat 22nd Sep
Sun 23rd Sep
Mon 24th Sep
Tue 25th Sep
Wed 26th Sep
Thu 27th Sep
Fri 28th Sep
Sat 29th Sep
Sun 30th Sep
Latest Catches
Be the first to upload your photograph. You never know, you could even be awarded "Catch Of The Month"!