Charter Boat: Legend
Boat and Skipper Details
Licensed For:
up to 12 passengers
Code Of Practice:
20 Nautical Miles from a safe harbour
Hours:
2hr / 4hr / 8hr Trips
Type of Fishing:
Seasonal rough ground fishing for Tope, Bream, Huss and Rays
Tackle Available:
Yes - Contact Skipper
Bait Available:
Yes - Contact Skipper
Boat Specification:
Legend of New Quay is a brand new build 10.2m x 3.7m beam Cheetah Marine Catarmaran
Facilities:
Seating for all, some part sheltered seating, toilet, 2018 Simrad Electronics
Additional Description:
Epic Fishing Trips 'Legend of New Quay' will enter her first season in March 2018. She joins Epic Fishing Trips fleet and will be sister vessel to the phenomenally successful 3 Fishes of New Quay, Wales. Epic Fishing Trips have built an enviable reputation on the west Wales coast for delivering modern, clean, professional and fun filled fishing trips. Legend is Epic Fishing Trip's second fleet vessel and will be the first of her kind in British waters. Designed to have less profile under water than other vessels she will be a very dry and comfortable ride allowing quick access to Cardigan Bay's excellent and varied fishing grounds. The enhanced flare of her twin bows will cut through sea bringing stability and sea keeping to the fore. This is the ultimate super modern charter angling vessel and one that you will love being aboard.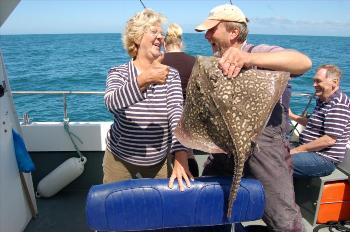 About the Skipper:
Tim Harrison is one of the most respected charter fishing vessel skippers in Wales. With 12 years experience of skippering vessels out of New Quay, Wales, he knows his trade and is second to none locally. Superbly qualified for the role Tim not only holds full licence accreditation for his day job running fishing trips but in his spare time is a retained RNLI Lifeboat Coxswain. With of thirty years in the Fisheries world, Tim has held senior posts in Welsh Fisheries administration and retains a comprehensive suit fisheries management qualifications. He is a contributor to Sea Angler Magazine. Now a Director of Epic Fishing Limited he works alongside his wife Corrine offering the best of boat based sea angling. They pride themselves on delivering modern, clean, professional and fun filled sea fishing trips.
This Charter has been listed as Suitable for Diving Trips. Contact the Skipper for full details.
This Charter has been listed as Wheelchair Accessible. Contact the Skipper for full details.
Latest Catches 20 photos uploaded
Latest Fishing Reports
03/05/2018

Fishing Report by Tim Harrison

3 May 2018 by Tim Harrison

With the water beginning to warm here in Cardigan Bay it is now that our minds turn towards balmy Tope filled days of mad catching and the rattle of black bream on the end of light rods. The Bay is coming to life and the next few months are the time to get aboard Legend of New Quay and sample some of the best rough ground fishing that the UK has to offer.

01/01/2018

Fishing Report by Tim Harrison

1 Jan 2018 by Tim Harrison

Here at Epic Fishing Trips of New Quay, west Wales we pride ourselves on delivering some fantastic fishing days out. Our new vessel for 2018 'Legend of New Quay' will help us get you to the right spot, ready for a cracking day at sea. She is the first of her kind in the UK. A Cheetah Marine cat of unique pedigree. With higher gunnels that any cheetah cat yet built, a beam of 3.7 metres and a length of 10.2 metres she will provide a dry comfortable ride to the fishing grounds. Powered by two Yamaha 150hp outboards her cruise will be quick too = more fishing time for you! Seating for all aboard is provided, baiting tables cleverly positioned and fishing up to six rods across the stern, she is built to fish.

Our in depth knowledge of the local grounds has been built through hours at sea. Our previous vessel 3 Fishes built a classy reputation as a fish catcher and 'Legend' will better her. With twelve years of running fishing trips out of New Quay I am keen to get 'Legend' out there and fishing in 2018. Our season will start by mid March when we will be chasing monster huss, spurdogs, rays and some quality whiting. By June it will be all tope and bream and towards the back end its bass time.

Be Epic and join me aboard 'Legend' in 2018.