Charter Boat: Louise Jane
Boat and Skipper Details
Licensed For:
up to 10 passengers
Hours:
5hr / 6hr / 8hr / 10hr / 12hr Trips
Type of Fishing:
All types of fishing are catered for to give you the best fishing experience (Cod, Pollock, Bass and more!!)
Tackle Available:
Yes - Contact Skipper
Boat Specification:
Louise Jane is a 36ft charter boat with a turbo charged Cummings engine and up to date electronics. We are also fully insured and equipped with all safety equipment including life jackets and a life raft which comply to all the necessary regulations. The boat has also recently been fitted with a new deck and secure storage for your personal belongings.
Facilities:
Louise Jane Charters provides a large open deck space complete with built in toilet for your comfort and privacy. We are also happy to provide you with hot drinks, and have numerous cooking facilities should you want food heated (food not included, please bring your own).
Additional Description:
We are based in Dover.

PRICES:
Monday to Friday Day Trips - (7.30am to 4pm)
Saturday and Sunday - (7.30am to 4pm)
All trips are £40 each for individuals or to book the whole boat it is £400.
(Minimum of 4 people, maximum of 10 people)

prices includes rod, reel and tackle hire (one set per person)

Departure times for angling trips are 07:30am - 16.00pm or 08:00am - 16:00pm

**Please remember to bring your bait and waterproof clothing **

**Trips can be arranged for less than 8 hours if wanted**

**Please note, the boat will be unavailable for bookings between June and October. We will be participating in the Cross Channel Swim events, escorting swimmers across the Channel safely**

We fish inshore and offshore wrecks that lay off Dover for Cod, Pollock, Bass etc.

Social media links:

Facebook page : https://www.facebook.com/LouiseJaneCharters/
Youtube Channel : https://www.youtube.com/watch?v=omJc6s876lQ
Twitter : https://twitter.com/louisejane435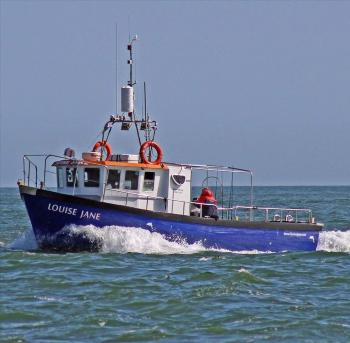 About the Skipper:
HE IS A COMMERCIALLY ENDORSED COASTAL SKIPPER AND FULLY FIRST AID TRAINED. THE SKIPPER HAS OVER 20 YEARS OF EXPERIENCE FISHING FROM FOLKESTONE, DOVER AND SURROUNDING AREAS.

**Parties, clubs and individuals are all welcome***
Sunday
Monday
Tuesday
Wednesday
Thursday
Friday
Saturday

Color for Fully Booked

Fully Booked

Color for Partially Booked

Partially Booked

Color for Available

Available

Color for Not Available

Not Available

Color for Unspecified

Unspecified

N.B. Not all Skippers keep this dairy up-to-date. Always check with skippers before making any plans. Last calendar update: 13-Mar-2018

Sat 1st Sep
Sun 2nd Sep
Mon 3rd Sep
Tue 4th Sep
Wed 5th Sep
Thu 6th Sep
Fri 7th Sep
Sat 8th Sep
Sun 9th Sep
Mon 10th Sep
Tue 11th Sep
Wed 12th Sep
Thu 13th Sep
Fri 14th Sep
Sat 15th Sep
Sun 16th Sep
Mon 17th Sep
Tue 18th Sep
Wed 19th Sep
Thu 20th Sep
Fri 21st Sep
Sat 22nd Sep
Sun 23rd Sep
Mon 24th Sep
Tue 25th Sep
Wed 26th Sep
Thu 27th Sep
Fri 28th Sep
Sat 29th Sep
Sun 30th Sep
Reviews
Summary:





Michael Hunt (22/10/2016)

Had a brilliant day on board Louise Jane. The skipper and crew were really friendly. The skipper was very knowledgeable and helped me catch lots of good sized cod. Their customer service was fantastic and I was made to feel at home during my visit with them. Highly recommend this boat to anyone who is looking for a great fishing trip with fantastic skipper and crew. Will definitely book again.

Skippers Reponse: Hello Michael. Thank you for your review. We are so pleased you had a great time out with us. We hope to see you on board again very soon. Kind regards, Louise Jane.

Sue Glazier (22/10/2016)

My first sea fishing expedition. Although I felt rather seasick, they looked after me well and I didn't have too bad a day in the end.

Skippers Reponse: Hello Sue, thank you for your review. It was a pleasure having you on board and hope to see you again in the near future. Kind regards, Louise Jane.

john carpenter (22/10/2016)

One of the best experience I've had! the crew were friendly and very helpfully, caught loads of fish and had a very good day! very good skipper, knows his stuff.

Skippers Reponse: Thankyou John for your review. We are pleased you had a great day out with us and hope to see you again very soon. Kind regards, Louise Jane.

ashley clark (01/07/2014)

Great day out , loads of help , Great Boat ,really good crewmen (james),plenty tea and coffees.

Skippers Reponse: Hello Ashley. Thank you for your review. It was a pleasure to have you on board and we are pleased you had a great time. Hope to see you again in the near future. Kind regards, Louise Jane.
Latest Catches 10 photos uploaded