Charter Boat: Lowestoft Provider
Licensed For:
up to 12 passengers
Code Of Practice:
Cat 2 60 Miles
Hours:
1hr / 2hr / 3hr / 4hr / 5hr / 6hr / 7hr / 8hr / 9hr / 10hr / 11hr / 12hr / Multiple Days Trips
Type of Fishing:
uptide, Cod, Wrecking, Skate, Bass
Tackle Available:
Yes - Contact Skipper
Bait Available:
Yes - Contact Skipper
Boat Specification:
Lochin 38, Twin Ivec 420bhp. Olex Chartplotter, State of the art radar/fish finder, Cruises at 20 knots, fastest boat in the port, ample room. Extended wheelhouse that seats ten with ease.
Facilities:
Toilet, Microwave, Cooker, inside table and chairs and full sea toilet.
Additional Description:
WoodMarine is a family business with other 50 years combined experience within theport of lowestoft.  We have the fastest, most suitable vessels with our latest due to enter service on the 2nd of december with a top speed of 22knots.Ground FishingWe offer ground fishing trip throughout the year for various party sizes and durations which can be tailored to meet your requirements.  Rods and Tackle are supplied free of charge and lunch can be provided if required.  Typical catches in the Winter mainly consist of Cod, Whiting and Bass.  The summer months offering Tope, Skate and some Cod.  Wreck FishingWe offer Wreck fishing during the summer months when the Cod move off from the inshore waters to the deeper clear waters.  There are many substantially sized and stocked wrecks off the east coast holding some very impressive cod, conker eels and Pollock.  Divingthis an ideal vessel for all types of diving with easy access to the water.Trips are ideal for: -Family or friends days outCorporate team building Stag and Hen PartiesOur standard trip is from 0830 to 1630 departing and returning to The Royal Norfolk & Suffolk Yacht Club.  However, if you are booking the whole vessel the time and the trip specifications can be tailored to meet your requirements.  For wreck fishing these times may be subject to change.

As we operate a couple of vessels you may see some pictures from the other boat.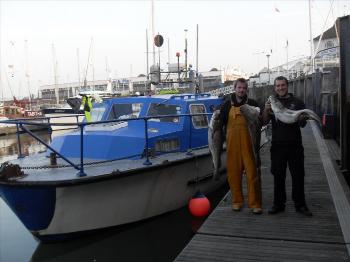 About the Skipper:
Our skipper was formally a merchant navy deck officer where he achieved Chief Officer CoC so you can be confident you will be in safe hands.He has over 15 years experience in this field and will put you on the fish time after time.
This Charter has been listed as Wheelchair Accessible. Contact the Skipper for full details.
This Charter has been listed as Suitable for Diving Trips. Contact the Skipper for full details.
Edit this boat listing
Last Minute
Availability
DECEMBER - 2013

| Su | Mo | Tu | We | Th | Fr | Sa |
| --- | --- | --- | --- | --- | --- | --- |
| 1 | 2 | 3 | 4 | 5 | 6 | 7 |
| 8 | 9 | 10 | 11 | 12 | 13 | 14 |
| 15 | 16 | 17 | 18 | 19 | 20 | 21 |
| 22 | 23 | 24 | 25 | 26 | 27 | 28 |
| 29 | 30 | 31 | 1 | 2 | 3 | 4 |
Color for Fully Booked

Fully Booked

Color for Partially Booked

Partially Booked

Color for Available

Available

Color for Not Available

Not Available

Color for Unspecified

Unspecified
N.B. Not all Skippers keep this diary up-to-date. Always check with skippers before making any plans.
Reviews
Summary:





Reviews Unaccepted: 2
Jason Bagge (21/04/2012)

8 of us came over from milton keynes, 7 of us were virgin sea anglers. obe the skipper made us all very welcome ane quickly got us out to the spot he had been catching from. within the first hour we had 3 nice size thornies in the bag, and lots of spotty dogs. aftr the turn of tphe tide we went to another spot where sandeep caught his 10lb 10oz bass. not bad for a newbie. obe looked after us very well and everyone got the most out of the day. plenty of room on the boat and lots of help. theres lots of interest in coming back.

chris whorne (26/02/2011)

Just had a fishing trip out with the skip andrew on the 26/2/11,there were 6 of us who all had a excellant day,it was'ent looking good when we got there because of the weather,but the skip is good at his job and took us out to a spot he knows,where we caught quite a few cod,also whiting getting soaked in the mean time,but skip kept the coffee and bacon rolls coming,had to hint him if they were'ent coming quick ehough!!! All in all is was a great and long day fishing! Looking foward to the next time,going after the bass then.

chris whorne (18/12/2010)

Had a fantastic day,i nearly caught a big cod but sliped of hook! plenty of other fish tho,the skipper is a diamond fella,just as well he is better at fishing than skiing!! He even supplys the OXO! Allredy booked again for end of feb bring the FISH ON!!!
View All Reviews
Add A Review