Charter Boat: Lyme Bay Charters
Licensed For:
up to 12 passengers
Code Of Practice:
Cat 2 60nm
Hours:
1hr / 2hr / 3hr / 4hr / 6hr / 8hr / 9hr / 10hr / 12hr / Multiple Days Trips
Contact:
Lewis and Phil Hodder
Type of Fishing:
BASS - BLACK BREAM - COD - POLLACK -CONGER - RAYS - HUSS - PLAICE - BRILL - TURBOT - TOPE - SPECIES HUNTS - COMPETITIONS
Tackle Available:
Yes - Contact Skipper
Bait Available:
Yes - Contact Skipper
Boat Specification:
2 x 36ft Offshore Pro Charter's Alice Rose and Pegasus
Facilities:
Powered by Caterpillar turbo diesel's. Heated cabin with toilet, kettle, microwave and fridge. Full Raymarine Electronics. Fitted out for angling charters.
Additional Description:
We operate Lyme Regis' largest, fast charter vessels operating from the famous Cobb harbour.

We run all kinds of deep sea fishing trips, angling charters and scenic boat trips from 1 - 12 hours for anyone, angling novice or expert. Our two boats Alice Rose and Pegasus skippered by Lewis and Phil Hodder are fully licensed and insured to carry 12 passengers.

Our fishing boats can also be chartered for other types of work including ; survey/safety vessel, towing operations, light cargo work, photography and filming.

Daily 4, 8, 9 and 10 hour individual trips available

*****IMPORTANT NOTE FOR VIEWING CALENDAR PAGE*****
PLEASE BEAR IN MIND THAT DURING BUSY PERIODS OUR CALENDAR PAGE MAY NOT BE COMPLETELY UP TO DATE BUT WE WILL DO OUR BEST TO MAKE SURE IT IS, ALWAYS CONTACT US BEFORE MAKING ARRANGEMENTS. ALL TRIPS ADVERTISED ARE SUGGESTIONS FOR INDIVIDUALS OR SMALL PARTIES OR EVEN GROUPS OF ANGLERS WISHING TO HIRE THE WHOLE BOAT, IF THE DATE IS MARKED AS AVAILABLE THEN WE HAVE BOTH BOATS FREE TO CATER FOR YOUR GROUP, EVEN IF A DATE IS MARKED AS PARTIALLY BOOKED WE MAY STILL HAVE 1 BOAT AVAILABLE. DURING THE SCHOOL HOLIDAYS AND SUMMER MONTHS WE ALSO OFFER DAILY 4 HOUR TRIPS ON AVAILABLE AND PARTIALLY BOOKED DAYS GREAT FOR NOVICES OR FAMILY'S.



Lyme Bay Charters regularly fish local open competitions and we haven't got a bad record over the last few years!
1st and 3rd overall, Best Bream, Best Plaice and Best Pollack in Five Go Fishing open comp 24th and 25th June 2017
2nd and 3rd LRSAC Bream festival 18th September 2016
3rd Overall best Bream, Best Cod, Best Plaice and Best Pollack FGFID 25/26th June 2016
2nd place in West bay open 12th June 2016
1st and 3rd Place LRSAC open bream festival 30th august 2015
2nd, 3rd and best round fish day 1&2, overall 2nd, 3rd and best bream in Jurassic open 18/19th July 2015
3rd overall and best plaice in FGFID 21st and 22nd June 2015
Best flatfish west bay open 8th June 2015
3rd place Overall and Best flatfish in West Bay open 07th September 2014.
Overall Winner, day 1 winner and various other prizes in Jurassic open at West Bay 12th and 13th July 2014.
1st, 2nd, 3rd and Top Skipper in Black Bream Festival 16th September 2012.
4 0f 7 prizes in the West Bay open 2nd September 2012 (Overall winner, best 2 Specimens, best Bream and best flatfish).

LRSAC Skippers Shield 2013,2014,2015 and 2016

We enjoy our competition fishing and Lyme Bay offers a wide variety of species with minimum travelling distances from the Cobb harbour therefore is great for competitions and species hunts! Just give us a call to arrange something for your club or group!

We are now running a Friday evening species league on 6 evenings throughout the summer 5pm-9pm call Lewis for more info.

.
Good quality Rods, Reels, Tackle and Bait for hire supplied by
THE TACKLE BOX in Lyme Regis.

www.lymetackle.com/

www.lymebaycharters.com/terms-and-conditions/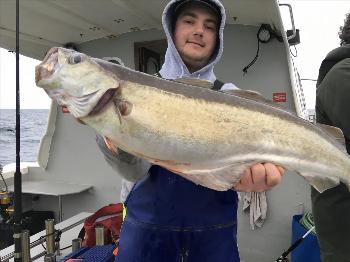 About the Skipper:
Lewis Hodder

A keen and experienced angler, a fully qualified skipper and has gained vast experience working on various commercial and charter vessels which operate out of Lyme Regis' famous Cobb Harbour throughout his life therefore gaining a great knowledge of Lyme Bay.
Winner of the LRSAC Skippers shield 2013,2014, 2015 and 2016

To book with Lewis telephone: 07519 160 020

Phil Hodder

Also a keen and experienced angler and a fully qualified, hugely experienced skipper. Phil has spent the majority of his life running boats from Lyme Regis' Cobb harbour and he knows Lyme Bay like the back of his hands.

To book with Phil telephone: 07707 029 502
Latest Fishing Reports
Edit this boat listing
Availability
SEPTEMBER - 2017

| Su | Mo | Tu | We | Th | Fr | Sa |
| --- | --- | --- | --- | --- | --- | --- |
| 27 | 28 | 29 | 30 | 31 | 1 | 2 |
| 3 | 4 | 5 | 6 | 7 | 8 | 9 |
| 10 | 11 | 12 | 13 | 14 | 15 | 16 |
| 17 | 18 | 19 | 20 | 21 | 22 | 23 |
| 24 | 25 | 26 | 27 | 28 | 29 | 30 |
Color for Fully Booked

Fully Booked

Color for Partially Booked

Partially Booked

Color for Available

Available

Color for Not Available

Not Available

Color for Unspecified

Unspecified
N.B. Not all Skippers keep this diary up-to-date. Always check with skippers before making any plans. Last calendar update: 18-Sep-2017
Reviews
Summary:





Adam Morris (19/08/2017)

Lewis always does his best to put us on the fish and knows the area like the back of his hand. Nice friendly boat with plenty of hot drinks and good banter. Always a good day out and that's why we keep coming back

Don Minnaar (14/05/2017)

Great day out with Lewis who always make sure that we coffee and tea, always looking for the best location to fish and raady to help if you are stuck with problem. I am very impressed with all the other like minded fishing enthusiasts on Lewis!s boat that are so helpful and generous .

Skippers Reponse: Thanks Don
See you soon
Lewis

Colin Johnson (30/05/2015)

Great day out with Phil Hodder on Pegagus and a good set of other fisherman. Phil is a great skipper, very knowlegeable and worked hard to put us on lots of good quality Cod. Not to forget my best ever Bass of 8lb 12oz. Thanks Phil, coming back very soon

Skippers Reponse: Thanks Colin, glad you enjoyed your day. Hope we see you again soon. Lewis

sarah chadwick-jones (15/03/2015)

Went out for our first trip with Lewis, he was excellent with us newbies as were the other fishermen on trip. Felt welcomed and well cared for.

Andy Lee (28/05/2014)

Great day out with my son Chris, caught plenty of fish and Lewis was very helpful to a couple of novices, advice and tea a plenty. We will definitely be back and are planning our next trip with him in the very near future.

Skippers Reponse: Glad you enjoyed it Andy. Hope to see you soon.
View All Reviews
Add A Review