Charter Boat: Lyn Marie
Boat and Skipper Details
Licensed For:
up to 10 passengers
Hours:
6hr / 7hr / 8hr / 9hr / 10hr / 11hr / 12hr Trips
Type of Fishing:
Specalised Shark, Bass, Tope and Ray fishing. Wrecking and Lundy Trips
Boat Specification:
Vigilante 33 Feet with twin Volvo 260hp Engines
Facilities:
Customer Toilet, Cooker for Hot Food, Ice Box
Additional Description:
Lyne Marie is currently under construction and will be Swansea's New fast Charter Fishing boat .
Dates will be available from January 2018
Capable of 40 Knots top speed and will cruise at 25 Knots.
Lundy in 2 hours. Celtic Deep Shark grounds off Milford Haven in 3 hours
We will specialise in trips to suit the anglers requirements.
Name the species and we tailor make a trip for you. Choosing the right tide, advising on bait and tackle requirements.
WRECK , DRIFT AND REEF FISHING
SUMMER - BASS - BREAM - TOPE - SHARKS - POLLACK ETC.
WINTER - COD - RAYS - CONGER - SPURDOG ETC.

Available for sightseeing (Nature and scenery) , Survey and Commercial work, Private Charter, Filming and Photography and spreading of ashes.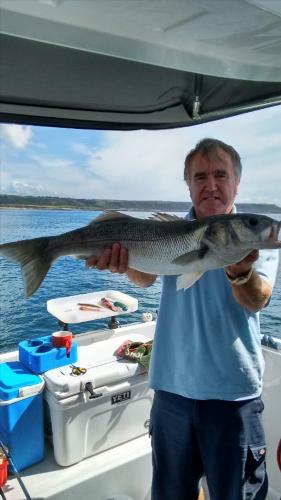 About the Skipper:
Wayne has fished the waters around Swansea from the age of 5. Obtaining his Boat Master License 40 years ago and holds vast experience in all aspects of Sea Fishing.
Formerly owner skipper of Charter boat DOMINATOR specialising in Bass ,Bream, Tope and Wreck fishing.
Wayne in a member of the Professional Boatman's Association, fullly trained in accordance to the Maritime Coastguard Agency Regulations
Sunday
Monday
Tuesday
Wednesday
Thursday
Friday
Saturday

Color for Fully Booked

Fully Booked

Color for Partially Booked

Partially Booked

Color for Available

Available

Color for Not Available

Not Available

Color for Unspecified

Unspecified

N.B. Not all Skippers keep this dairy up-to-date. Always check with skippers before making any plans. Last calendar update: 19-Oct-2018

Mon 1st Oct
Tue 2nd Oct
Wed 3rd Oct
Thu 4th Oct
Fri 5th Oct
Sat 6th Oct
Sun 7th Oct
Mon 8th Oct
Tue 9th Oct
Wed 10th Oct
Thu 11th Oct
Fri 12th Oct
Sat 13th Oct
Sun 14th Oct
Mon 15th Oct
Tue 16th Oct
Wed 17th Oct
Thu 18th Oct
Fri 19th Oct
Sat 20th Oct
Sun 21st Oct

Room for 5

Mon 22nd Oct
Tue 23rd Oct
Wed 24th Oct
Thu 25th Oct
Fri 26th Oct
Sat 27th Oct
Sun 28th Oct
Mon 29th Oct
Tue 30th Oct
Wed 31st Oct
Catch Stats
CBUK Catch Log: 1 Species has been caught onboard Lyn Marie, including: Bass
Latest Catches 1 photos uploaded