Charter Boat: Marlin
Licensed For:
up to 8 passengers
Hours:
8hr / 10hr / 12hr Trips
Type of Fishing:
Uptide casting for Bass,skate, tope and hounds in summer and cod in winter
Tackle Available:
Yes - Contact Skipper
Bait Available:
Yes - Contact Skipper
Boat Specification:
33ft Aquabelle - Purpose built fishing boat
Facilities:
Hot food and drinks and bait and tackle included in price. Boat licenced and insured with all safety kit.
Additional Description:
Newly refurbished boat for speed and comfort. latest electronic navigation equipment to make finding the marks that hold the fish that much easier.
Boat charters for groups or individuals- competitively priced all inclusive.
Also available for sight seeing, Hen / Stag parties , scattering of ashes or anything you fancy on the water.
Bait / quality tackle and food and drinks. (rods are either Diawa TDU / TDX or Conoflex ) and either ABU mulitplyer reels or fixed spool for freshwater fishermen who are more used to these.
Beginners welcome / youngsters welcome- tuition given if required.
Top quality bait included in price - live bait whenever possible to obtain - This is LIVE peeler crab and hermit crab in the summer months and blow lug in the winter.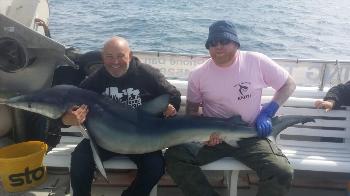 About the Skipper:
Skipper - Current Post Office National boat angling champion, 3 time regional Civil Service champion .
Fished numerous locations around the globe and have caught fish to 130lb
RYA / MCA trained and certified.
Fishing fanatic. ... Nothing gives me more pleasure than my anglers catching the fish of a lifetime.
Over 80 Personal bests have been caught on my boats in the 5 years of running my charter business
If it swims I will try to catch it !!
Received " Top Skipper " award Nov 2016 from Sea Angler magazine
Edit this boat listing
Last Minute
Availability
AUGUST - 2017

| Su | Mo | Tu | We | Th | Fr | Sa |
| --- | --- | --- | --- | --- | --- | --- |
| 30 | 31 | 1 | 2 | 3 | 4 | 5 |
| 6 | 7 | 8 | 9 | 10 | 11 | 12 |
| 13 | 14 | 15 | 16 | 17 | 18 | 19 |
| 20 | 21 | 22 | 23 | 24 | 25 | 26 |
| 27 | 28 | 29 | 30 | 31 | 1 | 2 |
Color for Fully Booked

Fully Booked

Color for Partially Booked

Partially Booked

Color for Available

Available

Color for Not Available

Not Available

Color for Unspecified

Unspecified
N.B. Not all Skippers keep this diary up-to-date. Always check with skippers before making any plans. Last calendar update: 17-Jun-2017
Reviews
Summary:





Reviews Unaccepted: 1
George Gardiner (14/08/2017)

Great day out, will definitely come again from the boys at rm chelmsford

Callum Lagden (06/08/2017)

Absolutely blinding day with Ray on the Marlin. Steady flow of fish and a lot of laughs. Ray is always on hand with knowledge for those who aren't experienced. The tea and pies are bloody tasty. Great day can't wait to get back out there.

Kam Randhawa (05/11/2016)

Had a great day out with Ray and Gareth..no cod unfortunately but plenty of good size whiting and a few thornbacks. Ray made loads of cups of tea and the Puka pie was a nice touch...will book again soon.

Skippers Reponse: Lovely to see you again ... hope cod show up soon !! Food was lovely , many thanks.

Scott Holmes (09/10/2016)

We had a great day out on the Marlin with Ray and Gareth on Sunday. They made us amateurs feel very welcome and helped us with bait and tackle on the boat.

Skippers Reponse: Thank you. Shame weather was a bit breezy and fishing hardwork . Hope to see you again :)

David Pollard (23/07/2016)

We had a cracking day out on Marlin - steady flow of smooth hounds, thornback Ray and bass. Ray and Gareth are top combo and passionate about fishing and putting you on the fish - both always on hand with advice and help during the day. As others have commented Ray provides a steady flow of hot drinks, the sausages rolls and pies are a bonus! Looking forward to the next trip with Marlin.

Skippers Reponse: Many thanks, look forward to seeing you again :)
View All Reviews
Add A Review