Charter Boat: Mistress Linda
Boat and Skipper Details
Licensed For:
up to 12 passengers
Code Of Practice:
60 mile from a safe haven
Hours:
3hr / 4hr / 5hr / 6hr / 7hr / 8hr / 9hr / 10hr / 11hr / 12hr / 24hr / Multiple Days Trips
Type of Fishing:
Wreck for Cod /Pollack, Offshore banks for Bass / Rays, Turbot / Plaice drifting, Autumn Sole, Bream /Whiting and winter Cod, species hunts and comps are a favourite, Photography and Corporate trips tailored to your needs
Tackle Available:
Yes - Contact Skipper
Bait Available:
Yes - Contact Skipper
Boat Specification:
Bullet DS38 twin engine charter special with a comprehensive electrionics package and back up systems, MCA Approved CAT 2
Facilities:
Red hot kettle ( once the 1st fish comes aboard) H/C fresh water, ladies facilities, toilet/shower. Heated wheelhouse, cooking facilities to heat your food
Additional Description:
Operating from Poole Dorset on a DAILY BASIS 364 days a year for all types of sea fishing trips. Mistress Linda is available for angling from the 1st time budding angler to the most competitive competition angler with expert tuition always on hand, photography / corporate (Buffet food can be provided on request) and that special day be it Stag / Hen parties or BBQ afloat watching the famous Bournemouth Air Show (full Ladies facilities on board) Family fun days are tailored to your requirements to maximise your day afloat. We have the facilities on board to keep your catch in pristine condition for your journey home. Come and join us on a trip to the wrecks to catch Cod, Pollack, Ling and Congers or drift the banks for Turbot and Plaice, enjoy the sport of Bream on ultra light tackle, catch a Tope again on light gear, 'live bait' for Bass or just enjoy a general day out fishing viewing the superb scenery surrounding Poole.
A Catch and Release policy is encouraged aboard and only fish above the minimum legal landing size may be kept.
A strict Safety Policy is operated on the Mistress Linda and all those aboard are requested to Read the Policy before leaving the confines of Poole Harbour. T&Cs can be viewed on our website www.mistresslindacharters.com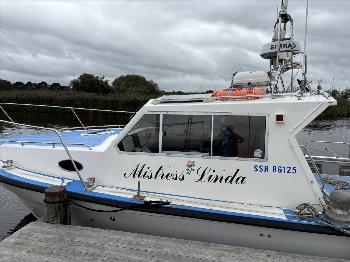 About the Skipper:
Boyhood fanatical angler started fishing in 1968 then moved into chartering and still enjoying fishing along with passing my skills onto the next generation of anglers. I love species comps and scratching days as well as offshore wreck fishing each has their own enjoyment
Long serving Professional Boatmans Association Director and Chairman
I have many years experience fishing the offshore wrecks and inshore marks around Poole and will go the 'extra mile' to find fish .


Sunday
Monday
Tuesday
Wednesday
Thursday
Friday
Saturday

Color for Fully Booked

Fully Booked

Color for Partially Booked

Partially Booked (Individual Spaces)

Color for Available

Available (Whole Boat)

Color for Not Available

Not Available

Color for Unspecified

Unspecified

N.B. Not all Skippers keep this dairy up-to-date. Always check with skippers before making any plans. Last calendar update: 19-Jun-2019

Sat 1st Jun More...
Sun 2nd Jun More...

Bream fishing

Mon 3rd Jun More...
Tue 4th Jun More...
Wed 5th Jun More...

Bass fishing, usual restrictions apply

Thu 6th Jun More...
Fri 7th Jun More...
Sat 8th Jun More...

8

Sun 9th Jun More...
Mon 10th Jun More...
Tue 11th Jun More...
Wed 12th Jun More...
Thu 13th Jun More...
Fri 14th Jun More...
Sat 15th Jun More...
Sun 16th Jun More...
Mon 17th Jun More...

4 hr trip starting at 9.30

Tue 18th Jun More...
Wed 19th Jun More...
Thu 20th Jun More...
Fri 21st Jun More...
Sat 22nd Jun More...
Sun 23rd Jun More...
Mon 24th Jun More...
Tue 25th Jun More...
Wed 26th Jun More...
Thu 27th Jun More...
Fri 28th Jun More...
Sat 29th Jun More...
Sun 30th Jun More...
Upcoming Individual Spaces on Mistress Linda
Reviews
Summary:





anthony beckham (12/07/2016)

First time out on Mistress Linda today, with skipper Philip Higgins. Skip kept us on fish all day, out of the weather and the kettle was constantly on. Undulates to 20lb, plaice, smooth hounds and mackerel. Would recommend this boat if any is looking to go out of Poole harbour.

Mark Laing (31/03/2016)

Had a cracking day out with Phil (skipper) and Carl (deck hand) today. Phil really tried to put us on the fish which resulted in a 15lb (approx) undulate. Totally recommend this boat, loads of room and great facilities. Will definitely be using this chapter and skipper again. You won't be disappointed.

Rob Mortimer (29/03/2016)

First outing in 20+ years with my son, first time with Phil and with Mistress Linda, Top Skipper, friendly, with extensive local knowledge, sadly the fish weren't playing but its not always about getting the fish, had a great time and my son enjoyed the experience too. Cheers Phil, will be seeing you ... best Rob and Darragh

paul quarterman (29/12/2015)

First time out on Mistress Linda in difficult conditions, but skipper Philip managed to get us on the fish

Skippers Reponse: Thank you Paul, as you stated the conditions were challenging thanks to the constant series of bad weather we have suffered but we did manage a few fish, overall catch was below my expectations.
Latest Catches 430 photos uploaded
Clive
3 lb 6 oz Black Sea Bream
1-Jun-2019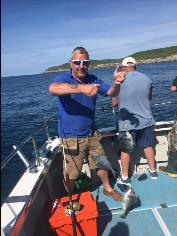 Paul
1 lb Cuckoo Wrasse
25-May-2019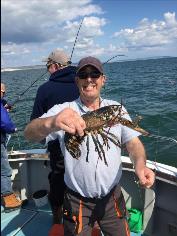 Latest Fishing Reports and News
18/06/2019

Fishing Report by Philip Higgins

18 Jun 2019 by Philip Higgins

The weather has hampered fishing with lots of wet and windy conditions a far cry from this time last year add that to the continued presence of a large pod of Dolphins patrolling Poole Bay eating anything that swims, they have been seen flicking Bass into the air then devouring them as they hit the water. The Ray fishing continues to be good with plenty of Undulates, Small Eyed and Thornbacks being landed and released along with more dogfish and very small conger eels. This years Bream fishing has fluctuated with the tides but remains good with a bumper crop of very small bait robbing bream around if you fish small enough hooks you can get 3 at a time. During the bigger tides Bass dominate everyone's thoughts and there are plenty around to have a good days fishing and as long as you keep to the 1 fish rule you will be safe from the authorities.
Enjoy the summer and some great catches
Phil

28/05/2019

Fishing Report by Philip Higgins

28 May 2019 by Philip Higgins

The last few days have seen totally different styles of angling, on Saturday the Lymington crew were seeking species and could only count the 1st 10 of each species this involved plenty of moves around Poole Bay targeting specific areas for fish and we managed a credible 20 failing to land a few of what I would call certs the worst part was next day the 1st 4 fish we landed we ones we missed the day before and this crew were after Rays of which Phil Thomas excelled landing 4 fine Undulates and Dave Potts landed a cracking 3lb 8ozs Bream

21/05/2019

Fishing Report by Philip Higgins

21 May 2019 by Philip Higgins

The last few days have provided some excellent fishing with plenty of Bass up to 6lb many being sizeable but small and nearly all being returned, not even taking 1 fish per person, as the tide eases we have caught some nice Plaice Gurnards and a bonus Turbot. At anchor over slack water we have been plagued with tiny Conger Eels and a few Undulate Rays.

10/05/2019

Fishing Report by Philip Higgins

10 May 2019 by Philip Higgins

The trip today was planned as an offshore trip but with the predicted northerlies we choose to try new marks closer to home instead of Bream of which we have had plenty, the 1st mark produced a few dogs, Tope and pout so a change of location was needed. We looked at several marks and decided to try a bank we had crossed but not fished within minutes we had bites with more dogfish and reasonable sized Whiting coming aboard followed by lots of congers then Steve's rod nearly came out of the rod holder and after a good battle he landed a new PB Bass of 14lb which was released to grow bigger, not resting there he then landed a nice lobster which he also returned. Overall a great day with plenty of fish and new marks in the plotter

06/05/2019

Fishing Report by Philip Higgins

6 May 2019 by Philip Higgins

The last few days has seen the weather turn from the hot Easter back to hat and gloves time but the fishing has remained good with plenty of Bream being landed and released, lots of mini species and a few rays mostly Undulates. Last week I did another barbless hook trial, landing 82 Bream whilst only loosing 2 during the fight , all were returned without touching the fish and one lucky fish who had another hook protruding from its mouth we removed that as well, it certainly did not stop him feeding.
All the best
Phil