Charter Boat: My Way
Licensed For:
up to 10 passengers
Code Of Practice:
Cat 3 - 20 Miles from any safe haven
Hours:
3hr / 4hr / 5hr / 6hr / 8hr / 9hr / 10hr / 12hr / Multiple Days Trips
Type of Fishing:
Reef, Banks drifting and anchor fishing etc - smoothhound, tope, pollack, wrasse, huss plus many more and also Special Specimen Days And Competitions Arranged
Tackle Available:
Yes - Contact Skipper
Bait Available:
Yes - Contact Skipper
Boat Specification:
32 ft Aquastar, flush deck with ample space for anglers. Full Electronics package Lowrance HDS-8 Sounder with Structure Scan, Lowrance Global Chartplotter, Icom VHF-DSC, Furuno GPS, Koden Radar, Radio, cd, mp3 player & Ipod dock
Facilities:
Toilet And Cooking Facilities - Oven, hob & kettle
Additional Description:
For the very latest & updated daily please copy and paste either of the following links to your browser, or click our website link above

Website: www.goangling.co.uk
Facebook: www.facebook.com/GOAngling


We fish all year round for a variety of differing species, including smoothhound, tope, pollack, gurnards, codling, coalies, wrasse, rays and huss plus many more. My Way can be chartered for both full boat and individual bookings.

My Way is based at Holyhead Marina on the north western tip of the beautiful Isle of Anglesey, North Wales. Our coastal area benefits from a range of mixed grounds with mud, shingle, rock and sand banks all with in reach to offer some excellent and varied fishing. Your charter trip includes tea, coffee, and also a hot snack, plus the My Way galley includes a hob, oven, grill for your use if required, A variety of quality uptide and down tide rods with ABU 7500C3 reels are are available free of charge if needed. The set up comes with 1 end rig and weight.

Holyhead Marina has ample free parking for it's users. Over spill parking can be found on the hill over looking the Marina complex. With My Way on an easy access berth, there is a short walk onto the pontoons with no nusiance ladders or steps to climb along.

Facebook: www.facebook.com/GOAngling
Twiiter: www.twitter.com/GO_Angling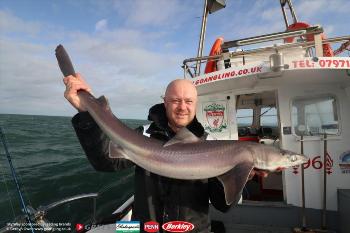 About the Skipper:
Gethyn has been a keen angler all his life, both from the shore and the boat. GO Angling was set up in 2003 and My Way has since prooved to be a very popular vessel on the north Wales coast. Born locally, Gethyn has extensive local knowledge, with over 30years experience in these waters

A qualified Level 2 Angling Coach, Gethyn was a member of the Welsh National Boat Angling Team and has represented Wales in two Home Nations Championships and also one World Championships. The 41st World Boat Angling Championships held in Weymouth, England is where Gethyn finished 9th overall and helped Wales to 4th overall.


Latest Fishing Reports
06/09/2016

Fishing Report by Gethyn Owen on My Way

(Holyhead, Isle of Anglesey)

6 Sep 2016 by Gethyn Owen

Porbeagle Shark
06th September 2016

For years we've encountered the odd shark during our fishing exploits off Holyhead, bitten fish, snapped lines etc. This year we decided to bite the bullet and invest in new gear, fact finding trips, so much reading and then finally set out to target sharks.
This week has been planned for a long time & foul weather was all set to scupper our chances, but a break in the winds saw us set sail early doors today, 50lb class gear, custom made wire shark traces and enough rubby dubby to sink a smaller boat!

Baits in the water and floats set, we had a couple dropped hooks and false calls with small tope before one rod twitched around 4hrs into our day. Quickly line started to scream from the reel and after a few mins it was clear this was something, it was no tope. After so long in the planning, a 90 minute epic battle was soon underway. So many darting runs, remaining under the boat, around the boat and up the bow on 4 separate occasions. Make no mistake, this shark was in charge. When it first broke the surface the screams and gasps were loud, we had managed to hook a porbeagle shark, and a bloody big one too.

Then it ran again, 4 times we had it to the side of the boat, rubbing trace held twice, but it wasn't ready to meet us. On the fourth occasion, we were preparing to land, and the most devastating noise was heard … snap … oops, the rod snapped (stop laughing ), the line broke and the shark swam free. A deathly silence fell upon My Way!

Question, was the mission a success?

Of course it was! So much planning and preparation and then on our first attempt we hooked and technically released, a porbeagle shark that was well in excess of 100lb.

06/2016

Fishing Report by Gethyn Owen on My Way

(Holyhead, Isle of Anglesey)

Jun 2016 by Gethyn Owen

In 2008 and following years we were heavily involved with the University College Dublin (UCD) Ph.D researcher Edward Farrell in his study of Starry Smoothhounds.

Eds research was studying the seasonal migration of smoothhounds but also to show that Starry Smoothounds only and not the Common Smoothhound visited the UK and surrounding waters. Ed had an article published in the ICES (International Council for the Exploration of the Sea) Journal of Marine Science in January 2009 showing his findings on Starry & Common hounds

In a nutshell, not one Common Smoothhound was recorded from Holyhead or any other participating area. Follow this link to Phill Williams excellent article on Eds research.

Fast Forward to 2016 and it's smoothhound season aboard My Way once again, Holyhead and in particular My Way, is famous for putting anglers on to some of the best hound action the UK has to offer. With hundreds caught many of which go double figure, My Way also has a pretty enviable Gallery of hounds recorded over 20lb.

Local angler Pete Williams, with another 20lb hound caught mid May 2016. The first of 12 so far recorded aboard My Way this season. When space allows I like to fish with the crews aboard My Way, smoothhounds a favourite time of year. My smoothie fishing in 2016 has so far been fairly good, with numeorus fish caught and the odd day session returning over 10 double figures to me. One day recently I caught a small hound, that was sporting a tag.

The tag was identical to the ones we had been using to tag hounds nearly a decade ago, the tag and tag site were in good condition with barely a sign of having been at sea for such a long time, could it be one of us. After a few photographs the smoothie was released again. Naturally I didn't have the tag details to hand, so was going to have to wait a while till I could found out if smoothhound R00150 was indeed previosly tagged by us.

Once back, I emailed Ed with the details and soon learned that the male smoothie was originally taggeg by us in Holyhead bay on the 29/05/2008. When tagged it was almost a fully grown male, so hadn't really grown much. But had been at liberty for over 8years. Had it passed through Holyhead before and simpy avoided being caught? We'll never know, but we do know it did return.

After a quick weigh, 6lb 2oz and a few photographs, the hound was released once again, it swam away at an incredible speed ... maybe to return once more in another 8years time!

Once again in 2016, we have been involved with data collection and the tagging of smoothhounds. We were joined aboard My Way in June by Laura Bond from the Shark group Wobby Shark Savers and her father Paul, tagging smoothhound on behalf of the SSACN (Scottish Sea Angling Conservation Network)

For the story with plenty of photographs, please copy and paste the following link into your browser

http://goangling.co.uk/articles-reports/2016-tagged-smoothhound.php


06/2016

Fishing Report by Gethyn Owen on My Way

(Holyhead, Isle of Anglesey)

Jun 2016 by Gethyn Owen

June is one of our favourite months to be afloat. There is no secret that tackling smoothhounds inshore on light tackle is a style of fishing that we look forward to each year. So much that as soon as we hang up our smoothhound rigs for any given year, thoughts and ideas on how to improve catches are already floating around.

After a great season in 2015, this year June had a lot to live up to, particularly as it is considered by our own theory to be the year were the caches are predominantly smallish fish in the 8 to 10lb bracket.

With the Smoothhound Challenge having just finished another successful week aboard My Way, June was looking to be on the money with the hounds, and it didn't disappoint with most people bagging hounds and numerous new personal bests being set.

Early June we had a group from up the NE of Wales, looking to enjoy sport aboard My Way with smoothhounds. The hounds obliged with numerous being caught and Wrexham angler Tom Jones setting a new Personal best with a superb specimen of 20lb.

Every fish has its magical weight, double figures always a plus and with smoothhounds a 20lber ensures you join the elite club. Next day after Toms success, we managed another 20lber

Mikee Thrussell jnr caught his first 20lber with us last year and then repeated the capture with a 2nd 20lber this year. You can read his account on the website of our Fishing Partner Tronixfishing.

During smoothie time we run many evening trips, 4 hours in the eve targeting these hard fighting sharks. The photos below showing that girl power often wins through

The following four days, were filled with a plentiful number of hounds including 20lb plus hounds each day, again some truly fantastic fishing. Early June and we were joined by Paula and Laura from Wobby Shark Savers. Laura was tagging smoothhounds on behalf of the SSACN. Only tagging hounds over a certain sixe we tagged 39 in a couple days, and both Paula nd Laura managed to land themselves 20lbers.

When space allows I like to fish with the crews aboard My Way, smoothhounds a favourite time of year. One day mid June I caught a small hound, that was sporting a tag. Read the fascinating story & photographs.

Not to be outdone by his son earlier in the month, Mike Thrussell snr, managed to break his own longstanding smoothhound personal best with us this June with a fantastic specimen of 23lb.

With a few missing over recent years this year saw the full compliment of Adults With Problems for the 2016 tour. An annual event of merriment consisting of hounding, laughing, eating drinking and reeling up all manner of unexpected items!

The weather never stops Adults With Problems. A slight change towards the end of our three days, a small species hunt. With many years angling behind him, Peter Hamilton-Tangler- Hutchison still needed to catch his first ever Tompot Blenny, he caught two!

We were on and off the hounds all month, with someday only a few hours on the right state of tide, others the whole days moving and following the feeding patterns learned over the years fishing the bay .

Unlike previous years were June really has been the jewel in the crown of the years weather, we lost the majority of the end of the month to the weather. I even had a busmans holiday booked fishing elsewhere myself, sadly that also fell foul to strong winds

Cancelling trips is never an easy thing to do, you ponder of the conditions for so long, knowing that you could scupper peoples long awaited trip, but also cancel the potential to earn. It's a hard call, but one that is taken with safety and enjoyment the main contributing factors for most skippers.

My Way sails regularly from Holyhead Marina, our reports and numerous photographs we hope help to tell the tale of our season and how fishing with us progresses through one year

www.goangling.co.uk

05/2016

Fishing Report by Gethyn Owen on My Way

(Holyhead, Isle of Anglesey)

May 2016 by Gethyn Owen

During the first few days in May and the weather decided it wasn't best for My Way to set sail, we remained tied up while temperamental winds had their say.

During the first weekend, things settled down over the Spring Tides. Conditions were still breezy but quite good given the conditions, pollack and codling on the drift with doggies, whiting, more codling, huss & others coming to the boat at anchor.

We managed a couple first of the year early May, with a very small tope falling to Stockport angler Lisa, this tope also being her first catch of the species.

My Way regular Mark Dolben also came up trumps with the first smoothhound of the year. A pair either side of the 10lb mark kick starting what was to be another fantastic season on these hard fighting small sharks.

By the middle of the month, we had some fairly settled weather coinciding with neap tides. This was going to allow My Way to push a little further out than we had been doing and fish a few marks in Holyhead Deep, a popular area with the potential to throw up some fantastic sport.

A regular crowd from The Wirral were not to be disappointed on a recnet trip to Holyhead Deep, with Scottish International angler Mickey coming up trumps with a great pair of spurdogs.


A 16lber on his first drop and a magnificent 20lb specimen towards the end of the Deeps anchor. From 200ft of water in 1.5knots of tide, this really did put up a great fight.

Plenty of species showing up inshore, with small pollack and wrasse making far more regular appearance whilst on the drift around the rock marks and on the back of Holyhead's famous Breakwater.

The Deeps fishing continued for a few days, with the settled weather remaining over Anglesey and the fishing obliging our anglers. The main target remaining the big huss and big spurdogs, small tope also falling to the baits on the odd occasion.

Middle of May and the weather was turning a little as the neap tides made way for larger and stronger tides. The good movement in the water added more smoothhound fun to our trips as the season slowly got underway.

Local angler Peter Williams nailing himself a new personal best after landing our first 20lb smoothie of 2016.

Our spurdog rigs are famed for the ability to continually land big spurdogs, over an over again. Tide in house with only the best products, the rigs also benefit from using wire on the snood lines.

Spurdogs have small rows of razor sharp teeth, that can be seen clearly in the photograph.

The last full week of May saw the return of My Ways annual hound competition, The Smoothhound Challenge, handsomely sponsored by Tackle Giants TronixPro

Marking the start to our hounding season, last week saw the return of the annual Smoothhound Challenge aboard GO Angling - My Way Sea Fishing Trips, this year sponsored by tackle innovators Tronixpro.
Conditions were great all week with calm seas greeting all that fished with us. The fishing wasn't hectic, with packs of smoothhies failing to show. Instead a steady stream came to the boat, mainly lone hounds with the odd double or triple hook up through the week
Up for grabs each day during our Smoothhound challenge a TronixFishing rod and reel combo, Envoy Multiplier reel and a 3 piece multitip, Iridium Berlangas 275 rod. All the angler had to do was catch the heaviest smoothhound of the day.
We managed to land over 120 smoothies, many in the 6 to 10lb range, quite small by our own standards, but true to form with the cycle of smoothhound fishing and sizes. However the best during our week was caught by local rod Mark Cain, a whopping 24lb 2oz, just short of the current Welsh Record.
On refelction, May was another good month aboard My Way
Sailing regularly from Holyhead Marina, our reports and numerous photographs help tell the tale of our season and how fishing aboard My Way progresses through one year
With July promising to be a great month once again, check our spaces here - boat or current individuals

Full report and photos please copy & paste this addreess into your browser
http://www.goangling.co.uk/articles-reports/Report_2016_May.php

Gethyn Owen
Tel: 07971 924046
www.goangling.co.uk
www.facebook.com/GOAngling
www.twitter.com/GO_Angling


06/2016

Fishing Report by Gethyn Owen on My Way

(Holyhead, Isle of Anglesey)

Jun 2016 by Gethyn Owen

In 2008 and following years we were heavily involved with the University College Dublin (UCD) Ph.D researcher Edward Farrell in his study of Starry Smoothhounds.

Eds research was studying the seasonal migration of smoothhounds but also to show that Starry Smoothounds only and not the Common Smoothhound visited the UK and surrounding waters. Ed had an article published in the ICES (International Council for the Exploration of the Sea) Journal of Marine Science in January 2009 showing his findings on Starry & Common hounds.

In a nutshell, not one Common Smoothhound was recorded from Holyhead or any other participating area.

Fast Forward to 2016 and it's smoothhound season aboard My Way once again, Holyhead and in particular My Way, is famous for putting anglers on to some of the best hound action the UK has to offer. With hundreds caught many of which go double figure, My Way also has a pretty enviable Gallery of hounds recorded over 20lb.

Local angler Pete Williams, with another 20lb hound caught mid May 2016. The first of 11 so far recorded aboard My Way this season.

When space allows I like to fish with the crews aboard My Way, smoothhounds a favourite time of year.

My smoothie fishing in 2016 has so far been fairly good, with numeorus fish caught and the odd day session returning over 10 double figures to me. One day recently I caught a small hound, that was sporting a tag.

The tag was identical to the ones we had been using to tag hounds nearly a decade ago, the tag and tag site were in good condition with barely a sign of having been at sea for such a long time, could it be one of us. After a few photographs the smoothie was released again. Naturally I didn't have the tag details to hand, so was going to have to wait a while till I could found out if smoothhound R00150 was indeed previosly tagged by us.

Once back, I emailed Ed with the details and soon learned that the male smoothie was originally taggeg by us in Holyhead bay on the 29/05/2008. When tagged it was almost a fully grown male, so hadn't really grown much. But had been at liberty for over 8years. Had it passed through Holyhead before and simpy avoided being caught? We'll never know, but we do know it did return.

After a quick weigh, 6lb 2oz and a few photographs, the hound was released once again, it swam away at an incredible speed ... maybe to return once more in another 8years time!

Once again in 2016, we have been involved with data collection and the tagging of smoothhounds. We were joined aboard My Way in June by Laura Bond from the Shark group Wobby Shark Savers and her father Paul, tagging smoothhound on behalf of the SSACN (Scottish Sea Angling Conservation Network)

View All Fishing Reports
Edit this boat listing
Availability
OCTOBER - 2016

| Su | Mo | Tu | We | Th | Fr | Sa |
| --- | --- | --- | --- | --- | --- | --- |
| 25 | 26 | 27 | 28 | 29 | 30 | 1 |
| 2 | 3 | 4 | 5 | 6 | 7 | 8 |
| 9 | 10 | 11 | 12 | 13 | 14 | 15 |
| 16 | 17 | 18 | 19 | 20 | 21 | 22 |
| 23 | 24 | 25 | 26 | 27 | 28 | 29 |
| 30 | 31 | 1 | 2 | 3 | 4 | 5 |
Color for Fully Booked

Fully Booked

Color for Partially Booked

Partially Booked

Color for Available

Available

Color for Not Available

Not Available

Color for Unspecified

Unspecified
N.B. Not all Skippers keep this diary up-to-date. Always check with skippers before making any plans. Last calendar update: 16-Oct-2016
Reviews
Summary:





John Jackson (16/08/2016)

I went out on My way skippered by Gethyn for my first ever boat trip and I have to say I was a bit nervous having never fished from a boat or with a multiplier but Gethyn made it so enjoyable he helped out with every little thing with a smile on his face and a funny comment he really made it enjoyable. If we got to a mark that wasn't producing much he moved on right away on the search for a better spot so we could catch more fish his sense of humor was brilliant and he had us all laughing all day the price for the 8 hour trip was so cheap and the extra for all bait included was worth it for all the bait u need is supplied for so little I can't wait to go back out amazing trip and an amazing skipper thanks Geth

Skippers Reponse: Nice one John, thanks. Cheques in the post. Smile and a funny comment, love that. Not so old if your the recipient lol. Cheers pal see you again soon.

Gavin Evans (16/08/2016)

Went out aboard My Way for the first time, only my second time boat fishing. First of all what a great guy Gethyn is, his knowledge and help definitely made the trip enjoyable, if the fishing wasnt enough. It shows how much I enjoyed it and how welcome we were made to feel I came off the boat with a second trip booked and planning a third. I chose My Way after numerous recommendations from many friends and many reviews and I am glad I did.

Skippers Reponse: Cheers Gav, was a good day plenty of fish and a great laugh. See you next month. Thanks Geth

Neil crosswell (11/05/2016)

First trip out on My Way. Gethyn messaged me evening before and the forecast meant he had to change plans somewhat. Cup of tea within minutes on board and throughout the day. Sauge butty for lunch and quite a selection of cake. Fishing wise we had a steady day with a mixed bag with action from pollack, coalie, codling, huss, and dogs. Some good banter onboard. Would I rebook, yes definitely. If you fancy a day with a difference give My Way a go you'll come away with a smile on your face.

Skippers Reponse: Very kind words Neil and much appreciated, good fun given what the weather threw at us. Hopefully see you again soon, thanks Gethyn

James Bell (22/03/2016)

Was our first trip with Gethyn, what a cracking day out. Gethyn makes a special effort to make you feel welcome on board with as many teas and coffees as you can drink (when he's not cracking crap jokes)... Within the first hour after leaving the marina everyone on hoard was straight into the Spurdogs! With a couple coming close to the welsh record I believe. The boat was in excellent condition as was the tackle supplied. We all caught more than enough fish, for so soon after winter Gethyn obviously knows his stuff. Would highly recommend. Cheers Gethyn.

Skippers Reponse: PMSL crap jokes, they were polite ones for your first trip! Thanks James, great to meet you both and glad you had a good day. Certainly some great spurs. See you both again soon

Peter Jones (19/09/2015)

Gethyn, thanks for a brilliant days fishing! The atmosphere on the boat was great, the help and advice from you and Mark much appreciated and one fish after another made the day. Thanks and we'll see you again. Jones bros

Skippers Reponse: Hi Peter, thank you for he review. Glad you guys enjoyed the day and also managed a few pollack and whiting for supper. See you soon
View All Reviews
Add A Review