Charter Boat: My Way
Licensed For:
up to 10 passengers
Code Of Practice:
Cat 3 - 20 Miles from any safe haven
Hours:
3hr / 4hr / 5hr / 6hr / 8hr / 9hr / 10hr / 12hr / Multiple Days Trips
Type of Fishing:
Reef, Banks drifting and anchor fishing etc - smoothhound, tope, pollack, wrasse, huss plus many more and also Special Specimen Days And Competitions Arranged
Tackle Available:
Yes - Contact Skipper
Bait Available:
Yes - Contact Skipper
Boat Specification:
32 ft Aquastar, flush deck with ample space for anglers. Full Electronics package Lowrance HDS-8 Sounder with Structure Scan, Lowrance Global Chartplotter, Icom VHF-DSC, Furuno GPS, Koden Radar, Radio, cd, mp3 player & Ipod dock
Facilities:
Toilet And Cooking Facilities - Oven, hob & kettle
Additional Description:
For the very latest & updated daily please copy and paste either of the following links to your browser, or click our website link above

Website: www.goangling.co.uk
Facebook: www.facebook.com/GOAngling


We fish all year round for a variety of differing species, including smoothhound, tope, pollack, gurnards, codling, coalies, wrasse, rays and huss plus many more. My Way can be chartered for both full boat and individual bookings.

My Way is based at Holyhead Marina on the north western tip of the beautiful Isle of Anglesey, North Wales. Our coastal area benefits from a range of mixed grounds with mud, shingle, rock and sand banks all with in reach to offer some excellent and varied fishing. Your charter trip includes tea, coffee, and also a hot snack, plus the My Way galley includes a hob, oven, grill for your use if required, A variety of quality uptide and down tide rods with ABU 7500C3 reels are are available free of charge if needed. The set up comes with 1 end rig and weight.

Holyhead Marina has ample free parking for it's users. Over spill parking can be found on the hill over looking the Marina complex. With My Way on an easy access berth, there is a short walk onto the pontoons with no nusiance ladders or steps to climb along.

Facebook: www.facebook.com/GOAngling
Twiiter: www.twitter.com/GO_Angling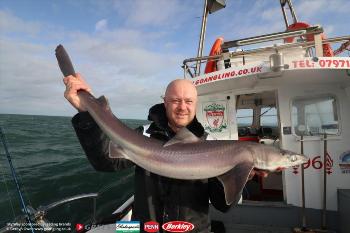 About the Skipper:
Gethyn has been a keen angler all his life, both from the shore and the boat. GO Angling was set up in 2003 and My Way has since prooved to be a very popular vessel on the north Wales coast. Born locally, Gethyn has extensive local knowledge, with over 30years experience in these waters

A qualified Level 2 Angling Coach, Gethyn was a member of the Welsh National Boat Angling Team and has represented Wales in two Home Nations Championships and also one World Championships. The 41st World Boat Angling Championships held in Weymouth, England is where Gethyn finished 9th overall and helped Wales to 4th overall.


Latest Fishing Reports
11/2014

Fishing Report by Gethyn Owen on My Way

(Holyhead, Isle of Anglesey)

Nov 2014 by Gethyn Owen

Some great sport on the water recently, Holyhead may not set the world alight with big cod as seen on the south coast regular, but a mixture of species and a fun time can always be enjoyed. Saturday 22nd November and we had our latest fun match, each fish caught is rewarded either 1, 2 or 3 points depending on it's scarcity.

We had a good mix of anglers aboard My Way from regulars to a few lads new to Anglesey fishing. Thankfully a good time was had by all with a varied selection of fish. The vast majority of scores came from dogfish and whiting with huss and a few other species at anchor. We also had a good few pollack on the drift supplemented by both ballan and cuckoo wrasse.

Eventual winner with the highest points was My Way regular and local rod Mark Dolben, after streaking to an impressive lead in the morning with double and treble shots Mark then fished large for a few huss as the afternoon passed by.
Second was Karl from Yarmouth, on an annual angling pilgrimage with good friend Pat. Great fishing from someone new to the area and not too well versed with our tactics here, with double and triple shots falling to his baits, he finished a mere 1 point behind Mark.

For his efforts Mark won a Gift Voucher for another full day aboard My Way :D

11/2014

Fishing Report by Gethyn Owen on My Way

(Holyhead, Isle of Anglesey)

Nov 2014 by Gethyn Owen

Some settled weather over a couple days and we managed to sneak out into Holyhead bay. Fishing was fairly consistent for the time of year with a plentiful supply of dogs, whiting and huss at anchor with the odd ray, codling and other species to bump up the numbers. On the drift we had some good action with pollack, wrasse and coalfish again, both ranging between 1 and 3lb in weight together with a few small herring too.
Great enjoyable weekend afloat

07/2014

Fishing Report by Gethyn Owen on My Way

(Holyhead, Isle of Anglesey)

Jul 2014 by Gethyn Owen

After the a great time through June hopes were high of continuing the great run of form into July. Weather gods thought differently and we lost the first few days of July to some strong weather fronts. Towards the end of the first week in July everything started to settle down, for the first couple trips we were restricted to inshore fishing.

Despite wanting desperately to make our way out to Holyhead Deep, the sea state prevented such travels, undeterred anglers still had a great time afloat with a number of different species and what seemed to be an ever present number of smoothhound. Normally numbers start to dwindle with the hounds by the start of July, but this year the smaller sized hounds were around all the way through the month and beyond!

Our first trip to the deeps in /July came at the end of the first week, a mixed bag of individuals in search of some tope and spurdog along with a good few huss. We weren't disappointed with most on board hooking into a good number of double figure sharks during our few hours offshore.

This settled spell continued for the week of trips afloat to Holyhead Deep. Those who sail with us regular know only too well just how important it is to get the weather conditions perfect. Not often do calm seas coincide with neap tides, a perfect recipe for travel beyond North & South Stack tidal races for some action in Holyhead Deep.

Either side of our anchor in the Deep, we tend to concentrate on inshore drifting with wrasse, pollack, coalies and if we are so extremely lucky mackerel making up the species list. I get a real buzz when drifting inshore.
If using light tackle, even a wrasse or pollack of a couple lb in weight can put up a mammoth fight, testing both angler and gear to the max.

We have some ultra light rods available for use aboard My Way – the small Yuki Ruby rods along with some of the fantastic HTO spinning rods from Tronix, these light yet very capable rods are more than capable of handling hard fighting wrasse and pollack from rocky marks. These rods also been used to land smoothhound well into double figures, with relative ease.

Following the initial few days of woe watching the winds get July underway, My Way sailed regularly barring the odd blip and 24hr weather front. Sadly though things came to an abrupt stop during the third week, when on the way back to the marina after a great day species hunting around Holyhead and Trearddur bay I started to sense something wrong. Not being the fastest boat on the sea, plus being my precious, you notice little things, small changes. And My Way wasn't performing correctly. Long story short, heat exchanger / exhaust manifold was leaking! Decisions! Patch job or new? Well we went for new.

The unit had been on My Way since she had become part of our company, so the correct course of action really. A grand old cost aside, the worst of it all was that I had to cancel 2 trips. Two trips to Holyhead Deep when the weather was flat, calm and sunny.

In 10 years I've never had to do this and it felt bad! Fortunately the vast majority of the crews that board My Way are great, many of whom have become friends, every one I spoke to appreciated the situation and the need for me to do a 'proper' job! After all our safety at sea is paramount!

Well, everyone except for one person, he had been looking forward to the trip for a whole year and I had ruined everything for him! Not intentional ... cheers for the understanding pal … :p


Once fixed and tested, straight out to the deeps, and back into the action. tope, spurs an big huss.
Fortunately July was full of neap tides and settled weather, and we certainly made the most. With regular outings to the deeper water resulting in successful catches for most anglers, many recording either their first tope or spurdog whilst with us. With Holyhead having quite a tidal range, the Deeps is not always favorable. Tides over 28ft and we struggle to maintain contact with the bottom, not friendliest form of fishing with 3lb of lead and naturally with the bigger tides, the window of opportunity drops. So a 3lb lead for merely an hour is not quite worth it in our day. So when the tides grow, we remain inshore and target an array of species at anchor and on the drift.

Another highly enjoyable month afloat from Holyhead Marina, aboard My Way. We are extremely fortunate to have such varied fishing available to us, and with some great anglers, novice and experienced, perfect for a fun packed day afloat.

Read with photographs at http://www.goangling.co.uk/2014-July-report1.htm

06/2014

Fishing Report by Gethyn Owen on My Way

(Holyhead, Isle of Anglesey)

Jun 2014 by Gethyn Owen

Last June was another fantastic month aboard My Way, with only 3 days canceled we sailed all others, including a great amount of evening trips in search of only one thing … smoothhounds. With the time frame for the hounds visiting Holyhead in any great number being fairly small, we tend to hunt these hard fighting small sharks for the vast majority of the month. Only changing tact when weather or specific trips dictates.

For a couple days I was joined by good friends Elton Murphy of Anglers Net, Mike Thrussell jnr. from World Sea Fishing and Jim Midgley, the beauty to the beast from Boat Fishing Monthly! We had only smoothhounds on light tackle in mind. So basically bait up, chuck out and wait, while discussing world current affairs and how we'd make this planet a better place for everyone. Similar to the regular deep and meaningful conversations many of you will have engaged in aboard My Way.

Our first day fell foul to some quite strong winds, knowing we had another day ahead of us and decent weather on the horizon we came in handy and went for a dog walk along the Menai Straits instead. We are fortunate that many of the smoothhounds landed aboard My Way are mid to high teens in weight. However as with most species, there is a cycle to the hounds and this was to be a year of the majority being on the small side.

I've not laughed so much in a long time. Jokes, antics, much of which not to be repeated here, but all interspersed with the landing of smoothhounds and plenty of them too.

For a number of years our boat record has stood at 28 smoothhounds landed. We managed to sneak past this record on our 2nd day afloat by landing 29 between 5 of us. Vast majority of them around 8lb in weight with the best reaching 15lb and on the whole most played on spinning rods or the light Yuki Ruby H or Ruby Mar rods that I often rave about. Really excellent fishing that everyone should enjoy.

The following 3 days I was joined once again by some good friends, this time from across a couple borders. Davy, Linda, Billy and Peter all making the pilgrimage from Scotland for our annual smoothhound hunt.
We caught plenty, laughed far alot and ate..... too much. On the last day of the Scottish invasion we were joined aboard by another old friend, David Proudfoot, head honcho at Planet Sea Fishing, I never told the others David was joining us, seeing their faces as they heard the dulcet tone of my new Tea Boy was great to see.

One day the following week, My Way and Holyhead smoothhounds were to be challenged by a few local rods normally to be found stalking bass along the Anglesey shoreline. Dennis, Dewi and Terry all mad keen bass lure anglers, fancied a change and wanted to challenge the great hounds on their £400 lure rods.
Yup, you read that correctly, four hundred pound lure rods, tackling what could potential be a 20lb plus smoothhound! Sadly we never saw any of the high teens on the lure rods, but they did see plenty of action, as we pushed the new boat record for smoothhounds landed to 33 in a day.

Frustratingly, we could have or maybe should have caught a load more. The bites being so delicate, with some hounds dropping baits and returning to them a staggering 4 or 5 times. I can only pout this down to the vast majority this year being small at 6 to 8 lb in weight. The bigger ones always appearing to take the bait whole with an immediate hook up.

Every year we are privileged to host the RAF Boat Angling Festival at Holyhead, using Boy Evin, My Way and Spindrift from Holyhead, we also utilise Empress and Julieanne from Amlwch port, who come over for the day, full of fish and a few laughs. The festival sees one seasoned angler introduce a novice to both boat and shore angling. This is the 5th time we have hosted this event in the last 6years, a great introduction for people to fishing who get the chance to anchor over rough and broken ground for a a variety of species and also some drifting for pollack and wrasse. The event is run as a competition, with points available for all fish caught that are quickly returned after capture.

Milnrow Sea Angling club are always a welcome sight aboard My Way. A great bunch of guys and gals who enjoy their fishing regardless of the weather conditions. Their date mid June, things were perfect. We started the day with a plentifully amount of hounds, spent slack water on the mussel beds, with dogs, whiting huss and ray, before returning to the smoothhound grounds Star of the day was John, more affectionately known to members of the club as sausage John, a butcher with a mean line in sausages … allegedly.

If memory serves me right, the boat figure for hounds was around 25, with everyone catching at least one. John though taking 9 of them himself including the biggest at 22lb. Superb angling!


Local angler Mike Hughes had a birthday trip to remember in June. A small 4hour trip & I needed to locate some hounds!. Thankfully the hounds came out to play. Plenty being caught around the boat, with the birthday boy landing 8 himself including another 20lber. On light tackle these smoothies really put up a fight to entertain everyone on the boat.

Towards the end of June, we managed to sneak a day in Holyhead Deep, with everyone having caught hounds before or simply wanted the chance of something else, the great weather and neap tide couldn't't be ignored. It turned out a great move for local rod Mike from Menai Bridge who had a successful day afloat adding, spurdog, huss, tope and conger to his species list.

June was another superb month aboard My Way, the fantastic weather helped us sail almost every day with great crews on each trip and on the whole, some superb fishing.


Read more with some superb photos at http://www.goangling.co.uk/2014-June-report.htm

05/2014

Fishing Report by Gethyn Owen on My Way

(Holyhead, Isle of Anglesey)

May 2014 by Gethyn Owen

The Fladen smoothhound challenge, held aboard My Way has grown in size recently.

From humble beginnings, the inaugural event 3 years ago was held during the last bank holiday in May 2011.

Such is the popularity, the fourth Fladen smoothhound challenge held the last week in May 2014 ran for 5 full days and 4 evening trips; fished by a succession of anglers, all keen to bag a 20lb monster aboard My Way.

There is no doubting that Holyhead is a popular venue for for these hard fighting small sharks, with My Way being up there amongst the elite, having boated countless smoothhounds over the years.

Smoothhounds of which more than 25 weighed over the magical 20lb threshold; all of which were weighed in a purposely designed sling and calibrated electronic scales.

The rules of the Challenge are quite simple, catch the heaviest hound aboard My Way!

Generously supported once again by Fladen UK, the day sail had a a 20lb class Nano rod and Warbird reel up for grabs and GO Angling rig pack for second place.

The evening trips winning a GO Angling rig box including a selection of suitable rigs. In addition to all this the angler landing the heaviest hound over all would win an additional Gift Voucher.

Fortunately this year, the weather gods looked down on everyone aboard My Way and allowed for every trip to go ahead. We weighed numerous smoothhounds from potential competition winners to personal bests for many anglers. All together just over 100 and thats without mentioning the many small hounds in the 5 to 8 lb bracket that were quickly released at the side of My Way.

Monday
Thomas 18lb 8oz

Tuesday
Mark 14lb 13oz

Wednesday
Lee 13lb 40z

Thursday
Kev 15lb 9oz

Friday
Giles 19lb 7oz

Top honours went to Claire Harwood, fishing for the first time afloat with her partner Dave. Claire hooked, played and landed the biggest hound of the whole week; a magnificent specimen that weighed 21lb and 12oz.

What a way to start your boat angling career.

Read more at http://www.goangling.co.uk/2014-SmoothieChal-report.htm


The next Smoothhound Challenge is scheduled to run between May 25th and 29th 2015.

Details will be released soon, bookings are being taken already ... don't miss out
View All Fishing Reports
Edit this boat listing
Availability
DECEMBER - 2014

| Su | Mo | Tu | We | Th | Fr | Sa |
| --- | --- | --- | --- | --- | --- | --- |
| 30 | 1 | 2 | 3 | 4 | 5 | 6 |
| 7 | 8 | 9 | 10 | 11 | 12 | 13 |
| 14 | 15 | 16 | 17 | 18 | 19 | 20 |
| 21 | 22 | 23 | 24 | 25 | 26 | 27 |
| 28 | 29 | 30 | 31 | 1 | 2 | 3 |
Color for Fully Booked

Fully Booked

Color for Partially Booked

Partially Booked

Color for Available

Available

Color for Not Available

Not Available

Color for Unspecified

Unspecified
N.B. Not all Skippers keep this diary up-to-date. Always check with skippers before making any plans.
Reviews
Summary:





karl barnard (22/11/2014)

Had a great time aboard my way great laugh and plenty of fish is a too Gethyn is a top notch chap and always willing to help out plenty of tea coffee and sausage butties well worth the 7 hr drive to get there thanks again mate karl see you in the summer

Skippers Reponse: Thanks Karl, was a good ay, a few fish and a few laughs. Glad you enjoyed it, look forward to seeing you guys next year. Geth

Jay Morrow (16/11/2014)

FANTASTIC, As always you put us on the fish, Gethan & Harry couldnt do enough for us! Fishing wise for the middle of November you woudlnt expect much, This wasnt the case! We caught over 8 types of species and with Huss upto 14.6lb you cant go wrong! Fantastic day made to feel welcome (as always) and i cant wait to go again!

Skippers Reponse: Cheers for the Jay, great fun and a good few fish to. That huss was a belter and a first as well :D See you soon thanks.

Jay Morrow (16/11/2014)

FANTASTIC

Skippers Reponse: lol :D thanks again mate, much appreciated.

david hellon (04/08/2014)

Joined My Way for a trip out to the deeps and some drift fishing later.On boarding it was great to see a few familiar experienced anglers whom I'd met on previous trips. Great to see that local lads are returning to My Way as this obviously is testament to the service and quality of fishing provided by Gethyn.As ususal the day was fruitful with most anglers bagging small tope aloads of good quality Huss and some great wrasse which provided me with great sport on a light spinning rod.As ever banter was never ending as was the constant stream of tewa and coffee, cheers again Gethyn, top skipper.

Skippers Reponse: Cheers Dave. Great fun once again. Always helps when you have a good bunch of lads aboard that know and enjoy their fishing so well. See you next week

jack williams (05/08/2014)

Well i spent 2 days afloat on MY WAY charters boat with the skipper Gethyn Owen and have to be honest it was a tad choppy the first day but the fishing was good just a little slow on the drift but at anchor the fishing picked up with loads of huss dogs tope and even a few pouting.All this was at the deeps in the morning and the afternoon was on the drift for wrass and pollock .The second day was drift fishing at first again for wrass and pollock i even has a scorpion fish others had wrass and even an octopuss then we went back out to the deeps after spurdogs tope huss and there were a few spurs caught and some nice tope and some good size pouting so all in all 2 great days with a great skipper and some good company and shed loads of banter and some poor jokes but i would recomend a trip out with gethyn as it is a great day out

Skippers Reponse: Nice Jack, thanks for the appraisal. Agree a good couple days with a some good fishing and a nice bunch of lads. Great to knock off a couple species for the hunt too, especially the spur ;)
View All Reviews
Add A Review