Charter Boat: My Way
Licensed For:
up to 10 passengers
Code Of Practice:
Cat 3 - 20 Miles from any safe haven
Hours:
3hr / 4hr / 5hr / 6hr / 8hr / 9hr / 10hr / 12hr / Multiple Days Trips
Type of Fishing:
Reef, Banks drifting and anchor fishing etc - smoothhound, tope, pollack, wrasse, huss plus many more and also Special Specimen Days And Competitions Arranged
Tackle Available:
Yes - Contact Skipper
Bait Available:
Yes - Contact Skipper
Boat Specification:
32 ft Aquastar, flush deck with ample space for anglers. Full Electronics package Lowrance HDS-8 Sounder with Structure Scan, Lowrance Global Chartplotter, Icom VHF-DSC, Furuno GPS, Koden Radar, Radio, cd, mp3 player & Ipod dock
Facilities:
Toilet And Cooking Facilities - Oven, hob & kettle
Additional Description:
For the very latest & updated daily please copy and paste either of the following links to your browser, or click our website link above

Website: www.goangling.co.uk
Facebook: www.facebook.com/GOAngling


We fish all year round for a variety of differing species, including smoothhound, tope, pollack, gurnards, codling, coalies, wrasse, rays and huss plus many more. My Way can be chartered for both full boat and individual bookings.

My Way is based at Holyhead Marina on the north western tip of the beautiful Isle of Anglesey, North Wales. Our coastal area benefits from a range of mixed grounds with mud, shingle, rock and sand banks all with in reach to offer some excellent and varied fishing. Your charter trip includes tea, coffee, and also a hot snack, plus the My Way galley includes a hob, oven, grill for your use if required, A variety of quality uptide and down tide rods with ABU 7500C3 reels are are available free of charge if needed. The set up comes with 1 end rig and weight.

Holyhead Marina has ample free parking for it's users. Over spill parking can be found on the hill over looking the Marina complex. With My Way on an easy access berth, there is a short walk onto the pontoons with no nusiance ladders or steps to climb along.

Facebook: www.facebook.com/GOAngling
Twiiter: www.twitter.com/GO_Angling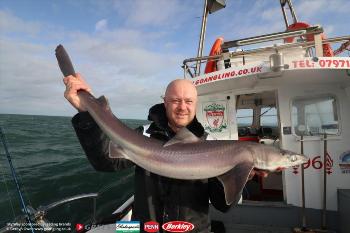 About the Skipper:
Gethyn has been a keen angler all his life, both from the shore and the boat. GO Angling was set up in 2003 and My Way has since prooved to be a very popular vessel on the north Wales coast. Born locally, Gethyn has extensive local knowledge, with over 30years experience in these waters

A qualified Level 2 Angling Coach, Gethyn was a member of the Welsh National Boat Angling Team and has represented Wales in two Home Nations Championships and also one World Championships. The 41st World Boat Angling Championships held in Weymouth, England is where Gethyn finished 9th overall and helped Wales to 4th overall.


Latest Fishing Reports
05/2014

Fishing Report by Gethyn Owen on My Way

(Holyhead, Isle of Anglesey)

May 2014 by Gethyn Owen

The Fladen smoothhound challenge, held aboard My Way has grown in size recently.

From humble beginnings, the inaugural event 3 years ago was held during the last bank holiday in May 2011.

Such is the popularity, the fourth Fladen smoothhound challenge held the last week in May 2014 ran for 5 full days and 4 evening trips; fished by a succession of anglers, all keen to bag a 20lb monster aboard My Way.

There is no doubting that Holyhead is a popular venue for for these hard fighting small sharks, with My Way being up there amongst the elite, having boated countless smoothhounds over the years.

Smoothhounds of which more than 25 weighed over the magical 20lb threshold; all of which were weighed in a purposely designed sling and calibrated electronic scales.

The rules of the Challenge are quite simple, catch the heaviest hound aboard My Way!

Generously supported once again by Fladen UK, the day sail had a a 20lb class Nano rod and Warbird reel up for grabs and GO Angling rig pack for second place.

The evening trips winning a GO Angling rig box including a selection of suitable rigs. In addition to all this the angler landing the heaviest hound over all would win an additional Gift Voucher.

Fortunately this year, the weather gods looked down on everyone aboard My Way and allowed for every trip to go ahead. We weighed numerous smoothhounds from potential competition winners to personal bests for many anglers. All together just over 100 and thats without mentioning the many small hounds in the 5 to 8 lb bracket that were quickly released at the side of My Way.

Monday
Thomas 18lb 8oz

Tuesday
Mark 14lb 13oz

Wednesday
Lee 13lb 40z

Thursday
Kev 15lb 9oz

Friday
Giles 19lb 7oz

Top honours went to Claire Harwood, fishing for the first time afloat with her partner Dave. Claire hooked, played and landed the biggest hound of the whole week; a magnificent specimen that weighed 21lb and 12oz.

What a way to start your boat angling career.

Read more at http://www.goangling.co.uk/2014-SmoothieChal-report.htm


The next Smoothhound Challenge is scheduled to run between May 25th and 29th 2015.

Details will be released soon, bookings are being taken already ... don't miss out

04/2014

Fishing Report by Gethyn Owen on My Way

(Holyhead, Isle of Anglesey)

Apr 2014 by Gethyn Owen

Early April and the weather played havoc with our scheduled days afloat. This year we cancelled the vast majority of trips during the first two weeks of April, with our first day afloat not coming until Friday 11th.

This day was planned for Holyhead Deep, following our last day in the Deep during the previous set of neap tides in March, hopes were high for a good number of double figure spurs. We started off at anchor with everyone pulling in regular quantities of dogfish and small whiting or the odd codling.
Once the tide had eased slightly we continued our day on the drift, looking to help a few of the guys to first pollack and coalfish species for their 2014 hunts. Thankfully the fish were obliging and we managed to bag a few around the boat; nothing big, with the vast majority all under 2lb in weight.


We made our way to the deeps and decided to have a little play on one of the wrecks on our way. A little early on the calender for our part of the UK, but always worth a go when you're passing. Sadly, nothing doing, not even one small take this time around. Anchored in the deeps, photos from the last trip out here in everyones mind but the fishing just didn't get going. We managed a few good huss, and also a handful of spurs, but nothing of any great size.

Gareth P managed his first ever spurdog, despite being only a few pound in weight, a first is always a great achievement. Another My Way regular, Tojo, also managed to land a few spurdogs, but again nothing of any real size.

The following couple days we were stuck tight inshore with strong southerly winds taking control of the seas around Holyhead. Anglers still managed to bag plenty of fish including a decent variety with dogs and huss playing a large part of every day. Together with codling, whiting and a splattering of other species.


Each year during the Easter break we run Introduction trips, where children and adult novices alike get to sample boat fishing at a reduced cost. Our first day was met with swell left over from the weekend, along with the remnants of a strong NW breeze. Despite this the youngsters made the most of their introduction to angling trip. Restricted travel, but we still caught plenty of dogfish along with a few huss, codling and a nice ling. Great fun and some brilliant smiles through the day. You can read more on this trip and the following Introduction trips in the June 2014 issue of Boat Fishing Monthly.

With spring tides and breezy weather, we spent the next week fishing in and around Holyhead Bay. All crews managed some good fishing, again hampered by very dirty water, with many dogfish coming over the side of My Way, with some anglers fishing for them in quantity, the dogs appeared in 1's, 2's, and 3's!

Changing tact slightly and adjusting rigs and baits, species aboard My Way included the regulars such as huss, whiting, dabs and codling abut also a good number of small ling, a good few thornies, along with more pollack and coalfish and also a lost spurdog!

During one conversation with Harry, we spoke of the possibilty of seeing a new species aboard My Way during 2014. In recent years we had been fortunate enough to see a few rare species, tadpole fish, topknots and also an angler fish and streaked gurnard. Couple days later, what happens along, a lumpsucker! An amazing looking creature.

As the last week in April drew nearer, the tides started to drop and again we turned our attentions to fishing the deeper water 8miles off the coast of Anglesey. The unpredictability of the month to date can be clearly seen from 2 trips, to the same mark that week.

Our first day provided the guys with some great early season fishing, with a good number of spurdogs into double figures, huss, conger and also the first tope of the year, a well conditioned long male weighing in at 26lb.

Couple days later, we were back out there, same mark, similar tide & weather conditions! Sadly though the fish never read this particular script. We managed to pull in only 1 tope, a few small spurdogs and couple huss. With the exception of a small conger at then end, but thankfully a first for young Rhys, the remainder of the catch was dogfish with the odd whiting!

Back inshore for the last few trips of the month, with a good number of pollack and coalfish once again on the drift with a reliable mixed bag at anchor.
Waters are showing signs of clearing up nicely and with both the air and sea temperatures on the rise, crabs are peeling and many more species are moving into our waters. Our focus will soon be turning to the long awaited return of the smoothhounds, a firm favourite with many of our crews.


More photos at http://www.goangling.co.uk/2014-April-report-01.htm

03/2014

Fishing Report by Gethyn Owen on My Way

(Holyhead, Isle of Anglesey)

Mar 2014 by Gethyn Owen

Our 2nd trip of 2014 was again hampered by blustery conditions, with 20mph winds gusting more before decreasing late in the day, our initial journey out to Holyhead Deep was cancelled in favour of the safety of Holyhead Bay and a spot of general fishing and hopefully knocking a few species off peoples lists for early season.

Our first anchor was to catch the end of the ebb tide on the mussel beds, before the tide picked up too much to fish. Fortunately we were straight into fish, well dogfish that is!

Dogfish .... the ever present scourge of many anglers but the blank savers of others. March in Holyhead, you're going to catch a stupidly enormous amount of dogfish along with other species, either way, it can be enjoyed! 1, 2 or 3 at a time, test yourself!

Once the tide picked up, controlling rigs became hard work without excessively large leads, a few tangles started to create unrest amongst the natives .... so we made a move inshore!

The move worked well for us as everyone was again into a good few fish. Mainstay being dogfish with a sprinkling of small codling, whiting and a few huss to 4lb. Wrexham rod Paul Brooks, on his 2nd outing of 2014, cheerd loudly as he swung a 3 bearded rocking aboard My Way. The 3 bearded variety are not as plentiful as the mini species shore or 5 bearded rocking, so the 3 was certainly going to be a superb addition to his 2014 hunt.

The remainder of the day fished in a similar fashion – plenty of smaller species keeping the crew busy .... and sausages, bacon and beans!

We did try on the drift once again for the last 45mins, however we merely hooked into the rocks. Sadly the coloured water seriously hampering the influx of larger whiting, pollack and coalies normally associated with this time of year. With a nice settled spell ahead of us this week, the waters should clear nicely and help bring plenty of fish inshore and more importantly on the feed.

Another good day today, yes agreed fishing was not exceptional, but that's our lot early season, made slightly harder given the weather conditions of late. Thankfully with a great crowd, you can have a fabulous time afloat – with catching and laughing in equal amounts.

Read more at http://www.goangling.co.uk/2014-March-report-02

This report was brought to you courtesy of an actual day afloat ... and honesty ...

03/2014

Fishing Report by Gethyn Owen on My Way

(Holyhead, Isle of Anglesey)

Mar 2014 by Gethyn Owen

March 01st, St Davids day saw My Way set sail for the first time in 2014.

Our original first sail was two weeks earlier, however with the weather remaining so bad I took the decision to leave My Way in the yard, safe and sound whilst winds up to 100mph pounded much of the UK. It's fair to say the weather has been atrocious for a very long time now, as eager and excited as I was to get afloat and fishing again I was also nervous at exactly what our day may deliver.

Aboard My Way I was joined by 5 regulars, who have become good friends over the years and also 4 new guys to My Way, all of whom were experienced boat anglers, a nice mix of crew who undoubtedly could pull out a few fish when needed. A reasonable forecast for the most of the day, picking up to a force 6 towards the end and together with a 32ft tide our fishing was restricted to within Holyhead Bay.

First off was a drift in search of a few pollack, coalies and maybe some herring. We had a perfect drift, right alongside our rock mark with the breeze slowing the boat down nicely at the end of the flooding tide. However 40mins of trying and our efforts returned a big fat zero, not even a bite for the efforts of all on board.

The thick brown water wasn't helping the situation to be honest, but never the less we should have had a few fish or bites even. A change of tactics was required and I decided to moved off to the mussel beds to anchor up, a little early for a 32ft tide, but this was getting critical now!Banter and a few risky jokes wasn't enough, we needed fish.

Upon anchoring, we had a good flow of tide and we all eagerly waited the fish bite. A few false knocks and over exuberant 'strikes' it was 15minutes before the first fish came to the boat. Using his rod and reel with effortless perfection local angler Dave, slowly retrieved his catch whilst everyone else stood in awe at his angling brilliance. After what seemed like an eternity it was with great relief to see Dave lift into My Way the best looking ….... 8oz whiting I'd ever seen before.

Rock N Roll, we're back on the money ….

OK, not that exciting, but as most the guys concluded, it's March, weather's fine and we're out. The fishing remained slow on this mark, a few whiting, mainly pin size and dogfish.
The odd double shot coming over, the first to Cheshire angler Pete Minns, who insisted on a photograph for his scrap book. Brooksy with a little help from his friends soon witnessed a dogfish on his rod.

As the tide started to gather pace and making it uncomfortable to fish anymore, we upped anchor and I decided on a move further inshore and try for a few rays. We ended the last few trips of 2013 with an abundance of rays and despite that being a few months back, late Feb and early March is when we start the new influx of thornies and the odd spotted into the area. Sadly this move didn't work out, dogfish and a solitary dab were all that we saw. We did though enjoy lunch, a big fat breakfast butty is always a good call when afloat. More so on a cold early spring day and naturaslly washed down with plenty of tea or coffee.

So anchor up again, this time to a muddy area around 1 mile outside the harbour. The tide should have slowed down sufficient to allow a fairly reasonable fish for all aboard. This mark soon had everyone who tried pulling out a few fish. The vast majority being dogfish and better whiting. We managed a few more double shots, of dogs and whiting but no triples. The dog or whiting trend was broken on a few occasions with small bull huss and also a nice ling of a few lb. Not a sight you see often when anchored up on a muddy piece of ground.

In all it was a great day afloat, fishing was slow, can be for the time of year.

But the day passed quickly. A few fish, a few laughs with friends all together with food and drink made for an enjoyable return to being afloat.Fingers crossed now that we are over the worst of the weather and the UK angling industry can get back on track.

2013 was a great year aboard My Way however I'm looking forward to better times through 2014.
Looking forward to seeing many of you through the year.

Thanks

Copy and paste the following link into your browser for the report and photographs
http://www.goangling.co.uk/2014-March-report.htm

09/2013

Fishing Report by Gethyn Owen on My Way

(Holyhead, Isle of Anglesey)

Sep 2013 by Gethyn Owen

With the last week of August producing some great fishing in the deeps, it was hoped that things would continue in similar fashion with next set of small tides in early September. Sadly the weather decided to play its part and curtailed our movements offshore. Thankfully the fishing was lively inshore, with a general species hunt being the order for a good few days.

Starting September we were joined once more by the Skegness Pier Angling Club, a great bunch of male and female anglers all eager to test out the varied fishing on offer from our coast. The wind stopped play on the Saturday, leaving a few to brave the elements on Holyhead Breakwater, but thankfully settled down for Sunday and despite blustery conditions we were able to have a good fish both at anchor and whilst drifting.

Despite a valiant effort from the men, it's fair to say that the ladies came up trumps with a variety of species on the day including plenty of Gurnard at anchor and both Ballan and Cuckoo wrasse on the drift. Sadly the majority of September was littered with wind, all directions and speeds, leaving us grabbing the odd day here and there.

During the second week we did manage to sneak a day in the deeps and most of the anglers were rewarded in pollack to 5lb in weight. Not monsters, but quality fishing none the less and enjoyed by everyone catching.

Towards the last week of the month we started to see some settled weather, and with the addition of neap tides from the Tuesday we had high hopes for some good fishing.

Inshore for the penultimate weekend of the month we were treated to an abundance of fish again with gurnards once again making regular appearances along with the ever present doggies, huss and whiting etc. Drifting the inshore rocks the pollack and wrasse fishing had fish averaging 2 to 3lb regularly coming to the boat; some pollack staying aboard whilst many others returned for another day.

Best of the few days inshore fell to the charm of My Way regular Carl 'Monty' Burns whilst fishing a slack water over Holyhead's mussel beds. As the tide started to run once again, Carl changed tactics to fish a whole whiting he had caught earlier on a large hook and 150lb running ledger.

As the tide strength reached un-fishable, the ratchet from Carl's reel screamed off and his 12lb class BeastMaster arched over towards the water …. Tope on! This tope ran downtide, using the added momentum of tide to nearly spool Carl's reel as he delicately tried to apply pressure and slow the tope down; without snapping off!

After what seemed an eternity, Carl managed to turn the shark and started to make some ground back, only for the tope to take turn after turn back down the tide. 40 minutes later, a magnificent looking tope finally broke the surface and into the net of My Way, a bent net that was showing signs of some great fishing in 2013. Quickly weighed in the sling Monty had his biggest tope aboard My Way a very impressive 45lb specimen! A few photographs later she was returned carefully.

This was a fishing frenzy for Carl, with a further 2 days booked aboard My Way and both of them looking to be a full on assault in Holyhead Deep for more tope, huss and hopefully a few pollack.

The 2nd day of Carl's adventure we were joined by father and son Malcolm and Dave Shepherd form the midlands. Puddle anglers at heart, they wanted to experience the 'other' side of fishing and take in some of the quality sport that was being reflected in the My Way galleries. Setting sail to fish the deeps with novice sea anglers can be a little daunting, but I really needn't have worried. Explaining how the sidewinders needed to work through the water with the drop and retrieve scenario over the wreck, Malcolm and Dave took to this like, erm, ducks to water! On the first drift, Dave hooked straight into a pollack, followed closely by Malcolm, who then went on to catch on all subsequent drifts.

Poor Monty not having such a good time, however a quick change of lure and the next drift he pulled out a pb pollack of just under 9lb that proved also to be the best of the day. During the anchor work everyone managed to bag a tope or two each. Sadly nothing as big as what Carl had the previous day but for our intrepid fresh water duo, 20lb tope form 200ft of water, 10miles out was indeed great fun!
.

Sadly increased wind overnight left the following morning lumpy, so a day inshore, however with a mass of angling talent aboard My Way it was always going to be a good laugh catching a variety of species. Tompot Blenny's are not rare, but neither are they a regular catch, this day however we managed to land 7 on the boat, from a mark not known for throwing up too many mini species!

The follow day with more settled conditions it was back off to the deeps with a first stop on the wreck. Despite my suggestions of heavier leads for the 200ft and 1.4knot drift and also a change of lure (plenty available aboard My Way) the crew decided they knew best. We caught 1 pollack! Thankfully the anchor work made up slightly, but the comment of "Thought the drifting would have been better" really did annoy me!

So moving on swiftly, back out the following day and onto the wreck, we had a fair few pollack again, amazing difference a change of crew can make. Sadly no real size to them, but a good number around the 4lb mark making it home with the anglers for a nice fresh fish supper. At anchor, the deeps didn't disappoint. Tope and huss coming aboard fairly regular, with 2 guys catching their first ever tope, Jack first off and then Kris, after failing to connect in previous trips afloat managing to catch a couple during the day. Preston Angler Richard Priest showed his skills with a few double figure tope and also 2 great tope, a 20lb and cool 35lb Deeps tope!

One great feeling aboard My Way is when regular anglers become friends and take it upon themselves to bring offerings for everyone on board. You often see shared bait, rigs or lures being handed out to anglers slow on catching, not just club bookings neither, but individual days.

Besides all that there is also the Floating Café tag My Way often receives, and why not! Part of a good day is good food. The last trip I spoke of is perfect example, local rod Dave from Benllech had been busy in the kitchen watching his wife Karen preparing some fantastic homemade shepherds pies for everyone to enjoy. Brooksy had popped into the bakery the previous evening and secured a bag full of cheese covered rolls for the group, whilst Jacks wife Claire had been baking and treated us all to a most delicious Victoria Sponge.

I love my job!

Read more at http://www.goangling.co.uk/Report-2013-September.htm

Facebook: www.facebook.com/GOAngling
View All Fishing Reports
Edit this boat listing
Availability
JULY - 2014

| Su | Mo | Tu | We | Th | Fr | Sa |
| --- | --- | --- | --- | --- | --- | --- |
| 29 | 30 | 1 | 2 | 3 | 4 | 5 |
| 6 | 7 | 8 | 9 | 10 | 11 | 12 |
| 13 | 14 | 15 | 16 | 17 | 18 | 19 |
| 20 | 21 | 22 | 23 | 24 | 25 | 26 |
| 27 | 28 | 29 | 30 | 31 | 1 | 2 |
Color for Fully Booked

Fully Booked

Color for Partially Booked

Partially Booked

Color for Available

Available

Color for Not Available

Not Available

Color for Unspecified

Unspecified
N.B. Not all Skippers keep this diary up-to-date. Always check with skippers before making any plans.
Reviews
Summary:





Alan Fawcett (21/07/2014)

wow, i think that's just about the best word to describe the day, we were all on the fish all day, i've never seen so many fish come out in a day it was amazing and only made better by the cheerful old codger Gethyn and his always smiling cabin boy Harry....lads i really can't thank you enough for such a fantastic day..in the words of Arnie "I'll be back" and i'm sure all my co-accused will as well

Skippers Reponse: Cheers for the review Al, a few good fish, some great food, delicious cake and a joke or two ... great fun indeed & we have the videos to prove it!!! See you next month

Richard O'Neill (01/07/2014)

A great day out. Excellent skippering kept us on the fish all day. Particularly impressed with the amount and quality of the bait provided. Good fun and banter all trip.

Skippers Reponse: Thanks Rich, great fun and certainly some good fish. Cheers on the bait too, it's what the fish sees first. No point having £500 rod n reel if the baits rank :D see you soon Geth

Jay Morrow (21/06/2014)

BEST ON THE ISLAND, Cracking day Saturday the brews kept flowing and the fish didnt stop, codling,wrasse,pollock,whiting,dogs and plenty of big huss, plenty of hounds caught on the boat! The 3 of us had a fantastic day and was well looked after couldnt fault it, 10/10 Thanks Geth, Jay Morrow

Skippers Reponse: Very kind mate, thank you. Yeah a good mixed bag, I like that kind of fishing. You just never know . See you soon, Geth

Jay Morrow (21/06/2014)

BEST ON THE ISLAND

Skippers Reponse: Ta mate, much appreciate aired. Good laugh and a few good fish. See you soon. Geth

kevin smith (22/04/2014)

hi gethyn just like to say thnx for a great experience on board my way on april22nd all the lads thorouly enjoyed themselves and great catches too including tope conger spur dog bull huss etc and thnx for the cups of tea and sausage butties which went down at treat and a big thnx to your companion very helpfull at all times especially with his hook disgorger cheers kev and the lads

Skippers Reponse: Hi Kev, thanks for that. Was a good time in the deeps with some nice fish caught between the lads. Yes Harry is great with the disgorger. Look forward to seeing you again. thanks Gethyn
View All Reviews
Add A Review