Charter Boat: My Way
Licensed For:
up to 10 passengers
Code Of Practice:
Cat 3 - 20 Miles from any safe haven
Hours:
3hr / 4hr / 5hr / 6hr / 8hr / 9hr / 10hr / 12hr / Multiple Days Trips
Type of Fishing:
Reef, Banks drifting and anchor fishing etc - smoothhound, tope, pollack, wrasse, huss plus many more and also Special Specimen Days And Competitions Arranged
Tackle Available:
Yes - Contact Skipper
Bait Available:
Yes - Contact Skipper
Boat Specification:
32 ft Aquastar, flush deck with ample space for anglers. Full Electronics package Lowrance HDS-8 Sounder with Structure Scan, Lowrance Global Chartplotter, Icom VHF-DSC, Furuno GPS, Koden Radar, Radio, cd, mp3 player & Ipod dock
Facilities:
Toilet And Cooking Facilities - Oven, hob & kettle
Additional Description:
For the very latest & updated daily please copy and paste either of the following links to your browser, or click our website link above

Website: www.goangling.co.uk
Facebook: www.facebook.com/GOAngling


We fish all year round for a variety of differing species, including smoothhound, tope, pollack, gurnards, codling, coalies, wrasse, rays and huss plus many more. My Way can be chartered for both full boat and individual bookings.

My Way is based at Holyhead Marina on the north western tip of the beautiful Isle of Anglesey, North Wales. Our coastal area benefits from a range of mixed grounds with mud, shingle, rock and sand banks all with in reach to offer some excellent and varied fishing. Your charter trip includes tea, coffee, and also a hot snack, plus the My Way galley includes a hob, oven, grill for your use if required, A variety of quality uptide and down tide rods with ABU 7500C3 reels are are available free of charge if needed. The set up comes with 1 end rig and weight.

Holyhead Marina has ample free parking for it's users. Over spill parking can be found on the hill over looking the Marina complex. With My Way on an easy access berth, there is a short walk onto the pontoons with no nusiance ladders or steps to climb along.

Facebook: www.facebook.com/GOAngling
Twiiter: www.twitter.com/GO_Angling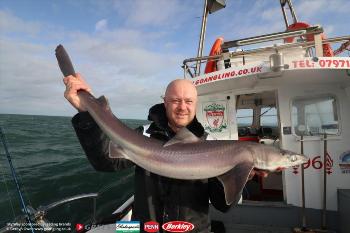 About the Skipper:
Gethyn has been a keen angler all his life, both from the shore and the boat. GO Angling was set up in 2003 and My Way has since prooved to be a very popular vessel on the north Wales coast. Born locally, Gethyn has extensive local knowledge, with over 30years experience in these waters

A qualified Level 2 Angling Coach, Gethyn was a member of the Welsh National Boat Angling Team and has represented Wales in two Home Nations Championships and also one World Championships. The 41st World Boat Angling Championships held in Weymouth, England is where Gethyn finished 9th overall and helped Wales to 4th overall.


Latest Fishing Reports
10/2015

Fishing Report by Gethyn Owen on My Way

(Holyhead, Isle of Anglesey)

Oct 2015 by Gethyn Owen

Our first trips in October saw us fishing around Holyhead bay for a selection of species. One day with a great mix of novice and experienced anglers we had a species and fun filled day. After landing plenty of whiting on the big spring tide, we hooked up larger traces and concentrated on bigger species.

With everyone catching a good number of huss, it was Ned who managed to come out on top during his first trip with a cracking inshore tope. The tope screamed line from Neds reel and gave him a fantastic fight for an awesome introduction to angling.

The drifting around the coast through October has been good fun, plenty of wrasse and pollack, sadly though the latter despite touching 4 to 5 lb not quite reaching the 8lbrs of previous seasons. It's been a funny season when drifting, all or nothing on some days.

Light tackle drifting in shallow water, awesome fun

As previously mentioned, the whiting have been in abundance. triple shots on most drops to general scratch rigs, with some of the whiting touching 1 1/2lb and a great sized for the pot. Whiting also make an exceptional bait for a host of larger species, huss, ray and spurdog in particular all love a chunk of whiting to chew on. Rays turning up on a few marks in Trearddur Bay during October

Wirral based club OXTON-RAFA had a great tripped October, sticking inshore plenty of species once again, with some anglers managing to snare a few firsts and new huss pb's along the way. With a mixed bag of LFC fans, Toffees, joined by a Leeds and a ManUre fan, you can guess it was laugh a minute with far too many unprintable comments being made, lol.

When joined by angling double act Thrussell & Thrussell, the cameras would be out in full force. Mike snr taking a snap of Mike jnr with friend Tom Wain on a blustery inshore day

The remainder of the month followed in a similar fashion. Sadly weather only allowed us travel to Holyhead Deep in search of the early Autumn spurdogs on one occasion, but we never missed out with plenty of species inshore and some extremely good drifting and also huss fishing at anchor.

Recent updates to our website include the
2016 Boat Availability http://www.goangling.co.uk/availability.php
2016 Individual Spaces http://www.goangling.co.uk/individuals.php

The individual spaces hand-picked by us to offer some of the best fishing that is available ... weather permitting of course

Also announced the 2016 smoothhound Challenge dates, with spaces already filling book now to avoid disappointment.

09/2015

Fishing Report by Gethyn Owen on My Way

(Holyhead, Isle of Anglesey)

Sep 2015 by Gethyn Owen

September was another great month to get afloat aboard My Way. Weather permitting we had some great fun fishing both inshore and off towards a selection of areas around Holyhead Deep.

Our first day afloat in September had the weather restrict play and keep us inshore, a great mixed day was still had with a selection of species on the drift and at anchor with Anthony pulling in his best pollack, topping the scales at just short of 6lb. Many smaller pollack and an assortment of different wrasse were also caught with bull huss helping out in the double figure stakes.

The next few days we had weather and tides to head off to Holyhead Deep, September in the Deeps is not as predictable as other months. Ideally tope, spurs and huss all in good number is what we're looking for.

This time thought the tope were thin on the ground, we managed to catch a few over our time in Holyhead Deep with Luke and Keith both catching 30lb plus tope for their first ever.

The inshore fishing is always hot this time of year, I particularly enjoy drifting under the rocks using light tackle for pollack and wrasse with the chances of codling, mackerel, herring and others. The shallow water and light leads used, help offer some great sport from the many fish available around our coastline. Colours and sizes of wrasse in particular vary greatly, and you never quite know what you're going to see.

Sadly the wrasse appear to be a little smaller than what we would normally see for September, expecting fish to be reaching the 4 to 5lb mark on a regular basis, I think the majority have averaged 2 to 3 lb with very few going over 4lb, however, still great sporting fun.

Scattered amongst hee breezy days were a good number of days with settled seas and sunshine. The inshore fishing was a great mixed bag of smaller species to double figure beauties such as huss, rays and tope.

Earlier we mentioned the ballan wrasse, when drifting many anglers are looking for a cuckoo wrasse, possibly the most colourful species of fish we have around British coast. Although obviously one species, with the female and male cuckoo wrasse looking strikingly different in colour, a tick against both is often a requirement in any fishing calendar.

08/2015

Fishing Report by Gethyn Owen on My Way

(Holyhead, Isle of Anglesey)

Aug 2015 by Gethyn Owen

August was another month of mixed fortunes aboard My Way, maybe 'Mixed Fortunes' will be the title of our 2015 review, temperamental weather once again playing a big part in the whole month. Still, with a fully booked boat, when the weather allowed we managed to sail whenever possible and locate some sport for our crews.

A few days into the month and the weather settled nicely for us to take a trip out to Holyhead Deep, sights set firmly on spurdogs and maybe a few tope. We were't disappointed with a good number of spurs and tope coming to the boat, however the vast majority on the small side with the bulk of the double figure fish coming from the big huss that frequent certain areas of the Deep.

This day in the Deep was followed by a few days inshore. Strong winds canceling any thoughts off offshore spurs and tope. We settled for inshore species hunting, with plenty of small pollack and varies types of wrasse being caught whilst drifting around the breakwater and Rocky Coast areas of our bay.

At anchor, plenty of species including some nice fat summer whiting, for late summer and well in to autumn, tope move inshore and gorge themselves on the whiting. So it is always chancing a big bait in Holyhead Bay.

My Way regular Mark Dolben was on the case, having landed his first tope with us a couple years ago from this same spot, he was only too keen to get a bait in the water. After rustling up a few whiting for bait, Mark was soon over the side with a ledgered whiting on 150b mono.

Aug 10th was a gloomy forecast, high winds and miserable rain to start the day, followed by bright sunshine and slightly calmer seas. All the crew were regulars and we chatted through the options, fish under the rocks or knock it on the head. The former was chosen, after all we had pollack, wrasse, coalies, coddling and more to entertain us on the drift and various others at anchor.

The forecast started to improve towards the end of the neap tides and we were going to grab a couple more days exploring Holyhead Deep. Inshore the fishing was enjoyable yet again, with plenty of wrasse and small pollack keeping us busy.

Species hunting has become very popular over recent years with various clubs or web based forums & Facebook Groups running competitions for anglers to see who can catch the most species. We enjoy species hunting too, changing rigs, baits, tactics to locate various types of fish, it helps hone your skills in to becoming a better angler. Learning more on fish habitats and feeding patterns can help us all catch more, it's not simply about dangling a bait over the side of a boat or off the rocks.
However it can also be frustrating, as Pete found out on one particular day. Needing a spotted ray, he watched a good few being caught around him, along with thornbacks however despite all the right rigs and bait, the spotted were avoiding him … we didn't laugh!

In the deeps the fishing didn't disappoint, spurdogs, tope and big huss. Dave, above, was rewarded in the Deeps for his perseverance with a big bait when this lovely tope took him on a 30minute battle in 200ft of water.

On our way out to anchor in Holyhead Deep we occasionally stop over a couple wrecks air rock marks in search of pollack, we managed to catch a good few in a few drifts one day, with Warren taking a fair few home to satisfy the fish lovers during the next days summertime BBQ

As the tides started to climb or the weather restricted pay, it was inshore fishing again and fortunately a good mixed bag of species landed by the majority of anglers.

Already reported in our Pure Fishing Blog, Dave Craddock took part in the smoothhound challenge last May , landing a cracking hound of 23b, winning himself a Shakespeare Agility 12lb rod and Penn Squall 15 reel.
That rod and reel had their first outing, the first thing landed on his challenge prize … a belting inshore tope of 38lb!

A few more inshore days followed then towards the end of the month we managed to steal another day out in the Deep, thanks to the weather settling down for 24hrs. 6 of the 8 on board had never caught a tope before and had all requested just one thing from the trip! No pressure then!

Fortunately, the weather and tope gods looked kindly on us that day, with some excellent inshore fishing for a variety of species, including fresh pollack and mackerel of bait, followed by a venture out to the deeps for tope action.

5 from the 6, managed to bag a tope. Nothing too big, but plenty big enough to put a bend in the rod and give the anglers a superb first fight in 175ft of Holyhead Deep sea. Sadly some really big tope were also lost on that day, a couple screaming line form the reels only to bite clean through 150 and 200b monos.

07/2015

Fishing Report by Gethyn Owen on My Way

(Holyhead, Isle of Anglesey)

Jul 2015 by Gethyn Owen

July kicked off aboard My Way with some superb starry smoothhound action for our anglers, with many not only recording their first hounds, but manageing double figures including a 20lber for Cheshire angler Steve Bodey and one that fell a couple ounces short for visiting Irish rod, Cormac Burke

Along with the hounds a good mixed bag was boated that day with some big huss and colourful cuckoo wrasse posing for the cameras.

Sadly the weather for the first couple weeks of July played hardball with us and despite a full diary, we managed to sail on only a handful of days. Remaining inshore with the temperamental forecast, we still managed to bag a good variety of species for those afloat with us, including hounds, rays and some nice pollack and wrasse whilst drifting under the rocks.

By the middle of the month, the winds started to ease for us; fortunately this coincided with some neap tides. On 14th, we had a run around the coast into Trearddur bay, drift fishing along the way and then anchoring up in the bay for a mixed bag of species
Our thoughts set firmly on the small journey in some slightly deeper water. Opting not to travel right out to Holyhead Deep we anchored up that afternoon on a patch of mud that contained a good variety of more predatory species such as spurs and tope.

We weren't disappointed, all anglers aboard recoding numerous spurdogs with the vast majority well into double figures. A couple days in Holyhead Deep is good for the soul, just wish the weather Gods would be more considerate.

Fortunes varied the following week, with the weather once again remaining unsettled. Despite being unable to travel as far as wished at times, working around the weather and tides we still managed some superb fishing on most days, with the odd few proving to be a struggle despite our very best efforts.

Wrexham based angler Meilir, was desperate to catch his first tope, with the strong winds scuppering our travel to Holyhead Deep had resigned himself to failure on one particular day. A glimmer of hope was offered when anchoring on the mussel beds, this time of year tope moves in and the possibility of capture is always there. Lady luck was shining down this time around as Meilir bagged a low double figure tope on his first attempt.

Despite trying conditions in this year of obscene weather, we have had some fantastic days afloat, enjoyed with some great anglers.

More photographs from July please visit our website www.gangling.co.uk

14/07/2015

Fishing Report by Stephen Scott on My Way

(Holyhead, Isle of Anglesey)

14 Jul 2015 by Stephen Scott

Booked a days fishing on the fishing boat , My Way with skipper Gethyn owen after reading all the good reports about him. I whould just like to say the reports were 5 STAR . From the moment i arrived on the boat till the time i got of he looked after us . He put us on the fish when needed plenty tea & coffee + plus great grub. Plenty of laughs / photos & helped us all day when needed. A great day out hope to fish with you again many thanks. STEVE.
View All Fishing Reports
Edit this boat listing
Availability
NOVEMBER - 2015

| Su | Mo | Tu | We | Th | Fr | Sa |
| --- | --- | --- | --- | --- | --- | --- |
| 1 | 2 | 3 | 4 | 5 | 6 | 7 |
| 8 | 9 | 10 | 11 | 12 | 13 | 14 |
| 15 | 16 | 17 | 18 | 19 | 20 | 21 |
| 22 | 23 | 24 | 25 | 26 | 27 | 28 |
| 29 | 30 | 1 | 2 | 3 | 4 | 5 |
Color for Fully Booked

Fully Booked

Color for Partially Booked

Partially Booked

Color for Available

Available

Color for Not Available

Not Available

Color for Unspecified

Unspecified
N.B. Not all Skippers keep this diary up-to-date. Always check with skippers before making any plans. Last calendar update: 22-Nov-2015
Reviews
Summary:





Peter Jones (19/09/2015)

Gethyn, thanks for a brilliant days fishing! The atmosphere on the boat was great, the help and advice from you and Mark much appreciated and one fish after another made the day. Thanks and we'll see you again. Jones bros

Skippers Reponse: Hi Peter, thank you for he review. Glad you guys enjoyed the day and also managed a few pollack and whiting for supper. See you soon

IAN WILSON (24/08/2015)

This was our first time out with Gethyn, we were what you would call tourist sea anglers. I spoke with Gethyn before the trip, explaining my son would like to catch a tope, he advised me to book a particular date. From the moment we arrived, he was very friendly, welcoming us on to his boat. He was very clear in his instructions on showing us what to do with the type of fishing we would be doing. He was always there to support us, constantly encouraging my son, who as always outfished me.Gethyn explained about the different types of fish that were caught. There was a good atmosphere on the trip, with tea and a snack. Would THOROUGHLY recommend a trip out with him and look forward to another trip in the future.

Skippers Reponse: Thanks for the review Ian, it was a great day, the young man fished extremely well for a host of different species, including his first tope. Really pleased for him. See you both again soon, thanks

Mark Dolben (19/06/2015)

Awesome days fishing aboard Myway 19/6/2015 smooth hounds were the target of the day as part of Myways smooth hound challenge competition and as always we were not disappointed with Gethyn the skipper managing to put us on some fearnominal fishing with well over 30 smooth hounds landed on the day many of them into double figures and a new PB of 20lb4oz for myself Gethyn informed me that my fish was the third 20lb+ hound to be landed aboard Myway in the last two days truly exceptional and must rate as some of the best smooth hound fishing available in the UK! As always Gethyn made sure everyone had a good day by providing a constant supply of tea coffee and sausage sandwiches as well as helpful tips and information on tackle we were using bait presentation and rigs making sure the guys that had never tried this type of fishing before got the best out of there day afloat as I have said before I would highly recommend a trip abroad Myway I had an absolutely fantastic day and to top it off I was lucky enough to landed not only a new PB but the biggest hound of the day winning a brand new rod and reel kindly donated by Gethyn himself and I would like to thank him very much and I can't wait till the next time

Skippers Reponse: Awesome Mark, thank you for the very kind words. Great fun and what a catch! Still time to smash another PB! Cheers Geth

Chris Firth (15/06/2015)

Nice boat, great skipper and good craic what more can you ask for. After doing a lot of cod bashing in the north east and owning a small boat myself I was dubious of going back to charters.I should have done it years ago. From the first contact with Gethyn he was helpful and you could tell he had enthusiasm and knowledge for angling. I explained my situation and that I wanted to learn the art of sea fishing for species instead of ripping for cod. Gethyn sorted my bait lent me some lighter gear and sorted my rigs for the type of fishing. He showed me how to present my bait and explained how to handle my fish and a bit about the fish themselves. With all the help and cups of tea I managed to boat my first doggie, Huss and smooth hound. I will be back for more. Thanks Gethyn.

Skippers Reponse: Hi Chris, thank you for the review, was a good day and glad we managed to help out with our fishing styles over here on the west coast. Look forward to July and we can go for more, thanks Geth

karl barnard (22/11/2014)

Had a great time aboard my way great laugh and plenty of fish is a too Gethyn is a top notch chap and always willing to help out plenty of tea coffee and sausage butties well worth the 7 hr drive to get there thanks again mate karl see you in the summer

Skippers Reponse: Thanks Karl, was a good ay, a few fish and a few laughs. Glad you enjoyed it, look forward to seeing you guys next year. Geth
View All Reviews
Add A Review