Charter Boat: My Way
Licensed For:
up to 10 passengers
Code Of Practice:
Cat 3 - 20 Miles from any safe haven
Hours:
3hr / 4hr / 5hr / 6hr / 8hr / 9hr / 10hr / 12hr / Multiple Days Trips
Type of Fishing:
Reef, Banks drifting and anchor fishing etc - smoothhound, tope, pollack, wrasse, huss plus many more and also Special Specimen Days And Competitions Arranged
Tackle Available:
Yes - Contact Skipper
Bait Available:
Yes - Contact Skipper
Boat Specification:
32 ft Aquastar, flush deck with ample space for anglers. Full Electronics package Lowrance HDS-8 Sounder with Structure Scan, Lowrance Global Chartplotter, Icom VHF-DSC, Furuno GPS, Koden Radar, Radio, cd, mp3 player & Ipod dock
Facilities:
Toilet And Cooking Facilities - Oven, hob & kettle
Additional Description:
For the very latest & updated daily please copy and paste either of the following links to your browser, or click our website link above

Website: www.goangling.co.uk
Facebook: www.facebook.com/GOAngling


We fish all year round for a variety of differing species, including smoothhound, tope, pollack, gurnards, codling, coalies, wrasse, rays and huss plus many more. My Way can be chartered for both full boat and individual bookings.

My Way is based at Holyhead Marina on the north western tip of the beautiful Isle of Anglesey, North Wales. Our coastal area benefits from a range of mixed grounds with mud, shingle, rock and sand banks all with in reach to offer some excellent and varied fishing. Your charter trip includes tea, coffee, and also a hot snack, plus the My Way galley includes a hob, oven, grill for your use if required, A variety of quality uptide and down tide rods with ABU 7500C3 reels are are available free of charge if needed. The set up comes with 1 end rig and weight.

Holyhead Marina has ample free parking for it's users. Over spill parking can be found on the hill over looking the Marina complex. With My Way on an easy access berth, there is a short walk onto the pontoons with no nusiance ladders or steps to climb along.

Facebook: www.facebook.com/GOAngling
Twiiter: www.twitter.com/GO_Angling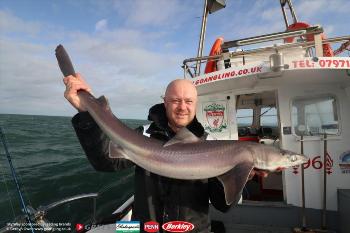 About the Skipper:
Gethyn has been a keen angler all his life, both from the shore and the boat. GO Angling was set up in 2003 and My Way has since prooved to be a very popular vessel on the north Wales coast. Born locally, Gethyn has extensive local knowledge, with over 30years experience in these waters

A qualified Level 2 Angling Coach, Gethyn was a member of the Welsh National Boat Angling Team and has represented Wales in two Home Nations Championships and also one World Championships. The 41st World Boat Angling Championships held in Weymouth, England is where Gethyn finished 9th overall and helped Wales to 4th overall.


Latest Fishing Reports
19/06/2015

Fishing Report by Mark Dolben on My Way

(Holyhead, Isle of Anglesey)

19 Jun 2015 by Mark Dolben

I really can't recommend this boat enough!!!
Having become a regular on Myway over the last couple of years all I can say is that if you book a trip abroad Myway you will not be disappointed!!!
Gethyn the skipper has great knowledge of the area, targeting different species of fish, tackle bait and rig presentation and is only too happy to help from the novice to the experienced angler you can't fail to learn something from him and he goes out of his way to make sure you have an enjoyable day afloat with great banter good food and is 100% focused on putting you on the fish and fish on the deck you can't fail to enjoy a day aboard Myway! so book with confidence!!! I always do! Over the last couple of years fishing aboard Myway has improved my angling no end from what I have learned and has helped me set many of my PBs the latest being yesterday when I was lucky enough to land a smooth hound weighing 20lb4oz an awesome fish and with well over 30 smooth hounds landed between the crew another great day and one I won't forget in a hurry!
Top skipper! Top boat!!!


05/2015

Fishing Report by Gethyn Owen on My Way

(Holyhead, Isle of Anglesey)

May 2015 by Gethyn Owen

It's been a while since our last detailed report, and much has happened, great fishing and hard fishing, thanks to the weather. We are still suffering from countless cancellations from the foul conditions that have been hanging around the UK for a long time now. But we all know that, so lets not dwindle on the bad. When weather has allowed, we have been fortunate to sail and fortunate to locate some good fishing for the majority of our trips.

This report starts at the end of April, where yet again we snuck off to the edge of Holyhead in search of spurdogs, huss and early tope. The spurs certainly played ball with countless double figure specimens falling to the present baits. Nigel Perry, visiting from Scotland, was on fire during his trip on 27th April, numerous double figure landing, including one hook up that contained two double figure spurdogs one of which, at 19lb 12oz was a mere 1 oz under the current welsh record, caught and released aboard My Way a few years back.

High winds cancelled the start of May for us, but when settled it was back out after the spurdogs. They did't disappoint, with countless double figure spurs joining us aboard My Way. One day in particular, will remain with me for a long while… it rained. Oh, did it rain, all 6 of us were totally soaked. But the fishing was worth it, with countless spurs and a few huss making an appearance.

As May rolled on pollack slowly started to make an appearance on various rock marks and along the length of Holyheads famous breakwater. Normally the start to arrive after the 2nd week of April, signifying a change in seasons and species, but as with most things in 2015, the were late.

Plenty of fish ranging between 1 and 2lb and a good few reaching 4lb, lovely conditioned early season fish and great sport on light tackle in 35foot of water.

Ballan, cuckoo and corkwing wrasse all making an appearance in May, with a good few being caught amongst the polka, collies and clouding whilst drifting.

May tends to be the start of our annual smoothhound hunt, however the cold weather and slow crab moult has seen a very slow start to the hounding. We have managed a dozen or so in the past week with the best few two winners of our smoothhound challenge (separate report to follow) topping the scales at 19b and 23b. Great fish and plenty more to come through June.

June availability is very limited with only a handful of spaces available, evening trips available for both boat and individual bookings, please phone for details.

05/2015

Fishing Report by Gethyn Owen on My Way

(Holyhead, Isle of Anglesey)

May 2015 by Gethyn Owen

Compared to last Friday, the following day didn't quite go to plan. The forecasted weather for Saturday 09th was 6 to 8mph for the day, I rubbed my hands with glee and had visions similar to the day just gone, pollack and spurdog aplenty ... arrived at the marina and had 20mph NW blasting the seas outside the breakwater.
With the new forecast showing a decrease in the wind just in time for a run out to the deeps, it was hoped not all would be lost. waiting for the weather and tide, we managed a few pollack, with doggies, whiting and small huss inshore.

Sadly Holyhead Deep never provided the bounty it had the previous day. It was hard work with a sloppy sea testing our patience & ability to stand up. Still, the lads soldiered on and we managed to land a good few spurdog and huss.

Paul, photographed here managed 4 to himself ...

05/2015

Fishing Report by Gethyn Owen on My Way

(Holyhead, Isle of Anglesey)

May 2015 by Gethyn Owen

Great day last Friday, 08th May, flat & calm in the morning, plenty of pollack on the drift followed by a mixed bag during the inshore anchor. Risked the big tide on a mark in Holyhead Deep. It was flat calm here too, but it rained. Oh boy did it rain, torrential at times!

We were soaked wet through all afternoon ... but for 90 mins the 5 adventurous anglers were rewarded with 28 spurdogs and with Shakespeare Fishing 12lb Agility rods or less rods in use, some epic battles from 200ft, including the odd double shot.

Even had a go myself, but had to hand my rod over in the end with the inconsiderate quintet calling net far too often, lol

Great fun

Message or call 07971 924046 for more details

https://www.facebook.com/GOAngling
https://twitter.com/GO_Angling

04/2015

Fishing Report by Gethyn Owen on My Way

(Holyhead, Isle of Anglesey)

Apr 2015 by Gethyn Owen

Up until today (18th) the month of April has been a relatively successful period aboard My Way.

The weather has allowed us to sail on 9 occasions and only cancelled 5, ok, so 64% is not the kindest of percentages, but for early season April in the bay, I'll take it.

The first weekend of the month saw us staying inshore on a 6 hour trip for a group of novices aboard My Way. Fortunately we were able to put them amongst the fish with a few different species scattered around various marks within Holyhead Bay. What's interesting about the last couple weeks of March and early April, is that the fishing has been a tad slow inshore. Normally a good variety of species can be relied upon to be here in decent number by now, especially at anchor.

On the drift we'd expect to see pollack and coalfish increasing in size and number as April goes by. But to be fair, were as we're ploughing through an alarming number of dogfish and whiting most trips, other species have been slow in their appearance. Don't misunderstand, it\s not been hellish bad inshore. Our days afloat have thrown up some wonderful catches, including rays, rockling, dabs, ling, spurdogs and more, but this lull I'd normally associate with early March has hit a tad later.

Easter was a busy period for us, Easter Sunday was a 30ft tide, with the inshore throwing up a few smaller fish for the crew, we opted for a mark in deeper water for the slack period in search of spurdogs. We had already caught spurs in the Deeps during March and also had a few turn up on the mussel beds, so it was with some anticipation that big baits were lowered the 190ft down. Thankfully we reaped the rewards as a plentiful number of spurs graced the deck of My Way, as many anglers caught spurs for the first time.

On the bank Holiday Monday and the following Monday we ran a few 4hour trips, classed as introduction trips, they are a taster for youngsters and adults alike to the joys of fishing while afloat. Fish, smiles, chocolate & fun, with calm seas and occasional sunshine, they are often a superb day for novices of all ages.

Later that week it was back to full days. Starting again inshore and moving off to Holyhead Deep for the slackwater period. most days with fairly similar results, mixed bag of species from a variety of inshore marks, although still remaining a little slow on actual quantity of fish. This followed by a tremendous number of big double figure spurdogs in addition to huss reaching 14lb taking our baits in Holyhead Deep.

Best spurdog so far in 2015 goes to Carl Burns from Colwyn Bay. Spurdogs have been somewhat of a bogey fish for Carl, having fished with us for over a decade, Carl has had some note-able catches that include amongst the standard big huss, spurdog, pollack etc squid & topknot. Carl's an angler that can normally be relied upon to pull a few species out when others struggle …. but always failed to connect with a spurdog, despite those around him landing spur after spur. Mid March we finally ended the spurdog drought for Carl as he landed some nice double figure spurs during a visit to Holyhead Deep.

Then in April, during yet another successful outing for everyone aboard, Carl pulled out a monster among spurs … a beauty weighing in at 20b 3oz.

A few cancelled trips towards the middle of the month saw us blow away those land locked blues yet again with another successful day afloat and Deep visit. Big huss and spurdogs helped many anglers to an enjoyable day and a few more ticks on their species cards for the 2015 season


More photographs at http://www.goangling.co.uk/Report_2015_April_1.htm
View All Fishing Reports
Edit this boat listing
Availability
JULY - 2015

| Su | Mo | Tu | We | Th | Fr | Sa |
| --- | --- | --- | --- | --- | --- | --- |
| 28 | 29 | 30 | 1 | 2 | 3 | 4 |
| 5 | 6 | 7 | 8 | 9 | 10 | 11 |
| 12 | 13 | 14 | 15 | 16 | 17 | 18 |
| 19 | 20 | 21 | 22 | 23 | 24 | 25 |
| 26 | 27 | 28 | 29 | 30 | 31 | 1 |
Color for Fully Booked

Fully Booked

Color for Partially Booked

Partially Booked

Color for Available

Available

Color for Not Available

Not Available

Color for Unspecified

Unspecified
N.B. Not all Skippers keep this diary up-to-date. Always check with skippers before making any plans. Last calendar update: 04-Jul-2015
Reviews
Summary:





Mark Dolben (19/06/2015)

Awesome days fishing aboard Myway 19/6/2015 smooth hounds were the target of the day as part of Myways smooth hound challenge competition and as always we were not disappointed with Gethyn the skipper managing to put us on some fearnominal fishing with well over 30 smooth hounds landed on the day many of them into double figures and a new PB of 20lb4oz for myself Gethyn informed me that my fish was the third 20lb+ hound to be landed aboard Myway in the last two days truly exceptional and must rate as some of the best smooth hound fishing available in the UK! As always Gethyn made sure everyone had a good day by providing a constant supply of tea coffee and sausage sandwiches as well as helpful tips and information on tackle we were using bait presentation and rigs making sure the guys that had never tried this type of fishing before got the best out of there day afloat as I have said before I would highly recommend a trip abroad Myway I had an absolutely fantastic day and to top it off I was lucky enough to landed not only a new PB but the biggest hound of the day winning a brand new rod and reel kindly donated by Gethyn himself and I would like to thank him very much and I can't wait till the next time

Skippers Reponse: Awesome Mark, thank you for the very kind words. Great fun and what a catch! Still time to smash another PB! Cheers Geth

Chris Firth (15/06/2015)

Nice boat, great skipper and good craic what more can you ask for. After doing a lot of cod bashing in the north east and owning a small boat myself I was dubious of going back to charters.I should have done it years ago. From the first contact with Gethyn he was helpful and you could tell he had enthusiasm and knowledge for angling. I explained my situation and that I wanted to learn the art of sea fishing for species instead of ripping for cod. Gethyn sorted my bait lent me some lighter gear and sorted my rigs for the type of fishing. He showed me how to present my bait and explained how to handle my fish and a bit about the fish themselves. With all the help and cups of tea I managed to boat my first doggie, Huss and smooth hound. I will be back for more. Thanks Gethyn.

Skippers Reponse: Hi Chris, thank you for the review, was a good day and glad we managed to help out with our fishing styles over here on the west coast. Look forward to July and we can go for more, thanks Geth

karl barnard (22/11/2014)

Had a great time aboard my way great laugh and plenty of fish is a too Gethyn is a top notch chap and always willing to help out plenty of tea coffee and sausage butties well worth the 7 hr drive to get there thanks again mate karl see you in the summer

Skippers Reponse: Thanks Karl, was a good ay, a few fish and a few laughs. Glad you enjoyed it, look forward to seeing you guys next year. Geth

Jay Morrow (16/11/2014)

FANTASTIC, As always you put us on the fish, Gethan & Harry couldnt do enough for us! Fishing wise for the middle of November you woudlnt expect much, This wasnt the case! We caught over 8 types of species and with Huss upto 14.6lb you cant go wrong! Fantastic day made to feel welcome (as always) and i cant wait to go again!

Skippers Reponse: Cheers for the Jay, great fun and a good few fish to. That huss was a belter and a first as well :D See you soon thanks.

Jay Morrow (16/11/2014)

FANTASTIC

Skippers Reponse: lol :D thanks again mate, much appreciated.
View All Reviews
Add A Review