Charter Boat: My Way 2
Boat and Skipper Details
Licensed For:
up to 10 passengers
Code Of Practice:
Cat 3 - 20 Miles from any safe haven
Hours:
2hr / 3hr / 4hr / 5hr / 6hr / 8hr / 9hr / 10hr / 12hr / Multiple Days Trips
Type of Fishing:
Reef, Banks drifting and anchor fishing etc - smoothhound, tope, pollack, wrasse, huss plus many more and also Special Specimen Days And Competitions Arranged
Tackle Available:
Yes - Contact Skipper
Bait Available:
Yes - Contact Skipper
Boat Specification:
35ft Offshore 105 spacious cabin and massive deck area for 10 anglers. Powered by an IVECO 420hp engine, cruising at 14knots with a top speed of 24knots Full Electronics package from Raymarine and Lowrence including chartplotter,HDS Carbon fish finder, radar and video plotter
Facilities:
Toilet And Cooking Facilities - Oven, hob & kettle
Additional Description:

Fishing from Holyhead Marina April to October and Port Dinorwic Marina October to March

For the very latest & updated daily please copy and paste either of the following links to your browser, or click our website link above

Website: www.goangling.co.uk
Facebook: www.facebook.com/GOAngling

We fish all year round for a variety of differing species, including smoothhound, tope, pollack, gurnards, codling, coalies, wrasse, rays and huss plus many more. My Way can be chartered for both full boat and individual bookings.

My Way 2 is based for late spring summer at Holyhead Marina on the north western tip of the beautiful Isle of Anglesey, North Wales. Our coastal area benefits from a range of mixed grounds with mud, shingle, rock and sand banks all with in reach to offer some excellent and varied fishing. Your charter trip includes tea, coffee, and also a hot snack, plus the My Way galley includes a hob, oven as required.

From October to March we relocate to the beautiful Menai Straits & Port Dinorwic Marina fishing within the comfort of the sheltered waters or outside depending on tide and wetter.

2018 / 2019 look set to be more exciting times aboard My Way 2. We have been working closely with our sponsors Pure Fishing to bring some new loan gear to our anglers along with some fantastic competitions. Pure Fishing are the worlds largest tackle company and proudly boast the likes of Penn, Shakespeare, Greys and Berkley amongst many great names in their ranks. Already sporting Shakespeare Agility 12lb and Agility Sea Tipster rods together with Penn Squall multipliers, Fathom 2speed multipliers and Spinfisher 5500 fixed spool reels for the use of our anglers, in 2018 My Way will also be loaded with some of the impressive new rods from Greys, 6-12lb, 12-20lb and 20lb classes. They will be perfectly matched with new reels including the ever popular Penn & Abu Garcia ranges, all fully loaded with Stealth Smooth 8, the new braid from Spiderwire.

Holyhead and Port Dinorwic Marinas has ample parking for users.

Facebook: www.facebook.com/GOAngling
Twiiter: www.twitter.com/GO_Angling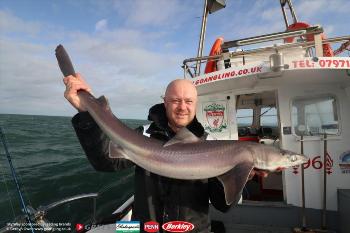 About the Skipper:
Gethyn has been a keen angler all his life, both from the shore and the boat. GO Angling was set up in 2003 and My Way has since prooved to be a very popular vessel on the north Wales coast. Born locally, Gethyn has extensive local knowledge, with over 30years experience in these waters

A qualified Level 2 Angling Coach, Gethyn was a member of the Welsh National Boat Angling Team and has represented Wales in Home Nations Championships and World Championship events. The 41st World Boat Angling Championships held in Weymouth, England is where Gethyn finished 9th overall and helped Wales to its highest placing of 4th overall.


Sunday
Monday
Tuesday
Wednesday
Thursday
Friday
Saturday

Color for Fully Booked

Fully Booked

Color for Partially Booked

Partially Booked

Color for Available

Available

Color for Not Available

Not Available

Color for Unspecified

Unspecified

N.B. Not all Skippers keep this dairy up-to-date. Always check with skippers before making any plans. Last calendar update: 21-Nov-2018

Thu 1st Nov More...
Fri 2nd Nov More... Trips available
5hr or 8hr General mixed fishing

2hr or 3hr Menai Straits cruise
Photography / Sights / Picnic
Sat 3rd Nov More...
Sun 4th Nov More...
Mon 5th Nov More... Trips available
General mixed fishing
Charter
8hrs £350
5hrs £250

Individuals
8hrs £40pp
5hrs £27.50pp

or

2hr or 3hr Menai Straits cruise
Photography / Sights / Picnic
Tue 6th Nov More... Trips available
2hr or 3hr Menai Straits cruise
Photography / Sights / Picnic
Wed 7th Nov More... Trips available
2hr or 3hr Menai Straits cruise
Photography / Sights / Picnic
Thu 8th Nov More... Trips available
2hr or 3hr Menai Straits cruise
Photography / Sights / Picnic
Fri 9th Nov More... Trips available
2hr or 3hr Menai Straits cruise
Photography / Sights / Picnic
Sat 10th Nov More...
Sun 11th Nov More...
Mon 12th Nov More...
Tue 13th Nov More...
Wed 14th Nov More... Trips available
General mixed fishing
Charter
5hrs £250

Individuals
5hrs £27.50pp

or

2hr or 3hr Menai Straits cruise
Photography / Sights / Picnic
Thu 15th Nov More...
Fri 16th Nov More...
Sat 17th Nov More...
Sun 18th Nov More...
Mon 19th Nov More... Trips available
General mixed fishing
Charter
8hrs £350
5hrs £250

Individuals
8hrs £40pp
5hrs £27.50pp

or

2hr or 3hr Menai Straits cruise
Photography / Sights / Picnic
Tue 20th Nov More... Trips available
General mixed fishing
Charter
8hrs £350
5hrs £250

Individuals
8hrs £40pp
5hrs £27.50pp

or

2hr or 3hr Menai Straits cruise
Photography / Sights / Picnic
Wed 21st Nov More... Trips available
General mixed fishing
Charter
8hrs £350
5hrs £250

Individuals
8hrs £40pp
5hrs £27.50pp

or

2hr or 3hr Menai Straits cruise
Photography / Sights / Picnic
Thu 22nd Nov More... Trips available

2hr or 3hr Menai Straits cruise
Photography / Sights / Picnic
Fri 23rd Nov More... Trips available

2hr or 3hr Menai Straits cruise
Photography / Sights / Picnic
Sat 24th Nov More...
Sun 25th Nov More... Cruise My Way

scenic cruise along the famous Menai Straits

£20 adult
£16 child

1 spaces available

Mon 26th Nov More... Trips available

2hr or 3hr Menai Straits cruise
Photography / Sights / Picnic
Tue 27th Nov More... Trips available
General mixed fishing
Charter
5hrs £250

Individuals
5hrs £27.50pp

or

2hr or 3hr Menai Straits cruise
Photography / Sights / Picnic
Wed 28th Nov More...
Thu 29th Nov More... Trips available
General mixed fishing
Charter
5hrs £250

Individuals
5hrs £27.50pp

or

2hr or 3hr Menai Straits cruise
Photography / Sights / Picnic
Fri 30th Nov More... Trips available
General mixed fishing
Charter
5hrs £250

Individuals
5hrs £27.50pp

or

2hr or 3hr Menai Straits cruise
Photography / Sights / Picnic
Upcoming Individual Spaces on My Way 2
| | | | | | |
| --- | --- | --- | --- | --- | --- |
| Sun 25/11/2018 | | | | Cruise My Way scenic cruise along the famous Menai Straits £20 adult £16 child 1 spaces available | View details |
| Sat 08/12/2018 | | | | Menai Straits General mixed fishing Charter 5hrs £27.50pp 8am sail 3 spaces | View details |
| Sun 09/12/2018 | | | | Menai Straits General mixed fishing Charter 5hrs £27.50pp 8am sail 8 spaces | View details |
| Thu 27/12/2018 | | | | Cruise My Way scenic cruise along the famous Menai Straits £20 adult £16 child 6 spaces available | View details |
| Fri 28/12/2018 | | | | Menai Straits General mixed fishing Individuals 5 hrs £27.50 pp spaces available | View details |
| Fri 15/02/2019 | | | | Menai Straits General mixed fishing Individuals 8hrs £40pp Spaces available | View details |
| Sun 03/03/2019 | | | | Caenarfon Bay General & rays 9hrs £45pp Spaces available | View details |
View more availability on the Full Calendar
Reviews
Summary:





Chris Neden (21/09/2017)

Another great day out on My Way fishing one of Gethyn's sponsored summer/autumn species competitions. Don't be put off by the word "competition" it's still the same friendly day out you always have with Geth but with the chance to walk away with a new rod and reel and at no extra cost. What's not to like? Although conditions on the day were a bit challenging at times Geth, as always, worked hard to find us fish with a mixture of drifting and fishing at anchor and we ended up with around a dozen different species on the boat. I would thoroughly recommend My Way to anyone, irrespective of ability. I guarantee you will walk off the boat knowing more than when you got on. The free hire gear on board is of the highest quality and Geth is always on hand to help you get the best out of it. It's also one of the friendliest boats I've fished on and this is down to Geth's enthusiasm for everyone to have the most enjoyable day out. Check out Geth's website www.goangling.co.uk , one of the very best around, full of interesting and informative information on the fish you are likely to catch and the tackle and methods to do so.

Skippers Reponse: Thanks Chris for the extremely kind words in your review, very much appreciated. It was a fun day despite the weather as you say. See you soon, thanks again Geth

Cormac Burke (02/05/2017)

I first went out with skipper Gethyn Owen on My Way out of Holyhead and enjoyed myself so much that I have been back seven or eight times by now. Always a good day out, Gethyn always provides good entertainment and creates an atmosphere of fun amongst the day's crew, often made up of individuals who have never met before. Whilst no charter skipper can guarantee a big day's fishing, I have yet to be disappointed on My Way and, when either hunting for spurdog, smoothhounds or just general fishing, a good day's fun is sure to be had

Skippers Reponse: All about the fun .. and fish :). Thanks for the kind words Cormac, much appreciated. We've had some great days afloat and many more to come I'm sure. Cheers Geth

Peter Harrison (29/05/2017)

My Way delivered everything I expect from a professional charter. Realistic expectations, & the to catch all our target species.

Skippers Reponse: Cheers for the review Pete, glad you enjoyed. Hopefully see you again soon.

Keith heaton (23/05/2017)

excellent week

Skippers Reponse: Yes mate, great fun week afloat. Good weather good good and great fishing. See you end the month :D

Keith heaton (22/05/2017)

I'd like to thank Gethyn Owen ...just spent 7 days aboard My Way it's been the best week of my life (sorry wife) would also like to thank all the other lads and lasses you know who you are for the great company, great food which goes without saying on My Way. I can't wait to get back on the boat again..hopefully I will have my new rod for then..I haven't used my rod all week I've been using the new Grey's rod. Thanks again Gethyn see you in 3 weeks but might nip down before that cos I seriously can't wait till then for the next trip .

Skippers Reponse: Thanks Keith, really kind words and much appreciated. It's been a great laugh. I love smoothhound challenge week, full with genuinely nice people enjoying the fishing, eating and taking the pee out of each other. So many great memories, too many to mention. Will pick the rod up for you soon as I hear from ABC. Little lol at (sorry wife) but I'm sure Dawn wrote a similar status :D lol. See you in a few weeks .... maybe sooner ;)
Latest Catches 2,801 photos uploaded
Latest Fishing Reports
11/2018

Fishing Report by Gethyn Owen

Nov 2018 by Gethyn Owen

Another enjoyable weekend afloat today from Port Dinorwic.
Saturday saw is mix the fishing both inside and outside of the Straits, plenty of fish fun. Some nice sized whiting caught for the table along with rays, huss, small codling, minis and a lone spurdog
Fishing not so good the Sunday with the strong east winds, never the less a good number of fish caught.
Whiting the main catches with a good few retained for the plate along with codling, dabs, coalfish and mini species.

More photos and reports here http://goangling.co.uk

10/11/2018

Fishing Report by Gethyn Owen

10 Nov 2018 by Gethyn Owen

Thoroughly enjoyable morning afloat on the Menai Straits on Saturday, despite the odd downpour!
For the first of our Pure Fishing winter fun competitions, the guys and young lady recorded a good 150 fish during the 4hrs Fishing.
Catches included some good size whiting, dogfish, small codling, mini species and a solitary huss.
Congratulations to overall winner Chris Firth who won a brand new Shakespeare Agility 2 20lb boat rod for his winning bag.
Thanks as always to our sponsors Pure Fishing.

13/07/2018

Fishing Report by Gethyn Owen

13 Jul 2018 by Gethyn Owen

Fun day afloat today, after a slow drift the anchor soon picked up for the afternoon with a plentiful amount of huss and small thornbacks.

Some nice tope landed too and a few spitting the hook partway through the fight.

More from this day here http://goangling.co.uk/tope-on/

Please message or call 07971 924046
http://www.goangling.co.uk

My Way is sponsored by Pure Fishing - PENN Fishing Greys Fishing Shakespeare Fishing Abu Garcia
http://www.uk.purefishing.co.uk

11/07/2018

Fishing Report by Gethyn Owen

11 Jul 2018 by Gethyn Owen

Enjoyable day down the Llyn today, with plenty of rays and huss the mainstay together with a few bream and a good mixture of other species.

Tried for tope and connected with two, sadly one spat the hook and the other steamed off like a rocket, through other lines and after a 10 minute tussle snapped off.

Another good fun day. More photos with this report here http://goangling.co.uk/llyn-adventure/

Please message or call 07971 924046
http://www.goangling.co.uk

My Way is sponsored by Pure Fishing - PENN Fishing Greys Fishing Shakespeare Fishing Abu Garcia
http://www.uk.purefishing.co.uk

10/07/2018

Fishing Report by Gethyn Owen

10 Jul 2018 by Gethyn Owen


My Way regular Jonathan Hudd was the winner on day one of our July competition generously sponsored by Pure Fishing UK Ltd. Jon's total of 164 points was achieved with a number of species including hound, huss and numerous double figure spurdogs during yet another frenzied time in Holyhead Deep.

We have 1 space remaining for the July completion on Friday 27th, can you beat the leading 164 points and claim the PENN Battalion 20lb boat rod and PENN Fathom 15 star drag reel with a combined retail price of over £300 for yourself?

http://goangling.co.uk/2018-summer-autumn-species-competit…/
Please message or call 07971 924046
http://www.goangling.co.uk

My Way is sponsored by Pure Fishing - PENN Fishing Greys Fishing Shakespeare Fishing Abu Garcia
http://www.uk.purefishing.co.uk