Charter Boat: Northeastern
Boat and Skipper Details
Licensed For:
up to 10 passengers
Hours:
4hr / 6hr / 8hr / 10hr / 12hr Trips
Type of Fishing:
Uptiding / Downtiding (winter season only), Wrecking (summer season)
Tackle Available:
Yes - Contact Skipper
Bait Available:
Yes - Contact Skipper
Boat Specification:
Starfish 10
Facilities:
Toilet, Phone charger, Tea and Coffee
Additional Description:
Single or Group bookings welcome.

About the Skipper:
Jeff (owner skipper)25 yrs experience with private boat. 2yrs as a charter skipper.
Richy skipper 5 yrs experience as private boat fisherman 2yrs as a charter skipper/ lobster fisherman and both with mass experience of fishing in general.
Upcoming Individual Spaces on Northeastern
Sorry, there are currently no Individual Spaces at present.
Reviews
Summary:





duncan mackinnon (03/06/2017)

this is from 2017,so hope its okay. i tend to judge charters not by the fish i catch,but by attitude og the skipper and crew.these are good lads,local with good knowledge,helpful for the novice/ and youngsters,good rig/bait advice too--both available if you let them know in advance.happy too to be flexible in their bookings where they can.. handy with the kettle too.im not ashamed to say i like and rate these lads highly--in all aspects of their service---duncan mackinnon

Skippers Reponse: Thank you for your comments Duncan. Tight lines
Latest Catches 41 photos uploaded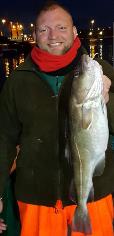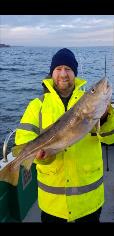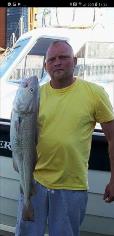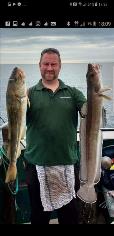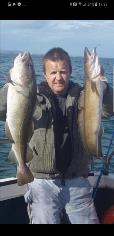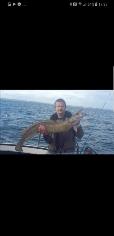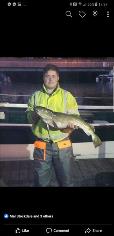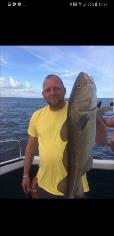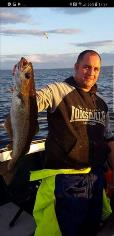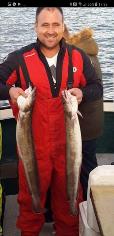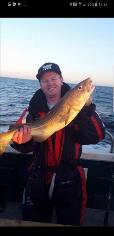 Latest Fishing Reports and News
02/12/2018

Fishing Report by Richard Carr

2 Dec 2018 by Richard Carr

Sailed today with the tide on the small side but plenty colour in the water. Steady start on the flood with the biggest around 5lb plenty sport on the smaller fish to 2lb which unless where gut hooked went back to fight another day. Little move over slack ready for the push in the ebb tide and Jeff managed a but lifter bite which resulted in a lovely cod just shy of 10lb. Was a little slow on ebb but we headed in really on prime time for state of tide. Never less 20 odd fish for the table and a couple nice stamp to end the day.

Spaces available next sat 8th and a couple for sun 9th. £35 pp and we only take max of 6 anglers so loads of space. Anyone unsure how to do this type of fishing or just want general advice just drop us a message we are happy to answer all questions. Top bait as always this time of year is cart and it really does make a difference

07718165231 Richy Carr

Tight lines

24/11/2018

Fishing Report by Richard Carr

24 Nov 2018 by Richard Carr

Sailed today on a 8hr uptide trip forecast was giving light winds and sea condition good. The quantity expected was not there but quality definate. 29keepers was end tally and endless 1.5-2lb cod put back over the rails. Biggest just by couple ounces was 6lb followed by 2 or 3 just shy of that. A few around 4 to 5lb mark and rest around 2.5lb to 3lb. Cart was the main bait with squid and blacks getting a few. Anyone wanting a trip out please get in contact

Tight lines

04/08/2018

Fishing Report by Richard Carr

4 Aug 2018 by Richard Carr

Quick update of our trips out over weekend on Northeastern charters.
Friday there was a steady run of fish through the tide mainly cod till the tide eased then we hit ling biggest going 12lb by yours truly. Couple about 10lb and biggest cod 7.5lb by Craig rustling from Doncaster.
Sat we seen a lot more fish and back on the shads. Fishing was very good and a lot of fish where taken over 80 fish in total but not many ling. Biggest was 7.5lb
Sunday was quite slow wind came and fishing was hard 8.5lb ling biggest and 6lb cod but overall a good weekend fishing.

Our weekends are filling up very fast indeed and availability is very limited so if you Want to get amongst the very good fishing of late get booked up.

Tight lines it's only a matter of time until we get amongst the bigguns.

27/07/2018

Fishing Report by Richard Carr

27 Jul 2018 by Richard Carr

Air show weekend and we have had to cancel both today's trip and tomorrow trip. Gutted is a understatement.

We sailed yesterday and had a cracking day fish of the day was a 10.5lb ling and followed by Kevin Dodger Rogerson with a lovely clean run 8.5lb cod. Endless quality stamp cod and ling made up the catch with the normal Macky keeping us up with fresh bait which has really made a difference used at the correct stage of the tide on hokkai rigs. It's really just a matter of time until we click a good one from the wrecks.





21/07/2018

Fishing Report by Richard Carr

21 Jul 2018 by Richard Carr

Good tides and brilliant conditions met us on our last min Friday evening trip and with only 3 lads we sailed and hit the iron. Cracking night with plenty cod and few small ling set us up for what could be a good weekend of fishing. It didn't let us down sat saw us out and a good run of fish early morning with it slacking of a little mid afternoon good stamp of fish and around 65 keepers for the day biggest going to John charlton 10.5lb ling and Brian Warren with a cod around 6.5lb.
So Sunday again optimistic hit the wrecks with total opposite than sat slow start with a steady afternoon. Biggest fish was a 16.5lb ling for David baker and cod to 7lb taken off the ground. Around 40 keepers.