Charter Boat: North Star
Boat and Skipper Details
Licensed For:
up to 8 passengers
Hours:
4hr / 5hr / 6hr / 7hr / 8hr / 9hr / 10hr / 11hr / 12hr Trips
Type of Fishing:
bottom and ground and some wrecks .
Tackle Available:
Yes - Contact Skipper
Bait Available:
Yes - Contact Skipper
Boat Specification:
35 long the beam is 12
Facilities:
Great boat for anyone as wide and stable toilet out on the deck all gear on board hot water heater 230 microwave oven cover out back over front of deck if raining.
Additional Description:
we fish the thames estuary up to 20 miles out we have fish hold to keep your fish fresh we will put on your bait cast you out if you want and gut your fish as well you can smoke on the vessel and drink if you want .
The boat can go out on any tide as deep water mooring. We are full time all week all year apart from usual clean up services etc . There's a few boats that don't have all the safety gear on board we do the deck is huge over 20 foot long so plenty of space .
About the Skipper:
i have been fishing for about 30 years on boats i have a 20 mile cop. Love seeing poeple get fish makes my day and there's.
Sunday
Monday
Tuesday
Wednesday
Thursday
Friday
Saturday

Color for Fully Booked

Fully Booked

Color for Partially Booked

Partially Booked

Color for Available

Available

Color for Not Available

Not Available

Color for Unspecified

Unspecified

N.B. Not all Skippers keep this dairy up-to-date. Always check with skippers before making any plans. Last calendar update: 03-Oct-2017

Thu 1st Feb
Fri 2nd Feb
Sat 3rd Feb
Sun 4th Feb
Mon 5th Feb
Tue 6th Feb
Wed 7th Feb
Thu 8th Feb
Fri 9th Feb
Sat 10th Feb
Sun 11th Feb
Mon 12th Feb
Tue 13th Feb
Wed 14th Feb
Thu 15th Feb
Fri 16th Feb
Sat 17th Feb
Sun 18th Feb
Mon 19th Feb
Tue 20th Feb
Wed 21st Feb
Thu 22nd Feb
Fri 23rd Feb
Sat 24th Feb
Sun 25th Feb
Mon 26th Feb
Tue 27th Feb
Wed 28th Feb
Reviews
Summary:





Reviews Unaccepted: 1
Dan A (04/11/2017)

A great day on the water - more than 150 fish caught!

Paul HOBDAY (21/08/2015)

Thoroughly good day would definitely recommend.

Skippers Reponse: Thank you i had fun also

john shorey (20/06/2009)

skipper knows his stuff . great days fishing and pleasant crew1
Latest Catches 30 photos uploaded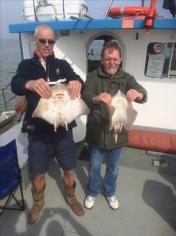 Greoge
6 lb 10 oz Thornback Ray
3-Apr-2016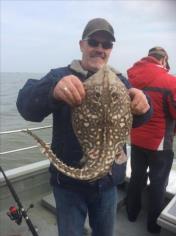 Rob
7 lb 9 oz Thornback Ray
3-Apr-2016
Latest Fishing Reports
14/01/2018

Fishing Report by John Dickens

14 Jan 2018 by John Dickens

Got out great weather lots of whiting and some nice size dabs as well as a rocking not bad for the he time of year as normal years the whiting have moved out still no cod .the best dab just over 9oz .

11/2017

Fishing Report by John Dickens

Nov 2017 by John Dickens

Been getting some nice skate very close to home lots of big whiting about and some good size dogs so you get a longer day as no traveling to do .

14/10/2017

Fishing Report by John Dickens

14 Oct 2017 by John Dickens

Got out yesterday had skate up to 9lbs lots of whiting lots of dogs dabs and the odd pout too many whiting but some of the party love them still waiting for the cod to show .

02/09/2017

Fishing Report by John Dickens

2 Sep 2017 by John Dickens

Out at the weekend had some nice bass on squid and rag water was very clear but no mackerel few whiting started to show as well as dogs .

01/04/2017

Fishing Report by John Dickens

1 Apr 2017 by John Dickens

Got out today at last had some nice skate up 8 lbs and lots of whiting all put back to fight another day thanks anglers .