Charter Boat: Obsession
Boat and Skipper Details
Licensed For:
up to 12 passengers
Code Of Practice:
C.O.P Cat 2 60 miles
Hours:
2hr / 3hr / 4hr / 5hr / 6hr / 7hr / 8hr / 9hr / 10hr / 11hr / 12hr / 24hr / Multiple Days Trips
Type of Fishing:
Wrecking, Reef, Rough Ground, Skerries, Banks, Sharking, Channel Islands etc.
Tackle Available:
Yes - Contact Skipper
Bait Available:
Yes - Contact Skipper
Boat Specification:
Obsession is a purpose built procharter P4 40ft powered by twin 315hp yanmar diesel engines giving her a cruising speed of 20 knots and with a top speed of 35knots, she also boasts a Large cabin which offers great comfort and seating for all board. The large deck provides plenty of room for Anglers / Divers and their kit.
Facilities:
On deck toilet, tea and coffee facilities available, oven to warm Pasties and the like, a heated wheelhouse, rod & tackle hire and expert friendly advice.
Additional Description:
Obsession is a fast modern charter boat offering comfort along with masses of room both on deck and in the wheelhouse, she is fitted with all up to date life saving equipment supplied and serviced by LGS Marine and has all the electronics you expect to find on a Charter boat. Obsession has had a complete running gear refit in September 2017 upgrading to 2 awesome Yanmar 315hp engines with ZT370 Drives which enhances her performance, we could not be more pleased with the outcome.
Licensed for 12 plus 2 crew, C.O.P Cat 2 60 nautical miles.
Side door for easy access onto the vessel.
Obsession Brixham - The Home of "Biguns and Whoppers"

About the Skipper:
Kev Wyatt spent much of his life on or around boats and learnt his trade from his father Ron Wyatt who was a commercial fisherman the whole of his working life in the Bristol Channel
Kev is a keen Angler himself and enjoys nothing more than watching and helping the Anglers on board catching that fish of a lifetime and is always available for friendly advice to both seasoned and also novice Fishermen.

This Charter has been listed as Suitable for Diving Trips. Contact the Skipper for full details.
This Charter has been listed as Wheelchair Accessible. Contact the Skipper for full details.
Sunday
Monday
Tuesday
Wednesday
Thursday
Friday
Saturday

Color for Fully Booked

Fully Booked

Color for Partially Booked

Partially Booked

Color for Available

Available

Color for Not Available

Not Available

Color for Unspecified

Unspecified

N.B. Not all Skippers keep this dairy up-to-date. Always check with skippers before making any plans. Last calendar update: 24-May-2018

Tue 1st May

wreckfishing\\availbil

Wed 2nd May

wrecking\\ availbil

Thu 3rd May

godfy\\ 7 , 3 spaces availibil

Fri 4th May

blondray. etc.\\availabl

Sat 5th May

HARRY WORKMAN FULL BOAT

Sun 6th May

darren williams x1,,,,, \\ robin x 1 ,,\\ mark watts x 2 ,\\ lee tucker x1 \\ jon nickalls\x 2 mike allen 2

Mon 7th May
Tue 8th May

bob sandy x 3 placie fishing \

Wed 9th May
Thu 10th May
Fri 11th May
Sat 12th May

dom and gang,, wreck fishing \\ ling

Sun 13th May

wreckfishing \\phil standan

Mon 14th May

skerries bankfishing ,placie,turbut .etc availabil

Tue 15th May

wreckfishing\\avaiable

Wed 16th May

blondray ,,etc. available

Thu 17th May

bass fishing \\availble

Fri 18th May

bass fishing\\availble\\\wrecking ,,phil x2

Sat 19th May

robin x 1 ,,niel curry x 1 ,,matin and josh wright x 2 ,,kev x4 aiien curtis x1

Sun 20th May

jeff budd x 8 \\placie fishing \\\ ,,,,,, lee buttler x2

Mon 21st May

skerrise placie fishing \\available \\ mike allen x 3... baz x 1,,phil walker x1,,5 spaces availble.

Tue 22nd May
Wed 23rd May
Thu 24th May
Fri 25th May

deepsea ,ling fishing \\ 9. available

Sat 26th May

.. robin x1 \\ francis x2 \\ jon much x1 \\ darol x1 \\ jeffey x 1 \\ toby bassit x2 ,,jarret x1 1 spases avalibill wreckfishing \ cod ling pollock etc

Sun 27th May

wreckfishing\\availble

Mon 28th May

jon muchmoor blondray .fishing,etc .\\avaliable

Tue 29th May

wreackfishing ,\\available

Wed 30th May

wreckfishing \\available

Thu 31st May

bass fishing\\availbal
Reviews
Summary:





Michael Wallis (28/10/2017)

Top skipper Kev. If you want a bigun or whopper get booked on!

Paul Bowden (22/05/2016)

Had a top day plenty of fish and had a laugh would highly recommend.
Latest Catches 122 photos uploaded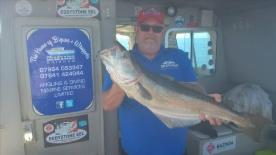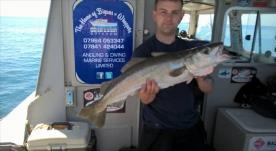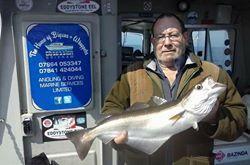 Robin
8 lb Pollock
May-2018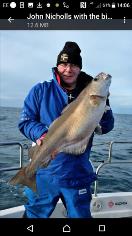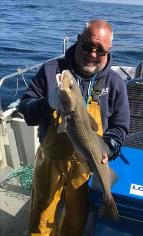 Latest Fishing Reports
05/2018

Fishing Report by Kevin Wyatt

May 2018 by Kevin Wyatt

Well May has started off very nicely, the weather has been on our side for most of the month so far and the fishing is improving all the time. The Mid channel wrecks have been producing some superb quality Pollock and Ling and now the Cod are starting to arrive. We have had 2 Anglers recently, John Nicholls and Jamie Lee Whitehouse achieving personal bests with a couple of fantastic Pollock well over the 20lb mark so well done guys.

The Skerries have also been very fruitful and although the Plaice are not monsters we are averaging 50-60 per trip with most of them going back to fight another day, hopefully we will see them later in the year once they have managed to fatten themselves up.

The fishing is getting very exciting as the year goes on, so why not give us a call to book yourself on Obsession and perhaps you too could catch a personal best fish !!!

Call Kev on 07964 053347, or message us on facebook either through Obsession Brixham, Kevin Wyatt or Lee Williams. We look forward to hearing from you.

On a last note, we would like to congratulate Lee Williams and his partner Debbie on the birth on their son Finley, another Obsession Brixham team member in the making.

Tightlines for Biguns and Whoppers

The Obsession Team

05/2018

Fishing Report by Kevin Wyatt

May 2018 by Kevin Wyatt

We at Obsession Brixham would like to welcome Lee Williams to the team. Lee brings with him a wealth of knowledge from his vast experience in the commercial fishing industry which includes all aspects from Rod and line to crab fishing.

I'm sure Lee is going to enjoy his venture with Obsession and help get some of they Biguns and Whoppers over the rails for all our valued customers both old and new

Why not book a trip on Obsession so you can meet Lee and catch up with the old crew for some great sport and banter

Tight lines everybody and see you soon

The Obsession team

14/01/2018

Fishing Report by Kevin Wyatt

14 Jan 2018 by Kevin Wyatt

We managed to get a small window of better weather on Sunday. Although the forecast didn't do what it said the guys from Shropshire percivered with it and manage to bring some nice Pollock over the rails on some inshore marks. Let's hope that the weather Gods look favourably over the coming weeks so we can do some catch up. All the best from the Obsession Brixham Team " Biguns and whoppers "

28/11/2017

Fishing Report by Kevin Wyatt

28 Nov 2017 by Kevin Wyatt

The Christmas Break for some of us is nearly upon us and we have our Biguns & Whoppers® Festive competitions coming up. We originally put up 2 days but due to demand we have added a third day which sold out within hours of being released.

The 3 dates are the 27th, 29th and the 30th of December all to be separate competitions and all free to enter and with prizes to be won, but the heaviest fish over the 3 days will win the "Alastair Finch " Memorial cup.

We will release more details soon

Tightlines from the Obsession Brixham Team

10/2017

Fishing Report by Kevin Wyatt

Oct 2017 by Kevin Wyatt

Well the weather has been very hit or miss for a while, one minute blowing a gale then a run of 2 or 3 days with no wind.
We have managed to put to sea several times in the last couple of weeks and the results have been very good.
Lovely plump Pollock and some Cod putting in an appearance, and tighter inshore out of the wind we have had some superb days on the Ray and Plaice.

Looking forward to hopefully some settled weather arriving so we can get out and get some " Biguns and Whoppers"

Also its been a emotional few weeks with the loss of one of our great friends Alastair Finch who sadly passed away. RIP dear friend

All the Best
The Obsession Crew