Charter Boat: Ocean Warrior 3
Boat and Skipper Details
Licensed For:
up to 10 passengers
Code Of Practice:
60 miles
Hours:
1hr / 2hr / 3hr / 4hr / 5hr / 6hr / 7hr / 8hr / Multiple Days Trips
Type of Fishing:
Deep Sea Wreck fishing for Conger, Cod, Pollack, Ling, Bass etc... Also, inshore ground fishing for Plaice, Turbot, Black Bream etc...
Tackle Available:
Yes - Contact Skipper
Boat Specification:
Aquastar 38 ft, 500hp, 20 knots +
Facilities:
Tea, Coffee, toilet and inside seating area.
Additional Description:
Deep Sea Fishing Charters from Brighton Marina.
Ocean Warrior 3 offers deep sea fishing trips all year round, 7 days a week. Along with evening trips - available during the summer months 4 hour trips (8am til 12pm or 12pm til 4pm or 4pm til 8pm).
Bookings can be made for; full boat bookings, part bookings, individuals, corporate days out, stag/hen parties and the scattering of ashes.
We also provide rod/reel hire and tackle if required. Tuition can also be provided for the less experienced which can help you enjoy your day.
We also offer 3 hour wind farm trips.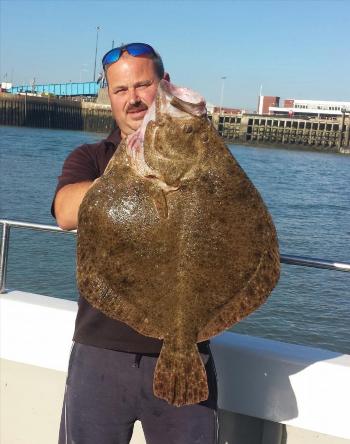 About the Skipper:
I have been fishing out of the port of Newhaven for over 20 years and I am a fully qualified skipper, however, we have now moved the boat to Brighton Marina for a change.

I specialise in wreck fishing trips but also cover the inshore ground fishing trips, of which both can be very rewarding and a great day out. Having over 20 years of experience fishing the waters off the south coast I enjoy taking out all types of anglers. We welcome the anglers new to the sport as well as the more experienced anglers.
Upcoming Individual Spaces on Ocean Warrior 3
Reviews
Summary:





Reviews Unaccepted: 1
Tabish Aiman (01/04/2018)

Since moving to Brighton, Dave has been able to take groups and individuals out for half day trips. I recently snuck away from work and had a cracking time on the Plaice. Boat speed mean we were at the mark in no time maximising the time spent fishing. Excellent day and still had time to catch up on things when I got home

Clive Hodges (22/08/2017)

Dave always puts the effort (and the miles) to make sure we catch. Today it all came together for an excellent shared catch of over 50 turbot and brill, mostly between 3lb and 6lb. In today's mixed crew it was great to see the help given to the less experienced anglers so that everyone had quality fish to take home. Nice one Dave

carl rix (28/05/2017)

Got to agree with tabish the move to Brighton is great !!! Had good day out Sunday fishing for plaice lots of good size fish .with skate and a bass showing up! Looking forward to the 24 hopefully the wrecks will start to fish well , see you then carl

Tabish Aiman (17/05/2017)

First time out with Ocean Warrior since the move to Brighton Marina.  Facilities are much better than Newhaven with pubs, shops and restaurants all within 2 minutes walk from the Boat! Fishing was hard as the May rot meant the fish couldn't see our lures.  Dave persevered and visited 5 different wrecks so everyone had a chance to catch.  He even managed to miss the rain forecast....another brilliant trip :-)

Tabish Aiman (17/02/2017)

having had two trips cancelled dye to bad weather, Dave promised to text me when the weather broke. sure enough the text came and he arranged a wrecking trip with a great bunch of experienced anglers. cracking day on the mid channel wrecks picking up pollack on the drift. plenty of hotels tea to combat the weather. The jelly worms produced more than the sidewinder. as I didn't have any jellies, Jay provided Them! great skipper and crew. thank you
Latest Catches 337 photos uploaded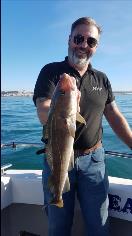 John
5 lb Cod
26-Sep-2018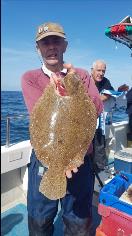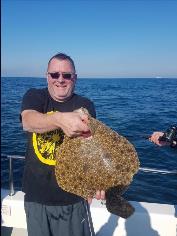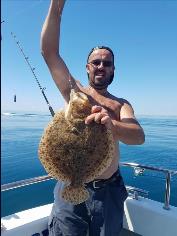 Mig
4 lb Tub Gurnard
Aug-2018
Latest Fishing Reports
11/2018

Fishing Report by Dave Elliott

Nov 2018 by Dave Elliott

Last month we had some cracking weather.

This month however has started off a bit windy. We are still getting summer fishing inshore. We have had Undulate Rays, a few Cod starting to show and we are still catching Conger along with a few Bass still around.

Woody had a day out on Ocean Warrior 3 and caught his personal best Bass of 14lb using Mackerel bait.

We have spaces available mid-week and weekends now that we are starting the winter Cod fishing. If you fancy booking up a winter Cod fishing trip, call Dave on 07966 377145.

02/2018

Fishing Report by Dave Elliott

Feb 2018 by Dave Elliott

We haven't reported for a little while, but now after being out of the water for 6 weeks for some maintenance we are up and running again.

We are back in and have done a couple of good wrecking trips.

We have had some nice double figured Pollock showing on the deep wrecks. We have also had some early Plaice showing on the inshore marks as well.

We are looking forward to some good spring weather and some good fishing.

09/2017

Fishing Report by Dave Elliott

Sep 2017 by Dave Elliott

The end of August and this month so far has given us the odd day of nice weather to get out fishing.

We have been getting some Turbot and Bard Gunderson brought out his 2 sons out for a days fishing. They had some nice Turbot on the day.

On the day there were about 50 Turbot caught on the day. There are also a few Plaice on the inshore marks along with some Underlate Ray and Thornbacks showing as well. There are also some nice Black Bream showing too.

Looking forward to fishing throughout September and hoping that the weather stays kind. We are also still enjoying the move to Brighton Marina, which offers a wide range of restaruants and bars to enhance the day.




22/08/2017

Fishing Report by Clive Hodges

22 Aug 2017 by Clive Hodges

A fantastic day drift fishing with Dave Elliott on Ocean Warrior. Drifting the banks off of Brighton we have over 50 turbot and brill along with gurnards, ray, bream and mackerel. Most of the turbot were between 3lb and 6lb and the biggest brill was 4lb. We also had a 16lb undulate ray and some big mackerel to 3lb 8oz.

Dave and his crew man worked hard to find us the mackerel for bait and then the flats. A welcome cup of tea helped refresh us on the slack when the bites slowed down a little.

Can't wait to get out there again

Clive Hodges

08/2017

Fishing Report by Dave Elliott

Aug 2017 by Dave Elliott

This month there have been a few Turbot starting to show.

There have also been a few Brill along with Undulate Ray and Blonde Ray showing as well.

Here is Mick with a 'double shot' of Turbot.

There have also been a few Mackerel showing up now inshore, along with some nice Plaice inshore still.

Still enjoying the move to 'Brighton Marina'.