Charter Boat: Optimist
Boat and Skipper Details
Licensed For:
up to 10 passengers
Code Of Practice:
60 miles
Hours:
1hr / 2hr / 3hr / 4hr / 5hr / 6hr / 7hr / 8hr / 9hr / 10hr / 11hr / 12hr / Multiple Days Trips
Type of Fishing:
Wreck, Bank, Reef, ort Mackerel, whatever the customer wants to fish for
Tackle Available:
Yes - Contact Skipper
Bait Available:
Yes - Contact Skipper
Boat Specification:
Offshore 32
Facilities:
Toilet compartment, tea and coffee oven for heating pies and pasties, full electronics for wreck and fish location
Additional Description:
Optimist charters are based in Brixham but offer customers a personalised package tailored to their needs. Given our great location and knowledge we have a wide selection of wrecks, reefs and sandbanks, within an hour's steaming and can fish mid channel. We also have strong links in the channel Islands meaning we can also offer 3, 4 or 5 day bookings where we can fish the reefs and banks around Guernsey and Alderney. We can operate out of our home port Brixham or can pick you up in Paignton, Torquay or Dartmouth and Tide permitting Babbacombe or Teignmouth. We also offer a selection of Wildlife / Birdwatching trips from Brixham.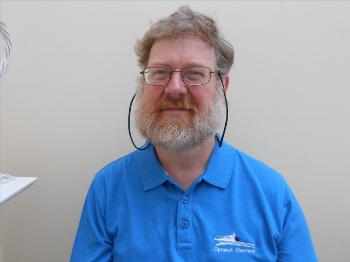 About the Skipper:
Our friendly captain Nigel, has been fishing for over 35 years and was brought up in Guernsey before moving to the UK in his 20's. Since then he has continued fishing (much to the frustration of his wife) and has skippered many boats over the years and is very experienced. Nigel holds Qualifications from both the M.C.A. and the R.Y.A.

Optimist offer's a service from Brixham and Torbay, our charters are planned with you in mind and nothing is too much trouble (we can even arrange bacon sandwiches early morning, or pasties lunch time on day long trips, so really do have you in mind...)
Nigel and his crew have an extensive knowledge of the area and are happy to help out the complete novice or provide a service for the more experienced fisherman.

We look forward to catching some good fish with you soon.

Nigel is also a member of the following organisations:

• Professional Boatman's Association (PBA)
• R.Y.A. Instructor
• R.N.L.I. Community Safety Advisor (Torbay Team)
• SSACN Elasmobranch Tagger




This Charter has been listed as Suitable for Diving Trips. Contact the Skipper for full details.
Sunday
Monday
Tuesday
Wednesday
Thursday
Friday
Saturday

Color for Fully Booked

Fully Booked

Color for Partially Booked

Partially Booked (Individual Spaces)

Color for Available

Available (Whole Boat)

Color for Not Available

Not Available

Color for Unspecified

Unspecified

N.B. Not all Skippers keep this dairy up-to-date. Always check with skippers before making any plans. Last calendar update: 18-Feb-2019

Fri 1st Mar More...

Fully booked

Sat 2nd Mar More...

Fully booked

Sun 3rd Mar More...

Fully booked

Mon 4th Mar More...

Fully booked

Tue 5th Mar More...

Fully booked

Wed 6th Mar More...
Thu 7th Mar More...
Fri 8th Mar More...
Sat 9th Mar More...
Sun 10th Mar More...
Mon 11th Mar More...
Tue 12th Mar More...
Wed 13th Mar More...
Thu 14th Mar More...
Fri 15th Mar More...
Sat 16th Mar More...
Sun 17th Mar More...
Mon 18th Mar More...
Tue 19th Mar More...
Wed 20th Mar More...
Thu 21st Mar More...
Fri 22nd Mar More...
Sat 23rd Mar More...
Sun 24th Mar More...
Mon 25th Mar More...
Tue 26th Mar More...
Wed 27th Mar More...
Thu 28th Mar More...
Fri 29th Mar More...
Sat 30th Mar More...
Sun 31st Mar More...
Upcoming Individual Spaces on Optimist
Reviews
Summary:





Saulius Bertauskas (03/10/2015)

Great time, weather and service! Recommended.

Skippers Reponse: Thanks Saulius, look forward to seeing you and the guys again.

Philip Gibbins (04/08/2014)

Recently I was lucky enough to join six friends for a four day fishing trip aboard Brixham based charter boat Optimist, skippered by Nigel Lihou, accompanied by his old pal, deck hand Ian.
Latest Catches 56 photos uploaded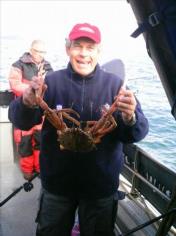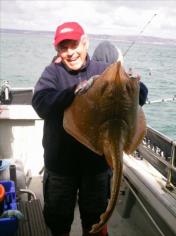 Unknown
10 lb Blonde Ray
5-Apr-2016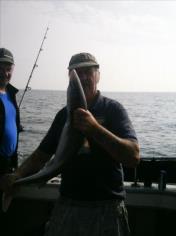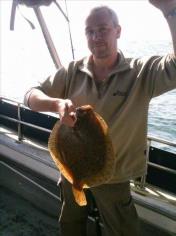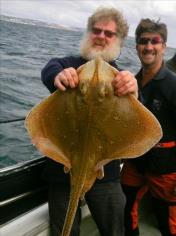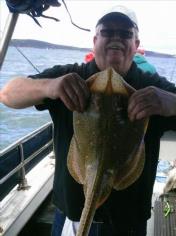 Ceri
4 lb 3 oz Spotted Ray
15-Aug-2015
Latest Fishing Reports
06/2018

Fishing Report by Nigel Lihou

Jun 2018 by Nigel Lihou

What a month it has been for Optimist here in Brixham. Back in April the Turbo went on the Engine and decisions need to be made; spend more on the Engine or source a replacement. The latter proved to be the way forward and after several abortive chases around the south coast and a wanted ad in FAFB we found a replacement in Jersey. This was taken out of the fishing boat it was in in Guernsey and shipped to Poole. A day out to Poole to collect then 2 weeks hard work to remove the old Engine and fit the New and we were up and running and a little bit more economical.
Back on the fishing and half day trips to the inshore wrecks were producing some nice sized Pouting and a Pollack, with the occasional Whiting. Full days have been spent on the Skerries hunting Plaice and Ray which this year is proving a little harder but when we hit them they are relatively plump specimens.
A pre booked party down for a week's fishing from Lancashire tested our fish finding abilities as the week they were here the wind forecast was Easterlies all week, (Brixham although on the South coast faces East) We managed to get round Start to Lannacombe for a day on the rough ground returning via the Skerries and a couple of days on the Inshore wrecks one day being cancelled due to the swell. The last day was a lumpy ride round to the mouth of the river dart sheltered from the East, and a couple of productive marks one producing Bull Huss up to 9.5lb as pictured with Bob one of the guys from Morecombe.
We continue to put you on the fish with a variety of species available on the Wrecks, Banks, reefs and marks that we have within a reasonable distance from Brixham, the mother port of Fishing.
Contact Nigel, Optimist Charters, 07817136505, www.optimistcharters.co.uk


12/2017

Fishing Report by Nigel Lihou

Dec 2017 by Nigel Lihou

2017 has been a good year for Optimist we have put the Anglers on the fish on every trip. The Wrecks have been a bit hit and miss during the year with some good catches of Pollack when we have managed to hit a wreck that has not been commercially netted the day before, Pout as usual have been very prolific, it is just convincing you anglers that a large Pout is if gutted when caught is not a bad fish to eat and they can put up a reasonable fight.
The Skerries bank as always has fished consistently throughout the year with reasonable quantities of Plaice although this year there were very few above the 2lb mark and a lot of undersized returned for another day. The banks still throw up surprises and we have had some good sized Turbot and Brill and Ray as well as the unexpected.
Our biggest problem this year has been fresh Mackerel as they didn't arrive until mid July and then it was a case of not on the usual marks except for one day in August where we sat on the mooring and nearly filled a box, which meant we could freeze some down for future use.
Also during the year we have become a recognised Elasmobranch tagger recording data for the SSACN, practising a catch and release program with Sharks, Rays, Huss and Hounds, this has so far proved very successful and we hope to build on this in 2018.
Optimist tries to live up to its name and with bookings for 2018 already starting to fill up we look forward to welcoming you aboard just call Nigel on 07817136505


03/08/2017

Fishing Report by Nigel Lihou

3 Aug 2017 by Nigel Lihou

Nigel Skipper of Optimist has now been accredited by the SSACN as a bonafide tagger of Elasmobranchs, (Sharks and Rays). We will therefore start to offer Sharking trips for a maximum of 4 persons and depending on Chum availability (the mackerel have been pretty scarce this year). If you fancy a day of Shark fishing on a catch, photo, Tag and release basis then please call for details. Nigel as far as he is aware is the only Tagger based in Brixham. We look forward to some Awesome fishing and being part of a national Elasmobranch research program. We will as part of the program continue to target Ray and Bull Huss and Hounds on our usual trips to the Banks and reefs.
The wrecks at the moment are inconsistent sometimes producing some good Pollack along with the inevitable Pouting, there have been some good days and some bad days during July as we never know whether the wreck has been netted the night before, but as always we try our best to put groups on the fish, the Pollack seem to be taking on the drop and care has to be taken not to get snagged up in the wreck as a few of regulars have found out.
The banks are fishing much better and we have seen some lovely plaice, Ray, Turbot and Brill even Bass although mainly undersize bass all on the drift which seems to work better than at anchor. On particularly bad weather / wind days we have targeted an inshore reef tucked in behind a headland at anchor we have seen some good Bull Huss along with Thornback Ray and Conger . With the summer the way it has been we are doing our best not to have to cancel but with winds of force 5 and 6 it is not that comfortable.
Spaces still available for August and September call for details


09/02/2017

Fishing Report by Nigel Lihou

9 Feb 2017 by Nigel Lihou

Although Optimist has been out of the water for two weeks it doesn't stop me getting out with friends for a bit of fishing in between the job list to be done. The Skerries are still producing well with good sizes of Ray, Blonde, Small eyed, Spotted and Thornback with smooth hound the odd Plaice and some good size Whiting there are still a good variety of fish about.

On the wrecks we have been seeing a fair amount of Pollack nothing of vast size but in the 3lb to 6lb range which is nice for those who would like one for the table.

Bookings are trickling in for 2017 so if you have a particular date in mind check the tides and give us a call we will do our best to put you on the fish.

For those of you more interested in watching our wildlife than catching fish we are now running regular bird and wildlife watching trips on Sunday mornings with a local accredited guide, but these do book up fast so best to give us a call, Optimist is still available for charter in the afternoon and for full days Monday to Saturday.

We look forward to welcoming you aboard in 2017.


08/10/2016

Fishing Report by Nigel Lihou

8 Oct 2016 by Nigel Lihou

First of all an apology as I haven't let you know what Optimist has been up to for the last few months but things have been a bit hectic.
Fish has been steady on the Skerries with a good species count on most trips, the Plaice are still around and getting plumper with the usual appearance of a Ray or two aboard on most trips mainly Blondes although we have had spotted, small eyed and thornback aboard (not all at once). The Gurnards appear with good regularity and mackerel seem more prolific on the banks than where they normally are around the headlands we have only seen one Garfish so far this year and quite a small one at that. Turbot and Brill have both been boated over the last couple of months with the biggest about 5lb and on the last trip out we managed a first for Optimist with a small starry smooth hound also on the same trip it was great to bring a Bass aboard a rare occurrence this year although we nearly lost it as it spat the hook in the net.
We continue to monitor the wreck situation which has been dire all year with very few decent fish, mainly pouting and small Pollack, but the sounder has been showing large balls of bait fish very close to the wrecks not good if you are trying to attract a fish with a plastic lure.
We will continue to be afloat for the majority of the winter and hope that the weather is a little kinder than last winter
Don't for get to give us a call if you fancy some good fishing