Charter Boat: PLAN B
Boat and Skipper Details
Licensed For:
up to 10 passengers
Hours:
8hr / 10hr / 12hr Trips
Type of Fishing:
Uptide casting for Bass,skate, tope and hounds in summer and cod in winter
Tackle Available:
Yes - Contact Skipper
Bait Available:
Yes - Contact Skipper
Boat Specification:
10m offshore 105 with deck access flushing toilet.
Facilities:
Hot food and drinks and bait and tackle included in price. Boat licenced and insured with all safety kit.
Additional Description:
New boat for speed and comfort. latest electronic navigation equipment to make finding the marks that hold the fish that much easier.
Boat charters for groups or individuals- competitively priced all inclusive.
Also available for sight seeing, Hen / Stag parties , scattering of ashes or anything you fancy on the water.
Bait / quality tackle and food and drinks. (rods are either Diawa TDU / TDX or Conoflex ) and either ABU mulitplyer reels or fixed spool for freshwater fishermen who are more used to these.
Beginners welcome / youngsters welcome- tuition given if required.
Top quality bait included in price - live bait whenever possible to obtain - This is LIVE peeler crab and hermit crab in the summer months and blow lug in the winter.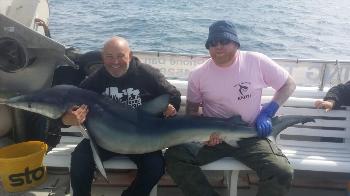 About the Skipper:
Skipper - Current Post Office National boat angling champion, 3 time regional Civil Service champion .
Fished numerous locations around the globe and have caught fish to 130lb
RYA / MCA trained and certified.
Fishing fanatic. ... Nothing gives me more pleasure than my anglers catching the fish of a lifetime.
Over 80 Personal bests have been caught on my boats in the 5 years of running my charter business
If it swims I will try to catch it !!
Received " Top Skipper " award Nov 2016 from Sea Angler magazine
Upcoming Individual Spaces on PLAN B
Sorry, there are currently no Individual Spaces at present.
Reviews
Summary:





Nigel Bolton (24/03/2018)

Me and 8 mates had a great trip out on Sat 24th, only 2 fish caught but all of us had a great day thanks to Ray & Keith plenty of advice and laughs all day will be booking again for sure
Thanks again

Skippers Reponse: Lovely day, the fish are still hiding farther down river. See you again soon :)

George Gardiner (14/08/2017)

Great day out, will definitely come again from the boys at rm chelmsford

Callum Lagden (06/08/2017)

Absolutely blinding day with Ray on the Marlin. Steady flow of fish and a lot of laughs. Ray is always on hand with knowledge for those who aren't experienced. The tea and pies are bloody tasty. Great day can't wait to get back out there.

Kam Randhawa (05/11/2016)

Had a great day out with Ray and Gareth..no cod unfortunately but plenty of good size whiting and a few thornbacks. Ray made loads of cups of tea and the Puka pie was a nice touch...will book again soon.

Skippers Reponse: Lovely to see you again ... hope cod show up soon !! Food was lovely , many thanks.

Scott Holmes (09/10/2016)

Had a great day on the Marlin Sunday with myself and my dad, we are both amateurs but were made to feel very welcome amongst all the fishing celebs onboard. We were helped with bait and tackle from the well stocked captain Ray and his second in command for the day Gareth. We caught whiting, skate and dog fish and were given a lesson on how to handle and de-hook the fish safely. The pies, sausage rolls and teas were well received on a chilly day. Thanks for a top day and hope to see you again.
Latest Catches 103 photos uploaded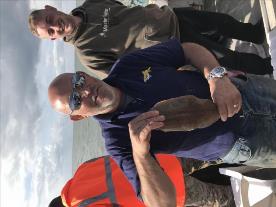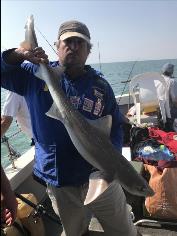 Ian Hewett
17 lb 8 oz Starry Smooth-hound
2-Sep-2018
Aaron
20 lb Stingray (Common)
6-Aug-2017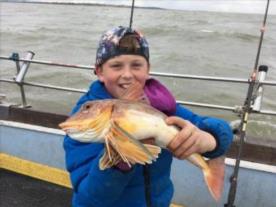 Steve
10 lb Thornback Ray
3-Mar-2017
Latest Fishing Reports and News
26/05/2019

Fishing Report by Ray Martin

26 May 2019 by Ray Martin

Crazy few weeks of fishing, bass in large numbers along with hounds and skate.


12/04/2019

Fishing Report by Ray Martin

12 Apr 2019 by Ray Martin

Loads of Thornback Rays now in river and first hounds now starting to show.
Weather is improving :)

24/03/2019

Fishing Report by Ray Martin

24 Mar 2019 by Ray Martin

Fished a lower river mark on Sunday with a group of youngsters and hit a large number a Thornback Rays. These were mainly large females and smaller males. All taken on fish baits on short rigs presented uptide in shallow water..
Despite what people say they fight well on light gear and and are fun to catch.
From now on the numbers will increase and we should soon see the first of the hounds plus bass.


15/03/2019

Fishing Report by Ray Martin

15 Mar 2019 by Ray Martin

Loads of Thornback Rays are now invading the Thames estuary.
Only short trip from mooring.
Weather improving

12/2018

Fishing Report by Ray Martin

Dec 2018 by Ray Martin

Wind has stopped play past few weeks so not much to report.
I have heard a few codling showing and plenty of whiting, dabs and dogfish to keep the interest.
Vouchers available for xmas presents ...
happy xmas
Ray