Charter Boat: Predator II
Boat and Skipper Details
Licensed For:
up to 12 passengers
Code Of Practice:
20 miles from safe haven
Hours:
1hr / 2hr / 3hr / 4hr / 5hr / 6hr / 7hr / 8hr / 9hr / 10hr / 12hr / Multiple Days Trips
Type of Fishing:
wreck / reef,freelining/flyfishing for pollack,uptiding(october onwards),bass plugging,sharking(july-sept)...COMMON SKATE(now targetted)
Tackle Available:
Yes - Contact Skipper
Bait Available:
Yes - Contact Skipper
Boat Specification:
purpose built angling launch 32ft long by 13ft wide (267sq ft of fishing deck),all electronics and fishfinders
Facilities:
tea and coffee available...sorry,no toilet
Additional Description:
SEA FISHING in South West Scotland
SEA FISHING from Portpatrick
COMMON SKATE FISHING at PORTPATRICK
SHARK FISHING(7 species) at PORTPATRICK
***MINIBUS AVAILABLE for 30 miles radius around GLASGOW and the central belt(contact IAIN on mobile no: 07753807152)
flexibility is the name of the game!...sailing at a time to suit you and returning back in line with the trip booked ....but before it gets dark.!...I am more than happy for a later departure to suit those anglers that have travelled some distance.I am more than willing to try any type of fishing you want to.I will anchor for uptiding and downtiding,drift the sunken wrecks and rough ground,go freelining for pollack in the kelp shallows and we can go sea fly-fishing and /or plugging for bass or shark fishing in the deeper water of Beauforts Dyke(restriction on numbers for that one!) in an area that stretches from mull of Galloway across to Ireland and upto Ailsa Craig. 2 day trips to stretch further afield to the Isle of Man or the Isle of Arran(tide direction dependant and plenty of notice required to arrange accomadation) are also available .
The boat is a purpose built angling vessel built in 1991(formerly "Yorkshire Lass") that operated out of Bridlington.She is fitted with all the safety equipment in line with the code of practice,and has now got 3-D downvision sonar
She is twin proppellor giving greater manoeverability and at 32 ft long and 13ft wide she is a large boat.The fishing deck area measures 267 sq feet.....plenty for 12 anglers and tackle .....max speed about 11kts.
Rods,Reels(all loaded with braid!) and Tackle are available either as an all inclusive package or just rod and reel hire.
individuals,groups,all ladies,children and youths...all are welcome aboard.
please email or ring for pricing packages for individuals,whole boat or partial boat bookings.I will take under 10's but ask that parental/guardian cover is provided afloat.
For the beginners and " unsure" seafarers I suggest the 2 or 3 hour trips,for the more experienced the trips upto 6 hours seem to suit(in my experience).The veterans of the waves will manage the longer haul upto 12hours.
The trips upto 5 hours are all inclusive of tackle and bait,the longer trips incur tackle and rod hire charges for those without their own tackle
I also offer price packages for those that want the whole boat to themselves but don't have the full 12 anglers
The restrictions of the licencse stipulate that I can only sail in fair weather and fair light and that means that the longer trips are restricted to the summer
Less travelling and more fishing is the order of the day but I will travel further offshore if needs be.

Fishing tariffs: all prices are per person
1hr- £12
2hr-£15
3hr-£22 trips from 1-5hr are all inclusive of rod,reel and tackle
4/5hr-£30
6hr-£35
7/8hr-£45
9/10hr-£55 the trips 6-12hrs are pp (£10 per rod,reel and all end tackle for those without)
11/12hr-£60
(price rise in 2018 is first for 5 years!)

New for 2018........3hr Common Skate trips,all tackle included and bait(max 6 anglers)....£30pp

****PLEASE SPECIFY NUMBERS AT TIME OF AGREEING THE BOOKING SO THAT A PRICE FOR THE TRIP CAN BE CONFIRMED AND AGREED AS A MINIMUM PRICE FOR THE REQUESTED DATE******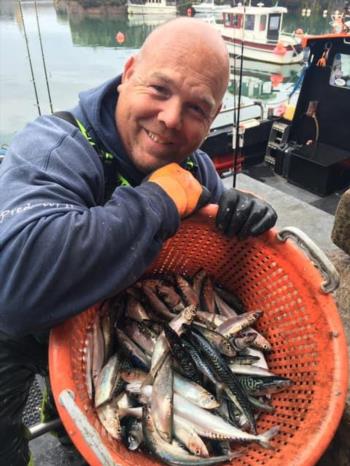 About the Skipper:
"Predator II" is my 5th and largest boat and with the arrival of 2018,this will be my 5th year of charter angling in portpatrick.
I completed 22years service in the Royal Navy and have been fortunate to turn my passion into my job! .I have a wealth of knowledge on techniques that I am more than willing to share to help you get the most out of YOUR day. My level of commitment to you the customer is unsurpassed and I will not stop trying for you from trip start til day end.I will be honest with you about the state of the fishing when you enquire and offer info about the best tides and times to suit you.I will do my upmost to accomodate every requirement of yourselves.I cant guarantee the weather or fish,but I can guarantee maximum effort on my part for YOU! If you enjoy the day out,tell your friends...if you didnt,then tell me!
From me,you can expect diligence,humour,commitment and enthusiasm..."Zeal does not rest!"

This Charter has been listed as Suitable for Diving Trips. Contact the Skipper for full details.
This Charter has been listed as Wheelchair Accessible. Contact the Skipper for full details.
Upcoming Individual Spaces on Predator II
Sorry, there are currently no Individual Spaces at present.
Reviews
Summary:





patrick skiba (20/08/2018)

had a great 3 days out with Dom a great skipper put us on the fish we wanted to catch brilliant pollock fishing would highly recommend Dom

Skippers Reponse: really glad the area showed its true colours and you enjoyed yourself...great having you on board...til next time .take care

Darren Tarr (21/07/2018)

Was out on the boat last weekend (21&22nd) July and the fishing was incredible, skipper Dom was brilliant, between his knowledge of the water and his help on deck he was great, highly recommend this boat and skipper.

Skippers Reponse: thanks very much,that was some spurdog and tope fishing,really glad you enjoyed it

Michael Tarr (21/07/2018)

Had a fantastic weekend with Dom @ portpatrick ,spurdog to 22lb,tope to 32lb,bull huss to 15lb,great skipper,great company,will certainly be back. Mike.

Skippers Reponse: many thanks,so glad the fish turned up and you enjoyed it.

tony PHILLIPS (01/08/2016)

Good luck for the season Dominic, really enjoyed my days out with you, hope your 200lb'er comes to fruition mate this year, can't wait till up there for lifeboat week. as said good luck

Skippers Reponse: many thanks for the support,look forward to seeing you

Ron Howe (30/10/2016)

Just to say a big thank you for all the hard work you have done over the past year for both clubs (Sliver lure s.a.c and Glasgow & District ) and will see you next year
Latest Catches 656 photos uploaded
Latest Fishing Reports and News
07/02/2019

Fishing Report by dominic wilson

7 Feb 2019 by dominic wilson

So the boat is now well and truly "chocked on the blocks" courtesy of Nobles boatyard at Girvan.The boat has had a really good industrial jetwash and when the weather improves,out will come the paintbrush! Nobles are undertaking the mechanical / electrical aspect of this winters refit and all being well, the boat will emerge at the end of march...bookings are being taken from April onwards.
It is of note that the North channel has produced nearly 40 species of fish to the boat with still more to find....
wrecking trips,at anchor fishing,shallow water pollacking,common skate targetted,drift fishing for plaice and turbot,deepwater shark fishing.......the options are many and varied


28/01/2019

Fishing Report by dominic wilson

28 Jan 2019 by dominic wilson

So Winter has set in and its bitterly cold afloat with very few weather windows and those that do open are at very short notice and close just as quick.......with that in mind,and needing a few minor jobs doing,I took the boat to Nobles boatyard at Girvan and there she will sit until the end of March.
Bookings are being taken for 2019,starting first week of April and hopefully the weather and more importantly the wind,will be kind to us this year.
Last year saw us land a lot of good spurdogs with the majority being over 15lb,Huss were prolific with the majority being over 13lb,we saw no smoothhounds some ray and some nice Pollack.The common skate were scarce and the biggest last year was only 139lb.We saw more tope last year than the year previous but didn't get anything over 40lb,the best being 35lb.

I will be running a competition this year from April 1st til Oct 30th and it will be £2 entry fee on top of the day rate. The £2 per rod will initially cover the outlay for the prize(£94 - until paid off),which is a Penn Regiment all roller 50-80lb class rod with a corduba travel tube and the rest will go to the RNLI.

The Rules are really simple....pay your £2 at the start of the trip and leave an email address. The winner is the person who, by Oct 30th has caught the heaviest COMMON SKATE. This competition is for common skate ONLY and all weights will be determined by using the "Orkney Skate Trust" graphs for males/females.

Some anglers fish 2 rods onboard and each rod will command a £2 entry fee for those entering. Entry into the skate competition is purely voluntary.

I look forward to fishing with old hands and new faces in 2019

Tight Lines..............Dominic

28/12/2018

Fishing Report by dominic wilson

28 Dec 2018 by dominic wilson

Period 28/12 - 4/1/19.......

Finally the winds eased and we have managed 3 days fishing and some nice fish were landed.We had a common skate (30lb) several huss(12lb) loads of mini spurdogs (12" long!) which I have never seen,loads of tiny dogfish,plenty of whiting,some small haddock and one solitary spurdog of 7lb.
Below are the largest fish of the year,captors name in brackets:

common skate 139lb (sandy)
tope 35lb (dominic / dave)
huss 18lb (dominic)
spurdog 22lb (willie) (unofficial scottish record)
pollack 8.8lb (john from blackpool)
ballan wrasse 2.5lb (scott)
blonde ray 12lb (chris)
thornback ray 12lb (lawther jr)

and the rarest of the year was a 3oz poor cod

**** From April 1st til October 30th 2019 I will be running a competition for the largest COMMON SKATE of the year.Entry will be £2 and once the cost of the rod has been covered( £100) ,then all other proceeds will go to the lifeboat(RNLI). The rod is a 50lb class all roller Pen Regiment rod with a corduba rod tube which will be held on board.All you need to do is make your intention to enter clear before we sail, pay £2 and leave your address/email with me and once the terminal date is reached,if youve won,Ill contact you.*****

28/10/2018

Fishing Report by dominic wilson

28 Oct 2018 by dominic wilson

Finally managed to get out on the last sunday in October with Matt White and his boys and we had 11 species...we had Tope(23lb),spurdog(8lb),bullhuss(13lb)pollack and coalies from the harbour entrance(3.5lb),cod haddock,whiting,doggies,pouting and a very rare (and after much discussion!) a poor cod of 3oz! whiting were noticeable by their absence but those that landed whiting and fished them as flappers caught the better sharks. It is proven that whiting definitely outfishes mackerel for the bottom sharks and the common skate are quite partial to it also!

A date for the lift out at Girvan has yet to be agreed and so,the fishing continues with bookings being taken upto mid/late December providing the wind will let us! Looking at going uptiding for cod this year if anyone fancies their hand....some gear held onboard

05/10/2018

Fishing Report by dominic wilson

5 Oct 2018 by dominic wilson

covers period 5/6 october.....

the wind as always(it seems) has hampered the fishing and coloured the water.That said,we got out with Glenn Craggs' boys on the friday and caught loads of whiting some small codling/haddock,2 mackerel and the sharks decided to show up....
we caught 1 tope at 35lb,6 huss all around the 15lb mark and we hooked into and lost 3 common skate...one skate even snapped an 8/0 bronzed O'shaunessy hook!
pictured is the 35lb tope