Charter Boat: Privateer
Boat and Skipper Details
Licensed For:
up to 10 passengers
Code Of Practice:
Cat 2 ( 60 miles )
Hours:
5hr / 7hr / 8hr / 10hr / 12hr Trips
Type of Fishing:
General, Tope, Species, Match, Wreck, etc.
Boat Specification:
fast Offshore 105, purpose built angling boat, powered by reliable 420hp Caterpillar engine.
Facilities:
Deck accessed electric flush toilet. Hot drinks and cooking facilities.
Additional Description:
Looking forward to 2018 I will be moving 'Privateer', with a return to the port of Rhyl. Whilst the fishing has often been excellent in Caernarfon bay, with limited trips showing 32 species aboard in the last two years. Common sense on my part has prevailed with a sensible move to Rhyl Harbour. There are many reasons but marina charges and fuel costs are in these times, a major factor. Access, is another. Rhyl is much closer to most of my customer base and is even 30 minutes closer to me. Rhyl has a nice safe ramp down to a pontoon for ease of boat loading. Has free parking very close by, a cafe, toilets and a tackle shop onsite providing bait and all your tackle needs and best of all the angling is excellent with a wide variety of fish and lots of fish attracting wrecks close by in Liverpool bay.
I plan to offer a lot more dates this year beginning, as the fish arrive in numbers in, April.
. There will be opportunities for both individuals and groups/clubs and as well as General, Tope, wreck, etc, trips ..... I will be trying some, night, sole trips over the summer, light tackle Smoothound trips, fun matches and maybe some serious matches too ..... These will be advertised with plenty of notice.
Privateer will be coming out of the water shortly for a nice clean up and preparation for the year ahead and after that, I look forward to seeing you aboard and getting some good fishing. All the best to all for 2018.
Jon Law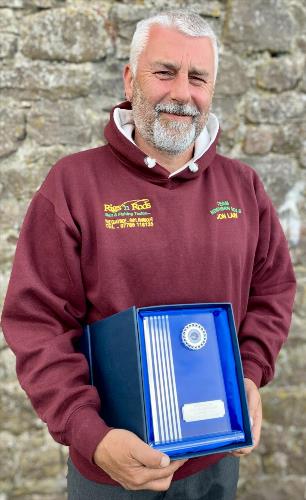 About the Skipper:
My name is Jon Law and I have been a very keen angler for over 46 years although I really started charter boat angling regularly about 35 years ago and purchased my first boat 25 years ago ..... Doesn't time fly , seems like yesterday.

I have operated my own angling boats successfully, up and down the North west coast, mainly in North Wales and have progressed to the boat I have now .. Privateer. I hold a commercially endorsed skippers licence and all up to date, sea survival, PPR and first aid certificates.

My full time job ... if you can call a 4 day a week job full time :) .. is a Safety engineer, on land. So I should describe myself as a part time charter boat skipper, at sea but as in both jobs your safety is paramount. The reason I got into chartering is to give something back to the sport that has given me so much, by providing good sport to others, in this beautiful part of the world.

I was fortunate to Boat fish in international and world competition for the country of Wales, seven times, and immensely proud to hold two team Gold medals .... rare things. Currently I still fish competitively all over the UK and I am always happy to share information that will make your angling experience more pleasurable.
Sunday
Monday
Tuesday
Wednesday
Thursday
Friday
Saturday

Color for Fully Booked

Fully Booked

Color for Partially Booked

Partially Booked

Color for Available

Available

Color for Not Available

Not Available

Color for Unspecified

Unspecified

N.B. Not all Skippers keep this dairy up-to-date. Always check with skippers before making any plans. Last calendar update: 15-May-2018

Tue 1st May
Wed 2nd May
Thu 3rd May
Fri 4th May
Sat 5th May
Sun 6th May
Mon 7th May
Tue 8th May
Wed 9th May
Thu 10th May
Fri 11th May
Sat 12th May
Sun 13th May
Mon 14th May
Tue 15th May
Wed 16th May
Thu 17th May
Fri 18th May
Sat 19th May
Sun 20th May
Mon 21st May
Tue 22nd May
Wed 23rd May
Thu 24th May
Fri 25th May
Sat 26th May

Fully Booked

Sun 27th May

8 Hour individual Trip, Targets : Tope and Smoothound. Sail : 12:30pm. Cost : £40 ...... 5 PLACES.

Mon 28th May

8 Hour.

Tue 29th May
Wed 30th May
Thu 31st May
Reviews
This skipper has disabled reviews.
Catch Stats
CBUK Catch Log: 2 Species have been caught onboard Privateer, including: Black Sea Bream | Tope
Latest Catches 6 photos uploaded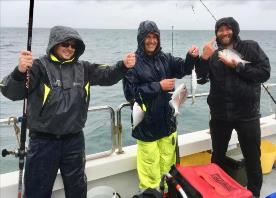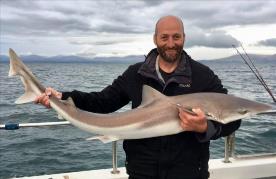 Latest Fishing Reports
02/2018

Fishing Report by Jonathan Law

Feb 2018 by Jonathan Law

Exciting news ... With kind permission of the 'Species league'

https://www.facebook.com/search/top/?q=species%20league.

we will be running two species competition rounds in conjunction with the main league At Rhyl aboard Privateer.

This is a very popular sea league in the south of England and there is more information on their popular web page :)

The dates are both Fridays.

July 13th ( 2pm - 10pm )
October 5th ( 9am - 5pm )

To run in conjunction with the competition dates of the league and will follow their rules and points system.

These matches are great fun and Rhyl with its variety available should be a good venue. If interested please let myself or Ray, at the species league know as both dates are limited to 10 anglers and hopefully will fill fast.

For more information, ask away ? :)