Charter Boat: Rocket
Boat and Skipper Details
Licensed For:
up to 12 passengers
Code Of Practice:
60 miles offshore cat 2
Hours:
9hr / 12hr / Multiple Days Trips
Type of Fishing:
Stag and Hen parties. Wreck and Sea Bass fishing.
Boat Specification:
Fast Sports Catamaran
Facilities:
Hot /Cold drinks. Barbecue facility available .Inside and out seating + toilet + full corporate and team building days available
Additional Description:
Fast purpose built sports fishing 40' catamaran.Very stable including a dry safe ride.This ultimate fishing machine will amaze and impress. Rocket is the future of charter fishing and will put all lesser vessels in the shade !. DONT SPEND ALL DAY BEING SEA SICK. BOOK ROCKET AND ENJOY YOUR DAY.. STAG AND HEN DO's . WE FISH FOR SEA BASS.Cod and Pollack. Turbot ,Brill and Conger eel . We offer the best service at a sensible price. Call us FIRST !!!! CALL US NOW !!!
for a one stop, all inclusive service. Hen Do's and Stag Do's CALL 07516510695
Kind Regards Trevor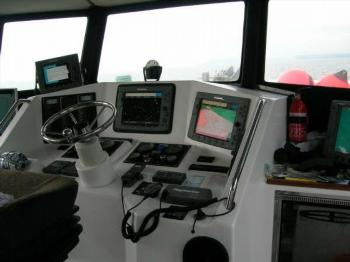 About the Skipper:
Trevor Small . has fished from Poole, since the early 70's and has chartered since 1990. Rocket" is the latest design of super fast catamaran,and offers space and comfort. Why struggle for space when you can step aboard this 12mtr fast cat. STAG AND HEN DOO'S To reserve a place or for a whole boat CALL 07516510695. We offer great value, highly productive trips. Call us before you choose anyone else. BEST RATES, BEST FISHING,FRIENDLY STAFF THAT WILL MAXIMISE YOUR DAY. Hope to see you soon regards Trevor Small. 07516510695

This Charter has been listed as Suitable for Diving Trips. Contact the Skipper for full details.
Sunday
Monday
Tuesday
Wednesday
Thursday
Friday
Saturday

Color for Fully Booked

Fully Booked

Color for Partially Booked

Partially Booked

Color for Available

Available

Color for Not Available

Not Available

Color for Unspecified

Unspecified

N.B. Not all Skippers keep this dairy up-to-date. Always check with skippers before making any plans. Last calendar update: 19-Jan-2018

Sun 1st Jul
Mon 2nd Jul
Tue 3rd Jul
Wed 4th Jul
Thu 5th Jul
Fri 6th Jul
Sat 7th Jul
Sun 8th Jul
Mon 9th Jul
Tue 10th Jul
Wed 11th Jul
Thu 12th Jul
Fri 13th Jul
Sat 14th Jul
Sun 15th Jul
Mon 16th Jul
Tue 17th Jul
Wed 18th Jul
Thu 19th Jul
Fri 20th Jul
Sat 21st Jul
Sun 22nd Jul
Mon 23rd Jul
Tue 24th Jul
Wed 25th Jul
Thu 26th Jul
Fri 27th Jul
Sat 28th Jul
Sun 29th Jul
Mon 30th Jul
Tue 31st Jul
Latest Catches 60 photos uploaded
Latest Fishing Reports
17/04/2017

Fishing Report by Trevor Small

17 Apr 2017 by Trevor Small

Bream fishing locally around Poole's reefs is now in full swing. Fish of 1.5 -2.5 are common falling for a Squid and Worm cocktail. These fish should remain local for the next 2-3 weeks then start to disperse to deeper reefs marks further from Poole. Mackerel are now being taken on feathers and sometimes bait intended for other fish. Regards Trevor Small

06/11/2016

Fishing Report by Trevor Small

6 Nov 2016 by Trevor Small

Despite a "gales later" warning for sea areas Wight, Rocket went fishing. We kicked off our winter fishing season with some nice fish coming to the net. Kim White boated and released a Turbot of 12lb. Other species landed ,included Rays,Channel Whiting ( estimated @ 80- 90) , Pollock,Mackerel, Pout ect. Call me if you fancy a comfortable days fishing over productive grounds.

18/11/2014

Fishing Report by Trevor Small

18 Nov 2014 by Trevor Small

Dear all
Rocket's winter fishing season is getting off to a rather slow start. Cod our main target seem low on numbers, but this is likely to improve over the coming weeks. Despite lower numbers of Cod than this time last year,catches of other species have been up. All of our trips have produced good size Bass, Congers and an abundance of Channel Whiting. Also Thornback rays seem plentiful, along with Bull Huss and a bonus 18.5 lb Turbot .Rocket came third in the Poole Sea Anglings Centre, Cod Comp fished on Nov 16th. Our Cod was a very small fish, but a Cod and that's all that counted. This time of year can produce some very exciting sport, and often produces a lifetime fish for anglers taking part. Good luck and see you soon.

Regards Trevor Small
Rocket, Poole

07/09/2014

Fishing Report by Trevor Small

7 Sep 2014 by Trevor Small

Hi Everyone
With summer drawing to a close, my thoughts are now turning to winter Cod fishing. It can be a demanding time of year weather wise,but we do have the boat that can handle anything ! . With a shelter deck and heated wheelhouse,hot drinks and 900hp under the bonnet Rocket is worth considering.. You are sure to enjoy a comfortable day, and possibly carry home some decent fish. I have frozen bait in stock,traces tied and productive marks to fish. Rocket fishes the Needles late Oct- mid December then more local grounds off Poole. I need anglers that can fish tide, and have the strength to hold up big fish for a photo.

I hope to see you soon .
Regards Trevor
07516510695


03/2014

Fishing Report by Trevor Small

Mar 2014 by Trevor Small

Dear Customers and friends
Rockets diving/angling season started March 9th this year, with bookings taken for most weekends either to fish or dive. Unfortunately my initial concern over water clarity were confirmed on out first trip out. The good news is that the water temp is up three degrees on what it usually is this time of year ,but very much down on clarity. This can only be a result of mild winter and higher than expected rain fall earlier this month. March is usually when we would be fishing mid channel wrecks for hard fighting Pollock. Sadly the lack of clear water in the channel has kept our quarry out of reach. I am confident that things will improve shortly, and we will be back filling fish boxes with your chosen target specie. Over the next few weeks expect the first Bream to be caught close to Poole, and hopefully news will follow that the Pollock are moving towards us from the western approaches. Fingers crossed and thank you for your continued support.

Regards Trevor
07516510695
Rocket ,Poole