Charter Boat: Sapphire
Boat and Skipper Details
Licensed For:
up to 10 passengers
Code Of Practice:
60 miles cop
Hours:
1hr / 2hr / 3hr / 4hr / 5hr / 6hr / 7hr / 8hr / 9hr / 10hr / 11hr / 12hr / 24hr / Multiple Days Trips
Type of Fishing:
Deep sea wreck, Inshore wreck, Rough Ground, Winter Uptiding, Day or Night,,,,,,,,,Commercial work pier inspections river banks with divers all work undertaken call for price,,,,,,, *********FREE PARKING********
Tackle Available:
Yes - Contact Skipper
Bait Available:
Yes - Contact Skipper
Boat Specification:
33ft Aqua bell,
Facilities:
Modern electronics, Cooking facilities, and toilet available.
Additional Description:
33ft Aqua Belle, large deck space,all mod cons navigator,chart plotter,radar system, sounder all Feruno.VHF radio,DSC radio,all life saving equipment,including life rafts and life jackets, Tea & Coffee, Toilet, (I am working out of sunderland marina, Sapphire set a new record in uptiding out of sunderland with a 28lb cod taken on 13th January 2013, 200 yds off the shore, Am working full time 7 days a week or evenings, I have tackle for sale on the boat 15oz 4 hook rippers, & 12oz 4 hook rippers, 10oz cannon ball leads, Other tackle available, Sapphire prices are Wrecking 12hr £55pp,,10hr £45pp, 8hr £40pp, 6hr £35pp, 5hr £30pp, 4hr £25pp, Offshore 16hr call for price,,,,, We also do family trips up the coast and back, Air show day and evening watch the show from the sea, Stag trips, Full tackle hire available + bait all you do is turn up its all done for you,,,,,,Winter uptide trips starts October 6hr £30pp fishing around the tide day or night Bait can be order week notice, Much improved work done on sapphire gives us more speed to offshore wrecks top speed at 15nt and cruising 13nt, Booking your trips the number of people you book for you pay for, 7 days notice I need to fill places, Thank you tight Lines. ( Am now taken bookings for 2019 Angling Clubs and Singles ),,,,,,,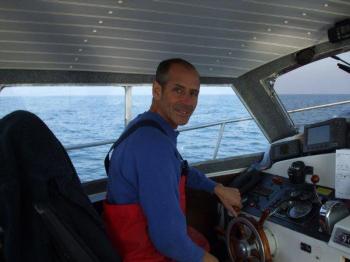 About the Skipper:
I am a very experienced fisherman and have all life saving and first aid, skippers certificates etc.i"v been fishing now for around 45 years starting out working from fishing boats netting, potting, then fishing from angling boats around the uk for many years untill now i own my boat sapphire for 10 years now, Fishing some of the many wrecks the smaller boats can"t get two, You will get a very warm and friendly wellcome when you come fishing on "sapphire" Individuals or partys is most welcome, We will do our best to give you an enjoyable days fishing on board Sapphire.
This Charter has been listed as Wheelchair Accessible. Contact the Skipper for full details.
Sunday
Monday
Tuesday
Wednesday
Thursday
Friday
Saturday

Color for Fully Booked

Fully Booked

Color for Partially Booked

Partially Booked (Individual Spaces)

Color for Available

Available (Whole Boat)

Color for Not Available

Not Available

Color for Unspecified

Unspecified

N.B. Not all Skippers keep this dairy up-to-date. Always check with skippers before making any plans. Last calendar update: 01-Dec-2018

Sat 1st Dec More...
Sun 2nd Dec More...
Mon 3rd Dec More...
Tue 4th Dec More...

Rough Ground 11am to 5pm,,,,6hrs,,,£30pp,,,,,( 7 places available ) 07903454745,

Wed 5th Dec More...
Thu 6th Dec More...
Fri 7th Dec More...
Sat 8th Dec More...

Fully Booked 07903454745

Sun 9th Dec More...

Rough Ground 9am to 2pm £25pp,,,,( 9 places available ),,,,,07903454745

Mon 10th Dec More...
Tue 11th Dec More...
Wed 12th Dec More...
Thu 13th Dec More...
Fri 14th Dec More...
Sat 15th Dec More...
Sun 16th Dec More...
Mon 17th Dec More...
Tue 18th Dec More...
Wed 19th Dec More...
Thu 20th Dec More...
Fri 21st Dec More...
Sat 22nd Dec More...
Sun 23rd Dec More...
Mon 24th Dec More...
Tue 25th Dec More...
Wed 26th Dec More...
Thu 27th Dec More...
Fri 28th Dec More...
Sat 29th Dec More...
Sun 30th Dec More...
Mon 31st Dec More...
Upcoming Individual Spaces on Sapphire
Sorry, there are currently no Individual Spaces at present.
Reviews
Summary:





Reviews Unaccepted: 1
gavin eccles (08/09/2018)

First time on the saphire fishing made to feel welcome and had a decent trip will book again cheers peter

Skippers Reponse: it turned out to be a good well done, Thank you

john lewis (06/07/2018)

thanks peter yet again good trip good crack the wife is happy I got her a ling its been a long time hope its not to long until the next one cheers john Lewis. wok

Skippers Reponse: It has been a while but good to see you again, Tight Lines

Shaun McCarroll (24/05/2018)

I accompanied John on this trip out as he regularly uses this boat. Skipper took us on several wrecks which didn,t produce first thing, but we moved back inside on rough ground and the skipper found us fish. Everyone was catching and had a very enjoyable day.
The skipper has a funny sense of humour that kept me laughing all day. Peter, you need to partner up with Frankie Boyle and get on the stage.
Nevertheless, well recommended. Thanks for the day out. 70 cod in total between a party of 8, fantastic.

Skippers Reponse: Thank you Shaun, I bet that old chap was in the kitchen all night cleaning up with all them fish, Tight Lines.

Grant Findley (20/05/2018)

Family day out with my children and some lads from work. Wonderful trip, totally kid friendly, Peter helped out and was so welcoming. Kids adored it... 20 odd keepers in 5 hours. All clean lovely cod. Peter knows where the fish are, full stop. Been out a few times on my own with kids and caught nowt. Not enjoyable for kids when you don't catch. So peters boat well worth the trip. Toilets on Board were handy for kids, very safe, took own life jackets too but he had plenty on board. Peter Helped us bait up and even recover gear and tackle up. Fabulous day. Any dad who doesn't take their kid fishing while their young is simply missing out... fabulous memories for these kids. Deffo booking again. Not worth buying our own boat when it's cheap enough to charter peters entirely out to us. Get it booked Cheers Grant Findley and family.

Skippers Reponse: Thank you Grant, It was a cracking day out and yes the kids loved it hope you all enjoyed the fish and I hope I see you very soon, Enjoy your holiday, Tight Lines.

Paul Bootland (13/05/2018)

Travelled up from Huddersfield with bob, with rain forecast unsure what sort of a day we may have. Half hour into the trip though I hit the first codling and this was the first of many for myself and bob. Ended the day with 23 keepable codling up to 4 pounds between the 2 of us as well as the smaller ones that went back. Great banter on the boat from the off with the skipper all too willing to share his knowledge with the less experienced.
Will hopefully be back out on sapphire soon.

Paul

Skippers Reponse: Thank you Paul I hope we do better next trip on the wrecks, Tight Lines,
Latest Catches 204 photos uploaded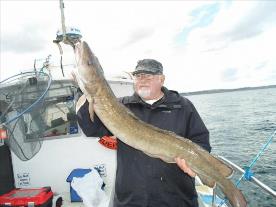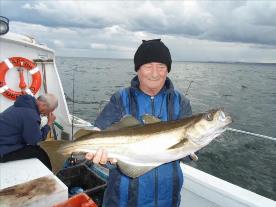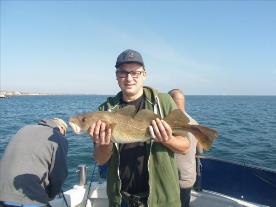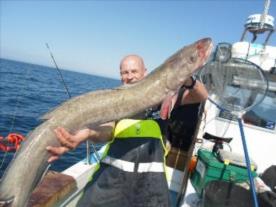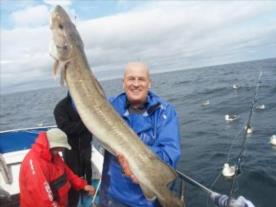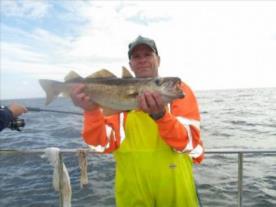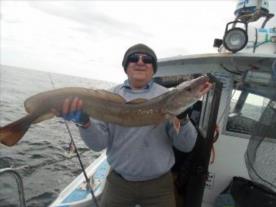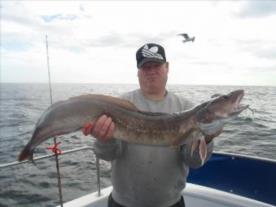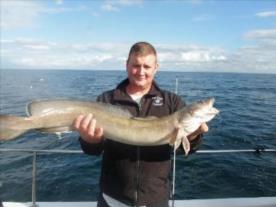 Latest Fishing Reports
19/10/2018

Fishing Report by peter stubbs

19 Oct 2018 by peter stubbs

Friday 19th October, 7 lads out today 4hr trip we done 4 wrecks and took ling to 10lb and codling to 6lb, The last we fished over the rough ground and took codling from 3 to 4lb,

16/10/2018

Fishing Report by peter stubbs

16 Oct 2018 by peter stubbs

Tuesday 16th October, My regular Chinese lads out we tried a few wrecks and took ling to 10lb and codling to 5lb,

15/09/2018

Fishing Report by peter stubbs

15 Sep 2018 by peter stubbs

Saturday 15th September, 8hr trip today 7am start 5 polish lads booked the boat, We header out to the rough just in time to catch the flood tide, Lots of mackerel been caught the lads started to use for bait taken codling from 2 half lb to 7 half lb and the best of the day 10 half lb,

13/09/2018

Fishing Report by peter stubbs

13 Sep 2018 by peter stubbs

Thursday September 13th, 4 lads out today on a 6hr trip, Fishing over rough ground quiet a few mackerel show up just has well we needed the bait not long after that we were catching codling to 5 half lb,

09/09/2018

Fishing Report by peter stubbs

9 Sep 2018 by peter stubbs

Sunday 9th September, 10 lads out today 10am start not the best time to start a 6hr trip with winds getting up to 17mph and 33 gusts, Any we set off bit slow at first until tide got under way and codling came on best been 5lb today but still a good stamp of fish,