Charter Boat: Sapphire
Boat and Skipper Details
Licensed For:
up to 10 passengers
Code Of Practice:
60 miles cop
Hours:
1hr / 2hr / 3hr / 4hr / 5hr / 6hr / 7hr / 8hr / 9hr / 10hr / 11hr / 12hr / 24hr / Multiple Days Trips
Type of Fishing:
Deep sea wreck, Inshore wreck, Rough Ground, Winter Uptiding, Day or Night,,,,,,,,,Commercial work pier inspections river banks with divers all work undertaken call for price,,,,,,, *********FREE PARKING********
Tackle Available:
Yes - Contact Skipper
Bait Available:
Yes - Contact Skipper
Boat Specification:
33ft Aqua bell, Compleat New Deck Oct 2014,
Facilities:
Modern electronics, Cooking facilities, and toilet available.
Additional Description:
33ft Aqua Belle, large deck space,all mod cons navigator,chart plotter,radar system, sounder all Feruno.VHF radio,DSC radio,all life saving equipment,including life rafts and life jackets, Tea & Coffee, Toilet, (I am working out of sunderland marina, Sapphire set a new record in uptiding out of sunderland with a 28lb cod taken on 13th January 2013, 200 yds off the shore, Am working full time 7 days a week or evenings, I have tackle for sale on the boat 15oz 4 hook rippers, & 12oz 4 hook rippers, 10oz cannon ball leads, Other tackle available, Sapphire prices are Wrecking 12hr £50pp,,10hr £40pp, 8hr £35pp, 6hr £30pp, 5hr £25pp, 4hr £20pp, Offshore 16hr call for price,,,,, We also do family trips up the coast and back, Air show day and evening watch the show from the sea, Stag trips, Full tackle hire available + bait all you do is turn up its all done for you,,,,,,Winter uptide trips starts October 6hr £30pp fishing around the tide day or night Bait can be order week notice, Much improved work done on sapphire gives us more speed to offshore wrecks top speed at 15nt and cruising 13nt, Booking your trips the number of people you book for you pay for, 7 days notice I need to fill places, Thank you tight Lines. ( Am taken bookings for 2018 Angling Clubs and Singles ),,,,,,, 2018 Tall Ships family trips up the river and back see the tall ships, £10pp, Children £5pp,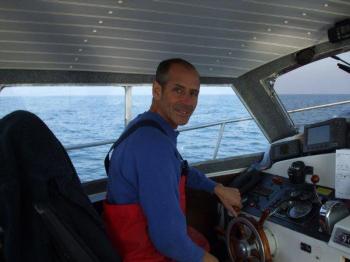 About the Skipper:
I am a very experienced fisherman and have all life saving and first aid, skippers certificates etc.i"v been fishing now for around 45 years starting out working from fishing boats netting, potting, then fishing from angling boats around the uk for many years untill now i own my boat sapphire for 10 years now, Fishing some of the many wrecks the smaller boats can"t get two, You will get a very warm and friendly wellcome when you come fishing on "sapphire" Individuals or partys is most welcome, We will do our best to give you an enjoyable days fishing on board Sapphire.
This Charter has been listed as Wheelchair Accessible. Contact the Skipper for full details.
Sunday
Monday
Tuesday
Wednesday
Thursday
Friday
Saturday

Color for Fully Booked

Fully Booked

Color for Partially Booked

Partially Booked

Color for Available

Available

Color for Not Available

Not Available

Color for Unspecified

Unspecified

N.B. Not all Skippers keep this dairy up-to-date. Always check with skippers before making any plans. Last calendar update: 19-Apr-2018

Sun 1st Apr

Wrecking trip boat available 10hr 7am to 5pm ( 10 places available ) Clubs and Singles,,,,07854819924

Mon 2nd Apr

Uptide trip 6hr, 11am to 5pm £30pp,,,,( 4 places available ),,,,,07854819924,,,Cancel due to weather

Tue 3rd Apr

Wrecking trip boat available 10hr 7am to 5pm ( 10 places available ) Clubs and Singles,,,,07854819924

Wed 4th Apr

Wrecking trip boat available 10hr 7am to 5pm ( 10 places available ) Clubs and Singles,,,,07854819924

Thu 5th Apr

Wrecking trip boat available 10hr 7am to 5pm ( 10 places available ) Clubs and Singles,,,,07854819924

Fri 6th Apr

Wrecking trip boat available 10hr 7am to 5pm ( 10 places available ) Clubs and Singles,,,,07854819924

Sat 7th Apr

Wrecking trip boat available 6hr to 10hr ( 10 places available ) Clubs and Singles,,,,07854819924

Sun 8th Apr

Wrecking trip boat available 6hr to 10hr,,,, ( 10 places available ) Clubs and Singles,,,,07854819924

Mon 9th Apr

Wrecking trip boat available 10hr 7am to 5pm ( 10 places available ) Clubs and Singles,,,,07854819924

Tue 10th Apr

Wrecking trip boat available 10hr 7am to 5pm ( 10 places available ) Clubs and Singles,,,,07854819924

Wed 11th Apr

Wrecking trip boat available 10hr 7am to 5pm ( 10 places available ) Clubs and Singles,,,,07854819924

Thu 12th Apr

Wrecking trip boat available 10hr 7am to 5pm ( 10 places available ) Clubs and Singles,,,,07854819924

Fri 13th Apr

Wrecking trip boat available 10hr 7am to 5pm ( 10 places available ) Clubs and Singles,,,,07854819924

Sat 14th Apr

Wrecking trip boat available 6hr to 10hr,,,,, ( 10 places available ) Clubs and Singles,,,,07854819924

Sun 15th Apr

Wrecking trip boat available 6hr to 10hr ,,,, ( 10 places available ) Clubs and Singles,,,,07854819924

Mon 16th Apr

Wrecking trip boat available 10hr 7am to 5pm ( 10 places available ) Clubs and Singles,,,,07854819924

Tue 17th Apr

Wrecking trip boat available 10hr 7am to 5pm ( 10 places available ) Clubs and Singles,,,,07854819924

Wed 18th Apr

Wrecking trip boat available 10hr 7am to 5pm ( 10 places available ) Clubs and Singles,,,,07854819924

Thu 19th Apr

Wrecking trip boat available 10hr 7am to 5pm ( 10 places available ) Clubs and Singles,,,,07854819924

Fri 20th Apr

Wrecking and Rough Ground 6hr 8am to 2pm,,,,,( 8 places available ) ,,,,07854819924

Sat 21st Apr

Boat booked

Sun 22nd Apr

Wrecking and rough ground trip 8am to 4pm,,,,07854819924,,,,,,Fully Booked

Mon 23rd Apr

Wrecking trip boat available 10hr 7am to 5pm ( 10 places available ) Clubs and Singles,,,,07854819924

Tue 24th Apr

Wrecking trip boat available 10hr 7am to 5pm ( 10 places available ) Clubs and Singles,,,,07854819924

Wed 25th Apr

Wrecking trip boat available 10hr 7am to 5pm ( 10 places available ) Clubs and Singles,,,,07854819924

Thu 26th Apr

Wrecking trip boat available 10hr 7am to 5pm ( 10 places available ) Clubs and Singles,,,,07854819924

Fri 27th Apr

Wrecking and rough ground 8am to 4pm 8hr £35pp,, ( 4 places available ),,,,07854819924

Sat 28th Apr

Wrecking & rough ground 8am to 4pm £35pp ( places available ),,,,07854819924

Sun 29th Apr

Wrecking & rough ground 8am to 4pm £35pp ( places available ),,,,07854819924

Mon 30th Apr

Wrecking trip boat available 10hr 7am to 5pm ( 10 places available ) Clubs and Singles,,,,07854819924
Reviews
Summary:





Reviews Unaccepted: 1
Brian Sutton (20/09/2017)

Left marina , first drop into fish and that was the stamp for the rest of the day every drop we were on the fish this was one of those "should of been here the other day trips" over 100 cod between 3 of us up to 10 lb , great day great skipper and good crack all day . high recommend for this boat will be, back asap

Skippers Reponse: Yes thank you lads it was a very good day we took more fish today than when iv a boat full of 10 anglers, Tight lines lads,

Steven Kenyon (08/08/2017)

Evening trip out tonigh, despite the weather not a bad night with a few decent codling, Peter as funny as ever and always there soon as you need him, al rember me inhaler next time Peter, highly recommended the sapphire for a good skipper and a comftable trip, see you again soon. Thanks Steven

Skippers Reponse: Thank you Steven at least we lasted the 4hrs in all that rain well done, Tight Lines,

colin horner (05/08/2017)

Colin and jag up from Derbyshire first time with Pete on saffire great day skipper worked all day to get to the fish ,we'll be back soon

Skippers Reponse: Thank you Colin always welcome on Sapphire, Tight lines

Phil Stoddart (01/08/2017)

Evening trip aboard sapphire,tried couple of wrecks with no luck.so skipper moved back inshore, the rough ground produced a few codling.Just as the sun was setting on last drift of day i managed to land a 15 lb ling (pb).Well done Peter for been in right place at right time.Would recommend fishing aboard sapphire to anyone.Cheers Peter,see you in September mate.

Skippers Reponse: Thank you Phil it was spot on well done, Tight Lines,

Mick Smith (13/07/2017)

An evening trip this time, started off slow with just some Mackerel at 1st but Peter never stopped searching until all of a sudden everyone was into fish and this went on for the rest of the trip.Top class as usual Peter and funny as ever.

Skippers Reponse: Thank you Mick, Tight Lines
Latest Catches 200 photos uploaded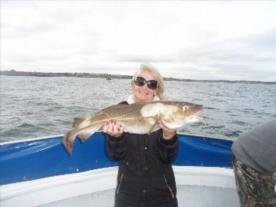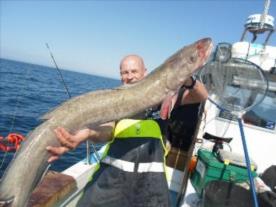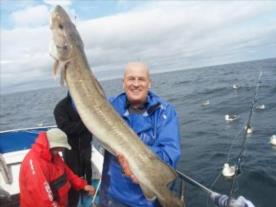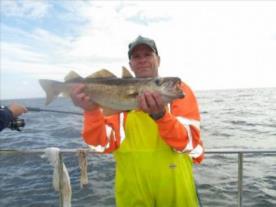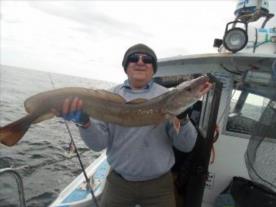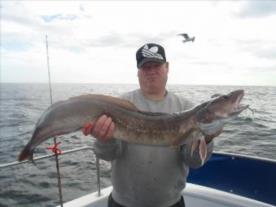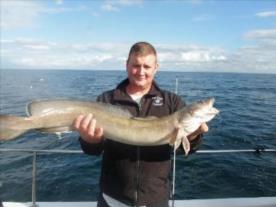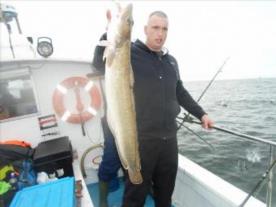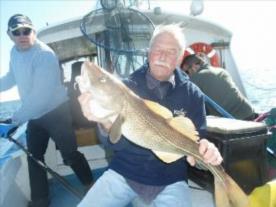 Latest Fishing Reports
17/02/2018

Fishing Report by peter stubbs

17 Feb 2018 by peter stubbs

Saturday 17th February, We had a 6hr uptide trip today fishing was little slow until the tide started to run and bought the codling on, A lot of under size were catching which were returned alive, before a few decent fish starting to show around 4lb, Baits today cart, black lug, mussle and squid,

22/12/2017

Fishing Report by peter stubbs

22 Dec 2017 by peter stubbs

Friday 22nd December 2017, 8 lads from London travel up today to do a 6hr uptide but on getting out we decided to drift over rough ground, But with all the codlings been caught there was more going back than keepers, So about an hr before low water I decider a move onto a wreck and bingo the fish were there spending the rest of the trip on one wreck the lads took codlings from 5lb to 8lb with most of the catch been 6 to 8lb , also a few ling to 7 half lb, All went home back to London happy,

03/12/2017

Fishing Report by peter stubbs

3 Dec 2017 by peter stubbs

Sunday 3dr December a 6hr uptide trip today not so good as Saturday but still some decent fish been taken to around 5 half lb,

02/12/2017

Fishing Report by peter stubbs

2 Dec 2017 by peter stubbs

Uptide fishing now under way 6hr trips fishing around the tide day and evening, Trip out Saturday 2nd December 9 lads travel from London a litte slow at first but as the tide started to run the fish started to show,

14/10/2017

Fishing Report by peter stubbs

14 Oct 2017 by peter stubbs

Saturday 14th October, We had a run offshore wrecks but was very disappointing on catch, With only 2 decent Ling one at 15lb fell to George Crammen hordon, And one at 10 half lb fell to Grant Taylor South Shields, The rest all been under down lb but not very many,