Charter Boat: Seabreez3
Availability Calendar
17 Reviews

Reviews Unaccepted: 5
Boat and Skipper Details
Licensed For:
up to 12 passengers
Code Of Practice:
60 Miles
Hours:
4hr / 5hr / 6hr / 7hr / 8hr / 10hr / 12hr / 24hr / Multiple Days Trips
Type of Fishing:
Deep Sea Wrecking for Cod-Pollack-Conger- Bass-Bream & Mark Ground Fishing ****FREE PARKING ****all day Post Code BN2 5 UF****
Tackle Available:
Yes - Contact Skipper
Bait Available:
Yes - Contact Skipper
Boat Specification:
Seabreeze3 Brighton charter Fishing . The boat was purpose built to the requirements of the Anglers and Divers with comfort and safety in mind. The twin hulls provide greater stability at sea than traditional mono hulls. This means that the boat does not roll around as much and with the huge deck space of 21ft x 16ft, it provides ample space for everyone to relax in comfort. The two 300hp Turbo-Charged diesel engines provide power to drive the boat at a top speed of 26 knots and a cruising speed of 19 knots with full load.Seabreeze3 is Fully Equipped with the Latest Nautical Hi-Tech Electronics. meets all the M.CA requirements and is licensed and insured to operate up to 60 miles from any safe haven. Ensuring that SeaBreeze 3 is capable of Fishing anywhere in the English Channel
Facilities:
Large Wheelhouse - Full Electronics & Safety Equipment & Telephone ***FREE PARKING***all day Post Code BN2 5 UF****
Additional Description:
Brighton Charter fishing from Brighton Marina
Specialising in Deep Sea Fishing at its best, SeaBreeze 3 is a well-known name in the charter/angling world; it has a good reputation for its large catches of Cod, Pollack, Ling, Bass and Big Conger Eels (weighting in at 91 lb, 92 lb, 93 lb, 94 lb, 95 lb, 98 lb and 101 lbs) **** FREE PARKING **** all Day Post Code BN2 5UF****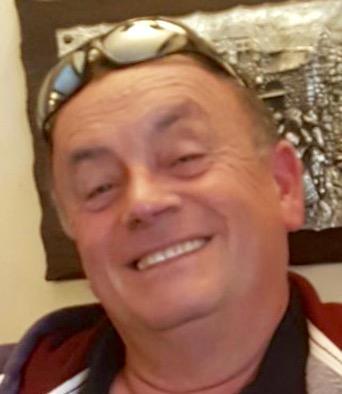 About the Skipper:
For boat price list http://www.seabreeze3.co.uk/price-list/
This Charter has been listed as Suitable for Diving Trips. Contact the Skipper for full details.
This Charter has been listed as Wheelchair Accessible. Contact the Skipper for full details.
Sunday
Monday
Tuesday
Wednesday
Thursday
Friday
Saturday

Color for Fully Booked

Fully Booked

Color for Partially Booked

Partially Booked

Color for Available

Available

Color for Not Available

Not Available

Color for Unspecified

Unspecified

N.B. Not all Skippers keep this dairy up-to-date. Always check with skippers before making any plans. Last calendar update: 13-Aug-2018

Wed 1st Aug ***OFFSHORE***
**TURBOT-BRILL**
For more Details
07850 707572
Thu 2nd Aug ***OFFSHORE***
**TURBOT-BRILL**
For more Details
07850 707572
Fri 3rd Aug ***OFFSHORE***
**TURBOT-BRILL**
For more Details
07850 707572
Sat 4th Aug
Sun 5th Aug

Mon 6th Aug

Tue 7th Aug

Wed 8th Aug

Thu 9th Aug

Fri 10th Aug

Sat 11th Aug

Sun 12th Aug

Mon 13th Aug

Tue 14th Aug

Wed 15th Aug

Thu 16th Aug

Fri 17th Aug

Sat 18th Aug
Sun 19th Aug
Mon 20th Aug
Tue 21st Aug
Wed 22nd Aug
Thu 23rd Aug
Fri 24th Aug ***OFFSHORE***
**TURBOT-BRILL**
*COD-POLLOCK *
----FISHING----
For more Details
07850 707572
Sat 25th Aug
Sun 26th Aug
Mon 27th Aug
Tue 28th Aug ***OFFSHORE***
**TURBOT-BRILL**
*COD-POLLOCK *
----FISHING----
For more Details
07850 707572
Wed 29th Aug ***OFFSHORE***
**TURBOT-BRILL**
*COD-POLLOCK *
----FISHING----
For more Details
07850 707572
Thu 30th Aug ***OFFSHORE***
**TURBOT-BRILL**
*COD-POLLOCK *
----FISHING----
For more Details
07850 707572
Fri 31st Aug ***OFFSHORE***
**TURBOT-BRILL**
*COD-POLLOCK *
----FISHING----
For more Details
07850 707572
Reviews
Summary:





Reviews Unaccepted: 5
Malcolm Gardiner (31/05/2018)

What a brilliant days fishing on Seabreeze3. So well looked after by Terry and Jay. Because of Terrys knowledge and experience we
had no trouble finding the bream. The sea was calm and the fishing was brilliant. Lots of tea and coffee and friendly advice, nothing was too much trouble.
I have fished on many charter boats but this was one of the best. We hope to be fishing with Terry on a regular basis, such a great day out. Thanks Terry.


Skippers Reponse: Thank you for your Review
Terry&Jay

Simon Oakland (14/08/2017)

Fantastic day out, with glorious skies and calm seas. 34 turbot landed between 9 anglers, along with the odd pout, doggie, mackerel, scad, launce, tub gurnard and red gurnard. Terry knows his stuff, and Jay worked non-stop keeping everyone supplied with fresh bait and hot drinks. He even gutted the fish for us during our return to the marina. I'd recommend this boat to anyone, and would love to be kept informed of any last-minute spaces that become available if that's alright Terry? Even the space cadet who came out with us caught some fish! A great day had by all....

Skippers Reponse: Hi Simon thank you for your review,glad you had such a good time see on the next trip.


david link (08/05/2017)

Great boat, great skipper and the hardest working crewman we have ever come across. Too rough to go wrecking but a boat load of Plaice was a good substitute. If you cant catch fish on this boat with the help of Terry and Jay you are unlikley to catch fish anywhere. Many thanks Terry and Jay for a wonderful day out.

Skippers Reponse: Thanks for your Review on us.Look forward to you fishing with us again on the wrecks next time for Cod if the good old weather lets us all Best Terry&Jay

stewart dearling (08/03/2016)

what a day.When you step on most charter boats you know roughly what to expect.Not with Terry..th experience is without a doubt one of the finest from ste wholeart to finish.As soon as we arrived at the wreck we stated hooking good size pollack and some very nice cod.A couple of the lads failed to hook,and straight away Terry and Jay (terry's excellent first mate) were there to sort you out.Needless to say the next drift they were into some good fish This carried on till the tide dropped away when it was time for a well earned break with oodles of tea / coffee etc.then the tide picked up and back at it....I am not exagerating when I say that both Terry and Jay made for a perfect day...PS and if you ask nicely Jay will even clean an fillet your fish for you...what more could you ask for ...you don't get that on many charter boats...

Skippers Reponse: Hi Stewart thank you for your review I am glade that you all had such a good day.
Terr&Jay

Geoff Siddons (17/10/2015)

!st time out with Terry for myself. In a nutshell, welcoming, friendly, knowledgeable and incredibly helpful. Absolutely no hesitation in recommending that you book a trip out. For all you beam trawler skippers reading this we did not see a fish for 10 hours so best you try trawling for sole at Kingsdown.

Skippers Reponse: I am glad you had a good time with us and a good days fishing see you in the summer all best Terry&Jay
Latest Catches 143 photos uploaded
David
18 lb 4 oz Turbot
16-Aug-2017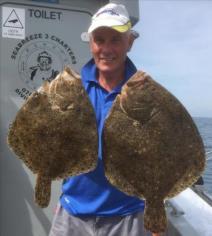 Latest Fishing Reports
15/05/2015

Fishing Report by Terry Lee

15 May 2015 by Terry Lee

Hi Steve I am glade you all had a good day Fishing with us look forward to having you back fishing with us Again.
Thanks Terry and Jay

15/05/2015

Fishing Report by Steve L

15 May 2015 by Steve L

A long awaited trip out with all the lads on a boat we have heard nothing but praise about & after a few last minuite dramas we finally arrived on mass at Brighton on friday morning.
We were welcomed straight away be Terry, who introduced us all to Jay, & after the obligitory safety speech off we went.
Most of us had never been sea/wreck fishing before & this was explain to our hosts, to say they were attentive is an understatement, they both were as keen to impart there knowledge as we were to catch fish & we were not disapointed, although the weather was a littl choppy at the start this soon settled to a fantastic day out, i had for the first time both my sons with me, &, at one point all 3 of us were hooked up at the same time , it just doesnt get any better than that, the day ended with a good haul of cod, pollock, whiting, & pouting.
Terry & Jay are fantastic hosts both patient, informative & humours the kept a weathered eye on every member doing there utmost to ensure every one caught even to the degree that if one of us tangled they were straight onto us getting us sorted & back fishing.
I cannot praise Terry, Jay, & seebreez3 enought one of our best trips out, i hadnt even got home before some of the lads that had not been before were on the phone asking for another trip to see Terry,be assured i will be calling him real soon.

18/03/2013

Fishing Report by Terry Lee

18 Mar 2013 by Terry Lee

Daiwa 2013 Brighton Pollock Competition

Brighton Pollock competition was won by Connor Bonwick with a superb Pollock of 17lb 9oz.Caught on Board Seabreeze3,And the junior prize was won by Michael Parker with a Pollock of 10lb 9oz

The 17lb 9oz Pollock was caught on a small wreck twenty four miles off Brighton on Seabreeze3.
Connor was fishing alongside his Dad, Darren. When Connor first hooked into this superb fish he thought it was the wreck, and then when he realized it wasn't the wreck, the battle began. After five minutes of playing the fish it finally broke the surface. We all knew on board that this was going to be a big fish but didn't realize it was going to be an 18lb fish.
When the fish was first weighed on board, it weighed in at just over18lb but by the time it got weighed in at the harbor it had lost a little weight.
Connor was absolutely thrilled to receive £22 from the anglers on board who all put in £2 each for the heaviest fish. He then received £300 to spend on Daiwa fishing tackle and also a free day's fishing trip on Seabreeze3. Needless to say Connor was a very happy young man!
I would like to say a big thank you to all the other guys that took part in the competition and also thank you to Paul Dyer on Brighton Diver for organizing the competition who raised over £1000 for the RNLI. Well done.
If anyone would like a day's fishing on Seabreeze3 then please give me a call on the number below.

Tight lines,
Terry Lee
Home: 01273 585372
Mobile: 07850707572

www.seabreeze3.co.uk



10/03/2013

Fishing Report by Terry Lee

10 Mar 2013 by Terry Lee

March 2013

Hi Everyone,
Thought I'd write a message after a lovely Mother's day meal!
March has been an excellent month on Seabreeze3 so far with some fantastic Pollock being caught. Dave Robson's son, Nathan landed the most impressive fish of the month so far a 22lb 8oz Pollock and one of 17lb 8oz! Excellent fish for a first timer, his Dad asked me to teach Nathan how to fish which I did, so either Nathan is a fast learner or it was beginners luck! I like to think it was my expert tuition! Closely followed this month by Oz with a 16lb 8oz Pollock and Steve Knocks with a 15lb 8oz Pollock. Followed by Adrian the 'Crane' man who caught a 15lb Pollock.
These are a selection of the larger fish that are being caught, have a look at my photo gallery for more pictures.
If anyone would like a day out onboard Seabreeze3 then please give me a call.
www.seabreeze3.co.uk
Email: charter@seabreeze3.co.uk
Tel/01273 585372
Mob/07850 707572

Tight lines everyone.

Terry Lee


07/03/2013

Fishing Report by Nathan Roberts

7 Mar 2013 by Nathan Roberts

Me and my father have been fishing numerous times with Terry onboard the Seabreeze 3, and to this day, we have continued to see a great service with excellent guidance and friendly crew! We start the day and head straight out to our fishing location where we are instantly set up and directed by Terry or his deckhand. The trips are lengthy and provide for plenty of time, and Terry's skill and experience allows for the best locations, ensuring that you will not be disappointed with the results! Every trip we have gone on has left us eager to return, and with numerous amounts of fish! Well done to the crew, and this is a great, well maintained boat that I certainly recommend to anybody who is after an action-packed day of fishing, beginner or not! We will certainly be going again soon! Very friendly service and a spectacular day all round!