Charter Boat: Seawatch1
Licensed For:
up to 12 passengers
Code Of Practice:
MCA CAT 2 ( 60 MILES)
Hours:
9hr / Multiple Days Trips
Type of Fishing:
UPTIDE FISHING FOR BASS,ROKER,SMOOTHOUNDS,TOPE,COD.OFFSHORE BASS AND TOPE TRIPS
Tackle Available:
Yes - Contact Skipper
Bait Available:
Yes - Contact Skipper
Boat Specification:
SEAWATCH IS A 10 METRE BLYTH CATAMARAN WITH TWIN IVECO 280HP ENGINES , TOP SPEED OF 24 KNOTS AND CRUISING AT 18 KNOTS
Facilities:
SEPARATE HEATED ANGLERS CABIN WITH SEATING FOR 10 WITH TV/DVD PLAYER.FULL SIZE DECK ENTRY TOILET AND WASHROOM,GALLEY FACILITIES INCLUDING MICROWAVE OVEN .HUGE DECK AREA WITH SIDE GATES FOR EASY BOARDING AND WHEELCHAIR ACCESS. ROD AND TACKLE HIRE, TUITION AND PACKED LUNCHES AVAILABLE.
Additional Description:
SEAWATCH WAS THE FIRST CATAMARAN CHARTER FISHING FROM THE PORT OF BRIGHTLINGSEA .A FULL TIME PROFESSIONALLY RUN CHARTER BOAT OPERATING 7 DAYS A WEEK ALL YEAR ROUND. SEAWATCH IS A PURPOSE BUILT FAST ANGLING BOAT AT 33FT LONG AND 16FT WIDE SHE IS A VERY LARGE AND COMFORTABLE ANGLING PLATFORM,CAPABLE OF GETTING TO OFFSHORE MARKS QUICKLY AND SAFELY, HER SIZE AND ABILITY IN ROUGH SEAS KEEPING CANCELLATIONS DUE TO BAD WEATHER TO A MINIMUM
SEAWATCH CATERS FOR PARTIES AND INDIVIDUAL BOOKINGS
BOARDING AT BRIGHTLINGSEA IS EASY FROM THE HARBOUR JETTY WITH NO TIDAL RESTRICTIONS AND A CAR PARK WITHIN 100 METRES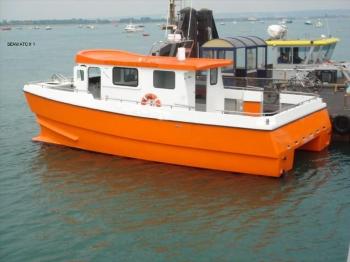 About the Skipper:
AS A PROFESSIONAL SKIPPER FOR OVER 30 YEARS FISHING HAS BEEN MY PASSION,, I STARTED ANGLING AT A YOUNG AGE AND CAUGHT MY FIRST COD WHEN I WAS 7 YEARS OLD AND HAVE BEEN OBSEESSED WITH FISHING SINCE THAT DAY. I AM A FULLY QUALIFIED SKIPPER, HOLDING RYA OFFSHORE YACHTMASTER AND BOATMASTER LICENCES, FULLY TRAINED IN FIREFIGHTING,SURVIVAL AND FIRST AID
I HAVE WORKED IN THE THAMES ESTUARY FOR OVER 30 YEARS RUNNING MY OWN SUCCESSFUL COMMERCIAL FISHING BOATS.




This Charter has been listed as Wheelchair Accessible. Contact the Skipper for full details.
This Charter has been listed as Suitable for Diving Trips. Contact the Skipper for full details.
Latest Fishing Reports
06/2017

Fishing Report by LESTER BAKER on Seawatch1

(Brightlingsea, Essex)

Jun 2017 by LESTER BAKER

June continued to see huge catches of Thornback ray in the Thames estuary area,I have fished this area commercially since 1980 and never seen such large amounts on the grounds.I can only assume that the lack of quota allocation for the few commercial fishing boats left in the area has had a very positive effect on the population, obviously most of the ones we catch are returned alive with just a handful kept for the table.

June has seen the number of summer species increase daily with Smoothhounds,Bass,a few Tub Gurnard and the first of the mackerel starting to show up,it has been great to target something other than Ray's and offer our anglers a change, still a few Ray's here and there some days but tailing off for this springs spawning but will return a bit further offshore in a few weeks time in smaller numbers as we seem to catch them throughout the year now.

Seawatch has as I hoped a few years ago become a very busy charter boat and June has seen Seawatch take on Mark Davey as a a second skipper to cover the days I am unable to fit in myself (old and tired ) Mark has been a keen angler all his life and run a charter boat before.Mark also spent several years as skipper of the local fisheries patrol boat and knowledge he gained from grab sampling the grounds has brought a new dimension to my experience and given answers to some of the theories I have formed over the years.I have posted a few photos from Marks last couple of trips some ,nice mixed fishing.Mark is a really friendly guy and happy to help and we will both endeavour to give you the best day out that we can.
Remember only a couple of days to go and you can actually take a bass for dinner ( Should make a few anglers happy!

All the best and mind how you go,Lester




03/2017

Fishing Report by LESTER BAKER on Seawatch1

(Brightlingsea, Essex)

Mar 2017 by LESTER BAKER

After a long hard winters fishing the last few weeks have seen some good catches of early Thornbacks and prospects look good for some bumper days on these rod bending fish over the next couple of months along with the arrival of other summer species

05/2016

Fishing Report by LESTER BAKER on Seawatch1

(Brightlingsea, Essex)

May 2016 by LESTER BAKER

Although already well documented by other boats in our area at last there is something to report that does not include the plague of Thornback rays we have had in the Thames estuary for the last eight weeks.Joking apart the ray fishing has been spectacular again this spring with 50 fish normal and a hundred plus not that unusual, best baits have been squid and herring with the herring having the edge on most days.As most of you know the spring cod run was a non event in our area this year so the rays provided some very welcome sport for our anglers.
The last week or two has seen the weather warming up and the summer species have started to feature more in the daily catches with some excellent Bass and Hounds,no monsters yet on Seawatch but several bass to low doubles on worm and peeler baits and some medium hounds up to 12lbs on hermit crabs and squid, one of the Bradwell boats reporting some larger hounds slightly further offshore so they are on the way..
There have also been some reports in the last few days of some early Mackerel which everyone enjoys catching and will hopefully help with bait for the Tope trips we have booked next month.
All in all a great time to be fishing in the Thames estuary with some great mixed fishing on offer.
Good fishing and all the best,Lester


10/04/2016

Fishing Report by NIGEL ANDREWS on Seawatch1

(Brightlingsea, Essex)

10 Apr 2016 by NIGEL ANDREWS

THIS WAS MY FIRST TRIP OUT ON SEAWATCH 1, AND IT WAS THE BEST DAYS FISHING ID HAD IN A VERY LONG TIME. I HAD MY PB THORNBACK RAY WEIGHING IN AT 12LB. AFTER THE WEIGHING AND PHOTOS WERE OVER SHE WAS SAFELY RETURNED BACK TO THE WATER. THE SKIPPER LESTER BAKER, HE WAS LIKE YOUR BEST FRIEND ALWAYS THERE WHEN YOU NEEDED HIM, IF HE SAW YOUR ROD BENDING WHILST REELING IN HE WAS THERE WITH THE NET AND WHEN THE FISH WAS ON BOARD HE WOULD HAVE THE HOOK REMOVED BEFORE YOU COULD PUT YOUR ROD DOWN. TOWARDS THE END OF THE DAY LESTER APPEARED ON DECK WITH A LARGE PLATE OF BUTTERED ROLLS, SAUSAGES, AND A BOTTLE OF KETCHUP, WHO COULD ASK FOR A BETTER SKIPPER. IVE ALREADY BOOKED MY NEXT TRIP ON SEAWATCH 1 AND I CANT WAIT. THANK YOU LESTER FOR A GREAT DAYS FISHING, REGARDS NIGEL.

01/2016

Fishing Report by LESTER BAKER on Seawatch1

(Brightlingsea, Essex)

Jan 2016 by LESTER BAKER

The new year has started and finally the weather has allowed us to put in a few trips.The cod fishing has been a bit slow with only a handful of fish caught on most days but we have been lucky enough to enjoy some good sport with good numbers of Thornback Rays,the best on Seawatch so far at 19lbs 2ozs for regular Tony Holt.
The last few days have seen the temperatures drop to more normal levels for this time of year and it will be interesting to see how this affects the catches.
Weekend dates are booking fast so don't leave it too late or you may be disappointed,
All the best Lester.
View All Fishing Reports
Edit this boat listing
Availability
OCTOBER - 2017

| Su | Mo | Tu | We | Th | Fr | Sa |
| --- | --- | --- | --- | --- | --- | --- |
| 1 | 2 | 3 | 4 | 5 | 6 | 7 |
| 8 | 9 | 10 | 11 | 12 | 13 | 14 |
| 15 | 16 | 17 | 18 | 19 | 20 | 21 |
| 22 | 23 | 24 | 25 | 26 | 27 | 28 |
| 29 | 30 | 31 | 1 | 2 | 3 | 4 |
Color for Fully Booked

Fully Booked

Color for Partially Booked

Partially Booked

Color for Available

Available

Color for Not Available

Not Available

Color for Unspecified

Unspecified
N.B. Not all Skippers keep this diary up-to-date. Always check with skippers before making any plans. Last calendar update: 22-Oct-2017
Reviews
Summary:





NIGEL ANDREWS (05/08/2017)

hi im nigel, i received a message from yvonne, ( lester,s wife ) about some cancellations for saturday 05th august so i booked myself on for a days fishing on seawatch 1.as i walked towards the pontoon i met two other people heading the same way, one was mark who was skippering the boat for lester ( bless him ) and the other was mark,s father bill. it was a lovely morning standing and talking on the pontoon, in the rain. when everyone had borded the boat we set out. as we were heading out to the fishing grounds i was watching the screens and listening to the engines and it was as if lester was at the wheel of the boat.well done mark you had a great tutor and you knew exactly what you were doing. once we had settled into fishing the first fish of the day went to steve a very nice stary smooth hound at approx seven pounds, well done steve. there was about a dozen decent smooth hounds caught that day and they were all safely returned back to the sea. well done to everybody on the day especially mark who put us on the fish. my day was not as productive as others, i only caught two fish all day, one was a thornback ray of about two pound and the other was a small tope of about one pound. better luck next time. just as lester would appear on deck with a plate full of sausage rolls and ketchup so did mark.much appreceated mate. towards the end of the day the wind blew up good and strong so we all decided to call it a day and head home. thank you for a great day out mark and god bless lester and all his family. best regards nigel andrews.

Skippers Reponse: THANK YOU YOU SO MUCH FOR YOUR THOUGHTFUL AND KIND WORDS I AM GLAD YOU ENJOYED YOUR DAY ON SEAWATCH

NIGEL ANDREWS (09/04/2017)

hi im Nigel, well what a day. it all started with my friends and I met on the pay and display car park on the water front, we gathered our fishing rods etc, and walked to the end of the pontoon. Lester arrived and rowed his dinghy across the river to his boat. shortly after he got on his boat he phoned me informing me that we had a problem. the problem being that he had no toilet tissue on board and would I mind going to the shop to buy some. so off I went, informing my mate RONNY, to load my gear onto the boat. on my return everyone had boarded the boat and I was the last one on and off we set for a days fishing. about twenty mins into the trip out I went to get something out of my bucket so I asked RONNY, where my bucket was, he said " its there with your rods" that's not my bucket I replied. after a brief search of the boat it was nowhere to be seen. I went to the wheel house to inform Lester that its possible that RONNY, had left my bucket which contained all the bait for four people on the pontoon. we did a u,turn and went back. sure enough there sat my bucket. we finally set out once again for a days fishing. it was a very productive day with a good variety of fish being caught, ranging from thornback rays, dog fish, whiting, pouting, dabs and flounders. the biggest fish of the day was a female thornback that weighed 12 pound and went to ANDY LAST, well done Andy. as you can imagine none of us on board let RONNY, forget that he left my bucket behind. bless him. towards the end of the day there was once again that all familiar smell of sausages cooking. after we had feasted on Lester,s cuisine we fished a bit longer and then called it a day. everyone had a good day and enjoyed themselves. thank you Lester for another fantastic day out aboard seawatch 1. best regards, NIGEL ANDREWS.

Dean Moss (12/03/2017)

Another wicked day out with les on the seawatch lots of whiting and 8 big skate between 4lb and 10lb 2oz. It was a very calm day and as usual les finds the fish so thanks les for a good day and will be booking again very soon.

Skippers Reponse: Not the best days fishing Dean but a good laugh as usual,see you all soon.

Michael McHale (01/01/2017)

I have been meaning to do this for a while, not a review of one trip but of around 18 months worth! Firstly Seawatch is a lovely boat with a nice large fishing area, the cabin can be a life saviour on certain days! Next, the Skipper, Lester is a great Skipper who tries hard to put you on the fish and is willing to move to find them. He has a good knowledge of the area and fishing in general, full of good advice that he is willing to share if asked. He also makes a cracking sausage sandwich! I have had some of my best days fishing including my PB Bass and thoroughly recommend a trip out on Seawatch with Lester.

Skippers Reponse: Thanks Mike,always a pleasure to have you aboard.

NIGEL ANDREWS (31/07/2016)

what can i say, i booked myself on seawatch1 on sunday 31st july, for a good days fishing. the weather was great and everyone on the boat knew each other. however the fishing was not that good with the biggest fish of the day went to mark, with a smooth hound weighing approximately 5lb, well done mark. ( good luck under the knife on monday mate, hope your hernia opp goes ok. ) towards the end of the day there was that all familiar smell of sausages cooking, and sure enough there was a plate full of sausages in bread rolls and a large bottle of ketchup. well done lester and thanks. at the end of the day i caught three thorn backs which were all returned and one mackerell. once again thanks to lester and all my friends for making a good day out.

Skippers Reponse: Glad you enjoyed yourself Nigel even though the fishing was a bit of a challenge
View All Reviews
Add A Review