Charter Boat: Seawatch1
Licensed For:
up to 12 passengers
Code Of Practice:
MCA CAT 2 ( 60 MILES)
Type of Fishing:
UPTIDE FISHING FOR BASS,ROKER,SMOOTHOUNDS,TOPE,COD.OFFSHORE BASS AND TOPE TRIPS
Tackle Available:
Yes - Contact Skipper
Bait Available:
Yes - Contact Skipper
Boat Specification:
SEAWATCH IS A 10 METRE BLYTH CATAMARAN WITH TWIN IVECO 280HP ENGINES , TOP SPEED OF 24 KNOTS AND CRUISING AT 18 KNOTS
Facilities:
SEPARATE HEATED ANGLERS CABIN WITH SEATING FOR 10 WITH TV/DVD PLAYER.FULL SIZE DECK ENTRY TOILET AND WASHROOM,GALLEY FACILITIES INCLUDING MICROWAVE OVEN .HUGE DECK AREA WITH SIDE GATES FOR EASY BOARDING AND WHEELCHAIR ACCESS. ROD AND TACKLE HIRE, TUITION AND PACKED LUNCHES AVAILABLE.
Additional Description:
SEAWATCH IS THE FIRST CATAMARAN CHARTER FISHING FROM THE PORT OF BRIGHTLINGSEA.A FULL TIME PROFESSIONALLY RUN CHARTER BOAT OPERATING 7 DAYS A WEEK ALL YEAR ROUND. SEAWATCH IS A PURPOSE BUILT FAST ANGLING BOAT AT 33FT LONG AND 16FT WIDE SHE IS A VERY LARGE AND COMFORTABLE ANGLING PLATFORM,CAPABLE OF GETTING TO OFFSHORE MARKS QUICKLY AND SAFELY, HER SIZE AND ABILITY IN ROUGH SEAS KEEPING CANCELLATIONS DUE TO BAD WEATHER TO A MINIMUM
SEAWATCH CATERS FOR PARTIES AND INDIVIDUAL BOOKINGS
BOARDING AT BRIGHTLINGSEA IS EASY FROM THE HARBOUR JETTY WITH NO TIDAL RESTRICTIONS AND A CAR PARK WITHIN 100 METRES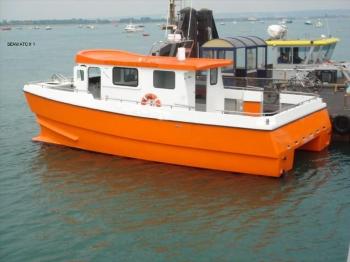 About the Skipper:
AS A PROFESSIONAL SKIPPER FOR OVER 30 YEARS FISHING HAS BEEN MY PASSION,, I STARTED ANGLING AT A YOUNG AGE AND CAUGHT MY FIRST COD WHEN I WAS 7 YEARS OLD AND HAVE BEEN OBSEESSED WITH FISHING SINCE THAT DAY. I AM A FULLY QUALIFIED SKIPPER, HOLDING RYA OFFSHORE YACHTMASTER AND BOATMASTER LICENCES, FULLY TRAINED IN FIREFIGHTING,SURVIVAL AND FIRST AID
I HAVE WORKED IN THE THAMES ESTUARY FOR OVER 30 YEARS RUNNING MY OWN SUCCESSFUL COMMERCIAL FISHING BOATS FROM THE PORT OF HARWICH.




This Charter has been listed as Wheelchair Accessible. Contact the Skipper for full details.
This Charter has been listed as Suitable for Diving Trips. Contact the Skipper for full details.
Latest Fishing Reports
15/12/2014

Fishing Report by LESTER BAKER on Seawatch1

(Brightlingsea, Essex)

15 Dec 2014 by LESTER BAKER

Only ten days until Christmas and I can't believe we are approaching the end of another years fishing,where does the time go? The winter weather has finally arrived with one or two sharp frosty mornings and some strong winds forcing us to cancel a couple of trips.
When we have been fishing the codling have been keeping us very busy with some excellent catches of fish to four pound and still several Thornbacks to double figures.
I would like to thank you all for your support during 2014 and wish you and your families a very Happy Christmas and a prosperous New Year.
Looking forward to seeing you on Seawatch in 2015,
All the best Lester

20/11/2014

Fishing Report by LESTER BAKER on Seawatch1

(Brightlingsea, Essex)

20 Nov 2014 by LESTER BAKER

Fishing in November has continued to provide some excellent sport with some very good catches of codling up to 3lb with the odd better fish,lugworm and squid cocktails attracting the most attention. Several rays ,whiting and dogfish helping to keep the rods busy all day. Check out the website or give me a call for some great Christmas deals.

29/10/2014

Fishing Report by LESTER BAKER on Seawatch1

(Brightlingsea, Essex)

29 Oct 2014 by LESTER BAKER

The fishing has been steady on Seawatch over the last few weeks with good numbers of codling up to 2lb with the odd bigger fish to 8lb,still good numbers of Thornbacks a few whiting and the ever present spotty dogs(love them) Today saw Colin ,Peter,Phil and Berni shared a catch of sixty plump codling and five rays plus a few quality whiting.so some good fishing on offer and the weather is still pleasantly warm.

06/2014

Fishing Report by LESTER BAKER on Seawatch1

(Brightlingsea, Essex)

Jun 2014 by LESTER BAKER

Just back from a fantastic carp fishing holiday in France so I thought I'd give you a quick update on the first couple of trips since getting back.Smooth hounds making up the bulk of our catches with fish to fourteen pounds hopefully the bigger females should be putting in an appearance in the near future ,still several rays and bass being caught on most trips.The Mackerel fishing has taken a turn for the worse since the water coloured up a bit after a few days of northerly winds but should improve as the water clears up again. Special summer deals to get you fishing with us on Seawatch at www.seawatchcharters.co.uk

05/2014

Fishing Report by LESTER BAKER on Seawatch1

(Brightlingsea, Essex)

May 2014 by LESTER BAKER

Been a while since my last report and the transition from spring to summer fishing is well under way in our area,still plenty of rays which have been joined by bass in numbers to worm baits in the right places mainly schoolies with the odd better fish..Smoothounds beginning to show here and there with the signs looking good for the summer fishing even had one or two small tope showing inshore already so looking forward to finding a few bigger ones in the next few weeks.
View All Fishing Reports
Edit this boat listing
Availability
JANUARY - 2015

| Su | Mo | Tu | We | Th | Fr | Sa |
| --- | --- | --- | --- | --- | --- | --- |
| 28 | 29 | 30 | 31 | 1 | 2 | 3 |
| 4 | 5 | 6 | 7 | 8 | 9 | 10 |
| 11 | 12 | 13 | 14 | 15 | 16 | 17 |
| 18 | 19 | 20 | 21 | 22 | 23 | 24 |
| 25 | 26 | 27 | 28 | 29 | 30 | 31 |
Color for Fully Booked

Fully Booked

Color for Partially Booked

Partially Booked

Color for Available

Available

Color for Not Available

Not Available

Color for Unspecified

Unspecified
N.B. Not all Skippers keep this diary up-to-date. Always check with skippers before making any plans.
Reviews
Summary:





Dean Moss (31/08/2014)

our 2nd trip with Lez and a very good one at that. 7 out of 8 (me being the odd one lol) had caught. there was skate and dogs comeing out with the odd whiteing so all very happy lez was allways there to help and to get to the best spots for is to have the best chance to catch so would like to say thank you to Lez from all of us and cant wait to get out again.

Skippers Reponse: Glad you enjoyed it Dean,let's hope you have better luck next time

Tony Eatherton (18/07/2014)

Tony again, out with Seawatch 1 and Les again on our monthly booking anchored on mark, straight away Chris our rapidly improving novice angler boated a smoothound about 3-4Lb safely returned, then one or two hounds every half hour or so plus Geoff managed two small skate then went quiet for a fair while but we decided not to move and await the flood this proved the right move as other boats around us had caught very little if at all, it then went with a bang and fish came to the boat on all but one rod among six of us ending with a total of around 28 smoothounds and two small skate not bad for the conditions, blinding again Les another very enjoyable trip, looking forward to August, normally scratchy around the Essex coast but we'll see Cheers Les, Tony Eatherton

Dave Smith (20/06/2014)

I 2nd that Tony.

Tony Eatherton (20/06/2014)

Apologies for late posting of review, crew of seven today including one second trip novice all caught fish several moves by Les to locate resulting in approx 30 Smoothhounds biggest 13LB by Dave and five Roker, and a few LSD's, another excellent day afloat perfect weather great Skipper and plenty of banter which is what it is all about, sorry to embarras you again Les, if you want to introduce anyone to sea Angling this is the boat and the skipper, very stable fishing platform, and not one new angler sea sick, give Seawatch a try you won't regret it, cheers Les see you in July

Skippers Reponse: Not really embarrassed by your praise Tony but right chuffed you think I'm getting it right,see you soon Les

tom may (26/05/2014)

yet another greatday out
View All Reviews
Add A Review