Charter Boat: Sharpshooter
Boat and Skipper Details
Licensed For:
up to 12 passengers
Code Of Practice:
30 miles
Hours:
3hr / 7hr / 10hr / Multiple Days Trips
Type of Fishing:
Wreck, Reef & Shark
Tackle Available:
Yes - Contact Skipper
Boat Specification:
Aqua-Star 38 315 HP
Facilities:
Toilet, hot drinks large deck space spine ladder & Platform
Additional Description:
Sharpshooter is a Aquastar 38 with a Doosan 315 HP engine. 20 rods on board to choose from, starting at 15 lb test up to 80 lb test, also for left handed anglers left handed reels
All fishing equipment on board is of highest quality from renowned brands like Penn, Shimano, Shakespeare etc.
Top class fish finding gear,new electronics package fitted 2010 new engine fitted 2011, and safety equipment on board inc. cat c first aid and medical Oxygen.
Toilet facilities on board
Fishing all year around, weather permitting.
Member of the Irish Charter Skippers Association.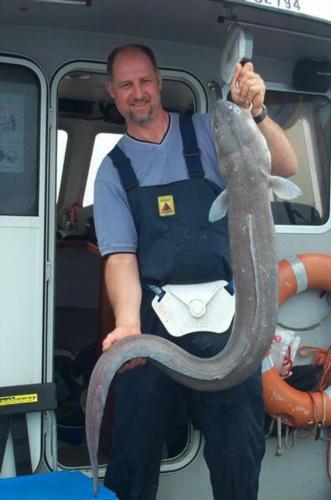 About the Skipper:
John is the longest serving charter boat skipper in Waterford, A qualified merchant navy officer and keen angler. He also has a very comprehensive knowledge of the shipwrecks on the south east coast and has put technical divers down on over 25 different wrecks in water up to 90 meters deep ( many more virgin wrecks to be explored).
This Charter has been listed as Suitable for Diving Trips. Contact the Skipper for full details.
Upcoming Individual Spaces on Sharpshooter
Sorry, there are currently no Individual Spaces at present.
Catch Stats
Latest Catches 4 photos uploaded
Latest Fishing Reports
03/2012

Fishing Report by John O'Connor

Mar 2012 by John O'Connor

Angling out of Dunmore east has got off to a good start in March with the wrecks producing good catches of qualitu cod ,ling ,whiting and a few haddock as well as the usual showing of pouting and wrasse.
The inshore ground is fishing very well too, plenty of codling, wrasse smaller Ling and possibly due to the mild winter there are mackerel about.